Home > Restaurants > Raka> Advertise
Advertising on Onionring
"we feel they're the best around"

Nick, GM at Earle Restaurant in Hale

"would recommend them to anyone"

Jane Dowler, Evuna in Manchester

"we have no hesitation in recommending them"

Susie Roberts, Inglewood Manor on the Wirral
We believe advertising on onionring is the best form of advertising any North West restaurant can do. We offer cost-effective solutions that really work for your business, to help you bring in new customers and grow your business. We pride ourselves on offering a personal and professional, efficient service. We have had some great feedback from our current customers (below) and hope to add your name to them.
So, you must be interested as you are still reading? Why not call for a chat? Call the office now on 01925 479140 or call Dylan on his mobile 07929 571 601 or complete this form.
Cant see the form above, click here
Testimonials
More and more happy customers every day....
We know we go on about Onionring, how great it is, why you should join us, what great value it is…but we also know you hear that from every website, magazine and newspaper – in fact it's the same stuff everyone tells you. So rather that us rambling on again we thought we'd ask a few current clients to speak for us…
We have been with Onionring since we opened and for what they do we feel they're the best around. Any updates often go live on the site within minutes of sending over the request and with numerous social networking media tools used to their advantage they offer a real time solution to push any last minute events, promotions etc. With a promise of more good things to come you can be sure when dealing with Onionring they will always be at the forefront of any new advertising or promotional techniques. Nick, GM, Earle Restaurant, Hale
Onionring works for us! Always efficient and easy to amend. Thanks Onionring! - Carol Sahinbas, Elmas, Lymm
We are now in our 5th year of working with Onionring, and have always found the website a great tool to market the restaurant and hotel. Updates and changes get done quickly and we wouldn't hesitate to recommend the site Dawn Holding, Marketing Manager, Alderley Edge Hotel
We have been advertising on onionring for a few years now. I find them very good value, the site is easy to navigate around and they are on the first page of google. Plus they got us started on twitter for a great price. would recommend them to anyone Jane Dowler, Evuna, Manchester
I will like to thank onionring for helpin for the past 2 year...it is one of the power tools in Warrington for looking for a good restaurant. Thank you so much onionring for your help Andy, Owner, Cardamon Warrington.
We are delighted to have our name in onionring. Not only has brought people into the restaurant, but also has given the customers the chance to rate their experiences which can only help others choose better where they go. It has also increase the traffic on our website considerably, and they have been quick to add our events but also quick to take them down when the date has passed (I hate inaccurate or old information).So overall a big thanks to onionring for how much they help not only the businesses but also the customers – Fabri, GM Maggoty Johnson, Bollington
We've been with Onion Ring for 4 years and they consistently supply a steady stream of diners - Dennis O'Donnell, Owner, Peruga Restaurant, Marple Bridge.
We have been working with Onionring for 4 years and we have benefited greatly through this association. From the start we have seen new customers come in and through the years Onionring have helped in steadily broadening our client base – Panos, Owner Sokrates Greek Taverna – Howich & Sale
I have used Onionring to advertise my restaurant since starting the business in 2009. Every contact I have had with the team has been friendly, professional and they have dealt with my (often frequent) requests very quickly. The site looks excellent, is easy to navigate and I am very happy with my profile. Also when I have advertised offers on my profile I have diners coming in with printed vouchers which is what we were aiming for after all! Thanks for the support Dan and all the team at Onionring. Jennifer, Owner The Fat Olive, Ormskirk
Onionring is the best form of advertising I have tried. Indeed I have more than earned my money back. I get several outside catering enquiries a week and many of those are converted into paying events. I also find that the offers work very well and people bother to print them off and bring them into the restaurant. I have had several customers from all over the North West who wouldn't have known about us if I hadn't advertised on Onionring. It's the first port of call for many when wanting to try a new restaurant - Diane, La Casona, Heaton Moor
I can only say "Big Thank You" for onionring because it helps my restaurant business a lot especially when my restaurant was appeared in the "The restaurant of the Week". Well Done Onionring! Pat Tang, Delemere Fortune Palace Owner.
OnionRing is a 'must-have' for most Cheshire restaurants. Ignore it at your peril! – Ravi, Owner, Dilli Altrincham
We have been an Onion Ring client since we opened in April 2008 and have found it to be a really useful marketing tool for the restaurant. It's a great way of keeping local diners up to date with events, menu's and special offers. The team are really easy to deal with, keep the listing current and up to date, and offer additional services when required - Alex, Marketing Exec, 1539 & Chester Racecourse
Karen and I were first made aware of Onionring by our customers, which in itself tells you a great deal. Customers would visit or ring to book a table and we would constantly hear '... Oh! we found you on Onionring'. This led us to investigate the site further and realising the information for The Cock O'Budworth required updating we arranged to meet Daniel through an email to the site. Daniel replied almost immediately and visited us on site within days, his personable and flexible approach made it a pleasure to deal with him. There is no hard sell as he believes, correctly in our opinion, that Onionring sells itself. Once the site was updated it continued to generate business for us at an even greater rate with customers regularly using it as a forum to give us positive feedback through the review service on our page. We were, therefore, more than happy for Daniel to quote to design and host our website. We were very pleased to have his team at Onionring complete the work and are extremely pleased with the outcome. The level of professionalism from all at Onionring was second to none, and open, jargon free communication with Carly meant the finished site fitted our original idea perfectly. I would like to say I would sincerely recommend Onionring to all my competitors, but in reality I hope they don't cotton on!! Pete Gregory. The Cock O'Budworth
We believe that onionring.co.uk works for us by directing the right people to our pages and in turn driving traffic to our own site and ultimately increasing the footfall in across our four pubs/restaurants. We have worked closely with them for about five years now and in that time they have always delivered what they promised and more in most cases. You get a personal service and by meeting face to face you are able to build relationships with them. They work for us and I'm sure they can work for you. Andy Devanney, Moyo Ltd (Owns 4 pubs in Lancashire, Staffordshire & Cheshire)
I took over the chilli wok Chinese restaurant a few months ago, since we did have our own website, the first dining website I thought of was the 'onionring'!! I contacted the website and Daniel from the onionring came to see me within days and my restaurant was up and running on their website, the service was quick and affordable and i had total control of the restaurant's information amendments with one quick e-mail to onionring and they would update them within hours. I am very happy with their service and the website's information is great, if i were to find a place to dine,I would certainly look in the onioning website!' Peter Lee, Chilli Wok, Wilmlsow
Onion Ring allows us to stay in contact and update our customers through regular e-newsletters and social networking sites. Nick and Daniel respond very quickly to Our requests and ideas, surpassing our expectations every time; we were particularly. Onionring works really well for bringing people in, we have lots of people printing of the Onionring voucher. Oh and we are impressed with the recent upgrade of our website... good work guys! Juan, GM, VAO, Sale
We have been on Onionring for over a year now and the service that Dan and the team there provide is truly top quality. They have been extremely effective on advertising our special offers and have featured La Cantina on the top 5 Italian restaurants in Cheshire section helping us to promote our business. I have been impressed with the speed at which any alterations requested have been applied to our Onionring page and at their suggestions made to keep up public interest. With the introduction of the Onionring Twitter service, we have now gathered over 2000 followers, a number of which have become regular customers, and raised awareness about the restaurant with an audience who would not normally have discovered us by more conventional methods. Not only are they a pleasure to work with, but Dan has always made a personal effort to pop in and check how things are, if we are happy with the service and if there is anything that Onionring can do to help us further. I would highly recommend their service to any business that wants to see a genuine increase in awareness and custom! Dave, Owner La Catina, Chester
The River Bar and Restaurant at The Lowry Hotel has been working with Onionring for many years, the team are consistently approachable and great to work with, the site works really well for us and has a good mix of restaurant information, news and diner reviews. Helen Hipkiss, PR & Marketing Manager The Lowry Hotel
Onionring is an important part of our business, we use it to market upcoming events, current offers and our menus. The offer vouchers always get people in, and the team at Onionring are always helpful, efficient and full of ideas of things to do. They are great to work with and would definitely recommend them. Catherine Ling, GM, Oddfellows Chester
I have used Onionring for several years to market my restaurant and wine bar. One of the problems I find with advertising is that you are never really sure how successful it is, but with Onionring I have received annual statistics showing me how many people have viewed my page on their site.I have also found the Onionring team quick and responsive. If I change offers, opening hours or any details about my business I email the changes to Onionring and they make the changes very promptly which I think is very important.I have received party enquiries from Onionring. By using a unique offer I can also measure the amount of leads it creates. With more and more people using the internet, including on smart phones I am happy to continue to market my business on Onionring. Martin Cocking, Owner Mitchells in Tattenhall
I would like to compliment you on your superb website and thank you for your swift response to our marketing needs. Jane Mason, Owner, The Bubble Room Liverpool & Cheshire
Onionring provides our company with a very personal service. Dylan Taylor, in particular, is always quick to respond to our requests for updates on our page on new promotions, seasonal menus and current offers. We are able to track the effectiveness of Onionring through customer enquiries via the website and we have found our enquiries, especially for large parties, have increased significantly in the twelve months of partnership. We've found the service Onionring provide us with to be extremely valuable to us as a business and we feel this value will grow further as the company continues to develop. Louise Barstow, The Cheshire Cat, Nantwich
Onionring has been an invaluable advertising platform our four carvery pubs, reaching a wider audience throughout Cheshire and the North West. We have received a significant amount of large bookings, and have been able to promote our newest and largest venue – The Puss in Boots. Since its recent refurbishment our aim was to manipulate the new brand image, and the use of Onionring helped us to achieve this goal. The staff at Onionring communicate frequently with us, and inform us directly of any quieries and reviews the pubs have received. Joe Michaelides, Almond Pubs Marketing & Events (4 pubs around Manchester & Cheshire)
Onionring has consistently supported our restaurant marketing , providing us with traffic to our website, restaurant bookings and function enquiries. We are delighted with the service we have received and have no hesitation in recommending them. Susie Roberts, Inglewood Manor, The Wirral
Joining Onionring was not a difficult decision to take and one which here at Nunsmere we have never regretted. The service we receive from Dylan and the team is outstanding – one email or phone call and our information is almost immediately updated. Their commitment to their clients is superb and we would highly recommend them. Mark Huntley, Nunsmere Hall Hotel
We could go on but then it just looks like showing off.
Interested to find out what they are all talking about? Email dylan@onionring.co.uk or call 01925 450640
What would you like to do next?
1) I'd like to get my restaurant/venue/hotel/catering company FEATURED on Onionring.co.uk. Please note there is a cost to being featured....(yes, yes, I know, now how do I do it??)
You can Call 07929 571 601, and we can get you live within 48 hours. Or you email dylan@onionring.co.uk
2) I'd like to arrange a meeting to find out more about this excellent website. No problems, we prefer to put a face to a name and build a relationship rather than just be some faceless website. Call Dylan on 07929 571 601 or email dylan@onionring.co.uk
3) I'm pretty busy and I'd rather just look at some information in my own time, can you email me some details about packages and costs? email info@onionring.co.uk with which section or what type of business you would like to promote and we'll send through our impressive media pack.
Move back up to return to complete the online form.
You can add a recommended badge to your website. We'll tell you how.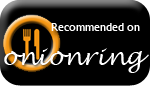 We had 33 restaurants sent in their thoughts about onionring in to us. Here is a summery "Onionring works really well", "phenomenal", "they're the best around", "very good value".
Office: 01925 479140
or 01925 450640
Sales: (Dylan) 07929 571 601
Tech: (Nick) 07769 723 455