| | | |
| --- | --- | --- |
| | | |
Home > Restaurants > Events > Dilli > Cookery Classes
Cookery Classes
Price: £35
Hundreds of people have enjoyed Dilli's informal, hands-on, value-for-money cookery classes.
Dilli is launching its own independent new cookery classes – based on what you have told us you would like to learn.
For newcomers, it's way to discover some of the secrets of India's fascinating and unique way of combining ingredients and flavours. And for people who have already attended an initial basic course, each class of our new ones will be an opportunity to learn more advanced dishes.
Classes will consist of:
A half hour chef demonstration of the dishes you will learn
A hands-on, three-dish class with instruction from our own chef
Spaces are limited to 12 people per class
Length: about 3 – 4 hours
When: Saturday and Sunday afternoons, noon – 3pm. Monday and Thursday evenings from 6pm – 9pm.
Cost: £85 ... the price has now been slashed to £35
Dilli chefs learn the secrets of Indian cooking in the same way as any child … from their parents. Their formal training and direct experience, in restaurant and hotel kitchens, then sharpen their skills to the level that Dilli expects.
Our cookery classes offer you the opportunity to start a similar journey as they share their insight and experience of the many regional styles of Indian cuisine.
These classes teach how to mix authentic ingredients and spices to make great tasting Indian food. You'll have fun at the same time - and get to eat the food you make or take it home with you.
Dilli's great value-for-money cookery classes can be tailored for home cooks, as a novel corporate event for rewarding staff, an alternative team-building exercise or for impressing clients.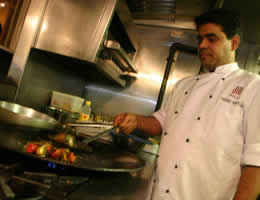 60 Stamford New Road
Altrincham, Cheshire
WA14 1EE
Tel: 0161 927 9219 / 0161 929 7484