| | | |
| --- | --- | --- |
| | | |
Home > Restaurants > Cheshire > Warrington Restaurants > Rams Head Inn
Rams Head Inn
Traditional, British
[show 1 more photos]
The Rams Head Inn is a stylish yet traditional community pub with accommodation in picturesque Grappenhall Village, Cheshire. The Rams Head prides itself on its standards of quality, service and value-for-money.
The Rams Head has a very contemporary feel yet with many traditional elements still remaining. The large pub offers a large menu to suit all requirements, be a casual sandwich for lunch or a full a la carte meal.
The pub serves freshly prepared, home cooked traditional British food in the comfortable and stylish dining room and also has a dedicated bar area and comfortable lounge with two real fires. The bar serves a large selection of carefully kept cask ale, and has a strong selection of wines by the glass.
The restaurant is air conditioned and fully accessible for the disabled. Children are welcome and provided with a dedicated children's menu, baby change facilities are also available.
All food is freshly prepared, as is our fantastic Sunday Carvery which runs alongside the a la carte menu.
---

This venue can cater for functions and events...find out more

Find the best deals for Hotels in Warrington...click here
Mike, Grappenhall
...Had a couple of dinners here recently - one with a group of about 15 and one with only 3 of us. Great food and service both times....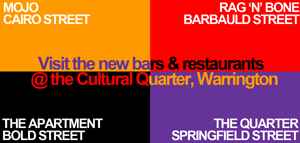 Contact Details
Church Lane Grappenhall
Warrington Cheshire . WA4 3EP

Tel: 01925 262814
Say "Mel from Onionring sent me"
Opening Hours
| | |
| --- | --- |
| Monday | 11am-11pm |
| Tuesday | 11am-11pm |
| Wednesday | 11am-11pm |
| Thursday | 11am-12pm |
| Friday | 11am-12pm |
| Saturday | 11am-12pm |
| Sunday | 11am-10.30pm |
Facilities
Parking is in a car park. Gluten Free Dishes Available. Outside Seating. Disabled Toilets. Licensed. Private Parties. Children's High Chairs. Gluten Free Options. Vegetarian Options. Real Ale.


Offers
Events
REGULAR

EVENT
Every Sunday - 'The Village Idiot' fun multimedia pub quiz from 8pm. Great prizes to be won; £35 voucher, £15 voucher, £10 round of drinks, bottle of wine. 'Play Your Cards Right' accumulator cash jackpot
<
CLICK HERE FOR MORE INFORMATION AND TO BOOK
>
Recommendations
Mike, Grappenhall





Had a couple of dinners here recently - one with a group of about 15 and one with only 3 of us. Great food and service both times.
amanda hewkin





lovely food, great service. Menu is varied and I had the pea and mint risotto, really full of flavour. Will be eating here again!
Malcolm Raymond Doylestown PA USA
I have had lunches and dinners including Christmas dinner here and have found the standards to be excellent. Always a pleasure visiting Grappenhall and this pub.
Robert Northard
Fantastic food good wine and beer. Great ambience leaves all the other local pubs a league behind. Staff are polite and courteous. Great evening had by the eight of us. Recommend the rib eye and the t bone. The mixed grill for the larger appetites.
Claire Warrington
always have a lovely carvery after taking the dogs for a long walk in surrounding area. Food is good and lots of vegetable to chose from.
Service is always slow so be prepared to wait. They would get top marks if it wasn't for this.
Great if you don't want to leave the dog in the car too as they cater for them with water bowls.
David, Daresbury





Went there for Christmas dinner, with everyone full of a cold. Must say, it was the best Christmas meal we'd ever had. Many thanks to Basher and his staff for an exemplary meal.
Also, many thanks to Graham and his family for letting us have the last table!
Anonymous





I just wanted to thank you and your staff for making my 70th birthday celebrations such a memorable occasion.
Everybody was impressed with menu, food and organisation. A special mention I think for Louise who did a very efficient job in a calm manner.
Thanks again and no doubt will see you in the future.

carol warrington
Went for a meal with friends. THe food was delightfull. Lots of choices, the atmosphere was lovely. They made us feel most welcome. I would go again.
Mike Sweeney





We've been a regular at the Ram's Head for sometime now as it has been great. There's lots of rumours that there have been changes and there has. We went for dinner last night and the new menu is even better than before and the prices are even better than previously. Still the top place to eat. (The Bass bitter is nectar!)
steve ,sandymoor





Ten of us went this week for a 40th birthday meal ,Food very well prepared and presented loved the new menu as well,staff very friendly and could not do enough for us ,we have been quite a few times over the last few months and will continue to do so though out 2010 ,roll on summer !!
Dan





went on a busy day just after xmas, considering how busy they were the service was good and food very nice. Cheese board and sticky toffee pubbing were the highlights but it was all good.
sw sandymoor





first class food and very friendly service 10/10 no hesitation in recommendation will be going again in the new year
Tom, Warrington





First attempt to eat here ended in failure - didn't book and there was no room at the inn.
Since then have booked twice for Saturday evenings and have never been disappointed. Rolled up ad-hoc on Sunday lunch time and the minute steak and melted onion ciabatta was first class.
Would recommend this place to anybody. Not only is the food top class, there's a good range of cask ales.
Carol Kettle, Lymm





Visited the Rams Head several times and never been disappointed yet. Today myself and husband called in just for a light bite(!). I had soup and sandwiches - soup was so delicious (tomato & leek) together with poached salmon on wholemeal - delicate, just melted in your mouth. My husband had cheeseburger and chips - but a world away from your fast food takeaway. Pleasant staff, wonderful food - good prices. You will not be disappointed, we never are.
Megan Warrington





Went here on Saturday night with a friend for a meal. Both had the burger with the gorgeous hand cut chips. I followed with a lemon torte and my friend had the choc and cointreau mousse. Meal for two incl alcoholic drinks for one and soft drinks for the other was £42.50. Will be back.
triciawarrington





Had a great girls nite out 'power walking'. Excellent service and food. The Rack of Lamb was to Die For !!!!
liverpool





this was our first visit to the RAMS HEAD INN and will definitely not be our last.this restaurant has a lovely welcoming atmosphere which is very apparent from the minute you walk in.considering it was a bank holiday all the empty tables were cleared and spotless awaiting the next diners.we all had a three course meal and every aspect of it was excellent as were the waitresses who were ready to help but did not become an annoying part of our meal as does happen so often in other restaurants.may i also point out the toilets were immaculate which for me is very important.well worth a visit to this lovely old inn.thank you for a lovely afternoon.
Mike Sweeney





I booked for 23 people and when I arrived it became obvious that there were 2 other large group bookings. However, the service and quality of food was brilliant throughout what was an extremely busy evening for the staff.
Cath, Warrington, Ches
Had a fab meal whilst with friends and family x25 off us! service and staff friendly and service was friendly and efficient, food really really nice and will defo visit again big portions value for money - Thanks Cath
Pete- Stockton Heath
Visited on Friday evening and had steak and ale pie which was delicious. Extremely friendly and attentive staff which made for a pleasurable evening.
Kathy -Stockton Heath




We visited for Sunday Lunch, having booked in advance as we know it is popular. The food was superb, and the service friendly and efficient.The Sticky Toffee pudding is to die for !! A great place , going again soon, to try the curry night .
Tony Warrington




I can recommend the business meeting area upstairs, which we use regularly for the Warrington Non-Principals Group (up to 20 local GPs) for Educational Meetings. The large room is set up with a large screen, for powerpoint presentations. The food at the Rams Head is home cooked and excellent and can be served either as a buffet upstairs in the meeting room, or as a sit down meal downstairs afterwards. I can only say that in terms of setting, atmosphere, food and overall quality of experience this is our favoured local venue!
steve , from sandymoor





We had dinner here last night , the rams head came highly recomended and we were not disapointed the food was brilliant as was the sevice , just one little niggle it would be nice to see regulars(drinkers) seperated from diners it was a little noisy round the bar area, carn't wait for the weather to pick up i think it is going to very popular in the summer dining outside. Ps well done on the refitt looks great and modern too.
Andy - Grappenhall





Absolutely brilliant place. We got the very last table on the night. Although it was very busy the atmosphere was just right, not too loud. The staff were very efficient and polite. The food was very very good. Very child friendly. This was pub dining how it should be. Will certainly be going again. Excellent.
A Bradley, Warrington




Have visited the Rams Head many times - amongst one of our favourite places to eat. Really good service and food, plus relaxing atmosphere.
Nick, Stockton Heath




Walked down here on a sunny sunday afternoon. After having a couple of drinks and cooling off we descided to stay for food as the menu had a huge choice of dishes - something for even the most picky!
The Chilli came quickly and was pretty spicy - perfect! Home-made chips and rice on the side. I remember the food here used to be good... I think its got better!!
Updates
Is this information about correct?
Please tell us about any omissions or mistakes on this page...
click here to submit an update.
If you own or run this venue and would like to get more customers from onionring...
click here