| | | |
| --- | --- | --- |
| | | |
Home > Restaurants > Cheshire > Warrington Restaurants > The Stag Inn
The Stag Inn
Traditional, British
[show 6 more photos]
The Stag at Walton is a traditional foody pub, just 1 mile south of Warrington town centre. We serve tasty simple home cooked food in warm welcoming surroundings. Traditional pub food as it should be.
Our menu is full of dishes from traditional grills and pies to inspired vegetarian dishes. Our wine list is supplied by the multi award winning Corks Out group and features a range of excellent value wines from around the world.
'Famous for our Sunday Lunch', we serve food from 12:00 to 7.00pm offering four roasts every week, small regular and large sizes. All of our roasts are served with a Yorkshire Pudding and gallons of rich home-made gravy.
Birthday or special occasion? We are experts at planning, organizing and staging a range of events and will sit with you to plan every detail.
---

This venue can cater for functions and events...find out more

Find the best deals for Hotels in Warrington...click here
mrs dorothy thacker
...They never fail to produce good affordable food I recommend them to all my family and friends ...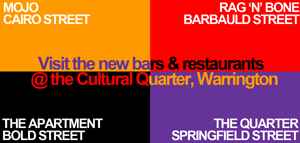 Contact Details
Chester Rd Walton
Warrington Cheshire . WA4 6EG

Tel: 01925 261680
Say "Mel from Onionring sent me"
Opening Hours
| | |
| --- | --- |
| Monday | 11.30am-11pm |
| Tuesday | 11.30am-11pm |
| Wednesday | 11.30am-11.30pm |
| Thursday | 11.30am-11.30pm |
| Friday | 11.30am-11.30pm |
| Saturday | Noon-11.30pm |
| Sunday | Noon-11pm |
Facilities
Parking is in a car park. Outside Seating. Disabled Toilets. Licensed.



Offers
Recommendations
mrs dorothy thacker





They never fail to produce good affordable food I recommend them to all my family and friends
Matt - Warrington




Nice pub with fine selection of drinks. Good quality food which has a home made style apart from the chips which are obviously frozen - would be good if these were made fresh. Sunday lunches are really good.
Linda Gleave




We often go there for a meal, and have always enjoyed excellent well cooked food. There is always plenty of choice - my personal favourite is Chicken in creamy garlic sauce! The Inn itself is well presented, clean, cozy and friendly. Worth a visit.
Matt Warrington




Under new management so gave it a try after previously giving up due to miserable unwelcoming staff. Really nice pub in a great location, new owners seem friendly and it was nice to have service with a smile for a change!
Annie - Warrington





Been to the Stag a few times and have thoroughly enjoyed what I have had. If I had one critisism it would be the male bartender who is the most miserable person I have ever come across, definitely not a people person, he let's the whole atmosphere of the pub down, won't stop me dinig there though.

philip, wallasey
it is quite impossile to fault the stag at walton. the food is quite wonderful, - the small roast dinner on weekdays, with lashings of roast meat and varous fresh vegetables , at about a fiver , is just excellent, and the food is always PIPING hot.
the beef and ale pie, with perfect puff pastry, is also wondeful, as is, quite honestly, the while menu. the place is very comfortable and absolutely spotless. the staff are always welcoming and friendly , and manage to remember you regardless of time. I only wish I lived nearby, - I suspect that I wold ake up residence. If ever a gastro pub ticked all the boxes, the stag is the one.

retired female




As a regular visiter to the Stagg over many years I can honestly say that this is one of our favourites for pub grub. The house curry is to die for and such good value on curry night on thursdays. Try it you wont be dissapointed.
vinchenso





Been to the Stag quite a few times…the chef there really knows his spices lots of tasty meals to enjoy all cooked fresh, decent portions and every meal as good as the last.
If your favourite is missing off the menu just ask and the chef will make it for you.
Nice friendly atmosphere, fine décor/background music, good value for money.
Pity its not on my doorstep would be there more often.

Amie Warrington




My family have been going to the stag since we moved to the area 3 years ago and I can say the food is delicious and great value for money. I havent had a bad meal and the atmosphere is great. I would definatley recommend the steak pie its fantastic. The only niggle I have is the drinks are a little bit pricey but definatley doesnt put us off going. Give it a try!
Updates
Is this information about correct?
Please tell us about any omissions or mistakes on this page...
click here to submit an update.
If you own or run this venue and would like to get more customers from onionring...
click here