| | | |
| --- | --- | --- |
| | | |
Home > Restaurants > Cheshire > Prestbury Restaurants > Romulus
Romulus
Italian
[show 22 more photos]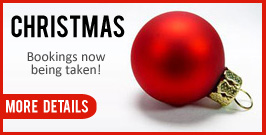 Romulus is a stylish intimate Italian restaurant located in the centre of the beautiful village of Prestbury. The restaurant serves fantastic authentic Italian dishes in a friendly atmosphere.
We have an extensive wine list with some blackboard specials, the house wines starting at £13.50...and we have Peroni on draft!
Food wise we have traditional pizza, pasta and main courses on the menu alongside some chefs specials from the blackboard, which changes weekly and uses what is in season...Fresh dover sole is available on request, any preferences just give us a call and we're happy to try and help.
We have a fantastic new patio courtyard to the rear of the building, great for sitting out with a glass of wine and a light lunchtime bite. We are now licensed for just drinks so you are as welcome for a glass of wine on our sun terrace as you are for a fantastic three course a la carte meal.
The car park is only 400 yards away
We now also accept the AZ club card (ex Fri & Sat nights).
We have been awarded a 5* Star hygiene rating!
*Please note the menu is only a sample and subject to regular change.
All our dishes are available for takeaway
, simply call and we'll have them ready for you when you arrive.
Have you tried our sister restaurant in Bramhall?
Click here for more details
Alex Cheshire
...After being recommended this restaurant as very family friendly by a good friend we came to try it out. We were not disappointed and will definitely be coming back. We had very attentive and welcoming service, the food and wine was great and the restaurant was very clean with a lovely feel to it.......
Contact Details
Lilac Cottage, New Rd
Prestbury, Cheshire . SK10 4HP

Tel: 01625 829466
Say "Mel from Onionring sent me"
Opening Hours
| | |
| --- | --- |
| Monday | Open Bank Holidays Only |
| Tuesday | 5.30-10.30pm |
| Wednesday | 5.30-10.30pm |
| Thursday | 5.30-10.30pm |
| Friday | 5.30-11pm |
| Saturday | 5.30-11pm |
| Sunday | 4pm-9.30pm |
Facilities
Parking is in a car park. Gluten Free Dishes Available. Outside Seating. Disabled Toilets. Licensed. Private Parties. Takeaway Service. Children's Menu Available. Gift Vouchers Available - contact the restaurant to buy yours today. Gluten Free Options.





Offers
Events
November
27
Wednesday 27 November 2013 to Wednesday 01 January 2014
Christmas bookings are now being taken. Our great fixed menu offer is available throughout Xmas - 2 people, 2 courses including coffee £23.90 or 2 people, 2 courses, 1 bottle of house wine £29.90! Any day, any time!
<
CLICK HERE FOR MORE INFORMATION AND TO BOOK
>
Recommendations
Alex Cheshire





After being recommended this restaurant as very family friendly by a good friend we came to try it out. We were not disappointed and will definitely be coming back. We had very attentive and welcoming service, the food and wine was great and the restaurant was very clean with a lovely feel to it. Although we went off the main menu the early bird menu had a great choice and seemed good value for money. Looking like a good choice for our mum's Christmas night out this year!
Kate J





As frequent customers of it's sister restaurant Romulus in Bramhall which is our local favorite Italian, we ventured into Prestbury for a change.
As we've come to expect we weren't disappointed and though not as traditional perhaps as Bramhall, we liked the atmosphere & customary attentive service with the same yummy spare ribs that is a favorite for us!! I had the swordfish in wine & cream sauce & partner the Fusilli Romulus - lovely!
Compliments on consistent food & service - hard to find nowadays!
David McCann, Prestbury





Very friendly, charming and excellent food & wine. A traditional & authentic Italian restaurant that is real and not like all the other resaurants that are trying to be 'current', cool and cold - 5* service and friendly staff.
Elaine Prescott





What a wonderful night we had! We organised with Mark and his team a surpise birthday party for a family member. Nothing was to much trouble,the food and wine were gorgeous and the staff just brilliant. Wish we could do it all again!
L.Holt, Congleton




we dined there on Saturday 26/05/2012 with two friends (it was their first time) the food as usual was excellent genuine Italian and we loved it. That night there were three people in from West Virginia USA and they said how they loved it. The ambience is good and the staff and service are very good altogether a very pleasant evening
Michelle Prestbury





I cannot speak highly enough of Romulus it has to be my favourite restaurant, from entering the door to be met my Kath and all the friendly, welcoming staff to sitting down to enjoy a glass or two in my case of the lovely wines they have. Mark is a fantastic chef and the food is always excellent. All together a delightful experience which is why we always return.
Antony Hughes, Ireland





The best Italian restaurant I've been to in years. I took a big client to the restaurant, so there were 12 of us. The service and food was really nice and the price very reasonable for the location. It's a personable, friendly atmosphere and if you want to treat someone for a really nice dinner, I strongly recommend this.
Paul Prestbury





Enjoy this Italian for it's good food & service, recommend their daily set menu - good value!
Nice atmosphere & we like the Italian owner.
Chris and Caz Stockport





We visited Romulus on a cold, rainy monday night and from the outside the restaurant looked cosy and inviting. We were not disappointed as we entered the restaurant, we were welcomed with a friendly waiter and a lovely open fire in a beautiful, traditional setting. The service and food were both outstanding and the salmon and crayfish pasta was truly divine. Just before we left the Chef and owner introduced himself to us, of who we found as great as the whole evening.
Nikki





We found Romulus on onionring and took 12 people for family bithdays, the staff were very helpful and friendly especially helping organise bithday cakes. The menu is very extensive with something for everyone this place has amazing food and staff and a lovely atmosphere. Would definatly recommend a visit!!!
Dave Rain





Recently my wife and I spent some time in and around Prestbury. We were fortunate on our first night to experience Romulus (Italian restaurant).Kath greeted us and offered us drinks outside while we had time to check out the extensive menu. The food was fantastic and the service was even better. I would urge anyone in the area to try and beat the dining experience at Romulus. We were so impressed with the warmness of the welcome,the quality and value of the food, on offer we went back on two further occasions. For me Romulus really did tick all the boxes.
Daniel, Macclesfield
Excellent, fresh food; informal and welcoming atmosphere; all at extremely reasonable prices. Faultless and recommended to all.
Prestbury





I have been to this restaurant a few times. Since it has been renovated, everything is even better than before .... and before it was pretty good. Really warm welcome, great fresh cooked food with natural ingredients and good wine. What more can you ask for?
Nick Evans





Great food in lovely surroundings. Staff were very helpful and accommodating. We especially liked the new patio area at the rear of the restaurant - lovely and sunny.
Andrea Worth, Congleton





My Partner and I visited Romulus on the 14th February 2010 (Valentines Day) we are happy to say we had an outstanding meal the service was equally excellent, there was only one thing that could have been better, the homemade Tiramisu did'nt have very much flavour ie. there was'nt any alcohol in it, other than that, we would recommend Romulus for any occasion.

Barbara, Trieste, Italy





entering an Italian restaurant abroad is always a little worrying but here I found the best Italian food ever!!the restaurant itself is very charming and the staff really friendly. I enjoyed it very much and would recommend:don't miss it!!
Alison Poynton





Visited this restaurant for the first time tonight with two friends. It was excellent - the food was great and service was superb, very attentive. We dined under the evening special menu, which gave us excellent value. Will definitely return
Lisa, Macclesfield





Great little restaurant. Staff extremely helpful and on the ball and can't fault the food. Menu excellent - spoilt for choice. Been 4 times now and haven't got a single complaint.
Tina, Prestbury





I have visited this restaurant several times and have always enjoyed my visit. The food is fantastic and the service is excellent. The atmosphere is very friendly and informal, as you would expect from a 'local italian'. It is a great place to take the children as it is very family oriented. The take-out service is also very reliable with an extensive menu.
Neil Macclesfield





If you're looking for a good 'local' Italian that serves great food at a good price with a good atmoshphere then this is the place ! Can't fault the food and the service was really friendly. I plan to go back very soon.
Jan Macclesfield





A really excellent Italian restaurant - menu is simple but delicious, house wine (red and white) very palatable and the staff welcoming and friendly. No need to travel further afield to find a tasty Italian restaurant!
Robert Tytherington r





I have eaten here so for 4 times and every time the service and quality of the food is excellent
(I am going again this eve)
Chris Norton





Called on spec - restaurant busy which is a good sign. Food was superb, service excellent - suggest the bbq ribs to start - amazing fennel taste. Barolo and Amerone superb - hence excellent evening
Steve Pringle - Tytherington





My girlfriend and I are regular visitors of Italian restaurants and this one has to come top of the list. It's really friendly, the service is quick, and the setting is very authentic. Most importantly the food was superb (we suggest you try the Fillet Steak Rossini - amazing). Definitely worthy of a visit!
Poynton




six of us ate here last week for a friends Birthday. The food was lovely and couldnt complain about anything. We will definately be going back.
Updates
Is this information about correct?
Please tell us about any omissions or mistakes on this page...
click here to submit an update.
If you own or run this venue and would like to get more customers from onionring...
click here