| | | |
| --- | --- | --- |
| | | |
Home > Restaurants > Manchester > Heaton Moor Restaurants > Marmaris Turkish Cuisine
Marmaris Turkish Cuisine
Turkish
[show 5 more photos]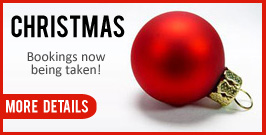 Welcome to Marmaris Turkish Cuisine. At Marmaris Turkish Cuisine, we specialise in bringing you the finest culinary delights of Turkey; for gourmets, the Turkish Cuisine is, without doubt, one of the finest in the world.
We are named after a great city in Turkey, Physkos as Marmaris was previously known, was part of the Carian Empire in the 6th century B.C. when overrun by the Lydians. Another invasion by the Lydians in 334 B.C. led to the partition of the Roman Empire of Alexander the Great.
Please come and join us, and enjoy our hospitality, and to see the extensive selection of Turkish specialities on our menu. We pride ourselves not only on the superb quality of our food but also on the traditional relaxed atmosphere in which you can enjoy your meal.
Whatever the occasion, personal or corporate, we are happy to cater for your enjoyment, and we will make sure that it will be a unique experience for you to always remember.
We are happy to serve you, Marmaris Team.
---

Find the best deals for Hotels in Heaton Moor...click here

This company offers a takeaway service...find out more
Iris, Derbyshire
...We went with friends and our friends parents......as usual, we were greated warmly and he food was authentic and delicious.....We all tried different starters and mains and not one of us out of 6 had any complaints! The service was so good and all our needs were taken care of. We paid around £150......
Contact Details
29 Shaw Road, Heaton Moor
Stockport, Cheshire . SK4 4AG

0161 442 1891
Say "Mel from Onionring sent me"
Opening Hours
| | |
| --- | --- |
| Monday | closed |
| Tuesday | 1700-2230 |
| Wednesday | 1700-2230 |
| Thursday | 1700-2230 |
| Friday | 1700-0000 |
| Saturday | 1700-0000 |
| Sunday | 1700-2230 |
Facilities
Licensed. Private Parties. Takeaway and Delivery Service. Children's High Chairs. Children's Menu Available.





Offers
Events
December
1
Sunday 01 December 2013 to Wednesday 25 December 2013
Join us for your festive parties and get-togethers this December with our popular a la carte menu - perfect for large parties! We are also serving a fantastic 4 course menu on Christmas Day at £23 per person (£9 per child). Booking is essential along with a £5 deposit per person on reservation. Please call 0161 442 1891 for more details.
<
CLICK HERE FOR MORE INFORMATION AND TO BOOK
>
Recommendations
Iris, Derbyshire





We went with friends and our friends parents......as usual, we were greated warmly and he food was authentic and delicious.....We all tried different starters and mains and not one of us out of 6 had any complaints! The service was so good and all our needs were taken care of. We paid around £150 and that was for at least 3-4 rounds of drinks for 4 people, 3 course meal and coffees! Bargain and the atmosphere was relaxing and enjoyable. cant wait to have an excuse to go back again.....
Stockport





WOW!! We fancied something a bit different, on having a look on onionring we noticed this place delivered and thought we'd give it a shot.... Delivery was speedy and the food was hot and superb, we had a good mix as we tried the hot and cold mixed starters - there was loads and we struggled with the orange chicken - but still forced a bit down:) We were impressed with the service and the food and can only highly recommend this as a take-away; we can't wait to visit the actual restaurant. It was MEGA! Best take-away in Stockport.
Sandra, Stockport





Three friends and I went to Marmaris for our post Christmas meal last night. The atmosphere was good, the food excellent and well presented and the price was reasonable. Our waitress was calm, friendly and attentive without being intrusive. We all agreed that we would go back.
sara





A lovely place. The dinner was excellent, just as the service. Waiters are friendly with just the right level of attention.interesting and tasty meals at reasonable prices.
just make sure you leave some room for dessert,home made baklava
I would highly recommend this restaurant for anyone
Rob and Faye
Faye and I had a great time at Marmaris.The food at this family run business is excellent and everything is freshly made in their kitchen.It's not often we get to ditch the kids and go out for the night. We made a great choice choosing Marmaris. We had a Falafel starter which was 10/10 and then the mixed meat platter ( lux izgara ) which was fantastic and and massive! washed down with a bottle of house dry white but it was the quality of the little things like the rice and the dips that made us realize that as far as Turkish cuisine goes Marmaris is the real deal! for £50 including our taxi home and a doggy bag big enough for a Turkish breakfast, we will definitley be back.
Pippa, Heaton Moor





Went to Marmaris for the first time a week ago, and will definately be going back! Really delicious food, especially the incredibly tender lamb and attentive, friendly staff. Highly recommended.
CJohns Stockport





Brilliant resatuarant. Food really well prepared and the staff very helpful and attentive quite unlike la casona! Perfact for birthdays/parties as they really make it a special occasion.
Claire Roberts Stockport





Went here for my sisters birthday on Saturday I absolutely loved the food,and the waiters were really friendly.
A gorgeous restaurant will definitely be going again.
paul heaton moor





Can't keep away from the place. Been about five times now taking different friends and family, all of which loved it. My kids would eat their every weekend if they could.......last time we went was New Years Eve - top night, going this weekend with ten members of my family - can't wait.
Dee, Heaton Moor





Absolutely fantastic. This is one of Heaton Moor's hidden gems largely because itís still quite new. The food and service is first class and even my super fussy father and husband could agree that this is one of the moors better restaurants. Definitely give it a try and donít be out off as the staff are really accommodating and will happily swap items in the meal to your preference.
Naz, Stockport
Went here for my birthday meal with some friends. It was my first time at this restaurant, and the staff were so friendly and welcoming and really made my birthday quite special. It had a family feel to the place, which was lovely.
The food was brilliant and fresh! The baklava dessert was to die for - could tell it was home made, yummy!
Definately recommend this restaurant to all! : )
I & T, Stockport





We called for the first time at the restaurant last Saturday and had a fantastic evening.
Food is authentic, homecooked and just absolutely delicious...just what you expect from Turkish cuisine. Best meze ever and the baklava was just divine!
Everyone was so friendly and helpful and couldn't have done enough during our time.
We wish the restaurant every success....it truely is Turkish cuisine at it's very best, and we should know coming from Turkey.
Julie Stockport





Booked a table for 4 thinking it was still the Italian restaurant. When we saw it had changed to a Turkish restaurant were not going to go in, but very glad we did. The welcome from all the staff was great and the food well where shall I start - meze fantastic fresh and flavours tantalised our taste buds for the mains WOW but the best for me was the home made baklava the best I have ever tasted. Loved the fact that the chef came out of the kitchens to ask how we enjoyed our meals. Definitely going back again soon and also going to book Chrismas party. Get down there and sample it for yourself you wont be disappointed.
Simon, Levenshulme




I have been twice now and both times the food and service have been excellent. Highly recommended and great value with the two courser Mon-Thur for £10.95pp before 7pm!
Keith - Stockport





Went here tonight for our wedding anniversary and the food was cooked to perfection, the staff were polite and friendly and the restaurant itself is very airy and pleasant. They also do an early bird deal for £10.95 from 5-7pm and its excellent value. We will definitely be revisiting this place!
Updates
Is this information about correct?
Please tell us about any omissions or mistakes on this page...
click here to submit an update.
If you own or run this venue and would like to get more customers from onionring...
click here