| | | |
| --- | --- | --- |
| | | |
Home > Restaurants > Cheshire > Wilmslow Restaurants > Ayo Gurkhali
Ayo Gurkhali
Nepalese, Indian
[show 6 more photos]
Ayo Gurkhali, the first Nepalese Restaurant in Wilmslow, serving authentic Nepalese cuisine plus Indian speciality dishes cooked to perfection by the Nepalese Chef with over 25 years of experience.
The ambience is set to offer a relaxed and cosy atmosphere. Skilled chefs prepare dishes, using the freshest of spice and herb mixtures, just as they would have been prepared in the kitchens of Nepal. The chefs can alter any dishes to suit your preferences.
The menu showcases innovative cuisine from different regions of Nepal & India, and all dishes are served with genuine, friendly hospitality and great enthusiasm.
Takeaway services available
There's a free customer car park after 6pm behind the restaurant.
---

Find the best deals for Hotels in Wilmslow...click here

This company offers a takeaway service...find out more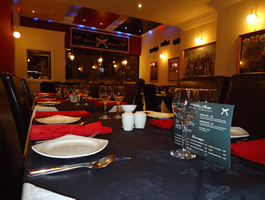 andrew wilmslow
...Took family from Glasgow here and they are very hard to please when it comes to Asian food. They were totally impressed with the food and service and blown away by the prices. £99 for 7 of us inc drinks....
Contact Details
13, Bank Square
Wilmslow, Cheshire . SK9 1AN

01625 538800
Say "Mel from Onionring sent me"
Opening Hours
| | |
| --- | --- |
| Monday | 5pm-11pm |
| Tuesday | 5pm-11pm |
| Wednesday | 5pm-11pm |
| Thursday | 5pm-11pm |
| Friday | 5pm-12:30am |
| Saturday | 5pm-12:30am |
| Sunday | 5pm-10pm |
Facilities





Offers
Recommendations
andrew wilmslow
Took family from Glasgow here and they are very hard to please when it comes to Asian food. They were totally impressed with the food and service and blown away by the prices. £99 for 7 of us inc drinks.
Paula and Marcus Wilmslow





This is the best curry house we've been to. The food is amazing and the staff are lovely! I love the honey chicken tikka!
Cohen (Cheadle)





Amazing food, polite and attentive staff, great service. What more can I say! Be back soon. HIGHLY RECOMMENDED!
Kunal (Wilmslow)





I am an avid eater and love my Indian food. Me being an Indian and lived all my life – 4 years in Mumbai in the land of food, I know what food tastes like. After such a long search I have found this perfect restaurant in Wilmslow. The food quality, texture, presentation and consistency are just phenomenal. The food served is with such a great passion and love and without a doubt the best food you can find in the whole of Northwest. If I think of eating Indian food the first thought is Ayo Gurkhali. Have never been disappointed and am sure non of you will ever be. Love to eat at this place and have always enjoyed.
All the best to the team and happy dinning to the visitors :)

Sonia Wilmslow





My husband and I went to this restaurant for an early dinner--food quality and presentation were great!! The staff is very friendly and can answer all questions regarding their food. Would really recommend this great place, will come back!!!
Malcolm - Chelford





We ended up here by default and were very happy we did! We both had starters and mains plus a couple of drinks and it was less than £40! My fish pakora starter was great and there was loads for £3, so much so I couldn't finish my main. There is an extensive menu that everyone would be able to find something to eat. As in most indian type restaurants the desserts looked best left alone but probably fine for kids - the pre-packed frozen ice-cream thingys, not exactly my cup of tea but we didn't eat them so I'll stop commenting!
The staff were attentive but not in your face and the taste of the food was nicely different to the usual 'curry house'. Will defo return again, and again, and possibly again too!
Parker- wilmslow





fantastic food,well priced and very good service!10/10.i would definitely go back again with my family and friends.
Berni Wilmslow





This is the best Nepalese food, excellent, superb, staff great, a superb restaurant beats every Indian restaurant for miles around.
andrew wilmslow
Superb: visited on Nov 20 2009. Very high quality food indeed. 5 of us for £90 inc nice bottle of SB and coffees. Everything was cooked well and we left full but not bloated. I hope these guys make a success of the restaurant as it has failed in all it's previous guises. Please try it if you are thinking of Indian in Wilmslow or Handforth
Brian - Wilmlsow





I have been many times and never had anything less than an excellent meal and great service. Each dish tastes freshly prepared, has bags of flavour, and is thankfully devoid of the ghee/oil you see with other poorer quality restaurants / take-aways. I have also had their take-aways and the quality is the same as if I were sat down in the restaurant. It gets even better... until the end of Feb 08 they are on a 2-for-1, if you eat in the restaurant - I guess they are trying to drum up business during the slack post-New Year period - I suggest that you check them out and I reckon you'll return, again and again.
Holly - Wilmslow





I ate in Mumbai 2 weeks ago and I was really impressed, no bright sickly sauces, just fantastic tasting authentic indian food. reasonably priced, very friendly staff who gave us add ons for free to compliment our food, all in £57 for two people with 3 courses plus appetizers with wine and few classes of beer and mineral water. We enjoyed it so much, we had a takeaway last night and the standard was just as good with extra food put in for free. Very impressed.
Paul F Tansey





You will not find better food.
Try the Chicken Rogan Josh. Spot On.
Caroline Shanks - Wilmslow





BEST INDIAN RESTAURANT IN WILMSLOW
The food is excellent whether you are eating in the restaurant or a take-away. Staff are friendly and cheerful. Atmosphere can sometimes be quiet but maybe people don't know the restaurant is there.
Updates
Is this information about correct?
Please tell us about any omissions or mistakes on this page...
click here to submit an update.
If you own or run this venue and would like to get more customers from onionring...
click here