| | | |
| --- | --- | --- |
| | | |
Home > Restaurants > Cheshire > Wilmslow Restaurants > The 39 Steps
The 39 Steps
Modern, European, British
[show 11 more photos]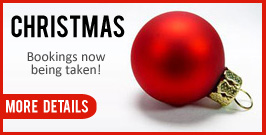 The 39 Steps is located right in the heart of idyllic Styal village, three miles outside of Wilmslow. Under the ownership of John Rebecchi the restaurant offers a stylish Modern British fine dining experience spiced up with just a hint of the Med.
An 80-bin wine list ably matches menus that are built around local produce.
The 39 Steps is Cheshire Life Restaurant of the Year 2007-2008 and also now offers an outside catering service called 'The Fresh Approach' - for more info click the catering link below.
---

This venue can cater for functions and events...find out more

Find the best deals for Hotels in Wilmslow...click here

This company can cater for your events...find out more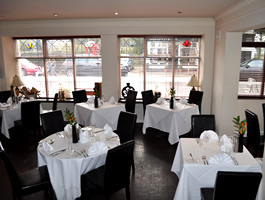 Lynne. Appleton.
...Had lunch with the 'girls' here today. Unique venue, superb food & fantastic service. Would highly recommend....
Contact Details
4, Altrincham Rd Styal
Wilmslow Cheshire . SK9 4JE

Tel: 01625 548144
Say "Mel from Onionring sent me"
Opening Hours
| | |
| --- | --- |
| Monday | 12-2, 6.30-10.00 |
| Tuesday | 12-2, 6.30-10.00 |
| Wednesday | 12-2, 6.30-10.00 |
| Thursday | 12-2, 6.30-10.00 |
| Friday | 12-2, 6.30-10.00 |
| Saturday | 12-2, 6.30-10.00 |
| Sunday | 12-4pm |
Facilities
Parking is in a car park. Licensed. Private Parties.




Offers
Events
December
3

Tuesday 03 December 2013 to Monday 23 December 2013

Join 39 Steps over the Christmas period and indulge in their fantastic menu. Available from the 3rd December till 23rd December, you can enjoy this mouth watering menu for £22.50 for both lunch and dinner sittings.

<

CLICK HERE FOR MORE INFORMATION AND TO BOOK

>

December
24

Tuesday 24 December 2013

The night before Christmas has never got better as 39 Steps Restaurant offer their delicious A La Carte menu just before the big day.

<CLICK HERE FOR MORE INFORMATION AND TO BOOK>



December
25

Wednesday 25 December 2013

If you don't fancy cooking your long-winded Christmas dinner then come down to 39 Steps restaurant and let us do the hard work for you, for £75.00 per person.

<CLICK HERE FOR MORE INFORMATION AND TO BOOK>



December
26

Thursday 26 December 2013

Our fantastic Table D'Hote menu is available for the resting day of Christmas! Join us for £32.50 per adult and £20.00 per child.

<CLICK HERE FOR MORE INFORMATION AND TO BOOK>



December
31

Tuesday 31 December 2013

Celeberate New Year in affordable style by visiting 39 Steps restaurant! £85.00 per person with a 5 course meal, Champagne and Canapes upon arrival including a fantastic cabaret singer, the excellent vocalist who performed at our sister restaurant Bacchus in 2012.

<CLICK HERE FOR MORE INFORMATION AND TO BOOK>




Recommendations
Lynne. Appleton.
5





Had lunch with the 'girls' here today. Unique venue, superb food & fantastic service. Would highly recommend.
Daniel
5





Loved it. Food, service and win were all first class. Beautifully presented dishes and tasted great - style and substance! Recommended.
george woolley Altrincham
5





Hi We had a family party at the 39 steps on sunday there was six of us .The food was fantastic and the staff were at their best, our two youngsters had a great time Beth asked for a pot of tea and she said it was very good (pg tips)
Wilmslow
5





Excellent service, location and food. What more can you ask for? My favourite restaurant!!
karen Haughton





Sorry its taken me so long to write a review. We have never had a bad meal or bad service at the 39 steps. The whole team go out of there way to make sure you enjoy the whole experience. David and I have been taking friends there for years and always had great food and wonderful service. Many thanks to all the staff and especially Juan and John who made Davids 50th so special. Stop reading this and book you wont be dissapointed.
Michelle, Sale





Had a great lunch at the 39 Steps today, fantastic food, great service, set menu is amazing value for the quality of food, thanks.
Sharon Vickers





I had yet another fantastic dining experience Saturday night 4th September with my husband and our two friends.
We have been to the 39 steps a number of times and the quality of the food and service just gets better and better.
Nothing was too much trouble and if we wanted extra bread etc it was brought out straight away. The food is absolutely first class and the chefs should be commended. Thanks so much for an enjoyable evening.
Robert McKenna





Wow!!! What a night-out 4 of us dined out at the 39 Steps Styal. we all had different starters Goats Cheese Terrine was my starter best goats cheese Ive tasted, wife had the shoulder of spring lamb the rosemary and red wine dressing was to die for, our friends had the seared scallops and smoked salmon both were very happy with there starters. My main course was the wild fillet of hailbut a must for all fish lovers.Wife had the sauteed calves liver that just melted on the tongue cooked to perfection served with the most delightful savoy cabbage mash.our friends had the roast fillet of beef tasty and with the pepper sauce served on the side.Lemon meringue is my down fall, so seeing in on the menu there was no other choice never had anything quite like this lemon meringue served with in a souffle great idea liked it very much, the other three shared a cheese board with 5 different cheeses. a wonderful evening was had by all and i didn't have to drive home what a bonus. Had a great evening back soon Cheers Robert
Tony





This place always delivers, great restaurant - fantastic wines. Love it!
Linda, Altrincham





Absolutely loved this restaurant. Food fabulous, ambiance v.good and not overly expensive. Open at lunchtime which is very handy for business etc. Would definitely go back.
steve





I took my girlfriend here on Sat 16th Feb as a belated Valentines day treat.
I have to say it was the most fantastic meal and foody experience i think i,ve ever had .
The food was truely superb and the service was excellent too.Helpful and unobtrusive.
Courses came at a nice steady pace ,giving you time to hold a conversation ,which i for one really appreciated.
I can,t recommend The 39 Steps highly enough and we can,t wait to return.
David Hughes Bramhall
My wife & I dined here for the first time on Saturday 10th March. There is a great local pub next door where you can enjoy a drink first or a very comfortable seating area within the restaurant if you prefer. The atomosphere is relaxed and the staff are very friendly and this along with the superb food & wine, I had the smoked salmon follwed by the lamd, makes for a really enjoyable night out. Would I go again ? You betcha.
Chris Taylor - Cheadle





We have dined at the 39 Steps on several ocassions since John & Duncan took it over. We have found it to be an excellent restaurant with a superb menu. We would highly recommend the 39 Steps for both business and private dining.
flossy





The restaurant is the best. They have delicious food, wonderful service and nice staff. Duncan and John are really great directors.
Adrian Walsh





Since John and Duncan have taken over, I have been here a couple of times, once for lunch and once for dinner. Both excellent. well sourced food and simple but elegant cuisine makes this a definite must.
Stockport
one of the best meals I have ever had. Polite staff and wonderful service - can't fault anything about the place.
Updates
Is this information about correct?
Please tell us about any omissions or mistakes on this page...
click here to submit an update.
If you own or run this venue and would like to get more customers from onionring...
click here