| | | |
| --- | --- | --- |
| | | |
Home > Restaurants > Cheshire > Wilmslow Restaurants > Heddys
Heddys
Middle Eastern, Mediterranean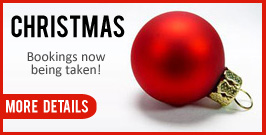 Authentic cooking influenced by Middle Eastern, Mediterranean and Armenian cuisine. We specialise in Mezzeh, fish, charcoaled meats and cous cous dishes served in a personal and friendly atmosphere.
Neighbourhood prices, authentic cooking and friendly service ensure that Heddy's restaurant gets packed with regulars. Extensive menu with a 'lovely range of Meze' plus main events like 'immense' couscous Moroccan and marinated black sea bass stuffed with parsley and garlic. Baklava and other desserts. Global wine list with some intriguing Lebanese selections.
The restaurant has been featured in all the recent Good Food Guides.
---

Find the best deals for Hotels in Wilmslow...click here

This company can cater for your events...find out more

This company offers a takeaway service...find out more
Phil Turner-Leeds
...Wonderful meal -restaurant recommended to me by Tony and Anne Marie who eat there regularly - Tony invited me along and the food was excellent with really great service - will be bringing the family when we are all over next - but just a great overall customer experience ...
Opening Hours
| | |
| --- | --- |
| Monday | 5.30pm-10.30pm |
| Tuesday | 12am-2.30pm, 5.30pm-10.30pm |
| Wednesday | 12am-2.30pm, 5.30pm-10.30pm |
| Thursday | 12am-2.30pm, 5.30pm-10.30pm |
| Friday | 12am-2.30pm, 5.30pm-10.30pm |
| Saturday | 12-2.30pm, 6.30pm-10.30pm |
| Sunday | Pre-booked Functions Only |
Facilities
Disabled Toilets. Licensed. Private Parties. Takeaway Service. Children's High Chairs. Vegetarian Options.





Offers
Recommendations
Phil Turner-Leeds





Wonderful meal -restaurant recommended to me by Tony and Anne Marie who eat there regularly - Tony invited me along and the food was excellent with really great service - will be bringing the family when we are all over next - but just a great overall customer experience
Alastair & Sandra - Edinburgh





We visited this restaurant on Friday 26th July 2013 with friends. We were seated near the open shop front window which was great as it was a very warm night. After looking at a very extensive menu we settled for the fish special with 2 wines. This was a great choice. Both courses were very good and complimented by the managers choice of wine. The service was also very good. It was friendly,efficient and all staff had a good knowledge of the menus. I would definitely recommend you try this restaurant and we will visit again if we are staying in this area.
Fatemeh Wilmslow
All your workers where extremely polite and we thoroughly enjoyed our experience! Hope you enjoyed the cake and thanks for making my mums birthday a very special day thanks to all your workers and you !! We will definitely be coming back for more amazing dishes and once again.
Jayne, Stockport
Heddy's at lunch time was quiet but still lovely and a nice relaxing afternoon was spent after shopping. Had the lovely lunch menu and thoroughly enjoyed my first experience of Heddy's. Great staff. Great food. Great service. Hope to be back really soon.
Thanks Heddy's.
Carolyn, Cheadle Hulme




Excellent food and very attentive service. Thank you.
Neil HD, Edinburgh





Just spent a week in Wilmslow and most evenings in Heddys. Brilliant food, great atmosphere and friendly staff - attention to detail in eveything makes this a very special place.
Diane Bond Manchester





Wow - First time dining here and we were blown away with the quality of the food and the excellent service.
Wonderful flavours and very good value for money.
Will definitely be going here again
Vanessa, Manchester





Me and my boyfriend dined at Heddys for the first time last night and I have to say the food was delicious and the staff was very friendly!
We didn't have a reservation and even though they were busy, they managed to find us a table made us feel at home. We will definitely be going back!
barbara , wilmslow
Absolutely amazing meal, and the most friendly staff. Strongly recommend to everyone who love fresh food and great dining experience! Thank you for making our night special
Ian - Heald Green





Amazing! We were found a table even though we hadn't booked by friendly staff. The starter was delicious, main course outstanding and desert was sublime. One of the greatest meals of all time. Thank You.
Helen/Jane/Elaine/Jane/Wendy





Visited 19/5/11 we had a lovey evening the food was excellent! It was really good to experience different type of cuisine, our waitress Ellahay really looked after us explained menu - we will certainly all be back and would highly recommend a visit!
Darren Barratt Cheadle Hulme





I booked the restuarant for a special company night out on 12th May 2011 as our Managing Director was over from Australia. We had been eating at various restuarants throughout the week during his stay.....and this was by far the best. There was 8 of us and everyone commented at how amazing their meals were. Everyone said they will be returning with their partners and friends.....this says alot as the majority of these people live outside of the area, in Chester, glossop, Lyme and Nantwhich.
Alice, Wilmslow





Heddy's is a teeny bit more expensive (being a student) but it was well worth it, the service was excellent, we chatted to Heddy himself! The food was amazing and arrived very promptly despite the restaurant being relatively full. The portions were pretty much perfect as well, not too much and not too small! And to top it off we got a voucher off our next visit which we're looking forward to! Overall a brilliant restaurant.
Maria Bennett
We were accommodated at late notice so Many thanks for that! The food was amazing, I could eat it all again right now, and the service was fabulous, very attentive and personal. Will definitely be recommending to all my friends.
Nicola & Andy, Cheadle Hulme





Excellent, the whole experience. Fantastic, attentive staff who know everything about the food and will suggest what's good - and mean it.
The Morrocan Lamb tagine is on a par with the one that's served in my favourite street side eaterie in Marrakech, absolutely melt-in-the-mouth lamb, well seasoned cous cous and slow roasted vegetables. The mezzeh to start is a great choice and homemade honeycomb ice-cream was delicious. We will be back!
PETER DEVERELL-SMITH





We've been eating here for more that 30 years. the food is fantastic, so is the ambiance and welcome. Hopefully next time we can choose something new from the great menu. We can't visit often, so always order our favourites. Ask Heddy! He knows our order the minute we walk in. Best Armenian food and wine in the UK, without doubt.
andrew wilmslow
15th August '09. Excellent. Moussaka which I normally do not like was superb. Heddy not there, so staff more relaxed than usual, but still very good of course. Had 2 mixed grill as well between 3 hungry men. Very nice. Oh, and scallops too. Yum
Karen & Simon Perry, Wilmslow
Heddy's restaurant is a real gem and stands out from the crowd. The blend of great food, professional yet relaxed atmosphere and of course Heddy himself makes for a superb experience. Can't recommend it highly enough.
Jane, Southampton





Every time we visit relatives 'up North', we book at Heddy's. The service and food is second to none and the staff always go out of their way to make our evening extra special. I only wish we lived closer so we could visit more often.
Miles Dawson - Watford





I was on a training course with a group of similar twenty-somethings, and we came to Heddy's for something a little different than the usual Wilmslow bars'n'burgers. We made the right decision! We got excellent service, delicious food and a warm, inviting atmosphere. Heddy is wonderfully charismatic, and makes you feel extremely welcome. A bit of advice; if you go, make sure you try his home-made ice cream! It may be expensive, but it is truly exceptional!
Karen and Tim
We visit Heddy's often as a couple, with friends or with the family. Food is wonderful and the service is excellent. Heddy and his team are delightful hosts
Karen & Steve WIlmslow




This was our first time and we thoroughly enjoyed it. It was a busy night, however the service didn't falter. Excellent food, good wine and friendly staff. We'll definitely be back..........
Ian and Wendy Cheadle Hulme





We have been dining at Heddys for a few years now and we have never been disappointed. We have eaten most dishes on the extensive menu but we usually opt for the "specials" all of which are fab, especially the baby halibut and the roast duck with figs!
Recently we decided to treat ourselves and ordered the lobster special and what a treat. We have eaten lobster at lots of places around the world including San Francisco Bay, Sydney Harbour and Havana but we have got to say that Heddy serves the best lobster ever and we will certainly be going back for more. The Cloudy Bay wine as an accompaniment was a very good choice and it was served at just the right temperature. We finished a superb meal with Heddys home made ice cream and a rum-baba. Needless to say we would both certainly recommend a night at Heddys and if you want a gastronomic experience it has to be the lobster - go for it!!
Mike and Shirley Brown, Saffron Walden





We celebrated our wedding anniversary at Heddys whilst visiting family in Wilmslow. Found the hospitality exceptional and the staff very knowledgable about the menu. Never having tried Middle Eastern food before we had everything explained to us and were not disappointed. The food was fantastic, the whole eating experience was delightful and well worth a visit. We will definitely return on our next visit to Wilmslow.
Maz from Grappenhall




Went for a friend's Birthday last night, after reading all the good reviews on the onionring it had a lot to live up to.....and it did. The food was lovely, something a bit different. Would highly recommended to others esp the Halva (dessert menu)
Natalie - Runcorn





This restaurant is a must for everyone. Whilst stopping over in Wilmslow i had read positive comments about this restaurant and how very true they were. The food was fantastic.The best restaurant i have been to in a long time. It is also good to see Heddy getting involved with his customers. Always great to see. No doubt i will be visiting again. This is a popular restaurant and was very busy all night but the service was great and staff very helpful and friendly. The prices were also reasonable. Had a really good night.
Robert & Heather, Knutsford
So seldom in Britain is one able to appreciate the delights of a fresh, lightly & simply cooked lobster! But Heddy has mastered it to perfection.
The lobster photograph on Heddy's website, taken by myself at lunchtime one Spring day in 2007, shows Heather about to squeeze the lemon onto my pending feast. We have returned for many memorable lunchs since. But remember to order 24 hours in advance!
Dr. N. Chestock, Hale.
My wife and I had a superb dinner at Heddy`s last night. Heddy was a delightful person to meet and he took our order, brought our wine and with the help of his waitresses, made it a very pleasant experience.
See you again soon Heddy.
Andrew, bassaleg





We have travelled and eaten all over the world and extensively in middle east. Eating at heddys was a joy. Authentic aromas and tastes with original atmosphere.
linda ,wilmslow





Fantastic! This was our 1st proper Lebanese meal. We live locally and Heddy is always very warm and friendly in passing. His personality is no different in the restaurant, he is a great host. The food was authentic and delicious. If you like a bit of spice....please try !!!!
David Probert ,Montaren 30700 France





I have watched Heddy build his restaurant from the early days to become best middle eastern restaurant in the region. His personal attention to every detail ensures perfectly cooked food, attentive service from charming staff and a buzzing atmosphere every night of the week. The home-made yeroshig sausages as a starter take some beating and the baby halibut is just perfection.
Mrs M, Wilmslow





What a fabulous place, excellent food and Heddy is the perfect host. The first time we went we didn't know what to have so Heddy ordered for us and what a treat! The mixed mezzeh was just to die for and so was the steak. Have been lots of times since and recommend it to all my friends.
AliRay, Runcorn
Went to Heddy's today after finding them on your website and have to say that we were both impressed with the Mezzeh Platter.
Also very friendly service and helpful about the stone flooring we are thinking about buying.
Victoria - Manchester
I went to Heddy's for lunch today and have already recommended it to many friends and colleagues. To say I was impressed is an understatement. The service was amazing and the food is the best I have tasted in years. I have a number of food intolerances and have never experienced a restaurant where the front of house staff are as clued up on the ingredients in their dishes. I started with the prawns and followed on with the Lamb Kebab - v tasty! Highly recommended, can't fault it!
Nigel
We went to Heddy's on friday night and yet again had the most fantastic meal. Heddy's was, is and always will be the BEST restaurant in Wilmslow. More Michelin stars to follow I'm sure.
Paul Mason Manchester
I was going to say how awful it was (so I could get a table as the food is so delicious everybody wants to eat there). I have been to Heddy's over a dozen times this year and the food has been consistent, fresh, wholesome, and packed with flavour. No matter what you order you are guaranteed flavoursome delicious tasting food. It doesn't stop there the ice-cream is delicious too I had the honeycombe flamour it was like eating malteesers with cream how decadent. If you go and have a bad meal I will streak up the main road naked (now that will put you off your dinner)!!! Enjoy your visit.......
Antonia Short
Thanks for a great meal on Sat night. We were recommended your restaurant by my sister who had visited with a large party of people and had a banquet. She told us to have the mixed meze starter which was gorgeous, and then we had the mixed kebab for our main course. However the best part of the meal for me (typical woman) was the ice cream. Totally amazing mango and pistachio, our compliments to the chef!!


Anyway we don't usually stray from the same few restaurants and end up eating Italian all the time, so we're very glad that we've now found somewhere else to go on a Sat night.

Updates
Is this information about correct?
Please tell us about any omissions or mistakes on this page...
click here to submit an update.
If you own or run this venue and would like to get more customers from onionring...
click here