| | | |
| --- | --- | --- |
| | | |
Home > Restaurants > Cheshire > Warrington Restaurants > Agave Rum Bar
Agave Rum Bar
Mexican, Latin
In the centre of town, serving a variety of Tapas style dishes from Mexico, Brazil, Argentina To Cuba.
Lots of cocktails made and great beers from all over South America.
---

Find the best deals for Hotels in Warrington...click here
Claire & Andy, Liverpool
...If you enjoy fine food and live anywhere near Warrington this is one restaurant you have to visit! Amazing food at very sensible prices. ...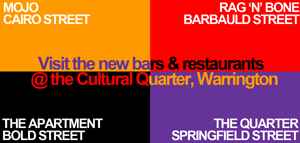 Contact Details
78, Sankey St
Warrington Cheshire . WA1 1SG

01925 550071
Say "Mel from Onionring sent me"
Opening Hours
| | |
| --- | --- |
| Monday | Midday - 11pm |
| Tuesday | Midday - 11pm |
| Wednesday | Midday - 11pm |
| Thursday | Midday - 11pm |
| Friday | Midday - 1am |
| Saturday | Midday - 1am |
| Sunday | Midday - 11pm |
Facilities
Licensed. Private Parties. Children's High Chairs.


Recommendations
Claire & Andy, Liverpool





If you enjoy fine food and live anywhere near Warrington this is one restaurant you have to visit!
Amazing food at very sensible prices.
Emma Warrington





WOW This restaurant is amazing the taster menu was perfect not a single complaint. The food and cocktails were really good, definitely worth a visit, great value for money!
the lathams





went for sunday lunch with 9 year old daughter 'best sunday lunch ever' she was right, variety and quality were unique so much so we sent a txt to her mum who was away for a weekend but answered immediately asking where! hope you fill the place up as has been remarked previously, we will be back and telling all about you. very high quality restaurant... thanks
Neil, Warrington
My wife and I had Sunday Lunch here today and it was excellent. We went on a 2 for 1 offer on onion ring but that should no way detract from the experience we had. We were greeted by a friendly waiter and shown to our table. For starters I had a ham hock terrine with chutney and toasted onion bread whilst my wife elected for the slow cooked egg with celeriac puree. Both were really good. For mains we both went for the roast beef, a little bit of a safe choice but what sold it for me was the waiter. When I asked him how the beef was cooked he immediately responded rare and if we wanted it cooked more they would cook it for a bit longer. Ideal response, I had it rare and my wife had it cooked a little bit more. When the main course arrived it was exactly as promised, meat was great, carrots and green beans perfectly cooked, cabbage perfect with a lovely background taste of bacon, mash smooth with a hint of nutmeg and the roast potatoes were nice and crunchy. Gravy was lovely , could have happily coped with a little bit more.
For dessert I had the panna cotta and my wife had the cheese board, the cheeses were safe with brie, cheddar and blue stilton but non the less good, the panna cotta was great, just set and served with rhubarb and honeycomb. We both finished the dinner with coffee which brought a final surprise...it was served with a piece of lemon fudge ( please can I have the recipe) which was so good my wife even asked for a second piece. All in all we really enjoyed ourselves and will definitely come again....one final comment Chris please continue to look after your staff as the two we met today were a credit to your organisation
Peter, Runcorn





Dined here last night on the Tasting Menu. Each of the five courses (seven if you include artisan bread to start and a small pre-dessert) was delicious and although the portion for each course was smaller than usual, it was more than enough when added together. Coupled with friendly and courteous service, it was a lovely evening. At the full price it would have been good value, but there is currently a 2-4-1 offer. Outstanding!!! I can't understand why there isn't a queue outside their door.
Lorna, Warrington





I ate here on Friday night with my husband and 2 friends. What a supberb place to eat, it has got to be one of the best restaurants in Warrington. It's about time we got a place like this. We were greeted by Joanne as soon as we walked in and shown to the bar area. The restaurant is very well designed and decorated, very relaxing. The food is EXCELLENT, we all had 3 courses and none of us could find anything negative to say about any of them. How many places can you go to and say that!!.....I would definitely recommend this restaurant, I would say that if you went once you would without a doubt be back again!!!!!!
warrington





Fantastic quality of food, attentive friendly staff, amazing cocktails and a relaxed but vibrant atmosophere. I love this place and very good value for money. Highly recommended.
Steph from Warrington





Lovely food with excellent service. Would reccomend to anyone with decent tastebuds. Will definitely be going back again :)
louise from warrington





The most excellent restaurant we have ever been to! Me and my partner went to Marshall's on Saturday night for my Birthday. We had a very warm welcome on arrival and were asked if we would like to sit in the bar area first, have a drink and peruse the menu. What a lovely idea as most restaurants rush you in and seat you immediately. The choice of menu was wonderful. The lady (who we found out was one of the owners) was ever so friendly and explained some of the choices on offer. Scallops were delicious for the starter, I had the duck for the main and my partner had the pork belly. We tried each others and I cannot say how much difference in quality compared to any restaurant we have been to. Absolutely delicious! The £1 donation to Alder Hey Hospital is a fantastic idea. In all, a wonderful night out. We will definitely be booking again.
Joy Barton Warrington





Ate here this week and the food was lovely. Fresh, well presented, timely and tasty. Very friendly atmosphere. Recommend it.
Dave Rowlands, Widnes





Visited the restaurant for the first time on Saturday. All our company were blown over by it,s quality, friendliness and decour. We recommend any food loveing people to make sure you give this fabulous outlet a visit
ashton in makerfield





we celebrated my wifes 60th birthday at marshalls,the food and service were second to none we supplied a birthday cake which they brought out at the right timeas well as a complementary bottle of champagne ! I cannot recommend this restaurant highly enough, we will certainly be back in the near future.
Gaynor, Warrington





I often visit Marshall's and find every time I have a truly enjoyable experience due to the warming atmosphere, friendly staff and quality food.
Linda, Rainford, St Helens





I went to Marchall's last night for my works xmas party, (WBC) the food was fabulous, the service was excellent, a top class restaurant, highly recommended
Francesca from Runcorn





The service was fantastic, very friendly atmosphere. The food was delicous and the desert was to die for! Looking forward to going again soon. The Blokes were especially impressed with Peroni on draught.
Debbie, Warrington





Visited Marshall's on numerous occasions over the last few months, never failed to disappoint.
Food always beautiful, well presented, attention to detail, staff are extremely attentive. Owners/Chef able to cater for all dietary requirements easily and even have gluten free bread! It doesnt look much from the outside and atmosphere of place lets it down, ive only every been in when there is one other table occupied. Its a shame, the food really is amazing. More people need to give it the benefit of the doubt and go, they too will be impressed and i am sure hooked!
Tony C





Very good food and service. Excellent value, particularly the early menu with which you get two courses for £12.50. The quality of the meat and fish is exceptional and the desserts are wonderful. Highly recommended.
Chris, Warrington





A first class meal at very reasonable cost. The finest ingredients cooked and presented to perfection. The scallops were superb and the lamb was one of the tenderest pieces of meat I've ever eaten. We'll certainly be back.
appleton





Had a nice meal with the in laws and my wife and the food was absolutely fantastic. very welcoming atmosphere. Good luck not that you'll need it ith food like that
Ed Warrington




Visited 21/9/11 for the first time on a friends recommendation. We were greeted well and the restaurant looked clean with good decor. Was a little bit dissapointed with the choices on the menu, but plumped for the scallops and the rib eye steak. The food was well presented and cooked to perfection. Only real issue was that i didnt realise until my steak arrived that i hadn't ordered a sauce to go with it, but then realised there were non on the menu. Question is would i recommend it? answer yes, it delivered some of the best restaurant food that i have tasted in Warrington and i eat out reguarly, but i think that it is still some distance behind the Grill on the Square in terms of menu options and quality of service. Good effort though.
John and Carren Warrington





Had a groupon voucher and after reading some reviews wasnt looking forward to our visit.
However i dont know what they were on about it was fantastic.
the food was so tasty and the portion size was just right.
The service was great and everybody was so polite and answered any questions we had.
All in all We will be going back again as it was fantastic.
xxxxxxxxxxxxxxxxxxxxxxxxx
FIONA & JEFF STOCKTON HEATH





Had our second meal at Marshalls last night with a couple of friends. Food was exceptional, service quick and friendly, real shame that it was not bursting at the seams. Good that you can also book a table on line. Friends very impressed!
Janet Warrington
visited on 19.7.11.with friends from work, can not praise it enough, food was excellent, staff very friendly and very helpful. We will certainly be going back soon.
Clare, Warrington





This was a spare of the moment decision to visit here but so glad we did. My husband and I thought the food was fantastic, reasonably priced and the service was excellent (welcoming & attentive). This will be one restaurant in Warrington we will be visiting time and time again.
Kathryn & Jamie, Warrington





We have visited Marshalls twice now and plan to return in August (and again, and again). Each time the food, drinks, nibbles, wine, etc, etc have all been superb. The quality and presentation are fantastic and can't be praised highly enough. The owners and all the staff go out of their way to ensure you enjoy your evening, and it's very special when the chef takes the time to come for a chat, a guy that obviously has a passion for food and knows exactly what to do with it.
Marshalls is a very special restaurant that I haven't seen the like of outside London....

Daniel





This place really does offer top top big city restaurant quality food that is made with love and it shows, not to mention a service to match . A true first in Warrington with food that really is in another league in comparison to the many decent restaurants in Stockton Heath.
Ian L





My wife and I had a date night last and decided to give Marshall's a try and let me state clearly what an excellent, pleasurable dining experience we had.
The restaurant itself is nicely decorated and the tables are positioned well so you are not sat on top of another. We were greeted pleasantly at the entrance and taken swiftly to our table..The menu is very easy to understand and the choice(meat/fish/veggie option) all excellent...!
Before the meals came out we were given two warm small bread loaves flavored with herbs and butter, lovely touch and set us up nicely for the meals!
I went for the Linguine with cockles and the wife had the scallops with black pudding..Both dishes tasted excellent and looked beautiful...For main course I went for the Turbot and the wife had Pork Belly, which was fantastic, no complaints from me about the fish..Again presentation was excellent.
Feeling very satisfied we decided it would be rude to not sample the desserts so I went for the English cheeseboard and the wife took on the raspberry cheesecake/vanilla ice cream..Both again were excellent..and we loved the presentation..The cheese came on a slate with 4 different cheese,grapes celery and a pot of chutney the surprise and real winner was the cake...!!
Please please point to note this isn't PUB food it's much much better, it's modern, fresh and locally sourced so I strongly urge you to give it a chance and when they are giving you 50% off on a Tuesday and Sunday it's a no brainer..We will be back and also telling all our friends to try..thanks for a great meal..!
PS. don't forget your voucher on Tuesday/Sunday..!
Fran, Daresbury, cheshire




My husband and I dined a Marshalls last night and had a wonderful time. The service from the moment we walked through the door was wonderful.
The food was modern british.....fantastic!
I would highly reccomend a visit!
Graham Warrington





First class food. Full of flavour and the service is friendly and attentive. Went for Sunday lunch and took advantage of a discount offer. Would be happy to pay full price and will go back again.
Highly recommended - see their website for sample menu and prices. Not run of the mill.
Trish, Warrington





I went to Marshall's last night with my friend and from start to finish the whole experience was excellent. The food was delicious, the service was perfect and the staff were very friendly. I would highly recommend paying a visit.
linda fraser





We went for a special birthday and for the early bird each time the food was excellent.
Diane, Warrington





2nd visit to this wonderful restaurant and we simply can't fault it. The food, the service and the ambiance are second to none. The standard of the cooking is far superior to anything else in the area, and is incredibly good value for money - you can pay the same price for a pub meal locally! We both chose fish, and the quality of the ingredients in the dish was obvious. The chef owner and his staff offer a superb dining experience with wonderful quality food, imaginative menu, and friendly service - all in all brilliant value for money, and we will be returning very, very shortly!
Warrington





We went with for the first time with friends on Saturday night. The service was brilliant, the waiters very polite, helpful and attentive. The food was the excellent, could not fault it and the chef came round to every table later in the night. Can't recommend Marshalls highly enough, booked to go again next week with friends.
Glen Warrington





Went to Marshalls with friends a couple of weeks ago,had done a bit of a circuit in Warrington to see what the restaurants were like these days. Came across Marshalls as heard that Jenirics had moved.
Very impressive, decor, service and the food was out of this world.
I do hope this place succeeds as Warrington is in dire need of a decent place to eat.
Good luck guys!
So if you read this review, go and try it!
Lesley & Stephen Warrington





Dined at Marshalls on 26/02/2011 using a voucher purchased through the local paper, although we were not paying the full price I would gladly have done. The food and the service was a totally new experience when eating out in Warrington. From the telephone call to book to leaving the whole experience was unbeatable. The food looked and tasted brilliant and was like something I have only ever seen watching the top chef shows on TV. Thanks to everyone at Marshalls for a wonderful relaxing and friendly evening see you again soon. Warrington is lucky to have such an high end restaurant in town.
sonia clarke warrington





Just returned from Marshalls - Had a special deal but the food & service were second to none. Hope it succeeds as lovely food will definitely return.
claire hogan





Visited Marshall's mid week and had a fantastic time. The food was something really special - tasted wonderful, presented beautifully and perfect sized portions. The restaurant was warm and cosy and the staff were both welcoming and attentive. Would highly recommend and can't wait to go back!
Barry Roberts Warrington





Scallops fab! Great meal and about time Warrington got a decent resturant - well done Marshalls.
Lynda Phelan





Dined at Marshalls last night 22nd Feb. We heard the owner/chef was from the Panoramic, Liverpool,
and thought we'd give it a try. We received a warm welcome at the stylish restaurant and found the food to be plentiful and delicious, especially the Linguine starter. About time Warrington had it's own fine dining establishment. Not to be missed! Oh! and reasonably priced!
Sam & Dan





We have just visited Marshall's for the first time and we were not disappointed. The food was excellent, beautifully presented and absolutely delicious. Service and attention to detail second to none. Would definitely return and recommend to others.
to others and
Sophie, Warrington
I was treated to a night at Marshall's Restaurant & the food was absolutely gorgeous. I have never tasted food like it, there's definitely no where like it in Warrington. The restaurant its self is of a high quality, clean, yet comfortable & inviting.
Well worth a visit & I'll be spreading the word to all of my friends & family.
Mary hornby Warrington





We went on the opening night... Marshalls was a delight .... Food was sensational... Staff were attentive and was very reasonably priced!! It's just what we needed in Warrington, will definitely be visiting again.
Updates
Is this information about correct?
Please tell us about any omissions or mistakes on this page...
click here to submit an update.
If you own or run this venue and would like to get more customers from onionring...
click here