| | | |
| --- | --- | --- |
| | | |
Home > Restaurants > Cheshire > Altrincham Restaurants > Istanbul Grill
Istanbul Grill
Turkish
[show 7 more photos]
Welcome to the home of Anatolian cuisine.
Using the finest ingredients we will tickle your taste buds and offer you the widest range of dishes.
Our goal is to give you an excellent service and offer you mouthwatering dishes of the motherland.
Please come and join us, we are looking forward to offering you the best in Turkish dining.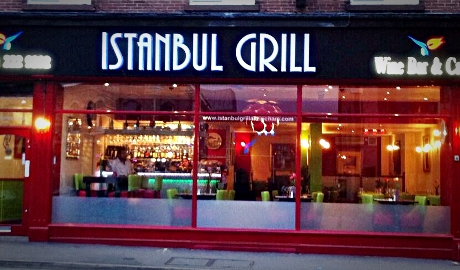 Scott Altrincham
...Two amazing courses on the lunch special, quality food,great service and value for money. Couldn't ask for any more, would recommend and will be back....
Opening Hours
| | |
| --- | --- |
| Monday | 1200-2200 |
| Tuesday | 1200-2200 |
| Wednesday | 1200-2300 |
| Thursday | 1200-2300 |
| Friday | 1200-2300 |
| Saturday | 1200-2300 |
| Sunday | 1200-2300 |
Facilities





Offers
Events
December
1
Monday 01 December 2014 to Wednesday 24 December 2014
Istanbul Grill have a fabulous Christmas menu available this December to get you into the festive spirit. Just £24.95 for five courses! To make a booking please call us on 0161 222 9202 or drop us an email at istanbulgrillaltrincham@hotmail.co.uk to make a provisional booking! Confirm the details of your booking along with a non-refundable deposit (of £10 per person for table bookings of 8 or more) within 7...
<
CLICK HERE FOR MORE INFORMATION AND TO BOOK
>
Recommendations
Scott Altrincham





Two amazing courses on the lunch special, quality food,great service and value for money. Couldn't ask for any more, would recommend and will be back.
sean Warrington





Excellent food very friendly staff couldn't do enough for us especially helpful when I told them I was a celiac
Paul, Sale





Really good food & friendly service. Will definitely be back.
karen
Wonderful meal at Istanbul grill Altrincham on sat 15th February. Friendly and attentive service. Highly recommend.
Karen, timperley.
Jonathan, Sale





The best lunchtime deal in Altrincham bar none, for £9.95 two courses of lovely food and a nice glass of house red. Have now been three times for lunch here and it is first class, great food and friendly service, can't wait for an evening visit for the a la carte menu
Sale, Manchester




We went to the Istanbul Grill for lunch on Sunday, and thoroughly enjoyed the whole meal. The staff were pleasant and attentive, the seats were comfortable, the restaurant was bright and cheerful, and the food was obviously freshly prepared and delicious. If you've ever had supermarket falafel then be prepared to taste the real thing! Used the Onionring discount, and this restaurant is definitely one we will put on our regular visits list.
Clare Lancashire





What a lovely restaurant.Fast service,exceptionally friendly staff and excellent fresh good quality food. will definitely recommend Istanbul.
Becky & Alex





We Visited Here Last Monday And Wow. The Food Was Exquisite And The Service Was Fantastic. Weve Been to Turkey Numerous Times And This Topped Any Meal We Had Whilst There. We Travelled 30Miles For Our Meal And We Plan To Do This Again. Highly Recommend.
ED. ALTRINCHAM
Very tasty food.very helpful staff,Turned up while in the middle of power cut,staff made you feel very welcome, will be going back. Great night.
Gill - Hale





We had a splendid meal here last week. The food was great, in lovely surroundings and with very attentive staff. Very authentic, we will be back!
Updates
Is this information about correct?
Please tell us about any omissions or mistakes on this page...
click here to submit an update.
If you own or run this venue and would like to get more customers from onionring...
click here