| | | |
| --- | --- | --- |
| | | |
Home > Restaurants > Cheshire > Lymm Restaurants > Flavours
Flavours
Turkish
[show 36 more photos]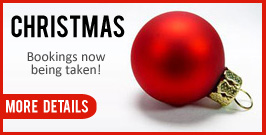 The restaurant has a welcoming yet modern and contemporary feel, set in the heart of Lymm village.
Your hosts Jimmy & Fikret have years experience in the restaurant trade and are pleased to welcome you to Flavours.
Come and experience warm Turkish hospitality in relaxed surroundings. Enjoy deliciously healthy food, cooked fresh on a charcoal grill in our open kitchens.
All dishes are prepared from fresh, with meat dishes marinated and then char-grilled - Nothing is precooked!...we now serve some fantastic cocktails, great for an after meal drink!
Flavours has been awarded a 5 STAR hygiene score, and top marks from 'scores on the door'.
Party bookings welcome. Children's menu also available.
Please note bookings can not be made by the email link below.
---

This venue can cater for functions and events...find out more

Find the best deals for Hotels in Lymm...click here

This company offers a takeaway service...find out more
Contact Details
16b, The Cross
Lymm, Cheshire . WA13 0HU

Tel: 01925 753079
Say "Mel from Onionring sent me"
Opening Hours
| | |
| --- | --- |
| Monday | 4.30pm to 10.30pm |
| Tuesday | 4.30pm to 10.30pm |
| Wednesday | 4.30pm to 10.30pm |
| Thursday | 4.30pm to 10.30pm |
| Friday | 11.30am to 10.30pm |
| Saturday | 11.30am to 10.30pm |
| Sunday | 11.30am to 10.30pm |
Facilities
Parking is in a car park. Licensed. Private Parties. Takeaway Service. Children's High Chairs.






Offers
Events
November
29

Friday 29 November 2013 to Friday 20 December 2013

Special Xmas Belly Dancing Nights including a feast of a meal for £25.90p.p Book Now! Dates from 29th Nov and through out Xmas.

<

CLICK HERE FOR MORE INFORMATION AND TO BOOK

>

December
1

Sunday 01 December 2013 to Tuesday 24 December 2013

Christmas Dinner menu is available between 1st December and 24th December from 4:30pm onwards. We are open Christmas Day from 11:30am and all day Boxing Day.

<

CLICK HERE FOR MORE INFORMATION AND TO BOOK

>

December
31

Tuesday 31 December 2013

We are open all day New Years Eve serving A La Carte menu. A Belly Dancing Show and live entertainment will accompany the New Years evening.

<CLICK HERE FOR MORE INFORMATION AND TO BOOK>




Recommendations
Tom
5





Fantastic food, especially love the meze platter. Always friendly welcome as well.
Barbara & Brian Wigan





Excellent really nice atmosphere food superb hospitality second to none really can recommend it have already booked again very authentic
Jean Agnew, Lymm





Absolutely wonderful experience - great food, lovely atmosphere - just like being on holiday. Also the owners and staff are so welcoming and friendly they feel like family. Highly recommended
mj linda belgium limburg




We visited Flavours restaurant for the second time in July 2O11. We stay at the Lymm Hotel for 9 days. It's a very nice place to spend the holidays. But the place to be is FLAVOURS. It's the most amazing Turkish restaurant in the world. The restaurant is managed by two great gentleman Jim and Fikret with nice staff. They serve excellent Turkish food and special cocktails. They do everything to give you a very nice evening. We surely come back again and you should try it also.
Fiona Hollins Green





Booked table for 12 on Fri 15th July 2011. What a Brilliant Night. Food was fantastic and plenty of it, staff couldn't be any nicer, would recommend this to anyone, have been several times before but it just keeps getting better. Thanks to the staff for making my birthday memorable, top marks.
selcuk
me and my wife visited turkish flavour coz she likes turkish food.we had so many starters they were all nice esppecially the liver from hot starter was amazing than we shared a mixed grill just delicious.restaurant manager and staff made us very wellcoming.all i can say is well worthy every single penny.we will go back again.
David Bolton





I have been to Flavours twice in the past month and on both occasions the food has been excellent. The staff are very friendly and there is a great atmosphere, lively without being too noisy.
Just booked again for a family celebration meal.
michelle lymm
I visited Flavours on Good Friday with six other family members. The atmosphere was great and staff were welcoming. The food was fantastic we all had different dishes , and all were well presented , hot and tasty !!! Would definitely recommend Flavours .
Heather, Warrington





10 of us went for my friends' daughter's 18th birthday. We were all so impressed, the food was stunning and the portions sizes were great. The waiters were very attentive, nothing was too much trouble. We all tried each others food and each dish had so many flavours. I loved it and can't wait to go back.
Dan





a group of us went on Tuesday. Really friendly place, good food and drinks. The mixed grill was huge! we all really enjoyed it.
D. Standish. Worsley





My wife and I visited Flavours on Thursday. The meal was outstanding, as was the service and the whole ambiance of the evening.We have been on a number of occasions and have yet to find it less than memorable. Well Done!
Joanne, Warrington
Excellent food, good atmosphere and attentive staff who go the extra mile to make it an enjoyable experience.
Ailaine, Auburn, MA





Had a wonderful dinner (six of us) on April 11th: service was wonderful, host was the perfect gentleman and food was incredible. Wish I lived closer to return again soon! Keep up the good work. Thanks to Craig, Alli, Angie and Sean for a GREAT night in the UK.
Gemma, Runcorn





Absolutely gorgeous food- fresh and plentiful, quick and perfectly cooked and presented. The staff are friendly and very attentive without being obtrusive. Highly recommended!
John Martin





My Wife and I and a very good lady friend of our's, had an extremely pleasant lunchtime experience that would be very hard to match at Flavours in Lymm..Both ladies had previously visited your establishment and had had such a good time we needed to make another visit to introduce me to the pleasures of the Turkish cuisine you specialise in.My wife and I reside in Reading,but are complete fans of Turkey.Indeed we are owners of our own apartment in Fethiye.We wish you were there,and in Reading! very highly recommended.Looking forward to the next visit
Daniel & Family





Fantastic meal. Good atmosphere and a nice welcome from the owner. We really rate this place and I would recommend to all.
Joanne, Appleton




Our booking was for a group of around 20,it was only when we arrived we discovered the group would have to be split and seated between two separate tables which was a little disappointing. However, the food,service and atmosphere were excellent,although the portion sizes on the mains could have been a little more generous. The appetisers and desserts are fabulous! Overall, we had an enjoyable evening all round and would definitely recommend Flavours!
Benedict Brown





As usual a really enjoyable dining experience our 17 month old daughter was very popular with the staff and the service was unobtrusive yet very attentive. The early bird Sunday menu is great value and free baclava and ice cream finished us off. The restaraunt is now very much on the local 'map'and rightly so.The donner meat is of a high standard and the meat is 'charchoaled'for an authentic taste.
Jayne Sale
warm welcome, nice table. Good wine list, ordered. Starters came food delicious. Then the family from hell was seated next to us very loud screaming children. We cancelled main course asked for the bill at that point staff didn't ask why. When getting coat we explained why we were leaving and were told it is family prienly which I appreciate but keep all the families on one side of the restaurant as some of us expect a quiet meal on a Sunday evening at 8.30pm
Kathy Gloucester





We had an excellent time at Flavours on Saturday night. We were celebrating three birthdays in our party of six and couldn't have had a better evening. The food was excellent, plenty of it and reasonably priced. The service was faultless, we were made extremely welcome, nothing was too much trouble and we had birthday candles in our desserts - what more could we ask? We'd thorougly recommend it.
clare = leigh





my husband is turkish so quite critical!! lovely food great service friendly staff, been twice will go again soon
Daniel Barton





Five of us went for a birthday celebration and had an absolutely amazing time. The host Gursel sat and enjoyed our company (with some excellent complimentary drinks) after we had eaten some fabulous food. The service and staffs attitude was amongst the best that I have ever experienced.
amy matthews





The food is exellent , been about 5 times with work n with m8's n av loved it everytime .... nothing about the food i can doubt n the staff are all friendly n its a clean and tidy place
Sarah, Lymm
Have been to Flavours several times for the early bird special and have really enjoyed it. The food is excellent, with generous portions and the restaurant has a welcoming atmosphere
john





it is an excellent restaurant and it is spotless. superb service and food.
Greeny, Grappenhall





We had a fantastic meal here a week or so ago, for my girlfriends birthday. Service was excellent, the owner came over and said hello. Food top notch aswell - no faults! 10/10
Jack, Stockton Heath





My wife and I called in on Saturday [11/8] lunchtime and had the Mezes. Great [amazing] quality, taste and value, great service and a wonderful venue. We'll be back with friends very soon.
Julia Slater Warrington





First visit - highly recommended. Food was delicious and beautifully presented. Staff were friendly and attentive, and level of service was just right. Relaxed atmosphere. Tables nicely spaced (not too close together). Overall a lovely experience.
Susan Horwood, Partington





My husband and I visited the restaurant on Saturday for the third time , it was again a wonderful experience, the food was excellent, the staff were very friendly and the ambience was superb. We brought our 8 week old daughter Grace with us and everyone made us feel welcome and made such a fuss. A pleasure and our first choice for an evening meal and to celebrate any special occassion.
stella, warrington
Have been to this restaurant twice and impressed each time. Staff very helpful and pleasant. Food really good. Nice and friendly.
Denise Manchester





5th visit to Flavours, this time with some family. Food and service was excellent (Sat 25th May) we weren't rushed with the table even though we ate early. We were made to feel welcome and our guests loved it, keep up the service and great food.
Mark, Altrincham





We called in a bit last minute and just had a lot of mezze and starters between us. Excellent food - loved it. Manager came over to say hello which was a nice touch. Will certainly be back to try the kebab!
Barbara Starkey





My husband and I visited Flavours last night. The food was superb and the service quick and the staff were friendly. I will recommend to all my friends and will go again.
Rob, Lymm





Have been to flavours several times, including the first night it opened. The restaurant is very well set out and always a great atmosphere. The staff are very attentive and service is top class. And of course the food is excellent. I would highly reccomend the mixed starter as you get a bit of everything just like messa's you get in Turkey itself. However one thing i would avoid would be the donnor kebab as it may remind you as your local takaway. But all in all excellent.
Phil Lymm





i visited flavours only because i heard they will still do take aways and around Lymm there is no where to get a good kebab! i didnt quite realise what sort of place it was going to be with it being an upstairs restaurant. Well let me tell you it is big, beautifully set out and spotless. The staff are very friendly and welcoming and the food is something else. Definately worth a try.
Matt Widnes





What a fantastic night.
I really enjoyed the food and the staff were great.
Great value and well worth a visit....if you can get in!
Becky, warrington




First visit to Flavours - very impressed. Staff helpful, food delicious - especially the lamb - just melted in the mouth. Very nice evening meal out.
Kerry - Warrington




Visited Flavours Restaurant in Lymm (party of 10). Had a great night, very friendly, good service, relaxed atmosphere, food excellent, would recommend a visit to Flavours - great alternative to the usual Italian, Chinese establishments in central Warrington.
warrington





we came to Flavours the night before new years eve, we had a fantastic evening, the food was excellent and the staff were very very freindly.
i would highly reccommed it. we will be going back again for my birthday with some family member.
Dave





My Girlfriend and I went to Flavours Turkish Restaurant last night unannonuced without a booking, It was fantastic and we will definatley be going again!
The service was friendly and excellent, also the onwer was very welcoming, he even bothered to shake both our hands as we left which I thought was really nice.
The food was fantastic and plenty of it and great value for money. The whole experience was fantastic. Our plate was so big we thought it was for the table of six people next to us!
Gill, Warrington




You can not fault the food in this restaurant, its delicious, presented very well and its always brought over in record time. My boyfriend and I have been twice now and I am sure we will back for more. The only small criticism I have is that if you have to wait for you table you are not allowed to order drinks directly from the bar staff, we did not know this and the gentleman behind the bar was not very forthcoming in telling us. We questioned the manager, who then questioned the barman, who then ordered the waiter to take our drinks order. This took place over 15 mins in front of us, it didn't appear to be a great process. I would definitely go again, just wait till I get to the table for a drink.
Ric from Lymm





Visited Flavours for the first time last night, heard great things about this place so thought it was time to give it a go. The standard of food, service, friendliness was superb. One of the best meals I have ever had. Will definitely be going back soon. I would highly recommend this restaurant.
roger nowell





First visit with a party of eight , 13/9/06 to celebrate a 40th Birthday. Very friendly greeting , menu explained in detail , with helpful suggestions . All staff excellent , service 1st class , food memorable. Atmosphere superb , all areas spotlessly clean. Probably one of my finest dining experiences . Highly recomended and will return shortly.
Mark - Preston




Eventhough Flavours was busy the service and atmosphere was good. The menu offers a good range of turkish food especially the starters. Enjoyed a good bottle of cheap red wine, that complemented the food. Well Worth it.
Angela Middleton





We went to Flavours this evening with our 2 young boys; the staff were very welcoming and friendly, nothing was too much trouble. The food was excellent, freshly prepared, and we thoroughly enjoyed everything. We look forward to a return visit!!
Carole





Went to this restaurant last night not realising it had was no longer Italian. We had a fantastic meal, the food and wine were great so was the atmosphere. The staff were very attentive and chatty (but not over bearing). Will certainly be going again and very good luck to them they are obviously working very hard to start a new business.
Sarah, Lymm





Great food, friendly staff and lovely atmosphere. We ate there on a Saturday night and although they were busy, we didn't feel rushed at all. The owner was even making sure he spoke to everyone to make sure they were having a good time. Food was delicious. We had meze to start which included lots of dips, a few snacks and as much pitta bread as you could eat (they refilled the basket). Main courses are mainly meat based although there are plenty of vegetarian options. I'm sure you could choose any main course and it would be delicious. The lunchtime special is also great, even though there are only a few choices of starters and main courses, it is all excellent. I would definitely recommend Flavours for any occasion.
Updates
Is this information about correct?
Please tell us about any omissions or mistakes on this page...
click here to submit an update.
If you own or run this venue and would like to get more customers from onionring...
click here