| | | |
| --- | --- | --- |
| | | |
Home > Restaurants > Cheshire > Altrincham Restaurants > Farina
Farina
Italian
[show 20 more photos]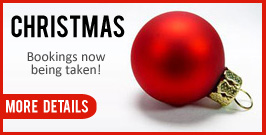 If you want an Italian meal out, and we're talking a real Italian meal out with character, authenticity and really good food and wine; then look no further than Farina in Altrincham.
Running for over 5 years, owner Hans Farina has returned to where he began his culinary career and is well-known in the community for producing a great evening out with true Italian hospitality.
The menu is made up of traditional Italian dishes with chef's speciality dishes, displayed on the blackboards, seasonal favourites and some truly spectacular desserts! These are changed frequently to keep your dining experience fresh so look out for updates on their social media pages (links below).
The restaurant is spacious and comfortably relaxing with the décor based on the theme of a flour mill, from which the name "Farina" (flour) comes from. You can dine to the sound of the stream trickling over the mill stones.
Whether you want a romantic meal with your loved one in the relaxed restaurant or fancy hosting your next family celebration in the basement bar, make sure you book at Farina.
---

This venue can cater for functions and events...find out more

Find the best deals for Hotels in Altrincham...click here
Contact Details
21, The Downs
Altrincham Cheshire . WA14 2QD

0161 929 4008
Say "Mel from Onionring sent me"
Opening Hours
| | |
| --- | --- |
| Monday | 1700-2230 |
| Tuesday | 1700-2230 |
| Wednesday | 1700-2230 |
| Thursday | 1700-2230 |
| Friday | 1700-2230 |
| Saturday | 1700-2230 |
| Sunday | 1700-2230 |
Facilities





Offers
Events
December
1
Sunday 01 December 2013 to Tuesday 31 December 2013
Join us at our family restaurant this Christmas and enjoy a range of tasty Italian cuisine with your family and friends. We have a lunchtime festive three course menu at just £17 per person or evening three course menu at only £24 per person. After you have enjoyed your meal, you are welcome to finish the evening in our exclusive downstairs cantina bar, open till late with a relaxed, contemporary feel. Our private bar can also be hired out free of charge for your special event. It requires a...
<
CLICK HERE FOR MORE INFORMATION AND TO BOOK
>
Recommendations
Danny





loved it, great service and above all great food.
Paula, Altrincham





We've been eating in Farina family run establishments for 12 years & always had a fantastic experience. Sunday night was no exception as we enjoyed a wonderful evening celebrating our wedding anniversary. As always the food, wine, service, ambience was truly excellent. Thank you to Hans & the staff as always! If you haven't checked out La Piazza in Goose Green then you must! Joe & staff are doing a fantastic job with a fab, relaxing Trattoria, keeping up the Farina reputation for excellent food, wine & friendly service. Definitely worth a visit too!
Rebecca, Altrincham
We've lived in Altrincham for 6 years yet never really noticed this restaurant, based on the reviews here I thought I'd give it a go and took a friend who was visiting for the weekend and I have to say it was really fantastic! The food was lovely, there was a good range of choice on the menu and reasonably priced. The staff were so friendly and attentive and haven't had such good service in a long time, there was also a good atmosphere in the restaurant. My friend said as we left 'that was the nicest most friendly restaurant I've been to in the UK in a very long time', high praise indeed! I will most certainly be be back and want to support my local restaurants.
James, Hale
Lovely early evening food with my wife and son on Father's day. Very friendly staff, and owner was typically Italian. He even stole our son to show someone in the kitchen his blond hair and blue eyes, very funny! Will definitely be back for more.
B Cooper





First visit to Farina last night, first class food, excellent service from friendly staff, can't wait to go again. EXCELLENT!!!
Matt King





Visited last Saturday (03.03.12). Another fantastic meal, I had the T-Bone steak which was cooked to perfection, my wife had the Monkfish which was very tasty. We're regular visitors and Farina never fails to impress.
Jenkins Bowdon





We return to Farina time and time again, why? First and most important is the food, consistently good, clearly fresh ingredients, good size portions, variety and well priced. Secondly the people, we always get a warm welcome and the very professional staff are attentive but not fussy. Finally the facilities, no bling just very down to earth and comfortable surroundings generating a nice atmosphere. This is a restaurant that should be a regular for foody families in the area.
Karen Flower, Altrincham





We held a surprise 70th Birthday party for my Mum at the weekend for 50 people at Farina's and it was excellent. The customer service was superb, hot and cold buffet delicious, everyone had a great time and my Mum had a Birthday she'll never forget - thanks Farina's!
Paul Kennedy. Timperley.





Having visited Farina many times i felt compelled to write just a few words (why use hundreds when a few will do) ! Hans and his staff, Agga, Chef Gils make you most wonderfully welcome. The excellent food, wine, decor, service and overall ambience of this restaurant will make you want to come back again and again.
Joanne from Timperley
We were at Farina on Saturday 23rd July for my daughter's birthday. The staff could not have been more accomodating with everything, they were brilliant and the food was delicious. I had been once before and both times had the fillet steak which was cooked to perfection. My daughter had the lasagne and loved it. Thank you to all the staff for helping to make it such a special day.
Linda Altrincham





Had a great meal in Farina last night. 2 of us, 3 courses and 6 clean plates. That says it all. It's nice to see the chef in the restaurant talking to the diners. We will certainly return. I would highly recommend the fillet steak medici.
malcolm & julie altrincham





As lovers of good food we cant stay away from this wonderful restaurant, the food is fantastic and is matched by the service you receive as soon as you walk through the door. If there is something you want to try and its not on the menu, no problem just speak to the chef Giles, and you will not be dissapointed. The shoulder of lamb is fantastic, you must try Altrinchams best family run value for money restaurant.
Don Pennell





Took my parents and inlaws out for a birthday celebration on a Saturday night. Even before knowing that we were celebrating a special occasion the staff made us feel like a million dollars. All the food was beautiful - I particularly recommend the monkfish provencal and the veal romana. And then to top it all, it transpires that the owners wife is a member of an acapella choir - the Cheshire Chord Company (www.cheshirechord.co.uk if you are interested - I looked them up afterwards!) and when were having a private party downstairs. When they found out that my mother was celebrating her birthday they came upstairs to give an impromptu rendition of Happy Birthday, and then their version of Rihanna's 'Umbrella'. The rest of the guests in the restaurant were just as enthralled as us by the amazing sound and clearly thrilled to have a mini concert feature as part of their meal experience. I am sure this wouldn't happen every night, but it was indicative of just how much this restaurant is determined to make every effort to ensure its customers feel special.
Jenny Pennell, Nantwich, Ches.





Six of us were celebrating the 'special birthday' of a family member. We were encouraged to take our time when choosing from a very comprehensive menu without feeling pressured - and this was a very busy Saturday evening. We all had a starter, mains and a dessert. The food was delicious; the service efficient and unobtrusive. The chef went amonst the diners throughout the evening, making sure everyone was happy with their choice. Everyone was so very friendly - a real family feeling. Cant fault it, and would recommend Farina's to everyone.
Jonathan, Sale





Went for lunch on a Friday and had a lovely meal, the menu was comprehensive and the lunchtime offers were outstanding.
Would definitely return.
Robert Knutsford





Probably one of the best restaurants in the area, give it 10/10. On the off chance called (no booking) in with my girl friend (friday 28/1/11) very busy but they found us a table,
Lovely atmosphere, staff were great - just like a small family restaurant and so friendly. The food was excellent
Just enjoy - now thinking I should not have posted this review as may not be able to book.
If you want a nice evening with good food -go.
Rob
Vicky - Altrincham




Went on Saturday night and the restaurant was very busy, but the food was outstanding, even under the pressure of the place being mad busy, the food was delicious and hot and the staff were very polite.
It was a very nice way to start my hen night.
David Deegan





Everything I wanted - and more.
The food was fabulous - the risotto with fillet steak was mouthwaterinly succulent and full of subtle flavours. The pizza bread with garlic and rosemary - simple but delicious. Whitebait was perfect - so many places serve it overfried and greasy - this was exquisite. Portions are generous!
The staff are delightfully friendly and attentive without being overbearing. They checked if we needed a break between each course. Whilst the restaurant was rapidly filling as we ate, we never felt rushed. We were treated like guests in someones home.
Children in the restaurant were treated equally well. I was impressed how the staff engaged them as well as the adults.
The evening set menu was also great value for money. One of us had the set menu whilst the other went off the a la carte. Both of us felt we had had value for money in terms of superb food, friendly atmosphere and superb service.
What more could you ask from a restaurant? Go try it. Don't wait for a special occasion. A visit to this restaurant will turn an ordinary weekday evening into a special occasion.
malcolm & Julie, Altrincham





Best restaurant in town,great atmosphere,great service,friendly staff,superb food.You must try this little gem,for the price of a couple of rounds of drinks in the pub, you can enjoy a starter, a main course, and a good bottle of vino
Dylan, Altrincham





Had some food from their stall in the Trafford Food Festival - Tiramisu was fantastic especially with the Limoncello topping! Will certainly be revisiting their restaurant!
Leigh Edmenson, Bowdon





We loved Farina's. The chef and staff were very friendly, helpful and accommodating. The food was scrumptious. We went back a few times, and would recommend this restaurant to any one else.
The place was decorated well, topical and clean. They even catered for the children, & have a high chair too.
mary, timperley





Went with the girls late last Friday evening and absolutely loved it. We were all raving about our meals - the menu is divine, something for everyone, and it's so reasonably priced. Lovely little restaurant and really attentive, friendly staff, who get the balance right without intruding on your meal. The chef even came out to speak to everyone. Would recommend this in a heartbeat and am already planning my next excuse to call in. A real gem, you must try this place!
Rosa, Altrincham





Hans is an old friend and we were very excited to hear that he was opening a new restaurant. He didn't let us down. Food, service, prices and especially the staff - all excellent. We will be visiting again and again.
Gillian Rowe, Altrincham
We had a lovely evening at Farina. We were 11 in total for a birthday celebration. All meals appeared exactly as ordered and within good time and were all delicious. The staff were extremely friendly and accommodating. They brought out a dessert (not ordered) with birthday candle for the birthday boy! Would definitely visit again.
sale





well,i dined in farina tonight...friends of mine recommended it to me...i had a wonderful experience.the food was fantastic and the staff was friendly and helpful..i felt relax and nobody rushed us,it was just enjoyable.the chef even came to check if we are happy with our meal..the home made cheesecake was to die for!!!!!one of the waitress told me the place soon is gonna open for lunch which i was pleased about as i work in the area....cant wait for that italian tapas.what a wonderful idea!.great food prices and staff.would strongly recommend it to anybody!!!!joan
Kieran, Altrincham





First time to Farina and went there on spec. We were met with a friendly service and excellent, well priced food. The atmosphere was one of a popular and friendly restaurant.
Pizza and pasta were excellent - couldn't fault it. Easily the best Italian in Altrincham and Hale. Good priced wine menu as well.
Tim, Alty




We were just passing on a Saturday night and the menu caught our eye so went on in. Inside was tasteful and clean and we were greeted by friendly staff. Garlic & tomato & basil pizza bread was very good. Mains were mixed tagliatelli carbonara and arrabiata which were both suburb. Not many other dinners were in at the time but this would not put us off visiting again soon
Ian





Went on New Years Eve ~ fabulous food and excellent service ~ good value too ~ way better than any of the local competition including Hale!
Nick, Alty





I'd heard good things about Farina, so I took our first opportunity to try it - a Monday night. There was a few other diners in. We were welcomed by a friendly waitress whom made us feel right at home.
The garlic breads were cracking, big and tasty with lots of mozzerela on one. I opted for a risotto main, and Hans allowed me to tweak the vegetarian dish by adding some chicken. Perfect. My friends agreed their pasta dishes were really nice too.
Its a great relaxed and informal dining experience, would highly recommend Farina - its just what Alty needs!
Updates
Is this information about correct?
Please tell us about any omissions or mistakes on this page...
click here to submit an update.
If you own or run this venue and would like to get more customers from onionring...
click here