| | | |
| --- | --- | --- |
| | | |
Home > Restaurants > Cheshire > Knutsford Restaurants > The Smoker
The Smoker
International, Traditional
[show 13 more photos]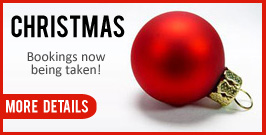 Set in a 400 year old thatched coach inn. The Smoker is a traditional, friendly family run pub with great home cooked food. Located in a fantastic country setting this large traditional pub/restaurant offers a great selection of traditional and modern international cuisine, for both lunch and dinner.
The food is the best of British & International cuisine all home cooked.
You are as welcome for a quiet drink as you are for a three course a la carte meal.
Outside garden seating available for those sunny days! & outside smoking area now also available!
We are now catering for lunchtime weddings, Monday to Saturday inclusive. Please phone or email for our menus and packages.
---

This venue can cater for functions and events...find out more

Find the best deals for Hotels in Knutsford...click here
ALTRINCHAM
...Our Visit ,Friday 5th March our first visit for food, have called for a drink before, we had the two courses for 10.95 gbp, and a bottle of New Zealand hole in the water Sauvignon Blanc ,which was 20 quid not cheap but excellent , I was instructed by our Waitress to order the wine from the bar to......
Contact Details
Plumley
Knutsford, Cheshire . WA16 0TY

01565 722338
Say "Mel from Onionring sent me"
Opening Hours
| | |
| --- | --- |
| Monday | 12-2, 6.30-11pm |
| Tuesday | 12-2, 6.30-11pm |
| Wednesday | 12-2, 6.30-11pm |
| Thursday | 12-2, 6.30-11pm |
| Friday | 12-2, 6.30-11pm |
| Saturday | 12-2, 6.30-11pm |
| Sunday | 12-10.30pm |
Facilities
Parking is in a car park. Outside Seating. Disabled Toilets. Licensed. Private Parties. Children's High Chairs. Children's Menu Available.





Events
December
4
Wednesday 04 December 2013 to Monday 23 December 2013
Join us at the Smoker Inn and enjoy a fantastic Christmas meal for a limited time only. Available from December 4th till 23rd December for £17.95 per person! Booking is advised
<
CLICK HERE FOR MORE INFORMATION AND TO BOOK
>
Recommendations
ALTRINCHAM





Our Visit ,Friday 5th March our first visit for food, have called for a drink before, we had the two courses for 10.95 gbp, and a bottle of New Zealand hole in the water Sauvignon Blanc ,which was 20 quid not cheap but excellent , I was instructed by our Waitress to order the wine from the bar to save any delay ,they were quite busy the barman brought the wine and ice bucket quickly ,and also took our order which I thought was really thoughtful, the food arrived quickly and was nice and hot which is a real bonus to me !,although they were busy I found the staff excellent and on the ball ! and seemed to care which makes a change ! we have booked for next Saturday on the strength of this nice visit , its a Beautiful place to eat out
Linda Bailey





We went for New Years Eve the food was excellent the service was very good it was not overpriced.
Carla Northwich





As always, lovely cosy atmostphere. Very friendly, attentive staff. Varied menu. Excellent food. Generous portion sizes. Great value for money. Look forward to going again, especially in winter when the open fires are lit.
Peter Elliott ,Bristol
Recommended by friend to stop en route from Bristol to Lake District as roughly half way and just off Jt 19 of M6.Had such a pleasant meal in lovely old pub served by attentive and well turned out staff. We returned a week later on the home trip and again had the same brilliant experience. Thanks
Geoff Taylor





Have been there many times and the food and service is always first class. Keep up the good work and keep Adele happy and the little one also!!!
Northwich





Went on a Friday for a birthday treat,the meals were top notch along with the staff.Service was first class,would recommend it to anybody who likes 1st class dining.
CL Bishop, Reading




Spent a couple of hours there on a Sunday afternoon in early 2011. A well kept choice of reasonably priced beers experienced in an enjoyable and friendly atmosphere. Would have loved to have stayed longer but was just passing through.
phil cooke from timperley
We were recommended to this pub from family, so we booked a table on a Sunday, had a nice table, drinks ,then the food came and to be frank we were getting full just after the starter, fantastic food, staff were excellent and we will be going again very soon.
Anthony Day





I visited the Smoker today as a treat for my Mum's birthday, I was joined by my wife and 14 year old son. We had a lovely meal in a very cosy atmosphere. Meal portions were very generous and served hot, service was excellent and I have no hesitation in putting forward my recommendation for this fine establishment. Looking forward to visiting again in the future.Cheers.
JH, Manchester





Went here last week and really enjoyed our evening. Food-wise there was plenty of choice and we sampled meals from both the a la carte and meal deal menu. It was good, cooked well, hot, tasty and we got decent sized portions. We thought the place was going to be empty as there was only one other car in the car park when we arrived but we were wrong. Others came and went and for a Tuesday night there were enough drinkers and other diners to give it a nice and relaxed atmosphere. Plus the fire was lit and being an old style pub it was really comfy and cosy anyway. The service was good and the staff friendly too. Definitely worth a visit.
Charles, Tarporley
Don't be put off by the lack of recent reviews. It is still brilliant. Lovely food, good range including veggie, uncommon good and friendly service and all in all a fine night out and so convenient for a multi-person rendezvous.
Colch Manchester




My partner and I visited this pub travelling via train from Manchester on 11/09/2009. The pub was nice and clean and well set out. We ordered from the Market fresh menu. My partner had the Aberdeen Angus burger which he said was 'lovely and meaty' the accompanying salsa was delicious as I had to try myself. I had the fishcakes, Cheshire potatoes (proper spuds) and salad. It was all very fresh and tasty. For dessert I had apple and plum lattice with lovely ice cream. My partner satisfied his sweet tooth with meringue, strawberries and cream, washed down with (Robinson's) Dizzy Blonde and Tit for Tat (which he says were equally good). We left well satisfied. Definitely worth a visit.
darren Middlewich





went here for a large 21st birthday meal, about 40 of us in total, the food was fantastic, the service was brilliant and everyone had their courses at the same time to the same excellent standard, plenty of veg and potatoes and table service of the waiting on staff was polite but efficient and they all worked very hard. we will be back soon.
wayne ( crewe )





Me and the mrs had a starter and a main course each, the staff were extremely polite and the food was exceptionally good. We will definitely re-visit and recommend to anyone who we know is looking for a great meal.
Jane, Northwich
We thoroughly enjoyed our meal at the restaurant. The portions were excellent and so was the service. This is also a nice pub just to have a drink in, it is very cosy. I would recommend coming here for an evening out.
Nick, Denton





I meet there every month for a classic sports car club, food is fantastic, its the best !, always made very welcome.
Phil, Manchester





Went on Saturday night, booked at the last minute, arrived and place looks great, was busy but we were seated straight away. Service was good, nice atmosphere (quiet enough we could talk but plenty of background noise of people enjoying themselves), food was fantastic (we both had the braised steak which was amazing!), very large portions, very reasonably priced. Cant really fault any part of the experience, would highly recommend.
Keith.Northwich




First time visit-we recieved a friendly welcome on arrival. Restaurant & pub very cosy atmosphere. Food was very nice - desserts a bit disappointing. We did'nt have to wait too long for our food to arrive. Service was good,a very pleasant waitress who served us. Prices very favourable. Will be going again soon.Well done to all @ The Smoker. Thanks for making our night so wonderful.
Suzanne Winsford





I went here for my birthday on the 19th September. Excellent meal and service. They are no longer doing the 2 courses for £8 though so more expensive but worth it.
Steve, Northwich
We decided to go to The Smoker for a fathers day meal and on arrival our first impressions were excellent. The menu was varied and the food was beautiful. I had lamb henry for mains and it was perfectly prepared. The staff were friendly and the surroundings were pleasant. Couldn't have asked for a nicer meal for fathers day! Will definitely be paying another visit in the near future.
Mike Grainger, Bolton





Found on Onionrings last Friday, 16th June, decided to drive out for Father's Day lunch.
I can only say that the service, food and ambience was 100% perfect. First visit but definitely not the last.
Dave, Northwich
Great meal with work colleagues. 6 of us went out and we were all unanimous that the food was exceptional. Friendly staff and a very traditional surroundings which made for a unique experience. Thanks a lot!
J.Wise, Hale
5 of us went on Friday night. Nice, traditonal looking pub/restaurant. Good choice from the menu & specials board.
Had a duck pancake for starter, which was rather a let down - bit cold & not much in the way of duck, or flavour. Was slighlty concerned for the mains but they were delicious. My seafood pancake was generoulsy sized and was really nice. Others agreed there mains were equally as good; Ham shank was huge, perhaps fillet steak could have been bigger.
Not exactly cutting edge flavours but if you fancy some traditional, british food the mains were top drawer.
Joanne , Appleton
Surroundings = nice, Beer = good, Service = friendly, Variety of dishes on menu = good, Food = good ..... Overall = nothing out of the ordinary but nice.
Updates
Is this information about correct?
Please tell us about any omissions or mistakes on this page...
click here to submit an update.
If you own or run this venue and would like to get more customers from onionring...
click here