| | | |
| --- | --- | --- |
| | | |
Home > Restaurants > Cheshire > Knutsford Restaurants > Railway Inn
Railway Inn
Traditional, British
[show 15 more photos]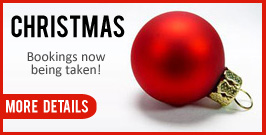 Traditional country inn, located in the heart of some beautiful countryside...and now a FREEHOUSE! Serving Real Ale including locally brewed Dunham Massey ales, Rambler & Waller. We have also received a special CAMRA award in recognition of nearly 25 years of serving great local beers.
The Railway Inn is a rural village pub serving Traditional bar food alongside some great homemade dishes in the separate dining room. The menu is extensive and runs alongside a fantastic selection of regularly changing blackboard specials (which use the best of what's in season) to choose from.
Small function room available for parties.
Bowling green also available for hire.
Children's play area. Non-smoking restaurant. Open for lunch & dinner all week.
Popular music quiz every Sunday at 9pm.
We have dishes for you to buy to take home, see page 3 of the menu for full details.
Food service times are: Mon-Fri 12-2.30pm & 6-9.30pm. Sat 12-9.30pm & Sun 12-9pm.
Now been included in the 2012 Camra's Good Beer Guide.
---

This venue can cater for functions and events...find out more

Find the best deals for Hotels in Knutsford...click here
William bendle stalybridge
...Stopped here for Sunday lunch recently after buying our daughters first horse and it was a real treat, lovely meal, friendly staff and homely atmosphere, thank you...
Contact Details
Station Rd, Mobberley
Knutsford, Cheshire . WA16 6LA

Tel: 01565 873155
Say "Mel from Onionring sent me"
Opening Hours
| | |
| --- | --- |
| Monday | 12pm-12am |
| Tuesday | 12pm-12am |
| Wednesday | 12pm-12am |
| Thursday | 12pm-12am |
| Friday | 12pm-12am |
| Saturday | 12pm-12am |
| Sunday | 12pm-12am |
Facilities





Offers
Events
December
3
Tuesday 03 December 2013 to Monday 23 December 2013
3 courses - £15.00 per person 2 courses - £13.00 per person Available from 2nd to 23rd December Telephone 01565 873155 Bookings preferred but not always necessary
<
CLICK HERE FOR MORE INFORMATION AND TO BOOK
>
Recommendations
William bendle stalybridge





Stopped here for Sunday lunch recently after buying our daughters first horse and it was a real treat, lovely meal, friendly staff and homely atmosphere, thank you
Dan





Lovely meal, great place for the kids - running around on the field at the back. Good pint as well.
Shrodes, Gillo and Mr Stokes





To say that this fine drinking and eating establishment is a 'Little Gem' is an understatement. Situated just a stones throw from Mobberley Train Station the Railway Inn provides light relief to those visitors who thrive on fine ale, quality food and good company. With its ample garden facilities and Midsummer backdrop this pub is ideal for families of all ages, couples and friends of either gender. A wonderful find and although you enjoy telling people about how good it is a little bit of you once to keep secret so that only you can enjoy it! I only gave it a 10 because 11 wasnt an option!!!
Mark, Gillo & Mathew (9/7/2011)





We had been to the one dayer at Old Trafford to watch the Cricket, we just wanted somewhere picturesque, quiet where we could have a few drinks & some lovely food and MY WORD did we find it ! A quite stunning setting as you get off the train and we were greeted by a lovely warm welcome from the landlady & nothing was too much trouble. Lovely food, great staff & it felt as if we had just got home. This lovely English country pub sums up everything that is great about this country & we would advise anyone thats in the area to go along. Thanks to all the staff, see you all very soon.
David Purser from Timperley
We booked a few days before our visit and asked if steak and ale pie was on, it wasn't, but they cooked it especially for us and it was absolutely delicious. The puddings were also excellent. The staff are very friendly and helpful. All in all a very pleasant experience, this is now our pub of choice.
Pete, Sunnyvale California





Nice little pub with great atmosphere and friendly bar staff and locals. As Brit now living in the USA, I felt welcomed and invited to join in the conversations.
I loved the steak & kidney pie, and will definitely visit again when I'm in the area.
Pete
Andrew Wilmslow
Excellent little pub. Used to take our children when they were smaller as they have nice garden to run in. Great value food and beers always well served.
Julie, Knutsford
I really like the Railway Inn - the bar staff are wonderful and the hospitality is good, we weren't rushed and chose the basic menu meals and weren't talked into having the dish of the day. Good service and good quality food.
Milligan Family





We have had many a meal at this friendly pub, and thoroughly enjoyed each one. Well done!
Neil, Altrincham
Found this place on Onionring, we had a walked planned near by so decided to try it afterwards.
It is a real traditional british pub. Separate dining room. Prices are decent for the quality of the food. Everything was homemade, I had the Steak & Kidney pie which was very tasty but perhaps could have been slightly bigger. Desserts were also very good. Only slight complaint was that the service was fairly slow, which wouldn't have mattered normally but we were in a bit of a rush!
Overall very good.
Bobby, from Warrington
Busy country pub, bank holiday when we went so possibly less busy on other days. Try the hot baguettes they are great value. Good family pub.
Updates
Is this information about correct?
Please tell us about any omissions or mistakes on this page...
click here to submit an update.
If you own or run this venue and would like to get more customers from onionring...
click here