| | | |
| --- | --- | --- |
| | | |
Home > Restaurants > Cheshire > Knutsford Restaurants > Bells of Peover
Bells of Peover
Traditional, British
[show 8 more photos]
The Bells of Peover is a dining pub in a Grade 1 Listed building, set in the beautiful Cheshire countryside just outside Knutsford. Following a mini refurbishment in January we have created a menu which celebrates food at its seasonal best. Everything is freshly made on the premises including all our own bread, charcuterie, chutneys, pickles and ice cream. We also hand-pick our suppliers to ensure the highest quality ingredients.
The menu uses the best of what is in season and is lovingly prepared my the head chef and his team.
Open Tuesday – Sunday for lunch and dinner.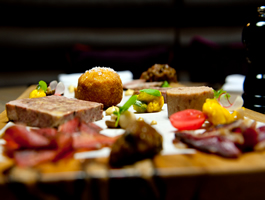 Manchester
...Went here on Wednesday,13th March with my son, husband and daughter in law for a Mother's Day treat. Food and service was superb - very impressed - lovely evening in a unique setting. Shame about the modernisation in an old building nothing like as cosy as it used to be but I think its an age......
Contact Details
The Cobbles, Lower Peover
Knutsford, Cheshire . WA16 9PZ

Tel: 01565 722269
Say "Mel from Onionring sent me"
Opening Hours
| | |
| --- | --- |
| Monday | Closed |
| Tuesday | 12-11pm |
| Wednesday | 12-11pm |
| Thursday | 12-11pm |
| Friday | 12-11pm |
| Saturday | 12-11pm |
| Sunday | 12-10.30pm |
Facilities
Parking is in a car park. Gluten Free Dishes Available. Outside Seating. Licensed. Private Parties. Gluten Free Options.




Offers
Recommendations
Manchester





Went here on Wednesday,13th March with my son, husband and daughter in law for a Mother's Day treat.
Food and service was superb - very impressed - lovely evening in a unique setting.
Shame about the modernisation in an old building nothing like as cosy as it used to be but I think its an age thing on my behalf.
Overall experience was wonderful - really recommend
Alison Knutsford

Well what has happened to The Bells of Peover! We went last night to be told that the menu had changed as the old chef had left and that the new menu was in place. One small page of very few choices meant that we sat down for about 3 minutes decided that there was nothing that any of us fancied and so we left to spend £180 at The Golden Pheasant. Let's hope this is just a blip with a new chef finding his/her feet but the place was very quiet - bring back the platters!
Gill Leigh, Sale





Had a lovely evening,celebrated parents 50th Anniversary so we wanted something special. The staff were very attentive, the food was delicious and the atmosphere was just right. Thank you to all the staff for a super time and a great recommendation by my sister! Will go angain for sure.
Lyn Warrington





Lovely surroundings, excellent presentation and great quality food.
Sarah, Weaverham





All I can say about this hidden gem is that if you can find something wrong with any aspect of it, you must be the fussiest person on earth! Fantastic service, food to die for (albeit a little pricey, but you get what you pay for). We have had a couple of functions here where we have booked out the smaller dining room and the staff and owners go to extraordinary lengths to make sure everything goes without a hitch. Can not fault it - one hundred percent perfect in every way - keep up the good work ;)
Miss L. Isla
What a great service we had!! I want to thank the manager and staff at the Bells of Peover as I took my family on Sunday 29th of may and even when it was really busy, the service was excellent!!. We really enjoy the meal and the service was the icing on the cake!!! Thanks and well done to you all!!!!!. Mrs Clarke from Salford!!!
Andrea Dobkin- Manchester





Incredible gastronome pub food, Fantastic Location, a little hidden treasure in the Cheshire woods. You will not be disappointed. The décor adds a warm and authentic feel to the place, with the great friendly service and guaranteed delicious food. Presentation of the food was immaculate. The fish and chips with minted peas was a winner for me, and homemade doughnuts, using locally sourced food of the highest degree- it shows in the food
Dave Manchester





A group of ten of us went here for Sunday lunch - a reunion of a couple of old school friends and families. I was pleasantly surprised by the fabulous quality of the food. Great service despite it being extremely busy.
Sandra Gough





The Bells is our local - in walking distance - how lucky are we. Setting is beautiful, food is really good and staff are excellent. Well done Chris & team.
Heather, Poynton





My favourite place in the area! The food is a great mixture of creative and traditional, excellent quality and in a gorgeous setting. The staff are friendly and welcoming.
BP




Hurray the Bells on our visiting list!!
After many years of eating at the Bells, we stopped visiting it about 18 months ago....standard of food went down drastically from what it used to be BUT after reading a couple of good reviews again, we gave it a go last week for lunch!!! It was excellent, think they must have changed cook or owners, whatever. It was lovely, only downfall I have to say IS...it was a chilly day AND the FIRE wasn't lit, now one thing it always had on a cold day was a warm fire ahhhh! Please light your fire if its cold, doesn't have to be big one, but half a dozen of us commented about it. Anyhow the food was lovely and will be visiting again WELLDONE -
Please keep it up won't you !!

Thea Rubenstein Sebring Florida USA





55 years ago I had my wedding breakfast there and we still talk about it. Still visit when I am in the area, and still enjoy the ambiance.
Daniel





Fantastic experience, from the welcome to the dessert. The food was top notch, great seasonal dishes and beautifully presented. Would recommend to all - a great find.
David Worgan: Wallasey.




Had lunch twice over the past 3 weeks, once to celebrate wedding anniv. Food delicious and served by a really friendly and helpful staff.
John White - Manchester





Had a very nice middle class experience at the Bells of Peover - The food and staff were fantastic.
Emma Burrows Gatley, Cheshire





A wonderful Saturday afternoon spent at The Bells Of Peover with my daughters and my mother who had driven up from Warwickshire. The food was excellent and the service was friendly and efficient.
We had a lovely meal, my mother chose the lamb which looked really nice as it arrived on the table and the vegetables cooked to perfection. I opted for a pie which again was delicious. All followed by really lovely puddings and coffee. A super meal and a wonderful way to spend a Saturday afternoon. We will be back!
Mrs Hartley





Wondeful food and atmosphere. I went with my young baby and the service and facilities were great and mostly the food was tasty.
Phillip Jones, Sale





Went to the Bells Wednesday evening for dinner, after a long time away. We had heard it was under new management and decided to give it another chance after several bad experiences. Dined early evening with my wife, the pub looks fantastic, the refurbishment has certainly done wonders. Food was fabulous the kitchen team are certainly doing a fantastic job here, quality and presentation was outstanding. Service from Catherine was bright and friendly. We saw the restaurant menu and can't wait to return to try it out in the next few weeks. Well done to the team at the Bells one of our favourite pubs returning back to a high standard. Thank you Paul and Michelle
Margaret, knutsford





Went to the bells of peover on Saturday night, what a change. really good food & great service from(jp).
thank you will come back soon
Margaret, knutsford





Really enjoy the food and excellent service from(jp) on Saturday night, will come back
Sarah, Chester
Came across the Bells of Peover on Onionring and decided to stop off there for a light lunch on our way back home from a couple of days away.
Really glad we made the effort to find it - beautiful setting, fantastic food, great service. We will be back!
Paul, Wilmslow



Dined at the Bells today (bank holiday Monday for lunch) It was absolutely heaving, we hadn't booked a table but were greeted by the barman and told someone would let us know on a table. Minutes later we were told it would be forty minutes, we were welcome to take a seat at the bar, sit outside or go a for a walk. This sounded good to us and we sat at the bar, we were given menus to look at while we sat. Forty minutes later we were sat. We ordered drinks service was quick and pleasant. We waited over 45 minutes for starters. The manager came and apologised and she explained there was a slight backlog in the kitchen and kept us informed. Starters were very tasty when they arrived, however mains were a further 45-50 minutes again we were informed of the delay and they were very good when they eventually arrived. It was an enjoyable lunch, front of house service was very good and at a decent level considering how busy it was and there appeared to be very few bodies. However the kitchen appeared to be struggling majorly to get food out and there was several tables passing comment. Plenty of potential here for the Bells though with the new management, staff are all friendly and approachable. Just need some speed for food! We will be back though
JJ, Lymm
On Saturday my wife and I dined in the new restaurant at the Bells of Peover. The refurbishment of the whole pub is fantastic and the restaurant is appealing and very comfortable. We had a cosy table for two in the corner and the restaurant was nearly full when we sat around 8.45. The atmosphere was very lively and everyone appeared to be having fun. Catherine was a waitress for the evening and was happy to chat and spend time with us and the other tables despite being extremely busy. She recommended several dishes off the menu and we happily took her recommendations and settled back with some wine to enjoy our evening.
The food was fantastic we received an amuse from the chef, homemade bread, fantastic starters of salmon and rabbit, a boston steak, a fabulous pina colada pre dessert and finally an amazing chocolate fondant and vanilla ice cream.
The whole experience was thoroughly enjoyable, nothing was too much trouble for Catherine who was bright and bubbly despite having a completely full restaurant and on her own running it.
Complements to the chef and his team the best meal we have had out in many years. I have not stopped telling everyone I have seen since Saturday and look forward to returning soon. Thanks to all the team at the Bells you certainly have something unique here with your fabulous location and exceptional standard of food and service!
Sue, Mobberley
I visited the Bells on the 17th April with my husband, the weather was glorious and we were hoping for a bite to eat outside. However we were told by a very attentive waitress they were not serving food outside but would be doing in a few weeks, and it would be BBQ's etc and all sounded very promising. So we decided to have a bite to eat in the pub, which was fantastic. Food was delicious and the service was very friendly. We also took a look at the restaurant menu, which also looks fab and we will be experiencing in a few weeks. So this weekend when deciding where to go for Saturday lunch with friends we decided to try the Bells again and were absolutely made up to see them serving food outside, greeted by the same waitress who remembered us from last week she happily sat us and showed us the garden menu. It is a limited menu however plenty of choice and we could enjoy the lovely sunshine. Food was again spot on and so was the service. Over our two visits though we did witness some guests who got very irate with the staff and treated them with absolutely no respect! I do wish that people could treat everyone with the respect they deserve as everybody is equal and I am sure if people entered establishments in a more positive way they would be able to have the same fantastic experiences that we have been having
Thanks to everyone at the Bells and no doubt we will see you next weekend!
Anne, North Wales




Visited here today, Sunday, refurb is excellent. Need to get their staff sorted. Barman gave us the wrong menus for eating outdoors and said sandwiches were off menu, then when I went to order ignored me, then passed me to a waitress, who ignored me before finally summoning the outdoor waitress who was very efficient if somewhat abrupt. Food was excellent as, as always, was the setting. Would of been 10 except for the staff.
Eve, Accrington





The Bells of Peover is fantastic!!! The service was excellent & the staff were very friendly & helpful. The food was delicious excellence & very good value for money. The decor is a great mix of contemporary & traditional. We are looking forward to visiting there again & trying the 'Upstairs' restaurant.
jen,preston





the bells is the best....
K, Shingler





We visited the Bells of Peover last night and had a fabulous meal. The food was excellent and the service was so attentive.WE will definitely be returning.
James Holah from London





Went to the Bells for the first time since the change of management and was absolutely blown away by the place the staff and the product. Amazing food! absolutely first class in every sense. One of the best nights out I've had in a long time and am looking forward to going back.
alan heath northwich




my wife and I visited the bells on Sunday the 27 of December 09.We hadn't visited for at least four years,we were pleasantly surprised. The staff were attentive and the food was excellent.it was good to know that the Bells is back to life.
India Pennington & Pete Henney





We love the bells of Peover!!!
Carly Petitt-Taylor





My husband and I popped in tonight for Sunday tea and had a really great meal. We usually just go for a pint and had not been to the pub for a while, on arrival we were pleasantly surprised to see that the pub had been given a makeover. The staff were really friendly and helpful, the menu was fab and the roast beef I had was beautiful. We will be back there again soon!
John Jones RUTHIN





The Bells of Peover has recently been bought by Robinsons Brewery who have great plans to bring the place back to its former glory. I ate there last week and I could not believe the huge change in service and standard of food. Gone are the Microwave meals! Cant wait to see the full revamp.
darren, sale
Found the pub on a drive out last Friday, very busy considering the location. Found the food was of very high quality and well prepared. Fish pie was good she had the partridge which was excellent.
Will be returning soon, a good drive out destination.
John Strand, Cheshire





A website says this pub is part of the chef and brewer group, I doubt it very much!! No frozen meals here or gaming machines, just friendly staff, great food and drink and reasonable priced too.
We came for Sunday lunch and enjoyed delicious mushroom soup with pheasant, the best rare roast beef, and a sublime plum crumble with custard. Not rocket science but how do so many others get it so wrong.. this was a Sunday lunch to savour and enjoy and remember for all the right reasons.
Thank you Bells of Peover, we'll be back soon
Paul Beech, Northwich





It was on the evening of American Independence Day several years ago that I visited The Bells of Peover for the first time. I was with a beautiful friend. It was a very wet night and the pub was almost empty when we arrived at around 9:40. We chose a table in the window of the rear dining room with a view of the rain belting down over the cobbles outside. We were quite alone except for a fluffy white cat with a fat face that sat across the table watching intently as we ate our scampi and chips. The atmosphere was pure enchantment with gentle music in the background, which my friend crooned along to, her blue eyes dreamy or amused by turns.
Over the years since, I've occasionally popped into The Bells for a swift half, though never again with my friend. Sadly, circumstances have kept us apart, though we're still in touch. I've only to pass the British and American flags flying together outside, and walk under the vine covered porch, to feel again the happy vibes from that evening.
I also have a sense of bygone times, as I'm sure many patrons do. This is surely a part of the special appeal of The Bells.
The flags commemorate the part played by this old country pub in the history of WWII, when General Patton – stationed with his famous Third Army at Peover Hall early in 1944 – was meeting General Eisenhower and Field Marshall Montgomery to plan the invasion of Normandy (Operation Overlord). During this period Patton frequented The Bells and on one occasion dined there, in the Snug, with Eisenhower.
The Bells was formerly known as The Warren de Tabley Arms. Its present name derives not from the bells of St. Oswald's Church opposite, as might be supposed, but from the Bell family, who took it over and brewed beer on the premises. The ghost of 19th century landlord George Bell is reputed to haunt the beer cellar to this day.
St. Oswald's Church, co-existing happily with The Bells, is truly a delight with its 13th century half-timbered body and 16th century sandstone clock tower. Thirst quenched, I have found quiet enjoyment in deciphering inscriptions on the mossy gravestones.
Maybe some rainy night I'll rendezvous with my beautiful friend and bring her to The Bells again. In the meantime, my best wishes to the new landlord.

Kevin, Northwich




I believe the Bells of Peover is under new management (as of mid September 2009). We only had a light lunch, but the meal was excellent. I had homemade soup of the day (cauliflower that day), my partner had a chicken sandwich, and we shared a bowl of chips. All of the food was excellent. The service was friendly and prompt, and it made an already nice afternoon, even better.
Phil, Manchester





Went for Sunday lunch and it was 3 courses for £12 which was superb value. It was extremely good quality and value for money. We would definitely return again.
Emma, Knutsford
Just dropped in on impulse but was utterly delighted with everything - the setting, immediately beside a gorgeous old church and church yard, the exterior with tree roots growing over the door, the interior, the food, the range, the prices, the service - will most definitely be back.
Pinny Holmes Chapel




A charming, historically interesting Inn in a beautiful setting. A wide and interesting menu. We enjoyed a very good meal with pleasant and helpful service.
Carole, Warrington





Went for lunch last week - superb - couldn't fault it at all. Years ago it was quite expensive but now prices are average, but not the usual pub-grub place. All freshly cooked and most enjoyable. Not only good food, but a delightful old pub. Going again next week.
Updates
Is this information about correct?
Please tell us about any omissions or mistakes on this page...
click here to submit an update.
If you own or run this venue and would like to get more customers from onionring...
click here