| | | |
| --- | --- | --- |
| | | |
Home > Restaurants > Cheshire > Stockton Heath Restaurants > Tom at 101
Tom at 101
International, Modern, British
[show 15 more photos]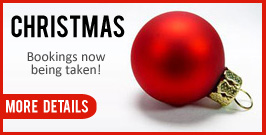 Tom at 101 is the ultimate in casual neighbourhood dining. The restaurant is modern and contemporary in style, with a wide staircase taking you up to the first floor restaurant.
Where possible all food is sourced from local farmers, fish mongers and suppliers. Tom only accepts the freshest produce and all dishes are freshly prepared to order.
There is also a separate bar area where you can relax with a glass of wine (or a few!) and try something from our light menu.
There are lots of good restaurants in Stockton Heath, but why settle for good? Come and try the original and best.
No jacket required...nudity discouraged!
Casual, Quality Neighbourhood Dining.
Become a Friend of Tom's, click here
You can now book directly online!
Simply CLICK HERE TO BOOK YOUR TABLE
---

This venue can cater for functions and events...find out more

Find the best deals for Hotels in Stockton Heath...click here
Carly, Warrington
...Enjoyed a fantastic meal here with friends at the weekend. The food and live music were fantastic, highly recommended!...
Opening Hours
| | |
| --- | --- |
| Monday | 12-10.31pm (Bar till Midnight) |
| Tuesday | 12-10.31pm (Bar till Midnight) |
| Wednesday | 12-10.31pm (Bar till Midnight) |
| Thursday | 12-10.31pm (Bar till late) |
| Friday | 12-10.31pm (Bar till late) |
| Saturday | 12-10.31pm (Bar till late) |
| Sunday | 12-9.31pm (Bar till 11pm) |
Facilities






Offers
Recommendations
Carly, Warrington





Enjoyed a fantastic meal here with friends at the weekend. The food and live music were fantastic, highly recommended!
Nicole, Northwich





I love this place, the food is fab, lovely atmosphere when there is music on, hoping to come when its Jazz night
Gary, Warrington
Really like this place, food is consistently very good. Decent portions and always a nice atmosphere.
Helen, Cheshire





Always a delicious meal here - particularly recommend the smoked haddock pancake.

Maria, Warrington





I came to Tom 101s for my 21st birthday meal. There were 15 of us and every single one of us had a delicious meal with extremely generous portion sizes. The 2 course sunday meal is very good value for money and I am looking forward to eating there again.
Winsford Cheshire




Evening at Toms with friends. Good food and great entertainment by Kayley Rose!
Warrington





Went with friends (4) Saturday 4/11/11 - Had the early evening menu. Starters duck - main langoustine and pannacotta for sweet. Others in the party had steak and beef bourgignon - could find no fault whatsover and the price was excellent. i would definitely go again - the meal not only tasted good but was very well presented
Dan





Fantastic meal, sharing plate was really tasty. Great atmosphere, good service - really impressed
Paul - Appleton
We went with friends, from out of the area,on Saturday evening and on our recommendation, having eaten at 101 on several occasions, including Christmas dinner for the last 3 years. Even we were exceptionally impressed with Tom's starter board(which we hadn't had before - an amazing selection)and the Char Grilled 20oz Rib with accompianments which 2 of the guys shared and which they acknowledged as being really good and extremely good value. Steaks were great, cooked to perfection, as reqested. Absolutely no complaints - the service was excellent, the house wine, very acceptable, Couldn't all manage desserts but the girls shared a chocolate fondant which, if you're a chocoholic, is to die for! As hosts to friends, taking for them a meal locally, we couldn't have been more proud. Thank you 101.
Emma





I spent the evening with friends in Tom at 101. It has been a long time since I have found a venue like it. Great food, great atmosphere and even better entertainment by 'Kayley Rose' thank you for making our evening!!
Gill,Warington





Never been to Tom's before, goodness knows why not? It was fab, Sunday roast most beautiful beef enjoyed by children and adults,service excellent wont be leaving it so long to visit again!!
clare warrington
Although Tom's has been around for a while the quality and service is always excellent. We came in the other week for Sunday lunch and it was delicious! Would certainly return and recommend!
Ashley





Ate at 101 last tuesday. Food was excellent, i had the dish of the day which was the lobster and the fact that you get three options of how you want it to be served was excellent from my point of view. The scallops which i had for my starter were cooked to perfection and my friends and i had the 241 bottles of rose wine which was brilliant. Wine menu was full had a wide selection to choose from. The service was excellent, they were all very attentive and couldnt do enough for any of us. Would highly reccommend this restaurant to anyone looking for fine dining without the stereotypical dress code.
robert, warrington





Had a meal at 101 on Thursday. The food was second to none. I suggest trying the beef medallions as they are cooked to perfection. The wine menu is extensive and of high quality and my friends and i took full advantage of the buy one get one free on bottles of rose!!! The band that were playing helped create the perfect setting for dining as the night progressed, their music became more up beat and people were up singing and dancing which made it hard not to join in. Highly recommend visiting this restaurant.
Dan





had a fantastic family meal here last week. Cocktails in the bar to start (2for1!), three courses of top quality food, all the family were really impressed. Good service throughout, a thoroughly decent meal out. Top stuff.
Gary Warrington




Have been here a number of times and never been disappointed.
Good quality food and lots of it.
Good ambiance, we particularly like the bar area.
Lynda & Mark, Warrington





We regularly drop into Toms, sometimes for drinks and snacks in the bar area or sometimes for meals in the restaurant. We love the friendly atmosphere in there and are always made to feel welcome. Tom (the owner) is very welcoming and Richard (Head Waiter/Restaurant Manager) is fantastic and always looks after you well. The food is imaginative and tasty - the menus change regularly. We dropped in last Sunday and there was a superb saxophonist playing and the place was buzzing. Definitely worth a visit!
MIke, Grappenhall Heys





Great food and an extensive wine list try the Ayala champagne. Also people watch in the cocktail bar after your meal
Victoria, Appleton Thorn





We had an excellent evening here this weekend, the food, service and atmosphere was second to none. A massive improvement on our last visit!
Kathy -Stockton Heath
We ate at Toms last night and had a wonderful evening. The service was delightful, the food was superb , and there was a great atmosphere. Would certainly dine here again, but make sure you book so you don't miss out. Looking forward to visiting again soon.
Gary - Warrington





Brill - Excellent food and a really nice place to go.
Get along there next time Dave Hollington is singing Swing for a great night out.
Si, Lymm
Superb Food. Excellent Service. Fantastic Interior. Lovely Atmosphere. Couldn't have been better.
The burger was amazing. Sounds stupid, but the coleslaw was the best i've ever had!!
Maxine, Warrington
Great food, great service; I would highly recommend Tom at 101. The waiters are very attentive and ensure you have everything that you want and the food is fantastic. (And this is from someone who is very picky about restaurants!)
Joanne, Appleton





4 of us dined here on Thursday night. The food was excellent as was the service! We took advantage of the Onionring free bottle of wine offer and the Steak Steak Steak Pie was on offer for £10.01!!!! The band that perform here on Thursdays are great too! One minor grumble...the music between the band's sets gets turned up rather too loud to allow decent conversation.
Gill & Friends





Had a fab night out at Toms last night. We were a large party of girls celebrating my friends Hen Night and the service, quality of food and atmosphere were all first class and perfect for the occasion. The restaurant has recently been re-decorated and the addition of curtained off areas is a vast improvement and certainly seems to add to the atmosphere. The food as always was super, we chose from the dawn til dusk menu which certainly offers good quality at a reasonable price. The 'buy one get one free' cocktails were also much appreciated. We really enjoyed the live entertainment and seeing as the bar area and restaurant were all packed we obviously were not the only ones. Toms offers the rare opportunity of a really good night out with good food and first class service (special mention to Laura). Highly recommended.
Joanne, Appleton





An excellent meal had by all when 15 of us dined here tonight! The service was attentive and the food was excellent! Just a shame we forgot our free wine voucher!!!
Gill - Runcorn





I went with my partner on the off chance and I have to say it was one of the best nights ever. You could not fault the service ( and we have Richard to thank for that). The food and atmosphere were both brilliant and the live band just topped off a perfect evening. I would recommend Tom @ 101 to everyone.
Phil & Karen Warrington





Just held our wedding reception at Tom @ 101.
Everything from the ease of organisation to the excellent food & service throughtout the day and evening, made our wedding day extra special. All our guests were equally impressed. We had high very high expectations and they were exceeded.
Thanks to Tom and his team for a fabulous and memorable event.
Julie -warrington
Thanks to all the friendly,smiley girl waitresses and the outstanding quality the food offers, with a wide range to drink including those gorgeous Sex on the Heath's it surely made my night very memorable. Thankyou to everyone at 101 i will be back soon.. x
Paul, Warrington




We ate here recently on a saturday night, and really enjoyed the food. The staff were very friendly and service was very good.
Reasonably priced, and we would return here again.
Richard, Frodsham
Fantastic food, excellent service and a great atmosphere. The meals were really tasty and well presented; all 3 of us were impressed. The guy who served us was well trained and very good at his job, and to top it off was a great music act (who are normally only there on Thu night) and a free bottle of wine (courtesy of the Onion Ring voucher).
Mr Williams





my wife and I dined here for the first time together with an American colleague. The staff were very attentive and pleasant even our american friend was impressed with the level of the service. The food was excellent, we will definately visit again
warrington





Food was super, really good service also, i went with a some freinds before i went into stockton heath for some drinks. The chief "Tom" even came out and talked to us he was a really nice and friendly and hot too.
DJM





Had lunch a few weeks ago, very good value. Nice restaurant and good staff.
Cam





The best Sunday roast I have had in ages. Used the free wine offer aswell. Great stuff.
Davidoke, Northwich





Our visit again for the Superb Sunday lunch. Everytime the beef is va va voom and the service was better than 5 santas on christmas eve!
Found my new fetish, not the gorgeous waitress-but the Apple Crumble with custard. It was like there was a party in my mouth and everyone was invited.
Sweet baby jesus and the orphans it was good again!
fanBloodytastic!

bethany





Tom at 101's cocktail offer is amazing. I went for cocktails on Saturday and found the mojito's superb. I will definitly be back for more! Thankyou
Sue, Kingsley





This is my favourite restaurant in Stockton Heath...Good Food ...Good Service....Good Atmosphere. Others may try to compete...but Toms is NO 1
Barbara, Appleton.





Visited on Mothers Day with the family. We all enjoyed the food which was very good. Service excellent.But the music was too loud. Would love to visit again, hoping that the music would be a little softer.
Marc




The food (and service!)at Tom's is of a consistently high standard. Why, oh why, however,does the restaurant permit smoking throughout?? At least create a non smoking area! Last weekend, there were smokers in front, behind and to one side of me during my meal. Sort it out Tom!
Sarah Warrington





Tom at 101 is mine and my husband's favourite restaurant. I have eaten there many times and it keeps getting better and better. We were there last night and had a fabulous meal! The atmosphere in the place was great and the food was fantastic! The service was pretty good too! Highly recommend this eatery.
Gill & Family





Excellent Christmas Day lunch at Toms, super food, attentive and very entertaining staff (especially Richard!) and fabulous atmosphere. Highly recommended.
steve
WORD OF WARNING IF YOU BOOK ON THE SAME DAY YOU WANT TO EAT, MAKE SURE YOU ARE NOT PUT ON THE RESERVE LIST, AS I FOUND OUT WHEN WE TURNED UP TO EAT AT 8.30 ON SATURDAY EVENING. TOLD TO GO AWAY AND COME BACK IN 1 HOUR. THE CHAP DID NOT EVEN ATTEMPT TO TRY AND SEAT US. NEEDLESS TO SAY WE DID NOT GO BACK, AND TO CLOSE THE FOOD AND WINE IN PICCOLINOS WAS OUTSTANDING ..CHEERS 101
john delap





we recently dined at toms at 101 and the food , service the staff where great in fact we both said it was the best restaurant we had dined in and we are both 50 and have dined in a few restaurants over the years, very highly recommended is the restaurant.
Gill and Family - Stockton Heath





Excellent Sunday lunch at Tom at 101. Superb food and wine(the roast beef melted in the mouth), great atmosphere (makes a nice change for an elegant restaurant to make young children so welcome) and very good value for money. Highly recommended.
Brian Rutherford





Just moved to London Road, Stockton Heath, and I was very impressed at Toms 101 sunday Lunch for £9.99 Food fantastic, and please order tia fishcakes.
Carol Warrington

Went to Tom @ 101 on 15.07.06 for birthday lunch. Place and service good.
Gary

Went to Tom at 101 on Saturday lunchtime for a birthday treat. Nice place and pleasant service. Disappointed with the meal. Starter Ok. Main course rather poor.
Joanne, Appleton




Dined here last Tuesday using 2 courses for £10 voucher,felt the choice was a little limited for the offer but have to say it is a bargain! The decor is lovely,light and airy,the service was excellent and the food delicious! Would like to try here again at weekend when restaurant is busier.
Gill & Family





Had a superb lunch at Tom's on Saturday. Due to visiting family we decided to do something special and we were not disappointed. The highlights included: seabass, oriental beef and the braised lamb from the specials menu. We also managed to squeeze in some puddings, of which the treacle sponge with hot toffee sauce was the most divine. We all came away singing the chef's praises (the waiting on staff were, as usual, first class.) Highly recommended.
Paul, Manchester



This is a good bar-style restaurant which is great for a drink-night style meal, but the food isn't quite as good as the atmosphere.
Georgina, Wilmslow
Tom,
Thank you I entertained my family and it was absolutely perfect. The wine list was brilliant, service out of this world!
So impressed that you came over to talk.
Thank you Gina
Susy Reid, Walton
Fantastic night out. Meal superb. Waiters so attentive.
Will be back!
Brenda, Warrington
Toms was the first in Stockton Heath and it was great but now there are so many other choices in the village that it has struggled to stay at the top. The last few times I have gone I have found the food to be not as tasty. Service continues to be OK. For the money you spend there are better choices in Stockton Heath these days.
Terry, Appleton
Excellent meal and good service. Call me a pleb but no draft beer? And maybe the White Apron's fillet is better?
Ruth Powell, Plymouth
I was most impressed the whole ambience of the resturant. The food was truley exquisite, I would like to thank Tom and David for a truley magical experience. Tom at 101 is a must for all serious foodies.
Belinda Lymm
Visited Tom at 101 several times now and the food is always superb. However my one comment is that some dishes are rather overpriced ie.
Steak pie @ £13.95 is very steep considering that this is not served with either potatoes or veg. Once I had ordered these items The total cost of my meal which consisted of
Steak pie/chips/peas/carrots to over £20.00!!!!
London
We went to Tom at 101 for New Years Eve 2005. I have to say the venue, food, service & staff was all of the highest standard. The ticket price of £101 was the best value i have ever had on a night where normally it is an excuse for restaurants to charge exorbitant amounts. For £101 you had a fabulous 6 course meal, including lobster & a mouthwatering fillet steak, all your champagne, wine, spirits, beer.. infact anything you wanted was included.... and then to finish a fantastic dj, dancing and indoor Pyrotechnics at midnight. I highly recommend this restaurant to anyone and will be first in the queue for tickets for this year... well done, Tom and all his team at this fantastic eatery.
Jones Family, Stockton Heath
Our family ate Christmas Lunch at Tom @ 101 yesterday and were delighted with the menu, quality and taste of food served together with the waiter service. We had a fabulous time and were greeted on arrival by Tom personally and then served delicious bilinis and pink champagne. The turkey dinner was excellent, and a very generous portion, cooked to perfection. The rest of the meal was just as good and served by an attentive waiter who remained close by without intruding. Our party included a gentleman who has eaten in some of the best restaurants in the Country and an ex Head Chef now Food Quality Inspector, both of whom cleared their plates, surely the best recommendation. Well done Tom, book us in for next year!
Wendy and Adrian Warrington
Always a pleasure to dine at Tom's. His seasonal menus are superb. Thought through carefully and with so much variety. We have always received cusine of the highest standard which is complemented by excellent service and in perfect surroundings. What more could one wish for when dining out! The quality of Tom's produce has been meticulously sourced and the finished product, be it from lobster to the finest beef are second to none....and it's very much appreciated! Whenever we go to Tom's we look forward to an outstanding dining out experience .... and we do look foward to visiting Tom's everytime because we know that's what we'll be getting. Never disappointed and always impressed by the constant high quality of food and service. Trouble is, that it's so good, since Tom at 101 opened in Stockton Heath, no other restaurant has come close to food perfection!!
Valerie, Runcorn
Mussels to die for - the only restaurant to match the South of France for these. We also had the mouthwatering steaks which had sufficient lightness of touch to keep a succulent flavour so often lost in the cooking. Pleasant, co-operative staff, delighting the customer, advising on a personal favourite which he recommended all added to a really pleasant evening. Thank you so very much.
Rob, Stockton Heath
Great food, good wine list, nice atmosphere, pleasant staff. Some evenings there are singers or musicians playing. Always leave having had a good evening. Can end up spending a packet though !
clare bradshaw thelwall warrington
Have dined at Tom at 101 several times recently and have discovered paradise!. Stylish,spacious surroundings, very pleasant and polite waiters/waitresses. Food - superb. Freshly cooked, just to perfection. My 13 year old son is very difficult to please where food is concerned but will dine at 101 with no problem. An excellent variety available on the menu and desserts to die for! Tables well spaced apart. Superb singers on Sunday nights Would thoroughly recommended Tom at 101. Marks out of 10? 11.
Peter, Appleton
Decided to try Tom at 101, we hadn't been since Tom took over. Managed to get on the early diner 2 courses for £10 set menu. The food was first class, excellent value. We were a group of 5 and everyone was very impressed. Service was quick and effiecnt. The restaurant is fairly busy and lievly, modern in looks. Really good overall will be back.
Haz, Stockton Heath
Styish and airy restaurant, nicely done up.
Waiter was efficent & friendly. The food was also of a good standard, and with a wine offer of 2for1 the bill was decent value for money aswell.
David Mann, Warrington
Great place. Food was excellent, service was excellent and the atmosphere was amazing. They have live singers sometimes too, I thought it was a cd playing, but it was 2 women in the restaurant. Certainly different.
Updates
Is this information about correct?
Please tell us about any omissions or mistakes on this page...
click here to submit an update.
If you own or run this venue and would like to get more customers from onionring...
click here