| | | |
| --- | --- | --- |
| | | |
Home > Restaurants > Cheshire > Warrington Restaurants > The White Apron
The White Apron
Mediterranean
High ceilings, subtle lighting, modern decor and friendly staff wearing our signature long White Aprons, create an atmosphere perfect for all occasions. Whether you are treating yourself and your loved one to a romantic dinner for two, 'popping out' for tea or fancy an evening out with friends, The White Apron is a hidden gem and we are sure that once you've visited us, you'll want to come back time and again!
The White Apron can cater for events & occasions including Birthdays, Celebrations & more recently has become a popular location for Weddings. Our adaptable restaurant layout, friendly & attentive staff and attention to detail make our restaurant the perfect place for your celebrations.
---

Find the best deals for Hotels in Warrington...click here
Sarah White, Warrington
...The second time we have been and absolutely loved it again. The food is delicious, staff are friendly and welcoming and we weren't rushed. We will be back again with family!...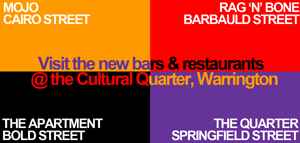 Contact Details
27 Church Street
Warrington, Cheshire . WA1 2SS

Te: 01925 444 894
Say "Mel from Onionring sent me"
Opening Hours
| | |
| --- | --- |
| Monday | Lunch by request |
| Tuesday | Lunch by request, 5pm-late |
| Wednesday | Lunch by request, 5pm-late |
| Thursday | Lunch by request, 5pm-late |
| Friday | Lunch by request, 5pm-late |
| Saturday | Lunch by request, 5pm-late |
| Sunday | Lunch by request |
Facilities
Gluten Free Dishes Available. Licensed. Private Parties. Gift Vouchers Available - contact the restaurant to buy yours today. Gluten Free Options.





Offers
Recommendations
Sarah White, Warrington





The second time we have been and absolutely loved it again. The food is delicious, staff are friendly and welcoming and we weren't rushed. We will be back again with family!
Alan Warrington
Brilliant!
Went for Christmas Day dinner.
Excellent food, service, and atmosphere.
Highly recommended
Alyson pickles





The food at the White Apron was lovely and as someone who has a sweet tooth I can honestly say the dessert was heavenly and the best I have tasted. I always appreciate good service and the White Apron did not disappoint with the staff being very friendly and attentive. I will definitely recommend the restaurant and will be going back!
Laura in Lincoln





Friends of mine had their wedding reception at The White Apron and it was a great venue. The staff were friendly and welcoming. The food was devine and the service impeccable! with perfect timing. The atmosphere was really lovely and I would most certainly visit again, it is a true little gem!
Dan and Deanne Sullivan





We enjoyed wonderful service at this restaurant. The staff could not accommodate us more. As we had a pushchair with us staff took it up and down the steps for us. Allowed us to have it next to the table during our meal as we had a newborn in a carrycot. For out older daughter who is six they gave her a good choice menu, she loved the soup and chose plain pasta as she is fussy. She then enjoyed nice ice cream with sauce of her choice. Excellent food! Good portion sizes, only wanted more because it was so nice! No baby changing facilities was the only downfall but it really isn't the type of restaurant who would normally have a baby come in. It's much more of a couples restaurant however they accommodated us really well.
Andy and Vicki, Warrington





Following our wedding at St Elphin's Church we held a reception at the White Apron for 50 guests followed by a further 50 at the evening buffet and party. The food as ever was excellent and being able to offer our guests a choice of food was fantastic. The venue was perfect for a wedding at St Elphin's and there was a wonderful atmosphere throughout the evening. Dave and all the White Apron team were extremely accommodating and made our day go without a hitch!
Widnes





It is a gem of a restaurant tucked away up a narrow staircase. It has a truly Mediterranean feel and pleasant ambiance. The lamb keftika was exquisitely cooked to perfection and beautifully presented. The service was superb, Very attentive staff with excellent attention to detail.
Will be visiting again soon.
Gill and Alistair

Warrington
Revisited the white apron on Friday night, had a wonderful night, as always the food was excellent and the service first rate. We can't recommend this restaurant highly enough.
Sharon, Northwich





We threw a family party whilst my sister was visiting from USA. I can heartily recommend the White Apron. The food was fantastic, puds to die for, the service and staff very friendly and professional, decor very stylish - what more could you want. We will be visiting again! Include it in your repertoire.
Marian Liverpool





What a fantastic evening we had at this delightful restaurant. Superb personal service and truly delicious food. The whole experience could not have been better!
Amy, Warrington





We held my sisters baby shower here for 16 people on 30/06/12 and had a fantastic afternoon! The food was lovely, Eton Mess was AMAZING! The staff really helped make the day special, so helpful and attentive. The restaurant itself is done out very nice and its a great atmosphere. I will most certainly be back!
Chris Sherratt, Warrington





We visited The White Apron on 13/06/2012 and couldn't be happier with the experience. The staff were very friendly and welcoming & the food was beautiful. With so many restaurants offering poor food at high price's its refreshing to find somewhere offering quality fresh cooked food at fantastic prices.
Rebecca, Warrington
The White Apron is truly fantastic. The staff are so welcoming, the food couldn't be faulted and the environment is comfortable. We went there on our anniversary and we were made to feel like valued customers, the staff couldn't do enough for us. We enjoyed our experience so much that I booked my birthday celebration!
Martin Warrington





Superb meal shish kebab starter beef stifado main home made cheese cake for afters, very friendly staff excellent service would recommend highly.
Laura Warrington





Me and my partner visited the White Apron last night, the food was delicious and all homemade, the homemade vanilla cheesecake is a must to try and also the pear drop ice cream. The staff are so friendly and we will definitely be visiting again!!! Thank you for making our night so special!
Phil, Warrington





Very attentitive service but understated and not intrusive. We were a party of 8 and had a variety of starters and mains all of which were beautifully cooked, very well presented and delicious. 10 out of 10 was the unanimous verdict. Can't wait for our next visit. (One suggestion for improvement would be to make it clear that the restaurant does not have a car park but plenty of parking 2 minutes away.)
Mike & Helen D





Absolutely FANTASTIC The staff were very attentive & friendly. The atmosphere was relaxed and very pleasant. A really great meal cooked to perfection. I would highly recommend The White Apron to anyone. Thank you for a brilliant night. Will be back very very soon!
Sam
Went here to celebrate a birthday, really attentive staff, impressive food and lovely atmosphere. Well done to all, will be back very soon.
Debbie of Widnes





Had a fantastic evening at The White Apron last Friday with my sister and best friend. We booked a table after it after it was recommended to me by a work colleague. I always go on first impressions, and what an impression it was !!!! The decor was beautiful, very welcoming with a Mediterranean feel, with rustic oak furniture. The staff were friendly, efficient and extremely accommodating. As for the food it was mouth watering, I throughly enjoyed the scallops with leeks as a starter truly orgasmic !!! As for the smoke salmon and black pepper carbonara, it was so delicious, creamy and full of delicate flavours. My sister and friend loved the Trio of chocolate, describing this dessert as heavenly. Portions were good and the presentation was excellent. I had a very relaxing evening with good company, excellent tasty cuisine and copious amounts of vino !!! Would definitely recommend this "Magnificent Mediterranean Restaurant" to my family friends and work colleagues. Hope to visit again soon.
alan warrington





Called in for an early dinner on Saturday 3rd of March - had a fabulous 3 course dinner , could resist the dessert , nice atmosphere and always a warm welcome and attentive service , will definitely return soon , nothing was too much trouble , thank you
Steve,Julia & Steph Burtonwood





Visited Saturday evening to celebrate a birthday and what can I say? Food sevice and atmosphere top notch. Keep up the good work, will visit again soon!!!
E & P Warrington





Spent lovely evening at The White Apron. Food was gorgeous, staff very friendly and service was brilliant. Will definitely be back!
pauline bradbury warrington





very nice welcome when we arrived. food was great service excellent couldn't do enough for us even organised taxi home would highly recommend
Maria & Andy from Runcorn





We had a wonderful valentines meal here, the food was amazing and the service faultless.
The level of professionalism from the staff and the warm, relaxed atmosphere makes this restaurant a must to try. We will definitely be back to sample more delights from the menu.
maureen





Valentines dinner, fabulous food, wonderful service and a great setting, we will be back
Kate and Matt, Warrington.





We had a wonderful valentines day meal here, The food was fantastic, topped only by the service. Dave was a fantastic waiter, good wine and a very chilled out atmosphere is the cherry on the metaphorical cake. If your ever visiting Warrington we would highly recommend dining here :).
Warrington





Thought we would try as it was our favourite restaurant, and we were not disappointed. The service was excellent, the food cooked to perfection, looking forward to our next visit.
E&C Warrington
We visited on 5/1/12. This was our second visit to the restaurant, the first, which some time ago was not the greatest of experiences due to poor service and we had given it a wide berth as a result. We decided to give it another go and we are so glad we did. The new management have vastly improved the standard of service and the quality of the food was on par with the Grill on the Square in Warrington. I would not have previously recommended this restaurant under its old regime, but i would now! The only minor item is that the menu on this website does not reflect what is available in house, the one in house is better!!
Maria from Runcorn





Spent a very enjoyable new years eve at the restaurant, the staff were friendly and extremely accomodating. The chefs even changed an item off the set menu for me so i didn't miss any of the courses. The food, service and setting was excellent and we have booked again for the mad hatters tea party night at the end of january and also valentines night. This is definately a restaurant worth visiting.
Vicki, Warrington





We went for new years eve and found the food delicious and service excellent- staff were very attentive. Would definitely recommend for special occasions!! We will be going again very soon.
Andy & Seb, Manchester





We ate here on new years eve. The food was fantastic along with very friendly staff! This made the overall ambiance very relaxing. An excellent way to bring in the new year, we will definitely be going again!
Andy, Warrington




We dropped in for a meal after spotting it had recently reopened, the new owners were very friendly and the food and service was excellent. We will be back!
Miss V Sullivan
Fantastic food! We went to the newly re-opened White Apron and had a lovely meal. The staff were extremely friendly and accommodating. The food was excellent and very reasonably priced. We will be going back again very soon.
Updates
Is this information about correct?
Please tell us about any omissions or mistakes on this page...
click here to submit an update.
If you own or run this venue and would like to get more customers from onionring...
click here