| | | |
| --- | --- | --- |
| | | |
Home > Restaurants > Cheshire > Frodsham Restaurants > Oswalds@Helter Skelter
Oswalds@Helter Skelter
Modern, International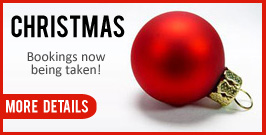 Oswalds@HelterSkelter is Frodsham's hidden little gem! Situated on the first floor of Helter Skelter; a traditional friendly pub renowned for its excellent cask ales, fine wines and imported bottled beers.
Our food is available both in the bar and our first floor restaurant, with light lunches to a la carte all freshly prepared by our team of chefs. Our restaurant is perfect for eating with friends, celebrating with family or a romantic evening out.
The only question is, when can we book you a table?
keith
...Beer great, food lovely-just as good. website almost incoherent with offers don't try too hard, seems a bit too hopeful ...
Opening Hours
| | |
| --- | --- |
| Monday | 12noon until 2.30pm & 5.30pm-9pm |
| Tuesday | 12noon until 2.30pm & 5.30pm-9pm |
| Wednesday | 12noon until 2.30pm & 5.30pm-9pm |
| Thursday | 12noon until 2.30pm & 5.30pm-9pm |
| Friday | 12noon until 2.30pm & 5.30pm-9pm |
| Saturday | 12noon until 2.30pm & 5.30pm-9pm |
| Sunday | 12noon until 8pm |
Facilities
Gluten Free Dishes Available. Licensed. Private Parties. Gluten Free Options.




Offers
Events
December
1
Sunday 01 December 2013 to Monday 30 December 2013
We are serving our festive menu from Thursday 28th November until Monday 30th December. We are not open for food on Christmas Day or Boxing Day. We are closed on Monday Lunchtimes unless a booking of 20 or more. All tables of 8 or more must pre-order. 2 Course Lunch from £15.95* 3 Course Lunch from £18.95* 2 Course Evening from £18.95* 3 Course Evening from £21.95* Sunday - 2 Course Lunch from £12.95 3 Course Lunch from £15.95 *Please note dishes with SC are subject to a surcharge of...
<
CLICK HERE FOR MORE INFORMATION AND TO BOOK
>
Recommendations
keith
Beer great, food lovely-just as good.
website almost incoherent with offers
don't try too hard, seems a bit too hopeful
Dot Croft, Warrington





My husband and I have visited the restuarant on several occasions. Always good food and good ale.
On my last visit the chef made a special vegetarian pasta dish for me. It was excellent.
Look forward to trying the new menu.
Dave




Another good meal at Helter Skelter - invariably good food and great for the kids.
Dave, Frodsham




We love this place - the food is great and plentiful and there is great personal service. Good for children too.
Our favourite restaurant in Frodsham and are becoming regulars.
Sharron (Frodsham)




Had another FAB meal at Oswalds on Sat evening! I must say that this restaurant is a little gem!! Amazing menu, presentation is second to none, staff very friendly and ambiance just right! Had the scallops/black pudding to start, followed by steak & ale pie, partner had rump steak and then we shared the cheese cake - delicious!! Got friends visiting so just booked online again for Sunday lunch - looking forward another feast!!
Sarah, St Helens





Great food, in a relaxed atmosphere. We went for an informal meal on a Friday evening and had a fab time. The menu had lots of choice and the goats cheese tart was amazing ... give it a try!
Julie Helsby





We recently moved to Helsby and have been looking for a good local restaurant. We found it!
My husband and I called on the off chance on 15th October, we did not book but they managed to squeeze us in, I had the goats cheese starter and my husband had the fish cakes both amazing, I then had the fishcakes for my main meal this was overwhelming two large fishcakes (enormous) could not eat them both, my husband had the lamb which was the opposite very nice and well cooked but not enough meat on the plate.
The desserts were the best I have had in a long time homemade basket with icecream and fresh fruit and the cheesecake my husband had unfortunatley he had to share with me as it was so nice.
All in all a lovely meal in a pleasant atmosphere.
Helen, Frodsham





Wonderful! It was our first visit to Oswalds last night. We started with a drink downstairs after making our choice from all the fantastic beers. I was really surprised at the Restaurant, it is really lovley and well laid out. I started with the marinated beef with stilton, just gorgeous, my husband enjoyed the ham hock with black pudding. My main course was divine, pork loin with an apple and pototo dauphenoise, some lovely vegetables as a side dish. My husband had the lamb with beetroot and port, scrumcious. We were enjoying the beer so much we stuck with this instead of having wine, which was a really nice change. All together wonderful. We have heard lots of good comments but never been..... we will be going again!
Emma Frodsham





Enjoyed yet another fantastic meal at Oswalds! All courses were cooked to perfection and thoroughly enjoyable.
runcorn




Went with a party of 12 last Friday and great well presented food, great atmosphere. Would recommend it to anybody.
Ellen & Paul, Frodsham





We had yet another fine meal in Oswalds on Sunday, we must eat in either the bar or in the restaurant at least once a month. The quality of the meals and price often means that whenever we have friends coming to Frodsham we always take them to the Helter Skelter to sample their good selection of cast ales, fine food and hospitality. We feel very lucky to have an establishment like this on our doorstep.
Kathryn McGrath, Runcorn





I went for my birthday on 11/2/09, another fantastic meal as always. The Helter Skelter never fails to deliver a beautiful, quality meal. I started with the scallops which were cooked to perfection and the Sea bass fillets for my main, which were cooked beautifully. We have been many times to the Helter and it never disappoints, the standard of food & service are excellent!!!!
Adrian
We moved in to Frodsham July09 & made the best decision ever to go and try out this restaurant, we've been going regularly ever since and would highly recommend to everyone. You're missing out if you've never tasted one of their meals.
It has a regularly changing menu to suit everyones taste,very generous portion sizes, friendly staff, various special offers throughout the week & to top it off, there is a huge choice of beers, wines and 8 real ales.
Give it a go, will NOT be disappointed!!!!
Janet, Warrington





After reading the reviews for Oswalds at Helter Skelter we decided to give it a try on our wedding anniversary, we were not disappointed. We had a couple of drinks in Helter Skelter first where my husband enjoyed a couple of very nice cask ales and excellent service from the bar staff even though it was very busy the service was quick. We went upstairs to Oswalds restaurant, the staff and service was excellent and the food was awesome, I finished off with the Battenburg Trifle which was a monster but very delicious!! Needless to say we shall be going back and would highly recommend this restaurant to anybody who wants a great meal, good service and excellent value for money as the prices are very reasonable. Well done.
phill and gemma, Sutton Weaver





Consistently high standard, the guys at Helter never let us down. always fabulous food and great unobtrusive service. if you haven't eaten here yet then what are you waiting for??
stephen friday runcorn





i attended a company celebration meal with 50+
colleagues on Thursday night and the food was one of the highest standard we have had. i have heard nothing but praise for the standard of food, presentation and service. will definitely return for another meal and have no hesitation in recommending your restaurant. thanks for an enjoyable evening.
Emma, Helsby




I organised a meal at Oswalds for my husbands birthday. There were 27 in the party and we all had a lovely time. The food was fantastic and the service was excellent too. All needs were catered for. Would definitely recommend Oswalds and will return soon.
J&S
We eat upstairs quite often these days - the food is fab and very reasonably priced! We have never had a bad meal here and the service is always friendly. We eat out a lot and enjoy tasting new things, the helter skelter surprises us at times with new flavours and options on the menu - well done and keep it up! You are our favourite pub too!
Kirstie and Ian





We had the most fantastic Valentine's Day meal yesterday, and the standard of food, service and beers is unmatchable anywhere else we have been.
We both enjoyed every part of the meal, and cannot wait to return again for a meal. We are regular drinkers downstairs, but really think we will have to start eating in Oswalds more often as the food is out of this world!
PS of course we had the waffles again for dessert- how could we resist!!

Runcorn





Went to Oswalds for our staff Christmas party, it was a first for many of us and was highly recommended so we thought we'd give it a go!Definitely glad we went and will certainly be repeating! The atmosphere was fantastic and even though it was busy the staff were fantastic but I have to say the food was even better!!Special menu's were put together for any budget which made it a bit easier to chose from all the fantastic food, which I could of eaten just about every thing on the menu! This truly is Frodshams secret and more people need to come and discover it! Thanks for a really brilliant night and fantastic food, I will be certainly be back!!...
Harry Vick





Went to Oswalds for the first time last night and our first impression was of a pleasant and welcoming bar area with a fantastic range of hand pulled beers. After enjoying a lovely pint of Wentworth downstairs we went to the dining room upstairs and we chose a starter and main course from a most comprehensive menu assisted by very pleasant staff. All of us thought that both of the courses were simply delicious and substantial. I couldn't manage a sweet but my two companions did and thought them delicious. The wine was reasonably priced into the bargain.A thoroughly pleasant experience and one I intend to repeat soon. But how was this place kept a secret from me for all this time?
tina





After viewing several local menus i found a little oasis serving a great mix of British and Italian cuisine, there was a wonderful friendly atmosphere a genuine real ale pub on underneath bursting with an array of characters and highly professional service. After our drinks downstairs we moved on up to the first floor where we took advantage of the Monday night special (2 courses for just £10.95 all night instead of just until 7pm) after desserts and coffee we moved back down to the bar for one final drink before going home. The overall all experience was laid back and enjoyable and one I plan on repeating again soon.
Sarah, Frodsham




Had lunch there today and it was lovely, friendly service and relaxed will definitely be back for a meal.
Ian, Frodsham





Went to Oswalds now it has moved above Helter Skelter and had an absolutely fantastic meal. The food was really good, with really laid back friendly service. The choice of cask ales and bottled beer just made it even more. Will be back!!
Winsford
Had a thoroughly enjoyable evening at Oswalds last night. The food was tremendous. The black pudding starter was delicious and the duck was so tender it melted in the mouth. Only disappointment was that I didn't have room to experience the lemoncello creme brulee. The place was packed and had a really good atmospehere. Well Done Nicholas and team.
joanne and rob from Blackpool





Me and my boyfriend have visited Lamberns in the past which was always nice but since changing to oswalds even better. Very good choice on the menu in fact it took me ages to decide it was that good!
Took a while to find the relocation but was worth it when entering. Food absolutely divine!! I had a leek n asparagus tart in a cheese/cream sauce encased in a filo pastry, and my boyfriend had the black pudding rosti on caramelised onions ( which I also tried ha!)
Then for our mains Rob had the pork which was perfectly cooked, myself had the steak n ale pie, the flaky pastry was mountain high and perfectly cooked, the best pastry I have tried for a while, tender pieces of steak in a dark brown rich gravy with a local cask ale introduced.Not a crumb left on the plate even though the portions are very substantial.
The service was great and staff friendly and accommodating. A good eating experience all round. If your a foodie and you like attention to detail and good honest cooked food I would definately recommend it and we will definately be visiting again.
Frodsham
i had the most gorgeous meal in january when i went to Oswalds for my friends birthday, to start me and a friend just had some garlic bread to share (we were saving ourselves for our main!) but the other starters coming out around us looked amazing and ten miinnutes later all the plates were empty. For my main i had the pork, it was divine by far the best meall i have haad in fordsham for a long time! after that i was too full for dessert, we had all tried a little bit from those around us, the chicken, seafood lasagne and the lamb were lovely. A birthday cake was brought over and the staff sang to our birthday girl! It is my birthday soon and Oswalds is definitly going to be my venue of choice!
Runcorn





Came to your restaurant on Saturday after hearing excellent things about your Italian cuisine. We were not disappointed, the food was superb and the service was deffinately an imporovement since we went last. We will be back!!
Ian, Frodsham




Went to what was Lamburns, now Oswalds after reading review in Chester Chronicle. Food exceptional all together far better than Lamburns.
adam





visited again on friday, food superb, atmosphere was relaxed, service was second to none, will defo go again, excellent value for money, the fillet steak was perfect
Dave





Payed a visit last night and once again had a great time. The food was first rate as was the friendly and efficient service. The meal deal(main course and desert) for £16 was excellent and I can't wait for my next visit.
frodsham
Been to Lamburns in the past and found it very nice, going tonight for the first time since it changed management, so watch this space!
Kerry, Elton





We went to Lamburn last Monday for my birthday. We had never been before and didnt know what to expect. It was lovely. The food was good, massive portions! Staff were nice and place itself was nicely decorated and very down to earth. I had the scallops and baby squid starter. When it came it was massive, 5 large king scallops and plenty of squid and calamari. It was lovely. The highlight of the meal. I would recommend this restaurant to anyone that is looking for a good hearty meal but in relaxed surroundings.
Frodsham





Just been to Lamburns and if the new decor was not enough, they now have a 2for1 menu. Value for money, comfy surroundings and well go and see for yourself....
Dav





Probabaly the best restaurant in the North west!
Mike Runcorn





I have been to Lamburns before and was very impressed, but i couldn't believe that the restaurant had managed to better the quality and atomsphere. It is clear to see the great improvements the new management have made and judging from what they have done already i predict a very happy and successful time for them. The food was that nice that everybody on my table contemplated ordering seconds. No matter what your dining requirements Fish, steak, chicken or vegertarian Lamburns have more than enough choice for you to fully enjoy your evening.
I am very happy that i have such a great eating establishment so close to me and the greatest thing of all is it is more than affordable. If you haven't been since the new management have taken charge, what are you waiting for.
Updates
Is this information about correct?
Please tell us about any omissions or mistakes on this page...
click here to submit an update.
If you own or run this venue and would like to get more customers from onionring...
click here