| | | |
| --- | --- | --- |
| | | |
Home > Restaurants > Manchester > Cheadle Restaurants > Bellini's
Bellini's
Italian
[show 36 more photos]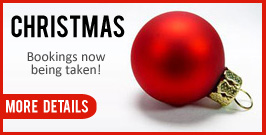 Situated in the heart of Cheadle Village in Cheshire, Bellini's is a new and exciting independent concept welcoming customers to experience great atmosphere, quality dining and tasteful music.
The family friendly Bellini's offers authentic Italian cuisine featuring specials and seasonal variations. All ingredients here at Bellini's are sourced locally and are the freshest and the best local ingredients. Whenever we can, we use local suppliers who provide us with the best produce available. A wide selection of wines are offered to suit every palate.
Served in an enjoyable, relaxed atmosphere with efficient friendly service and offering real value for money you will feel right at home. Our menu comprises of à la carte cuisine, pizza/pasta dishes and a takeaway menu option. Bellini's is a dining experience not to be missed.
Parties of up to 40, seated upstairs (exclusive use). Applies to lunch and dinner.
---

This venue can cater for functions and events...find out more

Find the best deals for Hotels in Cheadle...click here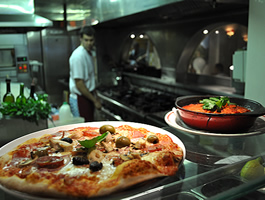 Andrew Cheadle
...Bellini`s is always on the top of my list of where to go. The food is excellent every time, I have taken many friends, some of whom own a restaurant, all have said how superb the food is and excellent value. Bellini`s deserves to do very well....
Contact Details
7 Gatley Road
Cheadle, Cheshire . SK8 1LY

Tel: 0161 4913290
Say "Mel from Onionring sent me"
Opening Hours
| | |
| --- | --- |
| Monday | 12pm-2pm , 5.30-10.30pm |
| Tuesday | 12pm-2pm , 5.30-10.30pm |
| Wednesday | 12pm-2pm , 5.30-10.30pm |
| Thursday | 12pm-2pm , 5.30-10.30pm |
| Friday | 12pm-2pm , 5.30-10.30pm |
| Saturday | 12pm-2pm , 5.30-10.30pm |
| Sunday | 4.30pm-9pm |
Facilities





Offers
Events
December
1
Sunday 01 December 2013 to Tuesday 31 December 2013
Special Christmas lunch and dinner menu. Ideal for groups...don't forget we also have our separate upstairs function room! The management and staff of Bellini's would like to wish all their customers old and new a Merry Christmas and Happy New Year! Christmas Lunch - £19.95 Dinner - £22.95 New Years Eve - 5.30pm - 7.00pm £35 8.00pm onwards £40
<
CLICK HERE FOR MORE INFORMATION AND TO BOOK
>
Recommendations
Andrew Cheadle





Bellini`s is always on the top of my list of where to go. The food is excellent every time, I have taken many friends, some of whom own a restaurant, all have said how superb the food is and excellent value. Bellini`s deserves to do very well.
Bob marple bridge





Visited sat 7 th July with an Italian friend for the first time and he said that the ribs were the best he had ever tasted.
Pasts dish was superb and staff very attentive.
Good value at 30 gbp per head including wine and beers etc
C from Heaton Chapel





Popped down for a calzone to takeaway yesterday, best calzone I ever tasted the sauce went down well and food tasted home made not over greasy like usual takeaway rubbish. Will definitely be back for more! Staff were very friendly too
James, Cheadle





Always had a fantastic meal at this restaurant. The staff are always very warm and friendly. We even spent New Years Eve there which was equally as excellent. Best place in Cheadle at the moment that's for sure.
Sam Wilmslow





Restaurants as good as Bellini's are hard to come by, it truly is a gem in the heart of Cheadle. My husband and i spent our last anniversary there and from the welcome we received (which is always as warm and as heartfelt as if we were family) to the food which is consistently excellent, a mixture of traditional Italian dishes and indulgent desserts we cannot fault the place. The buzz of the open kitchen only adds to the charm of this wonderful establishment and it is the attentive and relaxed atmosphere created by the staff that makes it such a special place. If you haven't tried Bellini's book a table as soon as you can, you will not be disappointed.
Kim, Ashton-Under-Lyne





The food is always great, as is the service. Very welcoming staff. Best Italian in Manchester
Pam Birchenall
As always,food fabulous, service fantastic.In my opinion, clearly a cut above the rest!!!
Nicola and Mario, Magnifico!! x
Helen Cheadle





We have dined here several times and found the staff attentive and friendly. Food has always been lovely. I would strongly recommend a visit.
Shane Gatley





Just moved to area, and enjoyed this thoroughly. Early bird tremendous value and quality. Terrific atmosphere, great waiters and excellent food. Nail sticking out of chair couldn't spoil the evening, as staff were so friendly. Will certainly be returning!!
elaine williams





This is the second time we have visited this restaurant and it was the same as the first time - excellent food - quality wine - great service and good value for money - highly recommended. If you are in Cheadle pay Bellinis a visit, you won't be disappointed - I promise!!!
NB: I wanted to rate Bellinis 9.5 out of 10, but it would only allow me to rate it 9.
Andrew Gatley





Bellini`s has become a firm favourite with me. I manage a restaurant so I tend to be choosy as to where I eat, this restaurant is excellent, the food is fresh and of a very high quality with excellent service offering great value for money. The King Prawn Spaghetti is superb.
Michelle from Cheadle





Never had a bad meal here, so glad its open again. Staff are so welcoming.
lesley mason Gatley
Went to Bellini's early doors on friday for their 5.30-6.30 offer. Best Calzone pizza EVER!! and my mum had prawn risotto-Fantastic. great service by lovely attentive waiters. What more could you ask for
Sue
An amazing restaurant , excellent food and friendly and welcoming staff where nothing is too much trouble! Always look after us! Been going here for 25 years and will keep going!
Lee, Cheadle
I love this restaurant, it has to be favourite restaurant around and I try to make sure I go a couple of times a month.
Same owners for the last few years even though a name change and I'd recommend it to anyone who enjoys Italian food.
Stuart, Sale





The epitome of the perfect 'secret local' restaurant. We used to be regulars here before Bellinis opened, and decided it was time to revisit for a birthday celebration recently. Service, food and atmosphere are spot on, portions are generous verging on overwhelming, and menu prices are very keen indeed. Although we were there for a special occasion, the affordability means Bellini's is an equally good choice for a week-night treat. Highly recommended.
Updates
Is this information about correct?
Please tell us about any omissions or mistakes on this page...
click here to submit an update.
If you own or run this venue and would like to get more customers from onionring...
click here