| | | |
| --- | --- | --- |
| | | |
Home > Restaurants > Cheshire > Chester Restaurants > Barlounge
Barlounge
Modern, International
[show 12 more photos]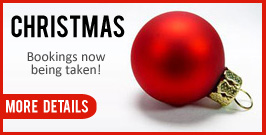 Barlounge is a cocktail bar and restaurant located in Chester City Centre. Open daily from 11am until late, we offer our guests the opportunity to drink, dine and socialise in informal surroundings.
Relax in the bar, catch up with friends on our sun terrace (heated & covered in winter) or enjoy a meal in the restaurant - there's something to suit everyone on any occasion.
We hope to see you soon!
Winner of Best Bar - Chester food, drink and lifestyle festival 2012
---

This venue can cater for functions and events...find out more

Find the best deals for Hotels in Chester...click here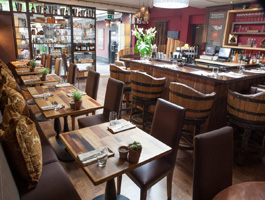 D.Morris - Runcorn
...This is my favorite restaurant, I love it here, the staff are fantastic and the food is deliciously awesome! We have been several times and never had any reason to complain, its just lovely! We will be back again soon!...
Opening Hours
| | |
| --- | --- |
| Monday | 11am-midnight |
| Tuesday | 11am-midnight |
| Wednesday | 11am-midnight |
| Thursday | 11am-midnight |
| Friday | 11am-midnight |
| Saturday | 11am-1am |
| Sunday | 11am-midnight |
Facilities





Offers
Events
November
30
Saturday 30 November 2013 to Monday 30 December 2013
A lively restaurant and cocktail bar located in Chester city centre. Open daily from 11.30am until late. • Fully heated outdoor terrace • Exclusive dining from 20 to 350 guests • Canapés, platters, buffets or formal dining • DJ, dance floor & live music available • Christmas cocktail master classes on request. Book a large party for 20 or more, Sunday to Wednesday and get a complimentary cocktail or fizz reception for all of your guests, lunch or dinner. Please call us for more information.
<
CLICK HERE FOR MORE INFORMATION AND TO BOOK
>
Recommendations
D.Morris - Runcorn
This is my favorite restaurant, I love it here, the staff are fantastic and the food is deliciously awesome!
We have been several times and never had any reason to complain, its just lovely!
We will be back again soon!
m lawrence hereford
we visted the bar lounge on monday the 15th oct 2012 for dinner the food was excellent and the staff made you feel welcomed we were so impressed we went back in the eveing for drinks well done all at the bar lounge
maria roberts





Still the best place for post races drinks, best cocktails and staff, always a nice atmosphere.
Si





Still one of the best places in Chester, great for a pint and the best burger, or just a pint.
Amanda, Cardiff





Visited Bar Lounge whilst attending the races this weekend really good atmosphere and food was amazing and service second to none. I had prebooked our reservation prior to arrival as on reading previous reviews it was highly recommended, we were seated straight away despite the place being packed out and we had a fantastic night. Highly recommend it.
Haylie, Liverpool





My fiancee booked a table for my birthday today and i was unaware of wheel of fortune Wednesday until i arrived! After our amazing meal we tried our luck on the wheel and could not believe it when it stopped on the 0 which meant our whole bill was payed for by the bar lounge!!!! I was in shock and walked out not having to pay for anything we just ate including our drinks! The food was beautiful and cooked just to our liking we will definitely be back. Thanks for a lovely evening x
David, Rossett
I heard about the wheel of fortune Wednesday they have going at the moment,so thought me and my girlfriend would give it a go. After we ate a lovely 2 course meal, (the duck was great), we where asked to spin the wheel to decide the discount...we hit red and got 50% off the whole bill! We moved into the bar area, greeted warmly, got congratulated about our win!!! So we stayed and had a few of their amazing cocktails. A great night! Will be back!!!
James, Nantwich





Myself and a group of friends had heard some good things about Barlounge and decided to give it a try.... From start to finish we had a great experience. Superb cocktails on arrival from the barman (I think he was called Nic) and all of us thoroughly enjoyed the restaurant too. The steaks were cooked to perfection, my 12oz Ribeye one of the best in recent times. We retired back to the terrace and enjoyed a chilled night under the heaters.
Lasting experience - service with a smile and great atmosphere.
If your in Chester a must go!!!
Green




have been a few times and always enjoyed it, busy place and is great for a drink as well as food.
Jane Deane Richmond





I have visited Chester many times and always go to the Bar Lounge. The ambience is lively and happy and the staff are always really welcoming. The gorgeous young staff are very attentive and they make it easy for a single woman to feel secure and relaxed, if she's there on her own. The cocktails are fab and the food, as bar snacks or in the restaurant, is modern & delicious. I love it there!
The Craxton Girls!





We all work shifts in a hotel and try to get to bar lounge whenever we can,its the perfect place for unwinding after a hectic week-or even starting off for a big night out!!the guys behind the bar are great-pete+lewy especially-they are both a credit to the place!!
gem,sez and shaz-chester





bar lounge rocks!!! great food, gorgeous cocktails and some pretty tasty bar men too!!!
Clare, Chester





My boyfriend and I have recently moved to Chester and after a gentle stroll,last Thursday, around the city to get our bearings (disguised as convincing ourselves we were exercising) we stumbled on Bar Lounge. The staff were friendly and welcoming, very keen to sell us the merits of their award winning cocktails, which were fantastic and willing to listen to our drunken ramblings as the night wore on. Would definitely recommend this place to anyone looking for a chilled out evening sipping award winning alcohol, and enjoying the atmosphere of the outside vibe.
Scott Bayley - Chester




Last Sunday, myslef and the whole extended family celebrated my Mothers birthday at BAR LOUNGE. We all (8 of us!) said what a great meal we had and how good the service was. The whole lunch was great! Roast beef and Lamb for Sunday lunch is a must! We will be going back! GREAT food and service in smart surroundings!
Sarah Devon





stayed in Chester last weekend - lovely city. Bar Lounge is well worth a visit. went there both Friday and Saturday. Despite it being packed we had excellent service.
Ros





We went down after the rather wet races on Saturday. The place was really busy but service was quick, cocktails were great and there was a really nice atmosphere.
Gemma Slinger, Retford, Notts





I cannot praise Bar Lounge enough. My partner & I visited Chester for the day on a Sunday. Not only overwhelmed by Chester but absolutely dlighted with the food and especially the service at Bar Lounge. We had the special offer on Sunday Lunch which we both had the cream of broccoli soup which was definately homemade and came with lovely hunks of warm bread. We had the roast lunches and it came with homemade yorkshire pud, fresh vegetables and lovely mashed potatoes. All for around £10 a head. The bottle of organic white wine (can't remember the grape) was absolutley lovely. Most importantly was the service! Impeccable! Eveything was perfect, the attention to detail of the service was second to none! Again, I cannot praise this restaurant enough! Well done! Shows that it can be done!
Jacquie, Moreton Newport Shrops





I visited Bar Lounge after the races on the 23rd Sept with crutches and a broken toe, the staff were wonderful and could not do enough to help me hobble around the pub! A BIG thanks to the lovely staff at Bar Lounge!!!!
James





Great lively bar with a really good restaurant. The food is excellent.
Denise Harris





This was a most enjoyable dinning experiance, the staff were very helful and the food was lovely. My friend and I called in for lunch. She normally lives in Greece and as she's come home for a visit, so I thought we would visit Chester for a bit of retail therapy and finding details of Bar Lounge on the onionring site was very useful.
Jon, Middlwich
I visited Bar Lounge on Saturday 18th Feb with my girlfriend while staying in Chester. I had originally intended to book Upstairs At The Grill. When I tried to book here they were full and they recommended their sister restaurant Bar Lounge.
From the initial contact on the phone all the way through the experience the staff were warm, friendly and couldn't do enough to help.
The venue is a delightful combination of a traditional looking pub with a modern restaurant on the side, the food was excellent and the service top notch. When my girlfriend couldn't decide between 2 dishes to start the advice was honest and simple.
The food was well prepared, well presented and delivered piping hot. The desserts are to die for.
I have no complaints and will defiantly be returning the next time I am in Chester. Give this place a try, you won't regret it!

Updates
Is this information about correct?
Please tell us about any omissions or mistakes on this page...
click here to submit an update.
If you own or run this venue and would like to get more customers from onionring...
click here