| | | |
| --- | --- | --- |
| | | |
Home > Restaurants > Cheshire > Chester Restaurants > Upstairs at The Grill
Upstairs at The Grill
Modern, Steakhouse
[show 2 more photos]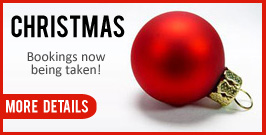 Upstairs at the Grill is a hidden gem located on Watergate Street in historic Chester. From start to finish the team offers an exclusive dining experience like no other.
The striking grade two listed building houses the exquisite restaurant and some real historical features. On entering guests are led up a grand staircase to relax in the sumptuous bar, where there is an extensive range of cocktails and continental beers available. The menu is presented to you and our in house sommelier is on hand to assist you with a range of round the world wines. You are then taken down to your table to enjoy your meal in the bespoke restaurant.
The menu is prepared by our award winning chef. The Grill section offers a choice of steaks ranging from an American style Porterhouse to a traditional Chateaubriand. The chef expresses his style in the a la carte menu inspired by seasonal and local produce. Both menus run all week.
As well as the lavish bar and intimate restaurant there is also an exclusive private dining room which seats up to 10 people. With its own plasma television it's the perfect location for any occasion. Upstairs at the Grill is Chester's only steak house and are proud to be awarded best smallest restaurant 2011/2012.
---

This venue can cater for functions and events...find out more

Find the best deals for Hotels in Chester...click here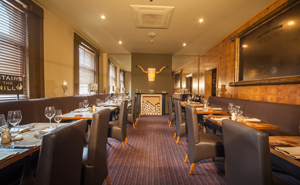 Peter Fenney
...Best meal ever from when we walked in until when we walked out. Service was brilliant man behind the bar upstairs was great especially with my 15 year old son as he let him make his own non alcholic cocktail. Food was out of this world scallop starter and crab cocktail starter and then 2 8oz rib......
Opening Hours
| | |
| --- | --- |
| Monday | 5pm until late |
| Tuesday | 5pm until late |
| Wednesday | 5pm until late |
| Thursday | 5pm until late |
| Friday | 12 noon until late |
| Saturday | 12 noon until late |
| Sunday | 12 noon until late |
Offers
Events
December
1
Sunday 01 December 2013 to Tuesday 31 December 2013
Upstairs at the Grill is a split level steak house and intimate cocktail bar. Open daily throughout the whole of December for lunch and dinner. • Private dining room for intimate gatherings • Canapés, platters, buffets or formal dining • Fun roulette and blackjack tables • Late bar and guest list entry to Barlounge Looking for an alternative Christmas present? • Gift vouchers available (any denomination) • Christmas hampers
<
CLICK HERE FOR MORE INFORMATION AND TO BOOK
>
Recommendations
Peter Fenney





Best meal ever from when we walked in until when we walked out. Service was brilliant man behind the bar upstairs was great especially with my 15 year old son as he let him make his own non alcholic cocktail. Food was out of this world scallop starter and crab cocktail starter and then 2 8oz rib eye with diane and garlic and herb sauce and a 24 oz bone in rib eye with stilton sauce.Chips buttered mash creamed spinach and onion rings perfect. My son had the rum and raisen ice cream was the best we had ever tasted and then after the meal we went back upstairs for cocktails where my wife had the first lady a white rum based cocktail which she said was the best she had ever had.overall the most expensive meal i have ever paid for but worth every penny and me and the wife will be booking again for May 2011 chester races and then my sons 16th birthday in october2011.keep up the good work and the high standards it is appreciated.
Warrington
Had the early evening menu which was of exceptional quality. Highly recommended.
Next time we'll come later and stay longer.
Iain, Helsby





Went for Sunday Lunch and ate from the 2 for 1 menu. Without doubt the best Sunday lunch anywhere! Beef was amazing! We had a bottle of the house red which was extremely good for the price, waitress even decanted it at the table, a rare thing anywhere these days. Excellent starters, fantastic main course, delicious dessert! We'll be back soon to try the steaks!
Suzanne, Wrexham





Quite simply one of the best meals I've ever had. I honestly did not realise how good steak could get! The service, the food, the atmosphere all combined to make this a wonderful evening. Highly recommended.
sarah warrington
My boyfriend had paid for a romantic weekend any just after Christmas and he booked us in here, it was the best meal I have ever had , the surroundings where really cosy and romantic, the service was brilliant and the food was to die for, if I lived in Chester we would be there all the time!
derek warrington





if you want a cheap meal go elsewhere, if you want one of the best meals you will eat and dont mind the cost go go go !
Mark, Chester





Just got back from what I can say was the best meal of my life. The waitress recommended their House special of fillet on the bone, which I took them up on, this was divine. Having eaten steaks all of the world, this was easily the best steak I have ever eaten! The restraint is beautifully decorated, all of the staff are knowledgeable about the dishes on the menu, and the service is exemplary. All in all, probably the best meal I have ever eaten. Thank you 'Upstairs at The Grill' for a wonderful dining experience.
Tim, Chester




Amazing steaks very well cooked (i.e. a medium is a proper french rose - not burnt to a crisp). The bone-in-rib eye is the only cote-de-beouf I've been offered in Chester. Pricey but worth every penny.
John, Scotland





Absolutely fantastic visit.
So glad i found the previous reviews on this website.
The service, food, drink and hospitality were outstanding. First class.
Fantastic bar upstairs to relax and order in, then a great, darkened resturaunt, very romantic, then chilled out back upstairs at the bar afterwards, a great unhurried experiance.
I only wish we lived nearer, so we could visit more often.
I would gladly reccomend this anybody !
michael. hetherington





We dined on 12/09/08 and all four of us agreed it was the best meal we've had for many years. The quality of the food was first class as was the service. A fantastic experience from walking in the door to walking out the door.
Paul, Liverpool





I took my wife to the Grill on Friday for her birthday and was very glad I did! It exceeded all expectations and the surroundings and the food were fantastic. It was the nicest steak we have ever had in a restaurant and we will definately return. Just perfect.
MANSFIELD





My Husband and I celebrated our 25th Wedding Anniversary with a meal at the restaurant. The service with impeccable and the food excellent. Everything about the experience was faultless.
Chris Jones and Hannah Carter, Montgomery





Excellent service,excellent food, visit this resturant, you wont be disappointed.
Simon.
WOW! This is definately a class act! Never been to a restaurant quite like this one. The service is outstanding, the food is outstanding and the bar upstairs is outstanding.....starting to get the picture??....Well,it was my birthday and my wife's present to me was to send me to USATG, for a meal on my own!! Yup,I love eating in a quality place alone,so that I can realy enjoy the food and concentrate on the flavour,taste etc.
A warning to even the meatyest of meat lovers like me!....only order their LEDGENDARY mixed grill if you have been starving yourself all day!
I could not believe the amount of meat on that platter!! It was however DELICIOUS! Also,I managed to eat a superb stilton souflee for starters AND a nice little panna cotta for pud.
In the bar beforehand, I was served a lovely cocktail called "between the sheets". Also a half-bottle of wine with my grill,which perfectly complemented it.....the wine guy definately knows his stuff!!
This was unquestionably one of the finest meals I have ever experienced,served in an atmosphere of decadence and charm and when I can next afford it.....I will go again!! Happy birthday to me, and ten stars to upstairs at the grill!
Sian from Chester
My boyfriend and I have dined at Upstairs at the Grill on many occasions and have always had a delighful evening. The food has always been gorgeous and the service excellent.
Adelle Prendergast





WOW quite simply the best meal we have EVER eaten in our lives!!! i can honestly say that I had goosebumps whilst eating as the taste in every mouthful was so unbelievably delicious! I can't recommend this restaurant enough .....the atmoshpere ( we ate in the romantic private dining room upstairs and were treated like royalty) , the service, the plush leather sofas , the steak cooked to perfection! worth every penny.....we can't wait to go back!!!!
steve bolton





It was last October when I went to "upstairs at the grill" with my wife, best mate and his girlfriend. I kept meaning to write a review and this is it.Better late than never. I was disappointed not to be able to press the "secret" button as the door was open! shucks.We waited for a while in the bar with our drinks and then got the menu shortly before being taken downstairs.I would have liked more time to look at the menu but that was the only negative about the whole night. Once downstairs the ambiance was intimate and the staff very friendly. The food whilst a little expensive was delicious. The mushroom risotto starter that my wife had was superb. The bill was £190 for the four of us inclusive of wine and drinks and was worth the money and the ten percent tip. If you have a chance to dine here then I would say go for it. A really pleasant night for all of us,great food and good staff.what more do you need.A belated thankyou to everyone at usatg.
Sue, Chester





Absolutly great food. The Head Chef deserves a medal for leading his/her kitchen so well. The steak was cooked perfectly, nice combination of flavour, spot on. Can I take him/her home,pls????? Once again: PERFECT!!!!!!!
Manchester





Went to the grill for a special treat for my partner - Wow - fantastic food and great service. The best steak we have ever had on a night out Fantastic value too
Lee Kerr





Quite honestly the best dining experience me and my partner have experienced. The welcome was warm and friendly as soon as we walked through the door. The decor and ambience of the dining room and the bar makes for a relaxing atmosphere, and the menu is fully explained by staff who know what they are talking about. The food was what only be described as wonderful and the chef cooked our steaks to perfection. the staff were very attentive without been intrrusive. I highly recommend anyone visiting chester dines at this resteraunt.
James




Only went to the bar - the server was fantastic. Great Cocktail skills - not cheap but worth it!
Beryl Wallace





Fantastic food, great service and real quality service. A Father's Day treat for my husband superior to anywhere else in Chester.
Anid





Chesters best restaurant. Worth every penny
kate rafferty Stoke On Trent





We visited the restaurant on 4/5/07. We enjoyed everything about it and can't wait to visit again. The staff look after you and the food was lovely.The restaurant itself is intimate and modern.Highly recommend a visit.
Jo, Tarporley




Would agree with all of the previous comments - absolutely fantastic. Nice, intimate setting, great drinks and really good food. Have also been on the night when they did a 2 course offer which was fantastic value! Would certainly recommend.
HELENA BERGMAN LANCASHIRE





FANTASTIC RESTURANT, SERVICE WAS GREAT BEEN TWICE NOW AND CANT WAIT TO GO BACK.
Sian , Cardiff





The ultimate touch of class. Ask a question about any item on the menu and prepare for an enlightening and enchanting service with a smile.
Julian Lewis-Booth Hazel Grove





Easily the best restaurant I have eaten in. We visited for our wedding anniversary whilst staying in Chester, upstairs we had two skilled bar men making the best Margaritas I have ever had followed by dinner downstairs where we were served perfect steaks, delivered exactly as we asked. It really does not get better than this!
Mrs Julie Rose





My family & I visited the Lounge Bar, we then continued to Upstairs at the Grill. We found a Seventh heaven in the middle of Chester. We were taken back by the Extraordinary & difference of each room. From the Bar to the luxurious restaurant, food was exquisite and they had a vast choice of excellent wines. The staff were the best trained we have found in Cheshire.
Craig MacInnes
I have traveled extensivly in the course of my career and have eaten in some of the finest restaurants in the world. I now have something to measure all of them against. From the service to the meal to the after dinner drinks, everything was first class. Chris and his staff welcomed us as we entered and made sure we had a memorable evening. Everything was perfect. I will definetly be back. If you want a first class evening out with that special someone, or really want to impress that special someones parents. This is the place you want to take them.
Mick & Karen Male
Found this restaurant and checked out the reviews on this site.
As you can see they are all good and we can only endorse them.
From arrival to departure we were made more than welcome and were "entertained" by Chris, who was more than helpful in every respect (even to the point of "borrowing" some grenadine from a neighbouring bar to make a Harvey wallbanger for Karen.
The place itself is quite unusual but very relaxed, it has enough style and class but not OTT.
The food is a little bit on the pricey side but for a special occasion, well worth it, everything was cooked to perfection and although they specialise in steaks, there seemed to be something to suit most palettes on the menu.
All in all a suberb nights dining experience ..... and chilled lager glasses too!
Thanks for a great evening gents ...... see you again.
Helen Cooper - Chester
I visited the restaurant last night for a birthday meal and it was fabulous. The service is unrivaled in Chester, the food was cooked to perfection and it has a classy but very friendly feel about it. The staff are very clued up in regards to the food and alcohol available, and their recommendations were spot on! I would highly recommend Upstairs at the Grill to anyone looking for somewhere a bit special.
Dr. & Mrs. Holmes
This restaurant was recommended to us by the concierge at the Chester Grosvenor Hotel as we were strangers to Chester. We can't thank him enough or praise the restaurant too highly, The scallop starter was mouthwateringly tasty and cooked to perfection, This gave us an insight into the treats we had in store for the rest of the meal. We were not disapointed, in fact quite the opposite, as we reserved a table for the Saturday evening even though we were only staying in Chester for the weekend. The Chateabriand was succulent and tasty, as was the bearnaise sauce and side dishes of vegetables. The attention to detail was excellent both in the imaginative menu and the friendly warmth of all the staff, without exception. We were equally as impressed on our second visit and can't wait to return. We would have no hesitation in recommending this restaurant even to the most ardent Foodies!
Mike & Anthea Holmes ( Jersey C.I. )
Heather
Not sure what to expect when told to 'ring the bell' and someone will let you in. However, it was what I imagine being in a 'gentleman's Club' must be like. The Staff were very attentive and the menu explained to us in full. They specialise in steaks but we went for the fish option. The portions look a bit small on arrival (may be they were just on big plates!!) but after a starter and main course we could not manage a dessert. It is not cheap but if you want a 'special' night out this is somewhere different to try.
Daran Zikic, Derby
My Fiancee and I visited Upstairs at The Grill on the 16th July 2005. I felt that I had to write a review, as this is one of the best dining experiences that I have ever had. This is not just like 'going out for a meal', this is a superb evening from welcome to au'revoir. The food is a tastebud extravaganza, although we only had a starter and main course, (if we had had a dessert we would have been rolled out the place), the starter was a flavour sensation and the 12oz Sirloin Steak was perfect in every way. The staff were extremely pleasant and helpful (especially when explaining about all the items on the menu), and the ambience of the bar area is most relaxing. We will certainly visit again, and would recommend this restaurant without hesitation.
Roy Smith Manchester
myself and three friends eat out every weds and have visited a large number of restaurants, this rates along the top three of them all, it was a spendid dining experiance with the best personal service we have ever encountered, the food was excellent steaks were perfectly done and the spinich side order beautiful i want to eat it all again. very reasonably priced this restaurant is a credit to its owners and i recommend it most highly a big thank you to Izzy for a perfect evening.
Updates
Is this information about correct?
Please tell us about any omissions or mistakes on this page...
click here to submit an update.
If you own or run this venue and would like to get more customers from onionring...
click here