| | | |
| --- | --- | --- |
| | | |
Home > Restaurants > Cheshire > Chester Restaurants > Pacino's
Pacino's
Italian, Mediterranean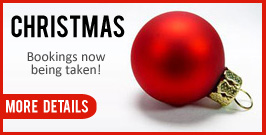 Pacino's Restaurant was opened in May 1986 and has built up an excellent reputation with local people and visitors for its consistently fine food and friendly service.
The extensive a la Carte menu includes Italian and Mediterranean food but is also highly renowned for its steaks and meats.
Pacinos also has daily special boards which often include fish, game etc. The restaurant is fully air conditioned and has smoking and non-smoking areas.
Just a few minutes walk from the city centre you will find a intimate atmosphere, excellent food and wine, friendly familiar service that you can only find in a family run business.
The restaurant is stylish and modern with a bar and lounge area for pre or post dinner drinks. Winner of Large Restaurant of the Year - Chester Food & Drink Festival in recent years.
---

This venue can cater for functions and events...find out more

Find the best deals for Hotels in Chester...click here
Sue Ellesmere Port
...Love this place the food is to die for and great staff what more could we ask for....
Contact Details
1 New Town Close, St Annes Street, Newtown
Chester, Cheshire. CH1 3HE

Tel: 01244 372 252
Say "Mel from Onionring sent me"
Opening Hours
| | |
| --- | --- |
| Monday | 6.30-10pm |
| Tuesday | 6.30-10pm |
| Wednesday | 6.30-10pm |
| Thursday | 6.30-10pm |
| Friday | 6.30-10pm |
| Saturday | 6.30-10pm |
| Sunday | 6.30-10pm |
Facilities
Disabled Toilets. Licensed. Private Parties.




Offers
Events
December
1
Sunday 01 December 2013 to Monday 30 December 2013
Fantastic Two Course Set menu for just £16.95. Book today to avoid disappointment!
<
CLICK HERE FOR MORE INFORMATION AND TO BOOK
>
Recommendations
Sue Ellesmere Port





Love this place the food is to die for and great staff what more could we ask for.
peter hall wrexham





don't judge a book by its cover the outside was not for me but inside was very nice the staff are very friendly and the food well we had 12 in our party and 12 empty plates speaks louder than works.
will go back to try some of the other gorgeous looking meals thanks
Phil little Sutton Cheshire





Excellent experience at pacinos !
First visit on my birthday treat by my lovely wife who has visited previously
Fantastic service,menus, value and atmosphere
Please try u wont be disappointed
Michelle - Chester





Been coming to this restaurant for about 12 years now, Never had a bad meal, staff always very friendly, the food is always fantastic and piping hot. Dont be put off by location this place is a true gem.
sue chester





been loads of times to pacinos excellent food and friendly service. going again tonight with new friends so they can enjoy
tony foley chester





went for my birthday and enjoyed it so much that we took our daughter when she came over from Dubai.She had not been there for about 20 years but thoroghly enjoyed her meal.We don't go as often as we should, as the food is very very good and reasonably priced.The staff are also very good and are attentive without being overbearing.The early evening specials are exceptional value.
Catrin Roberts - Anglesey





FANTASTIC Food + FANTASTIC service = Highly Recommended!
Brett from Wigan





When the taxi driver said to us that very few people from out off town know about Pacinos I was worried especially has I thought she had taken us to the wrong place as from the front you wouldn't think you were going to have a good experience. We opened the door and the contrast couldn't be more different. The interior is both welcoming and clean. The was plenty people already having meals and what I noticed first was how much chatter was going on among the other diners. We were taken to our table and we ordered our meal. It was very nice and the staff were great. This place is a hidden gem that shouldn't be missed. Good food , good service & a great price. Will be going again when we are next in Chester.
rachel chester





been to pacinos loads of times, never had a bad meal, would highly recommend it
harry picton from wigan





our first time at pacinos on saturday 19th november 2011,,will certainly go back,,the meal and service were 5 star,,the best italian we have eaten at,,,superb,,,,
Gillian
Excellent meal yet again, we always dine here on special occasions, over the last 20 years! We have
never been disappointed. Service & food excellent, staff very friendly.
Gill - Wrexham





I was very surprised when I went inside this restaurant, from the outside I wasn't quite sure what to expect. I had already been told by a few people that it was a lovely interior, and I wasn't disappointed! The people working here are lovely! so friendly, attentive and certainly know their menu. My husband and I are always finding it hard to find a place that can cook a decent steak... well, they definitely know how to here.My second visit was just the same too! Its not just the steaks that are good... everything was! If you have never tried here before... DO! I am just about to book another visit!
Nick, Altrincham
Had a wonderful meal here after Chester races. Its a beautiful restaurant, we got a great welcome and service and the food was spectacular!
Graham Prescott Chester





Eaten here a few times over the last eight years and every time its just fantastic. Not much to look at from the outside but inside just like the tardis.
Chester





Lovely people, nice comfortable place. We were looked after and the steak was cooked perfectly. On the whole a very good experience.
Dave Chester





Excellent food and service. I really enjoyed trying something new and the staff were really friendly. I can't believe this place is so close to where I work and I haven't visited.
Pacino's doesn't look much from the outside but you'll be pleasantly surprised when you visit.
Gary (Chester)





Once again another great meal.
Quality food and friendly staff.
Well worth a visit.
Sarah, Yarm





Had a wonderful time at Pacino's. The food was perfect and the staff were so friendly. I couldn't recommend it high enough, what a fantastic spot.
dan marsh chester





this is the best restaurant i have ever been to the staff are brilliant and the food is to die for i could not think how it could be any better
10/10
KEVIN EDWARDS FLINT





this was our first visit but not our last. food and service superb. not sure what to expect on approach to the restaurant but pleasantly surprised when we stepped in side. already recommended pacinos to family and friends.
Blackpool
Absolutely fantastic restaurant! Visiting Chester for my friends 40th Birthday and how welcoming and accommodating Pacino's was. Excellent night had by all. Lovely Decor, Good choice on menu with specials of the night on the board. Wide choice of wines at reasonable prices, Staff 5*, Food 5*, Service 5*. We will be back very shortly. highly recommended.
John/Flo





We have been visiting Pacino's for many years, and can honestly say the meals are great. We have just spent New Years Eve thereagain, and we had a brill night. So pop in and see for yourself,its a family run business,so lets keep small businesses going.
sue, chester





New Year's Eve was a "wow!" at Pacinos, the food was as superb as ever and the family run business, gave us a great welcoming into 2009. A BIG thanks to all the staff.
Roy & Olive Lewis Wrexham





Have dined in most of the good restaurants in Chester over the last 20 years. Only found Pachinos six weeks ago. Since we been back 5 times. Fabulous. Definitely in my top 3 restaurants in Chester.Recommended to restaurant owner Chester. His wife said she will definitely go back.
alan chester





the food is excellent service second to none a wonderful place to dine
joe/ west bromich





I had a WONDERFUL time here, the food was BEAUTIFUL the cutlery was sparkling and the service was EXCELLENT. i highly recommend a visit when in town
Scott, South Shields





Visited today, Fantastic restaurant, great food and first class service.
Staff very friendly - well worth a visit
Chester
I have been going to this resturant for 10 years or more, and you can not beat this resturant ever, its fab. Proper home made chips would take it up a level
Jayne,Chester





Great service from hard working and caring staff. The food here is reliably good from a varied menu with great specials.
Would highly recommend Pacinos .
stacy foster
I love this restaurant. i wish i always new it was there. it may not be in a pleasant environment like the city but wowwwww. the food speaks for itself. beautiful food, i definitely recommend it.
andy paul ellesmere port





Warm and inviting environment, excellent service.One of Chesters best kept secrets,food you think about for months afterwards highly addictive.
Colin Smith - Chester





Marvellous. Excellent food served by a very friendly team. THE place to eat on that special occasion.
Bryn Jones





Ate there last Saturday, can only say one thing about the steak, fabulous. Our party of four enjoyed everthing as we did on our prevoius visit
Scott, Southport





we came to meet friends from a holiday who had come up from London to look at Chester uni, so both families were in the dark about the area, finding Pacino's by chance! The food was excellent, and i would have to say possibly the best meal i have had in a while! i would definately make the hours trip again to return!
Sarah, Huxley




I loved this place, good atmosphere, nice staff and really good food.
Jul Control Driving School




Would give Gordon Ramsey restaurants a run for hos money - great food - fun - freindly.
Crewe Chirk





Have been twice to Pacino's excellent food and atmosphere - well recommended.
LW, Buckley




Went to Pacino's for the first time last week - had a lovely time. Atmosphere was good even though it wasn't particularly full being midweek. The crab and chilli pasta was particularly tasty - will definitely be returning.
Sarah, Chester





What a fantastic experience! The food was delicious; the staff were friendly and they gladly catered for a couple of fussy eaters in our party! The wine was fantastic, and the atmosphere buzzing. All 6 of us fully enjoyed the night, and would fully recommend Pacinos to anyone!
a more than satisfied customer
Pacinos has it all Atmosphere, value for money, excellent wine list, friendly and approachable staff who go out their way to make you feel welcome and to top it all exceptional food quality. well done Pacinos!
Mark, Hawarden
I have been going to Pacino's for over 8 years and every time it provides quality food and service. The owner and staff are very friendly, and if it's value for money you are after... BOOK IT!!! (Ps Steaks are always spot on.)
William Blake
Situated in an unlikely place in Chester this is a little gem of a restaurant. An excellent family run restaurant with an excellent menu and specials board, specials board with exotic dishes included Zebra when we were there. They also have an excellent wine list. Although they have good menu I always go for the same dish pasta with crab and chilli in a creamy sauce. they are always friendly and children are welcome although I would recommend taking then early doors. Important to booked towards the weekend.
Sharon Bullock Chester
Pacinos, What a fantastic, quaint & happy place.
Food is beautiful& unique,
Both food & wine will tempt any clientelle with a rich or basic pallete.
Updates
Is this information about correct?
Please tell us about any omissions or mistakes on this page...
click here to submit an update.
If you own or run this venue and would like to get more customers from onionring...
click here