| | | |
| --- | --- | --- |
| | | |
Home > Restaurants > Cheshire > Tarporley Restaurants > Brasserie @ The Wild Boar
Brasserie @ The Wild Boar
Traditional, International
[show 29 more photos]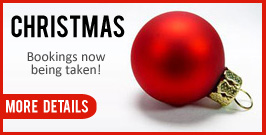 An 80 cover contemporary restaurant, refurbished in November 2007, to a fantastic standard of decor. The brasserie serves modern British dishes with fresh local produce, with an exclusive wine list, both with please all palates.
The new and contemporary Brasserie @ the wild boar is situated within this luxurious building. Focusing on great flavours using fresh local produce, and exclusive wine list and fantastic service with a smile.
Brasserie at the Wild Boar has comfortable seating and the sleek polished tabletops help to create a relaxed, Parisian-style ambience. The restaurant has a unique design that is unrivalled in the area.
The pride taken to write the menu is to ensure that our diners have a complete experience that will keep them coming back time and again. HEAD CHEF - Steve Rawlinson
The Wild Boar Hotel has is surrounded by the beautiful Cheshire countryside, yet only 15 minutes from the historic city of Chester. This Tudor style country house hotel has 37 individually designed bedrooms, including 3 suites.
---

This venue can cater for functions and events...find out more

This venue has accommodation for overnight stays...find out more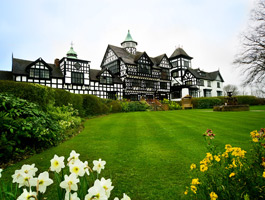 dave
...we recently stayed at the wild boar and were extremely impressed with the quality of the food in the brasserie there was a great menu choice and their prices were very reasonable. with great staff members who were very friendly and more than happy to help would definitely come again....
Contact Details
Whitchurch Road, Tarporley
Nr Chester, Cheshire. CW6 9NW

Tel: 01829 260309
Say "Mel from Onionring sent me"
Opening Hours
| | |
| --- | --- |
| Monday | 12-2.30, 6-9.30pm |
| Tuesday | 12-2.30, 6-9.30pm |
| Wednesday | 12-2.30, 6-9.30pm |
| Thursday | 12-2.30, 6-9.30pm |
| Friday | 12-2.30, 6-9.30pm |
| Saturday | 12-2.30, 6-10pm |
| Sunday | 12-8pm |
Facilities




Offers
Events
December
1
Sunday 01 December 2013 to Wednesday 01 January 2014
Christmas Brasserie Menu Join us for a lunch or dinner in our brasserie. Throughout December we will be offering our festive menu to include all your seasonal favourites. Call us to book in your group, from 2-75 guests. Don't Drink and Drive Special offer £70.00 per room for bed and breakfast based on two people sharing Party Nights £55.00 per person for all inclusive night of fun! Food and drink is included. See the All inclusive Christmas Disco and carved buffet Menu in the brochure....
<
CLICK HERE FOR MORE INFORMATION AND TO BOOK
>
Recommendations
dave




we recently stayed at the wild boar and were extremely impressed with the quality of the food in the brasserie there was a great menu choice and their prices were very reasonable. with great staff members who were very friendly and more than happy to help would definitely come again.
brian cornes northwich





have recently booked our daughters wedding at the wild boar for 2011.have found all the staff we have had contact to be very friendly and helpful.we stayed for Sunday lunch at the time of booking and had roast beef .the food is excellent as is the service.
J and D





Fantastic food and wine. Really enjoyed the Christmas Dinner Dance. The meals were exceptional - especially the lamb. Top marks.
Sarah, Chester
We found the Wild Boar on Onionring and thought we would try it for Father's Day. Eight of us went and all had a fabulous meal - the beef was beautifully cooked; the best we've tasted for a long time. The staff were friendly and welcoming, and the setting was very pleasant. We will definitely return and have recommended it to our friends!
Lesley Bennett, Altrincham
I recently dined at the Brasserie@The Wild Boar Hotel with my 10 year old daughter. We were extremenly impressed with the prompt service, informative and friendly staff and the extensive menu and wine list. Our starters comprised of the glazed hoi sin duck and szeuchan king prawns which we found were well presented and tasted delicious. For our main courses we ordered medium cooked rib eye steak, which was served to perfection. The staff were dilligent and checked that the food was cooked to our satisfaction. Upon completion of our main course we were paid a visit from the chef, Nathan Watts. Nathan chatted to us about his future plans for the restaurant and asked for our comments. In addition to being a fantastic chef, Nathan is clearly focussed, committed and is generally a really nice guy! The white chocolate and baileys creme brulee was recommended to us for dessert, by the chef so we decided to take his advice. Although it was served a little too chilled for my liking, we both found dessert a pleasant choice.
I would have no hesitation recommending this restaurant. I feel that Nathan and his staff provide an efficient formal dining experience, in an informal manner, allowing guests to relax and savour the fashionable environment and pleasant atmosphere.
Geoff - Audlem
Enjoyed an excellent meal in the newly re-furbished brasserie. Delightful surroundings, good service and an excellent vegetarian wellington followed by samples of three sweets of which the creme brulee was superb.
Daniel - Onionring.co.uk





The restaurant at the Wild Boar Hotel has gone through a few changes recently, gone is the traditional style silver service restaurant replaced with a stylish, contemporary and elegant Brasserie.
The Brasserie in its new guise is warm and welcoming; the décor modern by design but the use of colours, particularly luxurious red ensures that there is still a cosiness and warmth to the restaurant.
On our recent visit we were given a cheery welcome and shown to our table to the rear of the restaurant. The layout is something of a unique L-shape, and can cater for up to 70 covers, the layout also allows the restaurant to be divided making it ideal for small parties and functions.
The starter appeared promptly, a fish cake. Attractively presented and if anything too big a portion! The inside was perfectly fluffy and was very well complimented by the chilli syrup it was served with. For main course I opted for the beef Wellington, which is becoming something of a favourite of mine – the pastry was again light and delicate, but it was the cut and flavour of the meat that was the real highlight, I can honestly say this was a prime steak cooked perfectly at medium rare. Served with some asparagus and creamed potatoes, again the dish was presented well and we felt assured that the chef takes a real pride in his dishes.

For dessert we had trio of desserts –a great option as it avoids the dilemma of which to choose and allows you to sample three of the delicious treats available. We had a crème brulee, lemon tart and sticky toffee sponge. For me the crème brulee was the highlight, and I could have been happy with three of these, but take nothing away from the other two which again were very decent.
Reading the menu at the brasserie, you can see they are using or trying to use good local producers and ingredients to make some traditional dishes along side some more international cuisine. I should also mention the wine which was noteworthy and again is sourced locally by OC wines (from Alderley Edge).
The Brasserie will certainly offer the locals something different to what is currently on offer and if our visit was anything to go by, I expect the brasserie@ the wild boar to be a big hit, the good service, relaxed yet smart interior and most of all the food, tend to point to a successful restaurant and I certainly hope this is the case.

Updates
Is this information about correct?
Please tell us about any omissions or mistakes on this page...
click here to submit an update.
If you own or run this venue and would like to get more customers from onionring...
click here