| | | |
| --- | --- | --- |
| | | |
Home > Restaurants > Cheshire > Alderley Edge Restaurants > The Bubble Room
The Bubble Room
Modern European, International
[show 11 more photos]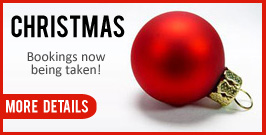 Situated in the heart of Alderley Edge in Cheshire, The Bubble Room Bar and Restaurant is a new and exciting independent concept welcoming customers to experience great atmosphere, quality dining and good music.
Offering Modern European cuisine featuring specials and seasonal variations. All ingredients are fresh and where possible locally sourced. A wide selection of Wines, Champagnes and Cocktails are offered.
Finish off your weekend at the Bubble Room with "Live Music Night" every Sunday - featuring popular bands and individual artists. Enjoy the music from 7.30pm
If you enjoy a warm, welcoming and friendly atmosphere you will feel right at home. And now... free WiFi internet for customers to use.
---

This venue can cater for functions and events...find out more

Find the best deals for Hotels in Alderley Edge...click here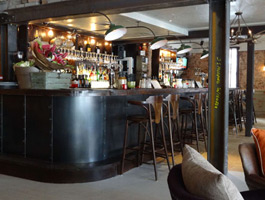 Emma
...Thanks for another great night - the service and food was fantastic! Everyone had a fantastic time! ...
Contact Details
47 London Rd
Alderley Edge, Cheshire. SK9 7JT

Tel: 01625 583399
Say "Mel from Onionring sent me"
Opening Hours
| | |
| --- | --- |
| Monday | 11 am-12pm |
| Tuesday | 11 am-12pm |
| Wednesday | 11 am-12pm |
| Thursday | 11 am-1 am |
| Friday | 11 am-1 am |
| Saturday | 10 am-1 am |
| Sunday | 10 am-12pm |
Facilities





Offers
Events
REGULAR

EVENT
Don't miss Live Music every Sunday from 8pm in both Alderley Edge and Bramhall. Enjoy different artists every week. Relax with us and discover our delicious Sunday Specials served all day from midday.
<
CLICK HERE FOR MORE INFORMATION AND TO BOOK
>
REGULAR

EVENT
From 4pm enjoy a bottle of house champagne for £20
<
CLICK HERE FOR MORE INFORMATION AND TO BOOK
>
December
1
Sunday 01 December 2013 to Tuesday 31 December 2013
We are doing it a little differently this year by offering the Roast Turkey Dinner as a main course alongside the Winter Menu which runs all day; this is not at a set price allowing you to choose how many courses you would like
<
CLICK HERE FOR MORE INFORMATION AND TO BOOK
>
Recommendations
Emma
Thanks for another great night - the service and food was fantastic!
Everyone had a fantastic time!

Jo Durban
I just wanted to thank you and your colleagues at The Bubble Room for providing an excellent service last night when we hosted a drinks evening.

I have had positive feedback about the venue, the food and the service and just wanted to pass these comments on to you and to say that we were all very pleased that because of your help and assistance everyone who attended had a really good evening.

Adele
Big thankyou for helping us to make the hen party so special last night. the food was beautiful and everyone enjoyed it also the hospitality was fantastic. We will definitely be coming back again!!
Tablesurfer, Lymm





Booked a table for three last Friday night, having read reviews on the onionring. Despite the bar being busy we were shown straight to our table. Drinks came quickly, and while we all plumped for a main course only- no reflection on the varied and interesting menu - we all loved the quality of the food and the friendly service. The food included a delicious sea bass special, not overpriced, and probably the best chips I have ever eaten!
Interesting decor completes what is a great experience. We'll go there again!
Juliette, Macclesfield





We had a lovely evening last night, the staff here are genuinely keen that you enjoy the experience. We had the Tapas £15 offer which included two glasses of wine, I thought they would be snack size dishes, how wrong was I! Thanks again we will be back.
Cathy
Thanks we all had a lovely lunch.

See you again soon.
Tracy





I just wanted to say a massive thanks for a fantastic day yesterday - everything was just perfect!!

The food was amazing and there was so much of it, also the wine lasted most of the afternoon.

We really had a wonderful day and everyone has been saying what a fab venue. The service was fantastic too - all your team were just great and really looked after us.

Thanks so much for helping us make our day so special and we look forward to seeing you again soon.

Clive Jacobs
Went with my friend last night to try their new bistro menu and it was simply fantastic! i had the sea bream and my friend had the cottage pie, then to finish it off we shared an orange chocolate fondant. The service was spot on, they were friendly and attentive. This place definitely sets the standard for Alderley Edge
Maxine
I never got chance to email you to thank you for all your help on my 'wedding celebration' night. It was absolutely faultless and everyone is still talking about it!!
Your staff were amazing and flexible and helpful and the service was impeccable. Please pass my thanks on to them as well.
The food and drink was second to none and i can't thank you for the personal attention to detail you gave to me and my fabulous bridesmaids.
I will, at any chance given, be recommending The Bubble Room to others and we are already planning on returning for the night sometime in the summer and look forward to possible meeting with you again.
Thank you again.

D & N





Really nice restaurant. Nice welcome, had a drink in the bar area, then went through to the back restaurant - cool idea with the bulbs on the ceiling.
The food was excellent, my friends sirloin steak was huge! desserts were equally as good!

Nigel Keen





Thank you for all you did to make Saturday a great success. The venue, staff and food were all excellent and made for a very enjoyable night and I would have no hesitation in recommending The Bubble Room for a similar function.
Thanks again.

Nicholas Power - Bamber Bridge





After a day shopping throughout Cheshire we decided to treat ourselves at this delightful restaurant. We were greeted with a friendly hello and sat in the bar area for drinks and to browse the menu. Once the starters were ready we were shown through to our table in a very nicely presented restaurant. Starters demolished and the mains arrived shortly after. Presentation was wonderful and the food tasted fabulous. Jack Daniels ice cream on top of sticky toffee pudding for desserts finished off a truly wonderful day and the Bubble Room will be on our agenda again in the not to distant future. Prices were very reasonable even in these credit crunching times.
Ionwen, Nantwich




Fab, fab, fab. Girls night out and we wanted to try somewhere new. Will be going back for sure. Food was tasty, atmosphere was great and all the staff were lovely and very attentive. We had an excellent time. Thanks
Paula
I'd just like to say a big thankyou to you and all the staff at the Bubble Room. My friends and I had a lovely time on Friday night. All the staff were really friendly and helpful, and the food was lovely.

Many thanks.

Sharon and Carol x
Hello,
Just wanted to say....Me and my friend visited The Bubble Room on Sunday 3rd of Aug 2008,we had a few drinks and 3 amazing cheescake's, also the live band playing that evening and the pleasent members of staff were fantastic.We really enjoyed our Sunday evening, and would reccomend a vist to The Bubble Room.
Many Thanks Lee you always look after us.

nicholas james wallwork,henley on thames ox.





Fantastic experience! staff excellent,service second to none, i had the greek salad for lunch, simply divine! coupled with fine choice of wines,atmosphere music decor.10/10. travel around world and uk,this place hard to beat, mr nj wallwork. henley on thames ox
Joanna, Alderley Edge





Had a really great meal there- friendly staff, great environment and the food was delicious. Try the cheesecake - it's to die for!! (failing that, the wine gum ice cream is delicious)!
Tom





Love this place, great vibe, good food and drinks and decent service.
Sarah, Alderley Edge





The bubble room is really good!! It has a homely feel to it. xx
Maisy - Alderly Edge




a few days ago, myself an my partner ben enjoyed an exceptional meal at the bubble room. the food was brilliant, although the menu was a bit limited. the service was fantastic and we both recommend it for anyone who enjoys a sociable, bubbly atmosphere! i especially recommend the champagne cocktails!
verita stockport





went to eat at the bubble on Monday on a whim with my partner and had a ball! The owners son was a delight as a waiter and the food was gorgeous especially the stuffed pepper with goats cheese. The rose champagne was nicely chilled and i found the atmosphere great. Lot of stars in the bar attracting the crowds so we stayed in the restaurant but would recommend the buule for couples or a group
Cheadle





My fiance and I visited the Bubble Rooms on a Friday night for dinner, the food and service was exceptional, truly worth a visit.
Krissie ( Brisbane, Australia)
Im coming to the Bubble Room for my Wedding Reception in Jan '07 I can not wait ! ;-)
I have been told that you have all been very helpful with my mother who is arranging it for me until i fly back home ! Thank you...I look forward to meeting you all
Mac - Sale, Cheshire




we came for an early dinner. Not much on the menu. However, the food was very good! We were quickly served and the staff were first class!! We'll be visiting again!!
Haley, Astbury Village




I went with my family in March and a had lovely time. The restaurant was quiet so we got lots of great service and the food was delicious. My eyes were bigger than my belly i had a 3course meal.
I loved the whole layout of the place,as it was cosy but with a modern funky twist.Would definately go back again
Charlotte Congleton





I have visited The Bubble Room on many occasions since its opening in December and i can honestly say that everytime the experience has been fantastic. I found the staff are able to stick with a method of proffesionalism whilst making me as a customer feel welcome and comfortable. The food has always been beautiful and beautifully presented, all in all i think that The Bubble Room is the perfect place to wine & dine anytime of the day.
Sarah, Alderley Edge





My Husband took me to the Bubble Room for my Birthday, and what a great time we had. The restaurant is beautifully decorated and has a cosy ambiance. The meal we had was delicious - I can recommend the rump of lamb in rosemary jus and the potatoes were to die for, in fact we ordered an extra portion! We enjoyed our meal so much that we returned the following day for lunch. We ordered the 'Bubble Burger' which comes in homemade onion bread and the best chips ever. The staff are fantastic there - so friendly and attentive with a good sense of humour. Would recommend anyone to give it a try.
Updates
Is this information about correct?
Please tell us about any omissions or mistakes on this page...
click here to submit an update.
If you own or run this venue and would like to get more customers from onionring...
click here