| | | |
| --- | --- | --- |
| | | |
Home > Restaurants > Cheshire > Warrington Restaurants > Jahan
Jahan
Indian
[show 6 more photos]
Contemporary restaurant with bar set in a beautiful location. Indian Bar and Restaurant serving authentic Indian cuisine at its best.
The Jahan Walton promises you a great meal whether you're dining in or picking up a takeaway. It serves some of the best Indian food available anywhere in the North West.
We offer both traditional Indian favourites as well as many unique dishes exclusively prepared by Jahanís talented chefs. You will be sure to find your favourite curry on our menu, or if you are the more adventurous type we have some dishes that you are unlikely to have heard of straight from the kitchens of South Asia.
We believe in giving our customers the very best service and food. We look forward to having the pleasure of serving you.
Functions and business meetings catered for.
Sunday Buffet 12-5pm (A la Carte also available)

---

Find the best deals for Hotels in Warrington...click here

This company offers a takeaway service...find out more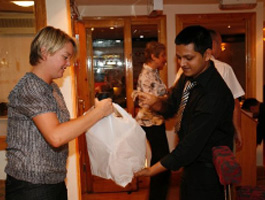 Warrington
...Excellent food and service. I go there at least once a week and I've always been served really good food....
Contact Details
Chester Road, Walton
Warrington, Cheshire, . WA4 6EN

Tel: 01925 860786/267986
Shout "I saw you on Onionring!!"
Opening Hours
| | |
| --- | --- |
| Monday | 12-2.30pm, 5-11pm |
| Tuesday | 12-2.30pm, 5-11pm |
| Wednesday | 12-2.30pm, 5-11pm |
| Thursday | 12-2.30pm, 5-11pm |
| Friday | 12-2.30pm, 5-11pm |
| Saturday | 12-11pm |
| Sunday | 12-11pm |
Facilities
Parking is in a car park. Licensed. Private Parties. Takeaway Service. Children's High Chairs.




Recommendations
Warrington





Excellent food and service. I go there at least once a week and I've always been served really good food.
Jane and Debs (Wirral) j





Really nice restaurant, friendly and attentive staff without being too in your face.
Food is really nice and the restaurant itself is nicely set out.
All in all an excellent place to visit for a meal - If we travel from the Wirral to go there I think that speaks for itself!
EatOutTooMuch!





Me and girlfriend went for drive out from Southport and ended up thru Warrington and found Jahan! What a find! We thoroughly enjoyed our visit. Service was excellent as was the food.
Will be going again, wish they were a bit closer to us! Will defo recommend to others.
Manchester





the staff are jahan are so friendly, food is also excellent, best onion bhagi I've ever had!
Rachael, Sale





great food and really nice atmosphere. try the chicken balti it's excellent
Dennis, Warrington





Got to be the best Indian food I've ever had.Great food, great staff,in a great setting five minutes from my home. Could'nt ask for more..
Jon, Runcorn





Fantastic food (can't remember having eaten better Indian food) and friendly, attentive staff.
I agree with other comments that service can be quite slow at busy times but when the food arrives you can tell it is freshly prepared and not slopped out of a big pan.... well worth the wait. 10/10.
My advice is - Settle in and enjoy the food and atmosphere at this wonderful restaurant and stop worrying about the arrival time of your next "lager"!!
Mike S, Grappenhall





Fantastic food & good service. There's a new one opened up a few months ago in Stockton Heath above the post office which I thought was very good, but Jahan is far better.
Jack, Stockton Heath





BANGLA on draught, fantastic food, brilliant service and great variety. Resonable prices, great atmosphere. What are you waiting for?
Runcorn

Very good. food and service A+ and they do a takaway service too.
Ray & Marie, Warrington

Visited Jahan tonight and the only thing we can say is it was the best Indian meal we have ever had. The place itself is well presented and the staff are really polite. As for the food we cant fault any of it. We've been to other Indian restaurants in Warrington but this place is miles better. 10 out of 10. Yeah its a little bit more expensive but its worth it. We will be going again.
Adam Runcorn




Went to Jahan last night. Food was served quickly and with excellent service.
warrington

Excellent food, great service, very impressed!
liz jameson




Had a Sunday buffet at the Jahan with family. Food and service very good and the drinks didn't break the bank. Staff very friendly. Will go again.
paul widnes





pre warrington nite out meal,excellent place,food perfect no long waiting.cobra beer on tap.would definately go again with family.only problem was the main meal portion was a bit small compared take away size
Laura from Runcorn





We visited the Jahan last night and can honestly say we were very impressed! The food was fantastic, with a great deal of choice, and the staff were wonderful. This is a little jem of a restaurant!
Terry, Warrington

Food and service always excellent. A very wide choice of food on the menu. Recommend.
lynn, runcorn





My husband and I visited Jahan's with 2 of our friends for their anniversary. We were all very impressed with atmosphere, service and especially the food. We all enjoy indian food and found Jahan's an experience we would recommend.
Lee Foxall, Warrington





My mother recommended the Jahan to me a while ago but I hadn't had the chance to go until Friday, and I can say I'm glad I did. The decor is very pleasant, the staff were very friendly and the food was superb. As I was meeting a few work-mates in town afterwards, it proved to be the perfect way to start the evening. Thank you very much to everyone at the Jahan.
A. Jones





We went to the restaurant for the first time last night and had a great time. Fantastic food and attentive, friendly service. We will definately be making it one of our regular eateries. We usually go to The Cottage, but much prefer The Jahan.
C Milligan




23.05.06, Celebrated wedding anniversary at Jahan. Found the atmosphere and service excellent. We booked Jahan from recommendation and it did not fail to deliver. Great selection on the menu. Would highly recommend to others.
Sandra, Appleton





I adore Indian food and would eat at Indian restaurants every time if I could. The Jahan was fantastic, the food is excellent and the staff are brilliant (friendly but not overpowering), giving the restaurant a real friendly buzzy atmosphere, I could hardly eat for laughing at our waiter.
I would definitely recommend you try Jahan, the best Indian around these parts for sure.
Bradley, Chadderton




i went to the resturant yesterday, food&service was great! the resturant is a bit draughty though. Anywayz there is this waiter who normally serves us and he was not there, we called him "smiley". Because he always waited on us with a smile. He is very polite and quick. i was just wondering if he was sacked because he was a Really good waiter.
Geoff Runcorn

Went a few weeks ago with a party of 8 and had a great evening. Friendly service (no delays) and excellent food with loads of choice. Just about to book again.
Chris O`Hare from Blackpool

I went last Saturday with friends & family, the food
& service was fantastic! we pre ordered the Kur Se Lamb (page 3 of menu) and it was cooked to perfection, I will most certainly be going again!
I rate the Jahan 9/10, outstanding! :-)
brian Mccarthy

Total waste of time , warm beer and thats if you ever receive a drink ! by the time my meal arrived i was ready to go to sleep . Waste of time and a total waste of money . Its that dark in there i will advise anyone stpid enough to go to take a torch .
john

I came here and was toatally dissapointed . I ortdered a drink and waited for 20 mins . I then got up and left . wont be back again
Jack Stewart, Dutton

Four of us went to the Jahan on Valentines Day. Wonderful food, service and atmosphere. Even better because it was non-smoking throughout. Will no doubt become regulars!
Mrs Pullwood, Warrington

Four of us went for a meal at the Jahan on Saturday night and were apalled at the level of service. We were left waiting for 15 minutes before even being offered a drink. The staff were rude and impatient. My husband ordered two pints of lager and when the drinks arrived, they bought one and a half. When he advised them that was not what he had ordered, he was told he would have to drink it anyway as that's what the waiter had written down!! We waited nearly an hour for the main course and although we had no complaints about the food , due to the poor level of service, we did not leave a tip and will not be going again.
Mike Warrington

A good experience. The welcome, reception area and bar are great although a little draughty.
Food and presentation are excellent. Some interesting dishes if you like to experiment as well. The service is coming along although it can make one a little nervious at times. Although in my experience they they always manage to pull it off. The staff dynamics can make entertaining viewing. Definitely recommend a visit.
Mike

Excellent , will be going again
Warrington

Excellent food, Friendly staff, restaraunt tastefully converted and decorated, reasonably priced, well worth a visit.
Updates
Is this information about correct?
Please tell us about any omissions or mistakes on this page...
click here to submit an update.
If you own or run this venue and would like to get more customers from onionring...
click here