| | | |
| --- | --- | --- |
| | | |
Home > Restaurants > Cheshire > Bramhall Restaurants > Napa
Napa
Modern, International
[show 7 more photos]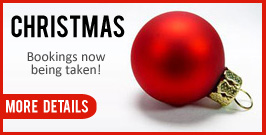 Napa, lounge, bar and diner is the ultimate in New York loft apartment living. This stylish venue has been transformed in to a 70 cover premium casual dining experience with a 45 seater lounge-bar and alfresco terrace.
A venue for any occasion the lounge-bar features comfy tub chairs, sofas, living flame gas fire, poser tables and high stools with an Alma leather cocktail bar. The restaurant area includes leather banquet wenge furnishings, old England shutters and a warm palate of Amber Gris, Tuscan earth and China clay.
The menus celebrate meat in all its forms with aged Cheshire beef, peak district lamb, rotisserie chicken, fresh fish, big salads, deli-style sandwiches and fabulous desserts. Be it post work drinks, sociable lunches or intimate dinners. Napa is the ultimate in casual neighbourhood dining.
Napa is open seven days a week for that relaxed but vibey atmosphere serving all day breakfasts, free trade coffees, homemade cakes, lunch and dinners. Full lounge bar dispensing seriously good cocktails, great beers and affordable wine all day, every day...NEW Happy hours Mon to Sat 5-7pm, Sunday 3-10.00pm!
-------------------------
If you are visiting Hale, Altrincham visit our sister restaurant – Amba restaurant and lounge, Call 0161 928 2343.
-------------------------
Luxury accommodation available @
www.thewhitehousemanor.co.uk
in Prestbury.
---

This venue can cater for functions and events...find out more

Find the best deals for Hotels in Bramhall...click here
Matthew, Wilmslow
...Had a fantastic night in Napa last night - they had a live singer on who was great, as was the food and service. Really busy for a Thursday too! My steak was cooked perfectly and my wife said the Salmon Nicoise was fantastic. Highly recommended....
Contact Details
9-11, Bramhall Lane South
Bramhall, Stockport, Cheshire . SK7 1AL

Tel: 0161 439 8688
Say "Mel from Onionring sent me"
Opening Hours
| | |
| --- | --- |
| Monday | 10am-11pm |
| Tuesday | 10am-11pm |
| Wednesday | 10am-11pm |
| Thursday | 10am-11pm |
| Friday | 10am-1am |
| Saturday | 10am-1am |
| Sunday | 10am-11pm |
Facilities




Offers
Events
REGULAR

EVENT
NEW FOR SATURDAY'S BY POPULAR DEMAND D.J and dancing with our resident D.J playing 70s, 80s, Mowtown and Northern Soul
<
CLICK HERE FOR MORE INFORMATION AND TO BOOK
>
REGULAR

EVENT
LIVE ENTERTAINMENT AT NAPA - FROM 7PM EVERY THURSDAY Napa features great local talent from 7pm
<
CLICK HERE FOR MORE INFORMATION AND TO BOOK
>
November
29
Friday 29 November 2013 to Wednesday 01 January 2014
After the fantastic summer we've had keep that warm glow of lasting sunshine with the inner warmth of the Christmas festive spirit in all its forms! Christmas is about being with friends whilst enjoying good food, fine wines and warming cocktails at Napa. For those who love a traditional Christmas we've sourced prime cheshire turkeys served with all the trimmings to follow try our homemade decadent christmas pudding with a twist. Napa offers a great range of innovative savoury canapés,...
<
CLICK HERE FOR MORE INFORMATION AND TO BOOK
>
Recommendations
Matthew, Wilmslow





Had a fantastic night in Napa last night - they had a live singer on who was great, as was the food and service. Really busy for a Thursday too! My steak was cooked perfectly and my wife said the Salmon Nicoise was fantastic. Highly recommended.
Daniel





Fantastic place - bar was quite lively with xmas drinkers and parties. Food was great, I had a burger which was very tasty indeed. Seabass my friend had got a big thumbs up aswell. Would recommend to all!
Lynne - Bramhall





Just had an excellent lunch with my friend, the food is superb and the staff are so friendly. Never been disappointed with this restaurant.
Helen from Bramhall





Went to Napa last Saturday night with my husband (who is a chef and can be quite critical) for our wedding anniversary. Had a lovely evening, the food was excellent, the staff were very attentive and could not fault the service. It was our first visit and will definitely be returning very soon.
David





really nice place, only had drinks and bar nibbles but enjoyed it. Good service and nice atmosphere
Loopylou Bramhall





Went on Bank Holiday Monday and took advantage of the half price offers. Excellent choice, delicious food and attentive pleasant staff.
Pleasing ambiance and our party had a great evening - our first visit but we'll be back!
Jeff, Hazel Grove





I visited Napa bar & restaurant a couple of weeks ago to try their mid week set menu offer. For my main I had the fully loaded chicken burger, it was delicious. I found the meal to be of very good quality and at an amazing price. I will definitely be visiting Napa in the near future!Well Done!
Alison Hiller, Cheadle





I went to Napa for the first time last weekend with 3 of my friends and we all decided to indulge and went for their Sirloin, Fillet, Gourmet Steak Burger and the Rump steak special. I can't remember the last time we went out and were all silent throughout the main course - the food was that amazing that we didn't want to waste vital eating time by talking - which is especially surprising after the number of fruity cocktails we had at the bar beforehand! The meat was so tender and just melted in my mouth! I was also pretty impressed when the friendly manager who took our order told us that the chef makes all the burgers himself! We had a brilliant night, the place was packed and there was even a dj that started in the bar area! Great place! Would definitely recommend it.
linda stockport




Had a great meal in there last week, they were advertiseing a charity fashion show at Napa by Modiste Boutique on the 17th Nov. Sounds great fun and only £15 for 2 course dinner, fashion show and donation to Beechwood. The girls and I can't wait.
Joanne - Cheadle Hulme




My second visit to Napa this time with my husband (rather than the girls) and once again it was great. Nice bar area and a great vibe. Good mix of age groups as well. The menu is pretty simple but well cooked, even my very fussy husband couldn't find fault with the food. We were sat in the bar area and every so often a drinker would take it upon themselves to sit on the back of the booth we where sitting in but I have to say I didn't really mind, it was all part of the busy atmosphere. Service was good as well with attentive staff. A little more knowledge of the menu and what we had chosen wouldn't go a miss, more - How is your steak , rather than how's the food? would take things up a level. With the impending opening of the Bubble Room things are looking up for Bramhall as a 'night out' destination.
Amanda - Hazel Grove




Had a lovely meal here with friends, food & service was excellent. Great restaurant with a lovely atmosphere.
Andrew Richards
A Truley superb restaurant with a great atmosphere, great service, and very good food, what else could you ask for!!!!!!!!!
Updates
Is this information about correct?
Please tell us about any omissions or mistakes on this page...
click here to submit an update.
If you own or run this venue and would like to get more customers from onionring...
click here