| | | |
| --- | --- | --- |
| | | |
Home > Restaurants > Cheshire > Warrington Restaurants > Sorrento
Sorrento
Asian
150 covers. Chinese and Thai cuisine. Modern decor where you can enjoy authentic food served by friendly staff.
---

This venue can cater for functions and events...find out more

Find the best deals for Hotels in Warrington...click here
warrington
...whay a great night we had. There were 14 of us. on a Thursday night. we couldn't fault a thing. The food was exceptional. The service fantastic. we enjoyed it so much we have booked again. Can't recommend it enough. Joan jenkins and party...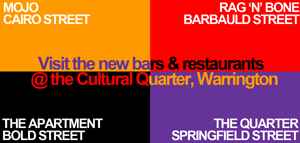 Contact Details
Unit 3, The Bridge Shopping Centre, Maybrook Place
Latchford, Warrington. WA4 1JR

Tel: 01925 633001
Say "Mel from Onionring sent me"
Opening Hours
| | |
| --- | --- |
| Monday | 5:30-11.30 |
| Tuesday | 5:30-11.30 |
| Wednesday | 5:30-11.30 |
| Thursday | 5:30-11.30 |
| Friday | 5:30-12 midnight |
| Saturday | 5:30-12 midnight |
| Sunday | 1:00-9:00 |
Facilities
Parking is in a car park. Disabled Toilets. Licensed. Private Parties. Takeaway Service. Children's High Chairs.





Recommendations
warrington





whay a great night we had. There were 14 of us. on a Thursday night. we couldn't fault a thing. The food was exceptional. The service fantastic.
we enjoyed it so much we have booked again. Can't recommend it enough. Joan jenkins and party
kayley, manchester





went on a Saturday evening, food was amazing, as well as service+ atmosphere. would definitely recommend and will be returning soon
steve whitfield
we went for a family birthday this week . exellent food and service . well done
Lisa, Warrington
The best Karaoke night out I have ever had, I am returning with a group a girlfriends this Friday too. Its on every Friday night They do Karaoke sing offs with other tables, the D.j was hilarious he had everyone up playing pass the mic and having picked judges to pick the best table to win a bottle of bubbly. Service and Food is the best. All you can eat buffet and sing along fun. It's a proper giggle. Then off to the Viper when it closes then Chicago rock after that closes… great night out..highly recommended!!!
alex, thelwall





Brilliant atmosphere, especially on friday nights when the karioke and dancing comes out! Although more for younger people i would say.
geoff and janet





great food great people well worth the visit and price very reasonable relaxed atmosphere pleasant staff did i mention the food its great
Diana - Warrington





The service was impeccable. The food was the best Chinese food I've had in a long time. Would have no hesitation in going back time and time again.
Pam and Andy, Warrington
Absolutely wonderful dishes at very reasonable prices! Salt and pepper squid is to die for! Best crispy duck and crispy noodles I have had in years. If you love Cantonese/Chinese food, you must pay them a visit!
Craig Warrington





Recommended by a friend. Excellent food, service and pretty quite, except for background music (a personal dislike). Very reasonable bill. Will go back soon.
Ric - Lymm





I visited here last Friday night after having full intentions of going to the Anmol Indian restaurant next door. We walked past and decided on trying this restaurant. I am usually not a massive Chinese fan, however I was pleasantly surprised when our food arrived to say the least. The food was fresh, tasty, good amounts, perfect service and prices. We asked for a side dish of chilli's and they supplied up with a pot of chilli's, garlic, spring onion in soya sauce which was amazing in its own right! The crispy duck was divine. Everything was. Especially the pork in ginger and vegetables. Definitely in the top 3 meals of my life and the best Chinese in this area without doubt, if not the country - and that is no exaggeration. I will be eating here regularly from now on.
grappenhall
absolutley fantastic, spacious and you didn't feel like you had to rush your food
amanda, warrington





Lovely spacious restaurant, food amazing, price fantastic, service with a smile what else can you ask for.
Nic from Warrington





discovered this restaurant 2 weeks ago and went for husband's birthday - we are going back tonight for mine!! excellent value deal £10 for FOUR courses. this offer is on at all times as well. dont think this website has been updated. modern, clean restaurant. lovely atmosphere. not too crowded but not empty either. staff great - ask if you want next course straight away or have a "breather" - which makes a nice change, not to be rushed... I would definitely recommend it.
Michael - Manchester





Found out about Hong Kong from this site and what a great find it is! £10 isn't cheap by any means, but what you get for it on the half price buffets is just fantastic and can't be matched. The quality of the ingredients and preparation of food, professional and friendly service and attention to detail in the decor is first rate.
I have been to many Cantonese restaurants in London, Toronto and Vancouver, and this one in Warrington has them all topped as far as I am concerned. Can't wait to come back (already been there three times)!
Helen Latchford





I have recently moved to Latchford and have loved the Hong Kong that much have been 3 times!
Each time have had the half price banquets which are fantastic value and delicious
Friendly staff, non- smoking and air conditioned, i recommend a visit if you havent been!
Anne, Warrington




Superb food, excellent value.
Lots of space in a modern, clean and smoke-free environment. You don't feel on top of the other diners whem eating the fantastic food.
Daniel, Warrington




Food, price and service were excellent, it is as previously stated by another reviewer a non-smoking restaurant which is always pleasant. My only complaint with this restaurant is that it feels like it has been thrown together to fill a space in a building and a space in the local market rather than someones dream of "their" restaurant.
Jack, Stockton Heath




The Hong Kong has superb service, a fantastic menu [especially vegetarian], and a great atmosphere. Plus it is completely smoke free.
Bobby, Warrington
The staff are very attentive, decor modern and crisp and the food very tasty.
Updates
Is this information about correct?
Please tell us about any omissions or mistakes on this page...
click here to submit an update.
If you own or run this venue and would like to get more customers from onionring...
click here