| | | |
| --- | --- | --- |
| | | |
Home > Restaurants > Cheshire > Warrington Restaurants > Mojo
Mojo
Spanish, Mediterranean
[show 8 more photos]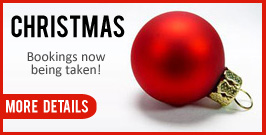 At Mojos we pride ourselves on the quality of our food and wines but most of all, on the service we provide to our customers. Mojo Bar and Tapas offer quality food, friendly staff and an authentic Spanish ambience.
Tapas are not starters or main meals, they are designed to share & will come as soon as ready, not necessarily altogether. Four dishes per person is about right, but feel free to order more whenever you like.
Mojo Bar and Tapas is situated in the heart of the cultural quarter of Warrington town centre. We have special offers running every day and night of the week. The venue is available on Specific days and nights for Private Hire.
Why not visit our sister venues, the newly opened
Eden
or
Cotton Mill
, both located a short walk away.
Sign up for the latest Mojo offers and news -
---

This venue can cater for functions and events...find out more

Find the best deals for Hotels in Warrington...click here
pauline bradbury
...went for lunch with a friend on friday nice welcome from rick our waiter .lovely food good choice on menu nice atmosphere.good deal with voucher 50%off main menu.would definitely go again....
Contact Details
15 Cairo Street
Warrington, Cheshire. WA1 1EE

Tel: 01925 576576
Say "Mel from Onionring sent me"
Opening Hours
| | |
| --- | --- |
| Monday | 12 Noon - 11pm |
| Tuesday | 12 Noon - 11pm |
| Wednesday | 12 Noon - 11pm |
| Thursday | 12 Noon - 12 midnight |
| Friday | 12 Noon - 1am |
| Saturday | 12 Noon - 1am |
| Sunday | 12 Noon - 12 Midnight |
Facilities
Gluten Free Dishes Available. Disabled Toilets. Licensed. Private Parties. Children's Menu Available. Gluten Free Options. Vegetarian Options.





Offers
Events
REGULAR

EVENT
Friday night DJ's playing live until late. Join us on Sunday for live entertainment.
<
CLICK HERE FOR MORE INFORMATION AND TO BOOK
>
November
15
Friday 15 November 2013 to Monday 30 December 2013
Mojo Bar and Tapas are inviting you to join them this Christmas to celebrate the festive period. With a selection of mouth watering dishes available how can you resist?
<
CLICK HERE FOR MORE INFORMATION AND TO BOOK
>
Recommendations
pauline bradbury





went for lunch with a friend on friday nice welcome from rick our waiter .lovely food good choice on menu nice atmosphere.good deal with voucher 50%off main menu.would definitely go again.
Warrington





Attended Mojo last night with a party of 6, the food and service was excellent. The menu more than caters for everybody. Even gluten free options which one of our party needed. The restaurant was spotless and the staff were very friendly and more than helpful.
warrington





Had a lovely meal last night, special thanks to Michelle and Ronnie for looking after us!
Warrington
Booked a table for 12 people for the Sunday 'all you can eat for £10' offer! Food was great, service was really good - especially for our party size, friendly bar staff, the entertainment (singer Will) was enjoyble too! Would highly recommend Mjo's and will definitely be returning! Thanks all
warrington
Wonderful food, lovely atmosphere but had a bottle of wine added to our bill that we hadn't had so check your bill!! Wonderful food though.
jill warrington




Really great food and nice people, just check your bill as we have had drinks added on both times we have been, but fantastic value on a sunday.
Peter Widnes





Visited Mojo for the second time last weekend. The meet and greet was very good. The Manager Darren was very friendly and helpful making sure everything was to our satisfaction. Food excellent and the service first class. My girlfriend and I have found a winner.
Sassie, Warrington





Visited Mojo's Warrington tonight (30.07.2011) to celebrate my husband's birthday. Just the two of us (for a change). Had a lovely time. Food, Service, Ambience and everything was just perfect. Special mention to Adele, who was serving us throughout the evening. Very attentive and helped to make our evening very special. Excellent staff member. The food was just to die for, the meat paella is just heaven, well i thought it was. All the food though is great. Beautifully prepared and presented.
Lindsay, Manchester





Visited last month, absolutely adored the food the drink and most importantly the atmosphere... Will be visiting again very soon - perfect place for a quiet meal, or a big occasion!
Sean Warrington





I absolutely love Mojo's so much as I went with my work colleagues on a Thursday and back again with my girlfriend on the Friday...the food is really nice there are two different menu's the 3 Tapas for £7.95 is very reasonable there is a nice variety..Highly recommended for anyone looking for a really nice meal with great service. Will become a frequent visitor.
kevin




A 10% service charge and a 99p tree donation is added to the final bill. Food isn't bad though, £10 all you can eat on Sunday is worth it.
roger from widnes





it was my wife's birthday last sat, and as a treat i decided to take her to mojos bar and tapas. having heard how the food is all freshly made and the entertainment is second to none. after a wonderful meal we both danced the night away grooving to the smooth groves of sebastian, a soul sensation. thank you to all the staff at mojos who made mine and my wife's night unforgettable. many thanks roger mc dougall.
bill Warrington





Dined at Mojo bar on Wednesday evening and what a fantastic offer 3 tapas and a glass of wine for just £10,tempura fish was the best ever.I will be defo going back to the venue as i really enjoyed my evening thank you mojo bar

ste Warrington





Went to Mojo on Monday last week and was shocked how busy it was and how much of a great atmosphere there was for a monday. The food was fantastic, the service was exceptional and it was 50 percent off the bill, amazing. Great place and will be back there a lot from now on.
Jen Warrington





What a absolutely fantastic restaurant and bar! The food is gorgeous, so fresh and tasty the team of chefs do a very good job. It was a busy night when I ate there and still the food came out very fast with a very helpful team of waiters at hand. I very much recommend the fabulous cocktails especially strawberry mojito made by the talented barstaff who have always got time to give you a smile. The one thing I would say (and this is me being picky) is that because it was a warm night and it was very very busy, it did get rather hot when we were dancing around I would recommend maybe air conditioning for those busier nights.
Excellent!! Will be going back very very soon and taking advantage of the fabulous offers that are brilliant value for money!
Sarah & Andrew from Warrington





Outstanding! We ate on Sunday, £10 each, all you can eat and it was fantastic value. The food is very fresh and was a welcome change to our previous experiences of tapas which has always been that all dishes are covered in the same yukky tomato sauce. The tempura batter on the fish dishes was as light as a feather, I couldn't have been more impressed. Can't believe it's not packed to the rafters, especially on a Sunday. We will be returning very soon.
leanne and justin sparkes, warrington





we had our wedding party at mojo on 24th march this year and us and all our guests agree that everything was perfect. the staff were great, very attentive, the atmosphere brilliant and the food was amazing. A big thumbs up to Ronnie the chef who made sure everyone was very well fed. Ronnie and jeoff the manager were extremely helpful and help us achieve a perfect day. To top it off the whole thing was organised in just over a week and we cannot thank you enough. We would recommend mojo not just as a restaurant or bar but as a party venue too. Perfection!!
blacklock warrington





Have visited a few times now and always happy with the whole experience, staff helpful and friendly, surroundings comfortable, clean and relaxing and food excellent, If you enjoy Tapas, you wont be disappointed, would recommend without hesitation.
Paul Warrington





Visited on 12/1 with - food and service excellent - normally eat tapas at La Tasca and Mojos wins hands down in comparison
Helen Warrington





I arranged a girls night out at Mojo's and we all had a fabulous time . The place is really trendy with a great atmosphere. The staff were extremely helpful and the food was second to none, so tasty. Definitely going back. To top it off there was live music on when we had our cocktails followed by an amazing dj ten out of ten!
Jason Warrington





Visited at lunch time on Saturday and had the early bird menu for £6.95. Excellent food, fantastic atmosphere - what a little gem of a place. Will definitely be going back....
Dave Jackson





Great place with a really friendly atmosphere. I go there quite often as the food is always outstanding,
I recently took some American visitors and they were very impressed
bob warrington





had a great meal and had good time will be back again!
Sarah, Warrington
Went here with my boyfriend on Friday, the food was gorgeous!! Really tasty and excellent value for money with the 50% off voucher. The cocktails were very nice too, good atmosphere, and friendly staff. There was a noisy group of ppl in there which made us leave a bit earlier than we wanted, but i would defo go again.
mandie, st helens





gorgeous intimate place, funky music, great food, good service and the best cocktails ever, do try the porn-star martini its sex in a glass! well recommended
David Harper





Absoloutley Amazing, Service Was Extremely quick and efficient, the food didnt take long to come at all and was beautifully presented as you'd expect of an amazing tapas restraunt, pick of the day would have to be the ribs, the spanish sausage in wine and the potatoes in spicy sauce, simply delicious!
Pam, Warrington





I visited Mojo's with a colleague yesterday lunchtime. It's recently re-opened with a new owner, Fehmi, and it's now a Spanish Tapas Restaurant. The Restaurant looks the same, welcoming and very clean. There's an extensive, reasonably priced menu and the food is really delicious, of course it's made to share! Mojo's is an ideal place to go for a relaxing lunch with friends/colleauges. I highly recommend Mojo's and I'll certainly be going back to work my way down the menu!
Angela, Warrington




What a nice treat for a fiver, not much more than it would normally cost for your normal work lunch but a whole lot better tasting.
Sandra, Warrington





My orignal venue let me down in relation to my 40th & my 18th daughter's joint party and the Mojo Bar greatly received us to celebrate the event. Can I say that I have had glowing coments from all who attended and who said that the buffet that they put on was excellent. They were very accomodating as my daughter had wanted a band to play and all the staff we very proffesional and friendly. Even the locals particiapted in the fun of the night. I would recommend anyone to use this lovely venue for your celebration you won't be dissapointed. I would like to pop in for a meal in the restaurant as the food looked fantastic. Thank you to all the staff and managment for a successful event.
sarah




100% every time. . .thai fish cakes amazing. . . carribbean chiken best ever. . felt very welcome by staff, nice to see they work as a team. . manager to be proud off. . thanks .
Jack Davies





very friendly staff and great food. the chicken skewers are to die for!! better than kebab house's in rusholme! will be going back again and again!
Nicola, Warrington





Had fantastic time at Mojo, i would recommend to anyone that they have a night out there. The food was great and the staff friendly. Very enjoyable night.
David





We had afternoon lunch the Food was fantastic and so was the service. thank you.
we will be dining there again.
Anonymous





Food absolutely amazing as were the staff!! Definately going back soon!
brian





Had a very enjoyable, food lovely, lovely service. i highly recommend.
Denise




The food was very tasty and service was very good, it made a nice change to the normal Sunday dinner pub grub.
Steve
Great new bar/restaurant. Just what the town needs for the slightly more mature customer. Hopefully this will start a revolution in the town centre and we will see lots more similar places pop up!
Pam





In simple terms an absolutely fabulous night and cannot fault anything. Service we received was 100%, food fantastic, cocktails - wow !,
amna warrington





I have dined here twice now and the food is fantastic, and really tasty the staff are very friendly. and its a very resonable price.
Marian
Wow - I managed to book a table for '20'. I asked for a menu to be faxed but they were unable to, so Lee, an 'associate' emailed me personally, what service! If you like food of extrem quality and the pampering to go with it...., then this is the place to eat.
Lisa





Absolutely love this place. Food, service and atmosphere all spot on. No complaints whatsoever. I could eat here every night !!
Saskia McNulty, Bristol




Had a great meal at this restaurant - 60th birthday meal. Didn't know the area (came up for Haydock races), so booked on recommendation from this site. Food and service were really good. Lots to choose from the menu. Lamb Shanks particularly recommended. The duck could have been pinker, but it was still very tender. We weren't pleased with the table they had given us (bench seats/bar stools), but they went out of their way to change it for us, despite being busy. Really good atmosphere, shame we live so far away - would definately go back!
Updates
Is this information about correct?
Please tell us about any omissions or mistakes on this page...
click here to submit an update.
If you own or run this venue and would like to get more customers from onionring...
click here