| | | |
| --- | --- | --- |
| | | |
Home > Restaurants > Manchester > Manchester Centre Restaurants > Thai Banana
Thai Banana
Thai, Japanese, Asian
Fully renovated, you can now enjoy a wonderful Thai or Japanese meal cooked right in front of your eyes. The restaurant has trendy bench seating looking into the open kitchen! Offering friendly efficient service and great food at reasonable prices. If you haven't been before you really should come and try us out.
Dine in or takeaway, we are open everyday from noon to midnight.
Authenic dishes made fresh by our highly skilled chefs. All our dishes are MSG free. Our meats are real Halal. Only the finest ingredients are used.
---

This venue can cater for functions and events...find out more

Find the best deals for Hotels in Manchester Centre...click here

This company offers a takeaway service...find out more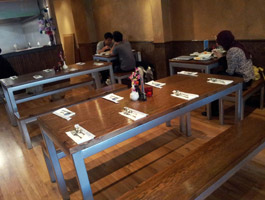 Shayera from Manchester
...Just went to eat at the Thai Banana for the first time and the food was fantastic!!!! The staff were really nice!!! Will be going all the time from now on i think!!! :-D xx <3<3<3...
Contact Details
262, Wilmslow Road
Fallowfield, Manchester. M14 6JR

0161 248 7752
Shout "I saw you on Onionring!!"
Opening Hours
| | |
| --- | --- |
| Monday | 12 - 2:30pm, 5 - 11:30pm |
| Tuesday | 12 - 2:30pm, 5 - 11:30pm |
| Wednesday | 12 - 2:30pm, 5 - 11:30pm |
| Thursday | 12 - 2:30pm, 5 - 11:30pm |
| Friday | 12 - 2:30pm, 5 - 11:30pm |
| Saturday | 12 - 2:30pm, 5 - 11:30pm |
| Sunday | 2 pm -10pm |
Offers
Recommendations
Shayera from Manchester





Just went to eat at the Thai Banana for the first time and the food was fantastic!!!! The staff were really nice!!!
Will be going all the time from now on i think!!! :-D xx <3<3<3
Vicki, Stretford





walked into Thai Banana last month on an unplanned evening and since then have been back 3 times already!! friendly staff, great value for money and best of all amazing food!! i would recommend the pad thai with duck :)
Quilaa




Had my dinner at Thai Banana for the third time, but this time I brought some guest from Birmingham :D As always, the service was satisfying. I had buffet while my guests had A La Carte. one of my guests found the food too spicy and guess what? they remade the food to make it less spicy.. they even served my guests with extra food from the buffet menu. My guests were so happy with the food and so did I! I will definitely recommend Thai Banana to more and more people!
James, Fallowfield





I love thai banana so much, it's one of my favourite restaurants ever, I always eat number 18, Keang Panang which is heavenly and the prawn toast is by far the best I've ever had... The staff are always so friendly and I think one of the chefs is in love with me as they always laugh and point and blow kisses not to mention giving me thai prawn crackers sometimes (which by the way are also incredible)
Awesome place, am going there now, xx
Emma, Manchester





Went to Thai Banana on Friday night and had a lovely time - the food was delicious and reasonably priced and the staff were really friendly and attentive. Less than £40 for 2 starters, 2 mains with sides and 2 drinks each. Will definitely be back!!
D Waul Manchester





Went to Thai Banana last night for the fourth time. Again really good and I have always come away full and feeling that it is good value. Food was quick and excellent table service. Planning on trying th Sunday Buffet offer vey soon...
Fallowfield





We've been several times since Thai Banana opened and were really pleased to find such a good, affordable restaurant on our doorstep. The service has been excellent, with friendly staff every time, and the food is fantastic. Well worth paying just a few pounds more to have something really tasty and a proper evening meal out, than just settling for a quick canteen style noodle bar.
Can't stop recommending this place to my friends since it opened as I can't fault it!
Robert Gillies, Moffat (Scotland)

I have only been in Manchester for the past month and already have visited the restaurant three times!
The food is stunning - full of flavour and beautifully presented. The service is always with a smile and gracefully done, and one is made to feel at home and at ease.
I have recommended it to friends and family alike who are all equally stunned by the quality of Thai Banana.
Karen. Manchester





Just been to the Thai Banana on an unplaned evening, and could not of pick a better restuarant. Great food, great service. Would recommened to anyone
Updates
Is this information about correct?
Please tell us about any omissions or mistakes on this page...
click here to submit an update.
If you own or run this venue and would like to get more customers from onionring...
click here