| | | |
| --- | --- | --- |
| | | |
Home > Restaurants > Cheshire > Stockton Heath Restaurants > Le Bistrot Pierre
Le Bistrot Pierre
French
[show 4 more photos]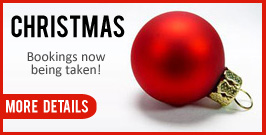 Le Bistrot Pierre are a family of individual restaurants whose aim is to make everyday dining feel special. Situated in the heart of the vibrant and bustling town centre, Le Bistrot Pierre has quickly become a favourite amongst residents and businesses alike.
Serving delicious French bistrot dishes, the food is not only affordable, it uses the finest quality ingredients too.
Signature dishes include toasted brioche with a fricassée of mushrooms and crispy Alsace bacon, Scottish pastured fed 21 day-aged beef carpaccio with beetroot, crème fraîche and rocket salad, Suprême de poulet – chicken suprême with apples, Calvados, smoked bacon lardons and caramelised onion and Filet de loup de mer – Baked fillet of sea bass with sautéed mange tout, fine beans and peas, tossed in a light mint and lemon butter.
The interior is welcoming with a rustic French bistrot look and feel. Original French stone walls, one off furniture pieces, beautiful lamps and a vibrant colour scheme creates an unrivalled atmosphere to be enjoyed with friends and family.
N.B Please note we do not take email bookings, general enquires only via email - to book please call.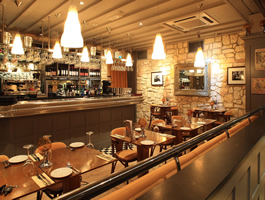 Gail, Appleton
...'Wine & Dine' evening.Fabulous food with designated wines for each course,served to us with a short history and interesting facts.Friendly service.Not rushed.Every meal ever eaten here has been great. Thanks for a really lovely evening.We appreciate your care, looking after us....
Contact Details
Unit 8, Victoria Buildings, 89 London Road
Stockton Heath, Warrington, . WA4 6LG

01925 669214
Say "Mel from Onionring sent me"
Opening Hours
| | |
| --- | --- |
| Monday | 12pm-3pm & 5.30pm-10.30pm |
| Tuesday | 12pm-3pm & 5.30pm-10.30pm |
| Wednesday | 12pm-3pm & 5.30pm-10.30pm |
| Thursday | 12pm-3pm & 5.30pm-10.30pm |
| Friday | 12pm-3pm & 5.30pm-11pm |
| Saturday | 9am-11.30am, 12pm-4pm & 5.30pm-11pm |
| Sunday | 9.30am-12noon, 12.30pm–4pm, 6pm-10pm |
Facilities




Offers
Events
December
1
Sunday 01 December 2013 to Wednesday 01 January 2014
Join us through the whole of December and you can enjoy high quality provincial French food with a festive twist. We also have some great quality wines to sample while celebrating with friends, family and colleagues. Join us and take in the party atmosphere in our beautifully decorated bistrots. Three course Christmas lunch menu £15.95 A three course Christmas evening menu £24.95. Early Bird menu at £15.95 Enjoy either a starter and main or main and dessert. Available until 6.30pm Gluten...
<
CLICK HERE FOR MORE INFORMATION AND TO BOOK
>
Recommendations
Gail, Appleton





'Wine & Dine' evening.Fabulous food with designated wines for each course,served to us with a short history and interesting facts.Friendly service.Not rushed.Every meal ever eaten here has been great. Thanks for a really lovely evening.We appreciate your care, looking after us.
Aron





Have to say I reckon this is the best place around, went mid week and it was nearly full - service very good and the food is excellent. They did have a wine matching menu on which I went for, the waiter came and told me a bit about each wine which was good. Should have this on Onionring as we only found out by luck. Anyway, highly recommended!
Keith





What a fantastic meal. Lunch deal is excellent value, 3 courses, very good portions and creme brulee to die for!

Dylan, Manchester





Visited on Friday for lunch with colleagues. Very nice setting and good service from staff. We all opted for the lunchtime fixed prix menu and enjoyed some good quality olives whilst choosing. Between us all, we had the cheese starter (although the Saint Marcellin cheese was replaced with an equally creamy camembert), big fat burger main and a first class creme brulee dessert. Excellent lunchtime value and will definitely be returning.
Brian&Kath warrington
Great restaurant.Had early bird menu food and service excellent.Reasonable price.Will definitely make a return visit.
The Maxteds
Went with the Bax's for a lunchtime special and I really have to say it was a most pleasurable experience, the special lunchtime a la carte was superb. Service and staff 1st class
Roy Warrington





We have just come back from another fantastic night, my wife insisted that I write a review. Firstly let me say that it was extremely busy this evening, when we first arrived we were greeted by a very familiar face Colin. He greeted us as always with a huge smile and witty joke, after taking our coats he asked me a question to which I didn't think he would remember he asked how my grandson was, I was so surprised because this was over a year ago. We have been in since but have missed each other he couldn't believe it had been a year. Any way back to the meal, the whole evening was fantastic, the staff at this restaurant are a credit, no matter how busy it was this evening Colin still made time to indulge in conversation with us and other guests. Most restaurants get you in and get you out here you constantly feel welcome and un-rushed this is a true sign of a great restaurant. I will finish with this what ever has changed within this restaurant over the past 6-8 months it seems to me working very well, like I said previously it was jam packed this evening with a very happy atmosphere which has been lacking the previous few occasions we have been.
Pete





really good! busy, good atmosphere, lovely food, not overly pricey. One of the best in the area.
David, Warrington





We visited for lunch on Christmas Eve, the food, the staff , the atmosphere was 1st class, great manager who is also a comedian who made us both smile...
Will definitely be paying another visit in the New-Year!
Marcia Percival





Excellent The food the staff every thing just perfect. We have been quite few times and the standard never varies.My daughter eats all over the world in her job and she rates you among the top ten. Looking forward to October 31st my birthday Halloween .Explains my e-mail address.
Another great meal
Janet Stockton Heath





10 of us ate here on Sunday night, 2 kids and 8 adults. 4 went for early bird menu and 4 for same with wine (Sunday offer) plus many of us then ordered desserts. Staff worked out what was the best 'deal' for us on the bill. Food and service were excellent - we ranged from 6 to 73 and all had a fabulous time. Great atmosphere and authentic, excellent food. Very reasonable too.
SB Stockton Heath





Visited twice in the last month once for the Early Diner and once on Monday night for wine inclusive deal. Both times food and service were excellent. Staff are very helpful and cheerful and we never felt rushed. Highly recommended!
Mike Warrington





We go regularly for the lunch time deal. The food is excellent and particularly so for the price. Would thoroughly recommend.
Robert Bradbury



My Wife and I have just come back from another great evening at LBP the staff are fantastic my wife refers to one member of staff as our waiter as we seem to get him every time we dine (Colin) he is very funny but at the same time very professional as are all the staff. The food this evening was again fantastic even for a busy night, I would recommend giving lbp a try great food, service, staff and price.
Bob V - Runcorn





Birthday meal for 8 on Saturday 8th January and all opted for the early evening menu. We all enjoyed the night, the food, wine, service and atmosphere were excellent. Will definitely go again as there are so many dishes that we wanted to try.
Joanne, Stockton Heath





Simple French food, well cooked and well presented. Staff efficient and friendly. Wine reasonably priced and well selected. Don't know about French bistro styling, the environment seemed very typical 'Stockton Heath' to me. Would definitely go again and recommend to friends, ticked all the boxes for me.
Terry, Warrington





Had the 1st Tour de France Menu on Thursday. As always the food here is great and the staff really friendly. The menu was excellent and very french. Looking forward to the next one.
Charlie n' Flora Warrington.





Went for dinner here on Thursday evening.Our third visit. As usual the place was very busy and vibrant. I had a starter of crab salad and my partner had the warm goats cheese and beetroot.Our mains were the crispy belly pork and the duck confit which were both absolutely lovely,as were the starters.The vegetables that accompanied it were imaginative but the broccoli was rather under cooked.We didn't have dessert but finished with liqueurs.The house red which was a Merlot was lovely and well priced.
Tom, Appleton
Party of ten (three birthday celebrants): well fed, well wined, great service. Two diners found their pork a little gristly but dish changed without hesitation. Good atmosphere, will return.
Joanne,Appleton




Dined here Friday evening on the early diner menu, no complaints except the mains were a bit slow coming, otherwise food and service very good. Love the ambiance of this place!
Carolyn, Warrington





Tried this restaurant for the first time on Friday evening 9/7/10 having booked in last minute. The welcome & service was good, and the food was amazing ! The tables are a little on the small side but the food portions are certainly not. Will definitely be going back again.
Adrian Warrington
Have eaten here for breakfast and evening dinner. Fantastic tasty food, lovely surroundings. The breakfast was superb, pancakes, unlimited coffee and then a delicious omelette.
Lovely restaurant, one we will re visit time and time again, especially on a Saturday morning.
Kirkbride Runcorn





We had a family meal here to celebrate my husband's 60th recently. Both food and service were excellent. The atmosphere was warm and friendly and all seven of us enjoyed ourselves and wouldn't hesitate to recommend Le Bistro Pierre to anyone.
sonia stockton heath





Went for early bird with friend on Tuesday 11th May to discover had gastro night for £20.90 for 6 courses so opted for that instead!!! Brilliant menu and service was excellent really friendly and interested. Friend disliked ingredient in starter so alternative was offered. Would definitely recommend.
Amy, Stockton Heath




excellent food, service and value for money. staff are friendly and efficient - an absolute gem!!!!
roy ainsworth




great food good service and great value for money
being a local resident in stockton heath for some forty years its great to come across a restaurant that serves good food in very comfortable surroundings and very pleasant staff
a must to visit when in stockton heath. The breakfast at the weekend is superb, will recommend to all my friends.
Daniel





Fantastic place - great food, friendly and prompt service, busy atmosphere. Really enjoyed it.
Ann Warrington





We have now been three times to this restaurant and every time it has been spot on.The staff are very friendly and helpful and the food has been gorgeous and served very hot. I definitely would go back again
Gill & Friends





Five friends and I enjoyed a lovely meal last Monday night, really busy (turning them away at the door!), staff very pleasant and food was fabulous. Perfect goats cheese and warm beetroot salad followed by very well cooked steak. They offered a bottle of house wine with each meal (that's a lot of wine on a Monday night!) which was perfectly palatable - be sure to only order red or white as apparently rose is not included in the offer. Puddings were lovely, coffee (after a lengthy wait) was fine. Because of the wait for the coffee and several mistakes on the initial bill they did reduce our final bill significantly and with numerous apologies. A fine night out, recommended.
Mr. E





Tried for the first time on Sunday, Very impressed - Good service and good food.
Love eating out - Stretton




Cannot speak highly enough of this restaurant have been 3 times since it opened on the 10th Feb. The meal deals are superb value for money, I have had the steak, boeuf braise, steak & pan fried mullet under the meal deals. Rest of my family had a la carte and loved it too.
The best thing is that children eat off the same menu choosing the same foods for 50% of the price - at last a restaurant that appreciates that children do not eat fish fingers, chicken dippers etc.
The staff are very friendly - the whole experience is super. Glad it is in my local village
Can't wait for the 23rd for the 6 courses for twenty pounds
appletondiners





My wife and I visited on opening day for the fixed price lunch (£9.25 for two courses, £11.25 for three). Can't speak highly enough for this brand new dining experience in Stockton Heath. Service was friendly and efficient and the food was simply superb, and plenty of it. I truly believe I have never before had such a tender piece of pork. Vegetables were superb, comprising savoy cabbage, roasted red pepper and peas, beautifully cooked and presented; a far cry from the usual steamed mixture. There were also very tasty pan roasted potatoes. My wife had pan fried sea bream teamed with salad; her verdict is also excellent. We teamed lunch with a glass of house red, which was very drinkable. We loved the whole experience and will certainly be back (we've already booked for another evening).
Thoroughly recommended.
Updates
Is this information about correct?
Please tell us about any omissions or mistakes on this page...
click here to submit an update.
If you own or run this venue and would like to get more customers from onionring...
click here