| | | |
| --- | --- | --- |
| | | |
Home > Restaurants > Manchester > Didsbury Restaurants > Crazy Wendy's
Crazy Wendy's
Thai
[show 11 more photos]
Crazy Wendy's Thai Restaurant and Bar in West Didsbury offers a unique dining experience. Formally Thai E Sarn, Crazy Wendy has been entertaining her guests for years with her unique renditions of Shirley Bassey and Elvis amongst others.
Crazy Wendy's Thai Restaurant and Bar in West Didsbury (formerly Thai E Sarn Classic) is a favourite amongst locals and city visitors. What sets Crazy Wendy's aside from your average Thai Restaurant is the fantastic food, the great service and the hostess - Crazy Wendy!! Wendy sets the restaurant alight with her energy, the diners join in. Soon everyone is on their chairs and singing along. Nowhere else in Manchester can you have such a unique dining experience, which is so much fun.
The restaurant itself has recently undergone a complete renovation. Now larger and much more luxurious, more comfortable and much more snazzy. It's now the perfect venue for a quiet mid-week meal as well as the party nights on the weekend. We now have full disabled access and toilets. The restaurant is fully equipped with the latest speaker and TV systems. A stage fitting for our lovely hostess!
The menu covers all your favourite Thai dishes - Soups, Curries, Beef, Chicken, Pork, Seafood, Noodle and Rice dishes along with a large vegetarian selection. As well as these our chefs have created a selection of mouth-watering specials.
Wendy sings live on Thursday*, Friday and Saturday nights - booking is essential for these nights (* only upon request from larger parties). Sunday we have our hugely popular Thai Buffet. The restaurant is open all day throughout the week, as is our takeaway service.
---

This venue can cater for functions and events...find out more

Find the best deals for Hotels in Didsbury...click here

This company offers a takeaway service...find out more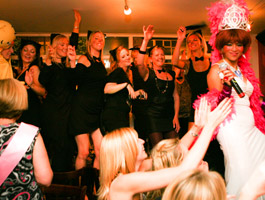 Louise Manchester
...Been to Wendy's 3 times since Xmas LOVE the place!! Wendy is fab!! If u love a bit of wild fun and to sing your heart out this is the place to be!! See u soon Wendy xx ...
Contact Details
210 Burton Road
West Didsbury, Manchester. M20 2LW

0161 445 5200
Shout "I saw you on Onionring!!"
Opening Hours
| | |
| --- | --- |
| Monday | noon-2.30pm, 6pm-11.30pm |
| Tuesday | noon-2.30pm, 6pm-11.30pm |
| Wednesday | noon-2.30pm, 6pm-11.30pm |
| Thursday | noon-2.30pm, 6pm-11.30pm |
| Friday | noon-2.30pm, 6pm-12.30pm |
| Saturday | 6pm-12.30pm |
| Sunday | 6pm-11.30pm |
Facilities





Offers
Events
REGULAR

EVENT
Every Thursday*, Friday and Saturday night from the much loved "Crazy" Wendy. Crazy Wendy will entertain you with her rendition of Elvis Presley, Tom Jones & Shirley Bassey hits. For more infomations read reviews on the Thai E Sarn Website Click here She serves up a feast of musical hits from her Memphis idol. "I love Elvis and I want to sing like him to make my guests happy and show love to them," she said from her restaurant in...
<
CLICK HERE FOR MORE INFORMATION AND TO BOOK
>
Recommendations
Louise Manchester

Been to Wendy's 3 times since Xmas LOVE the place!! Wendy is fab!! If u love a bit of wild fun and to sing your heart out this is the place to be!! See u soon Wendy xx
Manchester





Had a brilliant night at Crazy Wendys on Friday. This was my second time and can't wait to go again.
Jacqueline Crowther Stalybridge





An absolute hoot, an experience not to be missed :)
Theresa Stockport



Good night out. This is definitely a hen party type venue. Karaoke at the tables and then Crazy Wendy mingling with the diners and singing. Disco faves on the dance floor. Set menu food surprisingly good. Being searched on the way in was off putting. If you want to pay for everything at the end of the night they keep your debit card behind the counter until you finish.
Gemma - Stockport





Fantastic food, fantastic night! Don't ever stop what you do as its just a brilliant night out for everyone!
Deborah, Greater Manchester




Went to Crazy Wendy's on Saturday evening, and was amazed. The food was good, but the entertainment was brilliant! Dancing on the chairs all night - didn't want to leave!
Laura Doherty





I had such an awesome time at crazy wendys - wendy and the staff were amazing. Its fun for all the family and a fab night out for a group of friends. Booking my birthday there for another great night! cant recommend this place enough! And dont believe what you hear about the food - its gorgeous
Freddy

We celebrated my girlfriend, Ashleighs, birthday with Wendy just the other day - it was wicked! Some classic tunes and Wendy's dresses were beautiful. We really enjoyed Wendy's entertainment package and the atmosphere was perfect for a fun night out for all ages. Great food, great staff, great Wendy! Woooooh!
Bring on round two!
Lynn - Manchester





Had our Christmas Do at Crazy Wendy's last Friday - the best night ever!!! Eating, drinking, dancing on the chairs and singing what more can you ask :0)
Tammie Timperley

Fantastic food, great atmosphere! xx
Debbie Southall Romiley





What a brilliant place. Food was lovely, atmosphere was fantastic and the staff were so efficient. We had a great time before Wendy came on, but the night got even better when she started to entertain. Great night!
Alex Bennis





Best night I have ever had. Good food and extremely entertaining. I will definitely go again!
sarah rossendale

attended a birthday meal at crazy wendys wasnt really looking forward to it as i usually hate karaoke, but had such a laugh!! really good atmosphere and found a new love for karaoke now! food was nice2!!
Laura, Cheshire




Totally agree. We went for a friend's birthday and had a fantastic night. SO MUCH FUN! The food was delicious, service excellent and the atmosphere- well, it was special and a sense of occasion. You must go once- especially with friends visiting they will remember it! A year on we still laugh about it
Shelia Delve of Brooklands





Dont believe any negative reports on this restaurant. i did, and i wasn't looking forward to it. however, it was faaaaaaaaaaaantastic - the food was gorgeous and plentiful, the staff were amazing and we had a brilliant time. we varied in age, from 26 to 63 - it didn't matter. what a great place, what a great night out - entertainment was real good fun. can't wait to go again.
Updates
Is this information about correct?
Please tell us about any omissions or mistakes on this page...
click here to submit an update.
If you own or run this venue and would like to get more customers from onionring...
click here