| | | |
| --- | --- | --- |
| | | |
Home > Restaurants > Liverpool > Hoylake Restaurants > Julian's Restaurant
Julian's Restaurant
International, British
[show 24 more photos]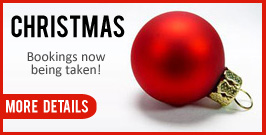 Julianís is in itís tenth successful year. It is owned and run by Julian (Chef) and Jackie Davies (Front of House).
ITíS ALL ABOUT THE FOOD at Julianís. A bistro-style, intimate restaurant serving fresh, honest, home made British Cuisine. Julianís has earned a reputation as one of Wirralís finest restaurants with mouth watering, innovative cuisine and friendly, professional, attentive service. Catering for all Allergies / Vegetarians / Vegans.
TAKE A LOOK AT OUR MENUS. You are sure to find something you fancy. If not, tell us when you book and Julian will do his utmost to create your favourite meal.
Julian's is available for private special functions. Social Groups, Birthdays, Anniversaries, Christenings, Funerals etc, with menus to suit your taste and budget.
Julianís holds Quzine Nights (usually the last Sunday of the month). Keep your eye on our home page and menu section for details. A fun night with a theme, 4 course meal and quiz for just £24.95 per head. We have had Titanic, Burns, French, Egyptian, Cheese, 1920ís.
Julian also holds Sunday Master Classes. Four hours of hands on culinary fun, and learn some tricks of the trade along the way. Enjoy a cheeky glass of wine at the end when you and a friend can sample the delights you have created. Just £70 per person (two people per class), with a £20 meal voucher included).
Follow the link and like our Facebook page for news and offers. Gift vouchers are available Ė (Please ring to purchase).
Open Tuesday to Saturday from 6pm. Closed Sunday and Monday.
To book a Table, Master Class or have any queries PLEASE CALL 0151 632 6241.
---

This venue can cater for functions and events...find out more

Find the best deals for Hotels in Hoylake...click here

This company can cater for your events...find out more
Contact Details
20 Birkenhead Road
Hoylake, Wirral . CH47 3BW

Tel: 0151 632 6241
Say "Mel from Onionring sent me"
Opening Hours
| | |
| --- | --- |
| Monday | Closed |
| Tuesday | 6pm last orders 9 pm |
| Wednesday | 6pm last orders 9 pm |
| Thursday | 6pm last orders 9 pm |
| Friday | 6pm last orders 9.30 pm |
| Saturday | 6pm last orders 9.30 pm |
| Sunday | Closed |
Facilities




Offers
Events
REGULAR

EVENT

JULIAN AT HOME: How would you like a Professional Chef cooking for you and your guests at home. Now you can with JULIAN AT HOME. Please call us and speak to Julian for more details.

<

CLICK HERE FOR MORE INFORMATION AND TO BOOK

>

REGULAR

EVENT

On Sunday mornings from 10am to 2.30pm, Head Chef Julian passes on some of the skills and knowledge he has picked up over his many years in the industry. Students are also given a £20 meal voucher when they leave, only two people per class. Usually students will prepare a three course meal with home made bread and spun sugar. £70 per person. Call to book. *No cooking experience necessary. *Makes a great present for Birthdays, Christmas and Anniversaries.

<

CLICK HERE FOR MORE INFORMATION AND TO BOOK

>

December
1

Sunday 01 December 2013 to Tuesday 31 December 2013

Celebrate Christmas at Julian's, in Hoylake, in affordable style! With friends, family and colleagues, your Christmas can now be extra special with our fantastic menus. Booking early is advised as there are limited spaces available.

<

CLICK HERE FOR MORE INFORMATION AND TO BOOK

>

December
31

Tuesday 31 December 2013

Come dine at Julian's this New Year with our fantastic special occasion menu at a fantastic price. Be sure to secure your booking soon as places are limited!

<CLICK HERE FOR MORE INFORMATION AND TO BOOK>




Recommendations
Malcolm & Cheryl . Wallasey
5





Always excellent. Been a regular visitor over the years.
Will miss you. Best wishes to you both.
kimberley, wirral





Love this restaurant!Great little gem. Food is always spot on. Staff are so friendly, Julian is a gentleman. Great value for money.100% recommend it :)
si oxton





Definitely one of the best restaurants we have been too... fantastic food, fantastic service, and in my opinion, great value for money. Fresh ingredients ( which is a big plus in my book) and those filled roast potatoes are to die for!
I've recommended countless people there, and they say the same... faultless food.

I will be booking Xmas day too, as last year we couldn't get in (fully booked) but the year before was perfect, and better and cheaper than other high end eateries in the NW, i've tried dozens, and food is my passion.
Lovely, it's like visiting old friends.

alistair & Gill Meols





visited Julians on many occasion, both with family and friends. never been disappointed with the food or the service. excellent quality and cooked beautifully. the staff are fab and very helpful. Its the only place we've been too and treated just like old friends from day one. 100% recommendation
David, Greasby
We went to Julians on the back of a recommendation and we are glad we did. The food was amazing, the service excellent and all at a ery reasonable cost too. 'Fine Dining' is what this place is all about and we are happy to share our recommendations with you!
Gail Richards, Ellesmere Port





My friends and I went to Julians Restaurant last night and had an absolutely wonderful meal. Everything was cooked to absolute perfection. The ladies who greeted us were very frindly and polite and looked after us all very well. Towards the end of the evening Julian went round each and every table to talk to all of his customers which was a lovely thing to do. This was only my first visit to this delightful restaurant but it will definitely not be my last, I can't wait to go again. Thank you for a brilliant evening.
Michael - Wallasey





We went last night and had a fantastic meal! Everything was cooked to perfection! I had the lamb Henry which was perfect! The waiting on staff were very polite and it was great to see Julian going round the tables chatting to customers!! I have also been on Julians masterclass and would highly recommend it! It's a fun day and I learnt loads!!
Dan





What a fantastic meal! The Lamb Henry was hugh and the tasty dish I have had for ages. Great to see Julian going around and speaking to all the guests.
Really nice, friendly restaurant - loved it.
Rhian Chester





My Birthday Meal x x
Julian's a lovely small Restaurant to go to. I had spoken to Julian on the phone at 1st he could not fit us in, but took my mobile number and if cancellation would ring me back. He rang back on the Sat and offered us a table, with glad we took. In the previous conversation we mention we were coming from North Wales. He is very friendly and spoke to every table. We had a long chat with him, with his welsh connections and of course he uses a Welsh butcher in Denbigh which isnít fare from Ruthin. Of course we had the Welsh Lamb which was Bendigedig Excellent!! :o) x x
Very nice Birthday meal and Julian gave me a Choc cake. Diolch yn fawr iawn, thanks
Rhian, John a Veronica Roberts
Chester and Ruthin xx

Chris Thomson, Lincolnshire.





Have eaten at 'Julian's' three or four times now. What a great restaurant! Top menu, top service, top cooking in a lovely friendly atmosphere! What else do you need? Get along and try it for yourself. It's one of Hoylake's great little secrets!
Helen Smith
As a regular diner at julian's, I felt it high time to add my recommendation. The restaurant is superb value for money, with generous portions and excellent quality food. They use the freshest seasonal ingredients to compliment the menu. They serve some of the best steaks around and the freshly baked warm bread is a real treat. The melting chocolate dessert is not to be missed! The wine list caters for all tastes and is well priced also. The service is second to none, with friendly and professional front of house staff. All in all Julian's is a wonderful dining experience.
PAULINE ELLIS NELSON LANCASHIRE





I have been to Julians Restaurtant with my family quite a few time its the best food i have tasted and not too dear. Nothing is too much for the staff.Well done
Janis, Wallasey





We visited Julians for only the second time last night and feel I have to come on and write a review.
After my first visit, as well as the delicious food, one thing I did remember was that after my starter and main course, I didnt have any room for one of the tempting sweets, so this time I decided to leave the starter.
After some beautiful home made bread, our main courses were brought over. I chose the veggie option but my mum had some lamb which she said was cooked to perfection. The seasonable vegetables that came were beautiful.
Even without starters, we had to wait a while for our meal to settle until we had room for our sweet - I chose an absolutely divine chocolate pudding which melted in my mouth - my mother chose the 'not to be missed' bread and butter pudding which she asked if they do deliveries!!!!
We cannot recommend Julians Restaurant enough, we left feeling fully satisfied, both with the quality and amount of food served, and also by the friendly but efficient waitresses and manageress. It was also an added bonus to meet the owner/chef, Julian, who says he makes a point to come out and meet his diners to ask for their opinions.
Fabulous night out - will be going back soon.
Dave Woodward - Liverpool





Thank you Julian and your front of house team. We had a fantastic night on Fri'. The service and food was excellent we'll be back to see you soon....
Updates
Is this information about correct?
Please tell us about any omissions or mistakes on this page...
click here to submit an update.
If you own or run this venue and would like to get more customers from onionring...
click here