Home > Restaurants > Cheshire > Crewe Restaurants > Chiangmai

All-you-can-eat
Chiangmai
Thai
[show 4 more photos]
The restaurant is beautifully decorated in authentic Thai style. Offering a spacious, relaxed environment to enjoy your meal with us.
We have a top chef straight from one of Bangkok's 5 star hotels along with a dedicated and professional management team. Our staff will ensure you receive a warm welcome and friendly, efficient service.
All dishes are made fresh with the finest ingredients available. You'll expereince the sensational flavours of Thailand.
Every Sunday we have our hugely popular Sunday buffet, with a wide range of the most popular dishes from our new and exciting menu which changes every week. All you can eat for just £7.95pp. Children half price.
---

This venue can cater for functions and events...find out more

Find the best deals for Hotels in Crewe...click here

This company offers a takeaway service...find out more
Share this: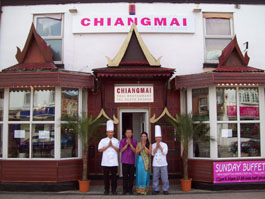 Clare, Wistaston
...Myself and husband went here for the first time to try the buffet. It was quite quiet so they explained they would cook the food as we ordered it but we could still have as much as we wanted! The food was amazing - the freshness of ingredients was obvious, the meat was good quality and the sauces......
Opening Hours
| | |
| --- | --- |
| Monday | Closed |
| Tuesday | 12:00-14:30 & 17:30-23:30 |
| Wednesday | 12:00-14:30 & 17:30-23:30 |
| Thursday | 12:00-14:30 & 17:30-23:30 |
| Friday | 12:00-14:30 & 17:30-23:30 |
| Saturday | 12:00-14:30 & 17:30-23:30 |
| Sunday | 12:00-21:30 |
Facilities
Disabled Toilets. Licensed. Private Parties. Takeaway Service. Wi-Fi Internet. Vegetarian Options.




Offers
Recommendations
Clare, Wistaston





Myself and husband went here for the first time to try the buffet. It was quite quiet so they explained they would cook the food as we ordered it but we could still have as much as we wanted! The food was amazing - the freshness of ingredients was obvious, the meat was good quality and the sauces were delicious! The chicken soup was a meal in itself and was so nice I know I will be ordering take away from there if only to have more soup! If you order take away and collect you get 15% off so from now on any take always will most definitely be from there. A lot of the Chinese take always in crewe have a kind of "powdery" taste to their curry so you know it's just packet mixes but this place is not guilty of short cuts. You have got to try this place - you will be converted and very glad you went! Can't wait to go back!
merseryside




Came here last night,It was my 1st time ive tried Thai food,and have to say it was fantastic. I would defo recommend this place,staff very helpful and friendly as well.
Rachel Crewe





Went to the Chiangmai on the 31st August with some friends, the food is excellent, one of the nicest Thai meals I have ever had. The people are lovely, nothing is too much trouble. Overall an excellent evening, highly recommend this restaurant!!!!
Liz and Ad
This is a really authentic Thai restaurant producing consistently fantastic food, with really friendly staff. The pad thai, green curry, laab and papaya salad are all amazing. We have had a number of take aways which are always super tasty and excellent value for money with a reduction of 20% off the normal menu. I'd definitely recommend Chiangmai to anyone who wants to experience authentic Thai food. Also, I've not seen Crazy Wendy yet but I've heard she's an experience in herself!!
rachel




18/3/2012 mothers day, first time to this thai, staff very friendly and polite, food excellent, will be coming here again
M.Vaughan Wrexham
Been to many Thai restaurants in the our area and Thailand itself and must say this restaurant is a little gem! We passed it travelling through Crewe a few weeks ago and thought we'd go for mothers day...absolutely delicious, staff were brilliant, especially with our 1 yr old daughter who was getting fed up after her food was demolished...the owner entertained her and kept her amused so we could finish our drinks...so impressed we have booked for Thai new year...a1!!!
carl from portsmouth





we ate here on the 28th august from the sunday buffet at 7.95 per head. the food was lovely and the service was very good. despite itbeing very quiet when we entered and it wasnt totally clear what we had to do from the all you can eat buffet when the food arrived all that was forgotten and we thoroughly enjoyed the night. the food was always cooked to order and arrived well presented.
thank you for an enjoyable evening
Timothy Chappell, Dundee
I went in there at 11am today, explaining I had less than an hour as I needed to catch a train. They had a delicious one-course lunch in front of me within 10 minutes. I made my train comfortably. I've been before, and I'll definitely go again.
Michelle, Wistaston




I found the staff incredibly helpful and friendly. We ordered a takeaway which was ready when we were told it would be the food was great. Unfortunately one item was missing, but they went above and beyond the call of duty to ensure that the item was delivered and even a little extra as compensation.
Pearl, Crewe




We were pleased to hear the restaurant had re-opened so went along for Sunday Buffet. Bit dissapointed with the starters but enjoyed the main courses. Wine and beers were reasonably priced and the service was very good. Will go again as their is plenty of choice and the prices are reasonable.
JD Crewe





I have now eaten several lunch time dishes and also a sunday buffet at Tim Thai. The food is fantastic and easily on a par with the Lac Thai (at a fraction of the price). The ingredients are fresh and the flavours subtle. The service is excellent with willing polite staff. And at prices that rival fast food chains, this is a clear winner in my book and a must try for Thai food newbies.
David,Congleton




I went with my wife and daughter on 31st January
for the scrumptious Thai buffet at Tim Thai.
We were greeted warmly on arrival- I was introduced to a new Thai beer and we all tucked in with relish to the generous choice of food on offer in the buffet. An absolute bargain -decor is really Thai and I liked the background Thai music played at low volume.
You simply must go to this restaurant.

chatterley congleton
12/12/09. This was our visit to Tim Thai and we had an excellent time. The restaurant itself is very nice with an open style kitchen and the service was both gracious and attentive ( like being in Thailand ). However, the most important ingredient, of course, is the food. As lovers of Thai food, we had a great meal. We decided on the Set Menu B and it exceeded our expectations.Complimentary two types of Thai prawn crackers with dipping sauce. Excellent mix of delicious Thai starters,really aromatic spicy chicken soup and then duck in red wine sauce, fish in Thai sweet and sour sauce,king prawn with cashew nuts and massaman chicken curry....all delicious ( loved the crispiness of the fresh vegetables ) and very generous portion sizes. I would highly recommend Tim Thai.
Pearl, Crewe





November 8th 2009. Three of us had Sunday Buffet here today. Food was excellent and at £7.95 was very good value. Service was very good and staff very pleasant. The drinks were very cheap, they even had bogof on some beers. We had been to this restaurant previously but weren't impressed but is under new management and is excellent. Looking forward to going again
Updates
Is this information about correct?
Please tell us about any omissions or mistakes on this page...
click here to submit an update.
If you own or run this venue and would like to get more customers from onionring...
click here