| | | |
| --- | --- | --- |
| | | |
Home > Restaurants > Cheshire > Chester Restaurants > Cock O Barton
Cock O Barton
International, British
[show 10 more photos]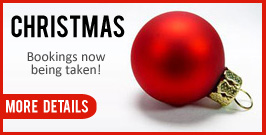 Nestled on a long, winding country road through the heart of Cheshire, sits a legendary watering hole; one known since the 14th century to discriminating farmers, merchants and travellers. The Cock O'Barton is an acclaimed, country venue combining a contemporary feel but with traditional values; serving superb, locally produced food in a warm, laid-back and stylish environment.
The original pub is now the dining room and the modern extension houses a beautiful and airy bar and lounge complete with fire places and glorious arm chairs. The summer courtyard offers a sheltered and heated dining area for the warm summer evenings, brought to life with fountains, plants and soft music.
The private dining room lies to the back of the courtyard and offers its own menu and atmosphere to make a very special evening. Its stunning hunting lodge theme and private terrace produce a special ambience for parties and dinners with a breathtaking view of the Welsh countryside.
The restaurant offers both a lunch and a la carte menu, these are inspired by local produce and complimented by a comprehensive wine list.
Sundays are celebrated with a traditional Sunday lunch and Sunday menu. The bar offers a selection of wonderful cask ales, lagers and bitters, thirst quenching cocktails and a large variety of whiskys.
During its first year The Cock O Barton has won and been nominated for several awards both locally and nationally. It is our intention to maintain and increase these high standards in service and quality. We look forward to serving you.
---

This venue can cater for functions and events...find out more

Find the best deals for Hotels in Chester...click here
Candy Wrexham
...we booked a table of four for a birthday celebration. Staff were very friendly, food was fabulous. We had a very enjoyable afternoon. We will definately return....
Contact Details
Barton Road, Malpas
Cheshire. SY14 7HU

Tel: 01829 782277
Say "Mel from Onionring sent me"
Opening Hours
| | |
| --- | --- |
| Monday | closed |
| Tuesday | 12 till 12 |
| Wednesday | 12 till 12 |
| Thursday | 12 till 12 |
| Friday | 12 till 1.30am |
| Saturday | 12 till 1.30am |
| Sunday | 12 till 12 |
Facilities




Offers
Events
November
27

Wednesday 27 November 2013 to Tuesday 31 December 2013

Festive menu available from Weds 27th Nov. £27.50 for three courses from 12 noon till 9pm Tuesday to Saturday. We are taking bookings for partied of 2 to 200 in our restaurant, bar area and private dining room. Do you have a large party and fancy exclusive use of the venue? Choose a Monday and have exclusive use of the whole venue no hire charge! £5 deposits are required to secure the booking (non-refundable). Food pre-orders are required. If you are interested in booking please contact...

<

CLICK HERE FOR MORE INFORMATION AND TO BOOK

>

December
1

Sunday 01 December 2013 to Tuesday 31 December 2013

Cock O'Barton have a mixture of events taking place over the Christmas period and we would love for you to come and join us! Download our PDF to learn more about what is going on at the end of 2013.

<

CLICK HERE FOR MORE INFORMATION AND TO BOOK

>

December
25

Wednesday 25 December 2013

Cock O Barton would like to wish everyone a Merry Christmas and hope you can come join us on this special day.

<CLICK HERE FOR MORE INFORMATION AND TO BOOK>




Recommendations
Candy Wrexham
4




we booked a table of four for a birthday celebration. Staff were very friendly, food was fabulous. We had a very enjoyable afternoon. We will definately return.
Sarah



We booked a table for 8 today due to the childrens offer of buy one meal, get one free. It was amazing quality food, a great place and a great price - we will be back frequently for this offer!!! Thank you for great service today.
Daniel





Fantastic. Took the kids, really nice friendly welcome, great big table, kids entertained by colouring in and felt they were happy to have us, unline some places. Food was really good, had the Tandoori Coley, beautiful. Really impressed, recommed to all.
Luisa Heaton
My husband Tim and I had a wonderful lunch at yours on the 9th to celebrate my birthday. The food was perfect as always and thank you for my complimentary glass of bubbly with the preserved hibiscus which was absolutely delicious, and something I had never tasted before.
John Ryder Darwen





Birthday party at the Cock O' Budworth, with quite a lot of people. The Buffet was perfect and very fresh, and the sweet (trifle) was delicious. The Staff were very friendly and attentive and worked very hard to keep the food and party flowing. We sat in the conservatory looking out to a lovely patio area and garden with lots of room for children to play. Bar staff were very helpful even though they were busy. A wonderful place for a Birthday Pary in a lovely area in Cheshire.
Amanda Corbett Threapwood





Thank you Matthew and staff for a fantastic meal last night. The food and service was second to none. Looking forward to seeing you, your staff and The King Bees in a few weeks time.
Luisa Heaton, ridley





14 of us had a great dining experience at the C o B on Saturday night (10th July). The menu was tantalising and the food perfectly cooked. The staff was polite, friendly and efficient. All in a very attractive setting!
We had a similar great-all-round experience there the previous month at the Canonbah Wine Dinner when the food, wine, service and atmosphere could not be faulted.
Danny





Fantastic place, loved the building but not quite as much as the sharer fish platter - top stuff!
Rich





What a fantastic place, busy with a nice atmosphere. Good service and welcome, Sunday menu - with a burns night twist had a number of good options. I had the beed roast which was one of the best I have had! The venue looks fantastic - great find!
Chester





Recently dined at the Cock O Barton to celebrate our friends birthday. Vicki and Wayne invited us for supper with 20 others.
It was the first visit for us.
From start to finish the evening was a delight. It is a long time since I have received such service and good food, and I eat out a lot.
From the greeting at the front door by the staff, to James's welcome and presentation in the dining room, through the attention to detail and great food, the whole evening was a delight.
Dedication at every level to making sure we were looked after.
I cannot say enough about the staff, James and the environment. Go try it. Try the Chrsitmas Poussin and feel the genuine warmth of a top class
restauarnt.
Thank you to you all at the Cock O barton.

Mrs. Susie Barker





What a lovely evening we had with you on Saturday night. The atmosphere was brilliant, the staff were lovely and the food was superb! Would definitely recommend you to friends. Hope to come again soon when we next come to stay with our son. Many thanks.
Colin Ashwood





I have just read the review below (eric) and wanted to add my opinion.
It is not often I receive service as good as that Jane and James gave on Tuesday night. The restaurant was busy and all the staff worked hard to look after us. My food was good (seabass), my wife´s was excellent.(Ribeye)
We did not book in advance, but somehow they managed to squeeze us in with professionalism and charm and then offered top class service and quality food to make our anniversary a lovely occasion.
We sat in the corner an watched professionals at work. The staff then offered to drive us home if we could not book a taxi.
No wonder there were no tables free on a Tuesday...
Thank you.
Catherine , Northwich





This is such a great place, service is excellent and the food great.
I can not recommend this place enough, especially for special occasions.
Adam, Chester





We have eaten here on numerous occassions since the refurbishment. The setting and ambience are fantastic, the contemporary decor is relaxing and comfortable. The food is second to none and probably the best in the region. The service is always attentive and nothing seems to much trouble. I highly recommend you visiting the Cock o' Barton for a meal to remember.
DM




Fantastic place, I love what they have done with thr building. It's bright, modern yet welcoming. Excellent wines and food.
Luisa Heaton, Ridley, Cheshire





My husband and I had lunch here today and the whole experience - the contemporary decor, the service and the superb food - was pure pleasure!
Updates
Is this information about correct?
Please tell us about any omissions or mistakes on this page...
click here to submit an update.
If you own or run this venue and would like to get more customers from onionring...
click here