| | | |
| --- | --- | --- |
| | | |
Home > Restaurants > Liverpool > West Kirby Restaurants > Scogs
Scogs
International, British, Seafood
[show 29 more photos]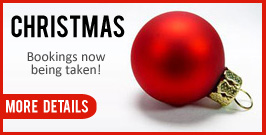 Scogs is a contemporary restaurant located in the very heart of West Kirby just yards from the beach and marine lake. Offering a wide range of dishes it is the perfect setting be it a quick coffee, breakfast with friends, a leisurely lunchtime indulgence, intimate dinner or evening cocktails. Our menu is bursting with choice and variety to suit all tastes and budgets.
The surroundings are luxurious and it's clear no expense has been spared; there is a fine attention to detail. The restaurant combines this with a relaxed, welcoming atmosphere.
The menu is crafted by the highly training kitchen staff from the finest ingredients, sourced locally where possible.
Come and enjoy a coffee and pastry, a drink and light meal in the early evening or a more formal meal.
Private functions - Weddings, birthdays and events of all kinds can be catered for and exclusive use of the restaurant is available for up to 50 people making Scogs the perfect place for your party. Our Head Chef will design a menu around your budget and theme.
jason Cummins
...Had a very enjoyable dining experience at Scogs. The food was fresh and tasty, and the menu was varied and impressive. The staff were also friendly and effecient,I would definitely eat there again....
Contact Details
34-36 Banks Rd, West Kirby
Wirral, Merseyside. CH48 0RD

Tel: 0151 6257579
Say "Mel from Onionring sent me"
Opening Hours
| | |
| --- | --- |
| Monday | 10am-4pm |
| Tuesday | 10am-4pm |
| Wednesday | 10am-4pm |
| Thursday | 10am-10pm |
| Friday | 10am-10pm |
| Saturday | 10am-10pm |
| Sunday | 10am-4pm |
Facilities
Outside Seating. Disabled Toilets. Licensed. Private Parties. Takeaway Service. Vegetarian Options.




Offers
Events
November
28
Thursday 28 November 2013 to Wednesday 01 January 2014
Experience a wonderful Christmas meal at Scog's from 28th November until 31st December and make this year a special one. With seasonal produce and mouth watering dishes, you are sure to enjoy! Starter & Main: £14.95 before 6:30pm £17.95 after New Years Eve - £49.95. Stunning 4 Course menu.
<
CLICK HERE FOR MORE INFORMATION AND TO BOOK
>
Recommendations
jason Cummins




Had a very enjoyable dining experience at Scogs.
The food was fresh and tasty, and the menu was varied and impressive. The staff were also friendly and effecient,I would definitely eat there again.
West Kirby





Best customer service Ive ever had. Friendly, helpful and service with a smile!! Food is superb too. Id recommend this resturant to anyone.
Barry Jones
WONDERFUL, all three courses from starter to dessert. In particular the beef in the Tournado Rossini was cooked to perfection. The evening was further complimented by first class service provided by the lovely waitress Amy.
Shan Hoylake
Had a lovely meal here last Saturday, husband had the mixed fish grill and I the chicken in white wine sauce, will definitely be visiting again soon.
Jennifer Smith Auckland NZ





Visiting from Nz, and Aunty said lets go to this place in West Kirby, so we rattle our way out on the train from the other side of the Mersey!!
My mushroom soup was great and the Hake cooked as I like it, my boyfriend had the duck salad which he loved, and enjoyed the Hake as well.
Staff were helpful with aunty, she loved her vegetarian lunch and couldnt resist the lemon tart to finish. Thanks so much to all at Scogs
ruth brocklebank





Visited scogs on numerous occasions it definitely our favourite place to eat.The food is excellent presentation is superb but the main factor in making our visits extra enjoyable is the staff.
I have never experienced such a pleasant helpful and polite team , no matter when we have visited be it breakfast , lunch or dinner, they are always an absolute delight, well done
Richard, Warrington





A fantastic venue serving fantastic food at reasonable prices. Being situated in West Kirby allowed us to walk off our meal in a lovely setting.
Rupert from Southport





Our first visit to West Kirby & after a walk round the Marine Lake we stumbled upon Scogs - what a find! We had the 2 courses for £11.95 & it's a great deal. Food was fresh & delicious, as were the surroundings & staff. We'll be returning to W Kirby, even if it's just to visit this marvellous restaurant. I highly recommend.
Amy, Wirral





i love scogs i go all the time i think the staff are so friendly and very chatty, they always remember us when we go in! we recommend it to everyone we no and all agree its a fab place for a meal out or just a scone in the day.
i have never had a disappointing experience at Scogs its definitely 10/10 on food drinks and service!
and last but not least i sincerely recommended the full breakfast its amazing!!
Thanks Scogs x x x
John Wirral
My first visit to Scogs and certainly not my last. Excellent food, excellent service and excellent surroundings.
Surely the best restaurant around
Karen - Glazebrook





Visited this restaurant many times, and every occasion had a brilliant experience. The menu is varied and the food is excellent quality giving well balanced meals. Its great to sit and chill on the sofas with a aperitif and snack (we had olives on one occasion) before your meal and then there is no rush once you are at your table, so you can relax and enjoy. I use this restaurant to take out business colleagues as well as for special occasions with family and friends. Fantastic!
Claire from Croft





recently moved to the area and Food, atmosphere and surroundings are all excellent, nice comfy sofas till chill out on before and after your meal, would recommend to anyone....going again tonight!
Rachael Selby, Wallasey, Wirral





A group of us went to Scog's for a friend's birthday last night and I thoroughly enjoyed the meal there as did everyone else. I can't stop thinking about it and have raved about it to everyone today. I had the seared tuna steak and I have to say, it was the best meal I've ever had in a restaurant. Couldn't fault it at all!!! I used to live in London and having been to a fair few restaurants there, none of them were ever as good as Scog's. The staff were great and really friendly and the whole place has a lovely feel to it. Can't recommend it highly enough. Well done Scog's and keep up the great work, Rachael xx
John H Hutchinson West Kirby




We had a fabulous time last night bringing in the New Year. The food was great and the atmosphere most enjoyable.
Updates
Is this information about correct?
Please tell us about any omissions or mistakes on this page...
click here to submit an update.
If you own or run this venue and would like to get more customers from onionring...
click here