| | | |
| --- | --- | --- |
| | | |
Home > Restaurants > Liverpool > Liverpool Restaurants > Christakis Greek Taverna
Christakis Greek Taverna
Greek, Mediterranean
[show 17 more photos]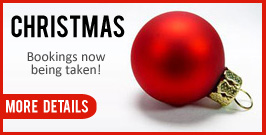 Christakis prides itself on its friendly service (Chris himself is always there to greet you) and its excellent Greek cuisine -- delicious home cooked food is prepared by Greek Cypriot Chefs.
The food is priced at very competitive rates, starters from £2 - £4 and main courses from £8 - £12 with a good range of food for fish lovers and vegetarians. The early evening menu available 5pm – 7pm offers exceptional value with 3 courses for £9.95.
The wine and drinks list is more than adequate with a selection of 26 bins of wines and a good choice of spirits, liqueurs, brandies, cocktails and coffees. Christakis makes the ideal venue for a weekend fun-filled party or filling meal during the week.
... one of our reviews...
'went to christakis for a night out with a group of girls, wasn't what we expected as it was very lively and we had lots of fun!! the staff are all very friendly and are always there to help. would definitely go again as we enjoyed all the show and the music, which included the belly dancing and plate smashing etc.'
---

This venue can cater for functions and events...find out more

Find the best deals for Hotels in Liverpool...click here
Liz, March, Cambs
...Wonderful meal from start to finish. Would recommend to anyone looking to enjoy an authentic Greek meal....
Contact Details
7 York Street
Liverpool. L1 5BN

0151 708 7377
Say "Mel from Onionring sent me"
Sun-Thurs
Sharing Platters from £23.90 for 2 people, includes starters! *Additional diners from £11.95 per head
...CLICK HERE FOR THE MENU
Opening Hours
| | |
| --- | --- |
| Monday | 4-12pm |
| Tuesday | 4-12pm |
| Wednesday | 4-12pm |
| Thursday | 4-12pm |
| Friday | 4pm-2am |
| Saturday | 4pm-2am |
| Sunday | 4-12pm |
Offers
Events
REGULAR

EVENT
Every Thursday till 2am. Dinner & Dance Just £15 per head with 1/2 litre of wine free for every lady.
<
CLICK HERE FOR MORE INFORMATION AND TO BOOK
>
November
26
Tuesday 26 November 2013 to Monday 30 December 2013
Special Christmas menu and party nights with greek dancing and the show - click the link for details. Also dont forget the £7.95 early menus on weekdays!
<
CLICK HERE FOR MORE INFORMATION AND TO BOOK
>
Recommendations
Liz, March, Cambs





Wonderful meal from start to finish. Would recommend to anyone looking to enjoy an authentic Greek meal.
Gillian Peters





Best Greek restaurant in Liverpool! Had a brilliant time last Saturday night at my friends hens do. Great food, great show and the staff were really friendly!
Mark
The best Greek restaurant in Liverpool, the finest in North West!!!
Andy from Liverpol





We were there to celebrate my wife's 40 birthday. What a night to remember!! Great show , every one dance on the Zorbas steps and the fire dancing was amazing as well. By far the best Greek Restaurant in Liverpool, value for money and excellent food.
Marina





Very nice food for a great value, fantastic show, very friendly staff! thanks Christakis, we definitely will be back!
Marco





Brilliant,lovely food,excellence christakis Greek cuisine.I had a nice night,i shall be back.
lin & paul Liverpool
Fantastic food, very good service, we would highly recommend a night here.
Mr Williams
Best night ever!! Lovely meals,nice show,greek dancing amaizing! The belly dancer,excellent.We will be back,thanks Christakis.
Christina Love
Christakis Greek Taverna is the best Greek Restaurant in Liverpool..the best in the North West...FACT... Great Food. Great Atmosphere. Amazing hospitality from Chris and all his staff.....
Dave K, Liverpool




it was a great night, loved the food and the show was brill, deffo going again!!!
Tim, Liverpool city centre
Fantastic food everytime. Instantly takes you back to the good times of your last summers holiday. Great staff make all the difference. As a regular i would have no hesitation in recommending at least one visit to this very welcoming and friendly run taverna!!
Julie Rattigan
The only place to come for fantastic food, service and fun !!!!!!!!!!!!!!!!!!!!!
Carl Fleming
Best Greek restaurant! I had the KLeftiko and my wife the Afelia pork,lovely as always,highly recommended.
Peter
I have been at Christakis after it was highly recommended. One of the best nights i ever had!the food is fabulous,and the service so friendly. Also value for money,and big portions!!.
Updates
Is this information about correct?
Please tell us about any omissions or mistakes on this page...
click here to submit an update.
If you own or run this venue and would like to get more customers from onionring...
click here