| | | |
| --- | --- | --- |
| | | |
Home > Restaurants > Cheshire > Warrington Restaurants > Spirit Restaurant
Spirit Restaurant
Modern
Spirit Restaurant in is one of the best kept secrets in Warrington. Set within an elegant Georgian manor house in Victoria Park Warrington with great views overlooking the park, yet only five minutes from Warrington town centre.
---

Find the best deals for Hotels in Warrington...click here
Mark ireland
...I can only describe spirit as a 'HIDDEN GEM' fine dining at its best. From the greeting on arrival to the great service and food to die for. If you want class then spirit oozes it. ...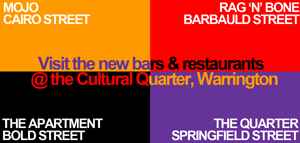 Contact Details
Victoria Park, Knutsford Road
Warrington, Cheshire. WA4 1DQ

01925 23 25 27
Say "Mel from Onionring sent me"
Opening Hours
| | |
| --- | --- |
| Monday | closed |
| Tuesday | 1200-1430 / 1730-2300 |
| Wednesday | 1200-1430 / 1730-2300 |
| Thursday | 1200-1430 / 1730-2300 |
| Friday | 1200-1430 / 1730-2300 |
| Saturday | 1730-2230 |
| Sunday | 1200-1600 |
Facilities



Recommendations
Mark ireland





I can only describe spirit as a 'HIDDEN GEM'
fine dining at its best. From the greeting on arrival to the great service and food to die for. If you want class then spirit oozes it.
Christopher & Ester Skelland





'An absolutely perfect wedding venue! We had our ceremony and reception at Park Manor in January 2012. As a venue it is absolutely gorgeous and the exclusivity that it offers makes it even more perfect. Our guests had no issues finding accommodation close by. We found all dealings with Prague (owner) to be honest, personable and professional. He was also extremely accommodating and kept all promises. This enabled us to feel completely relaxed in the run up to and on our wedding day as we knew we were in great hands. Everything about the day was perfect. From the ceremony, the running of the day, to the reception and the food was gorgeous. So many of our guests have commented to us that it was the best wedding they had been to and without Park Manor and their great staff we would not have had the most perfect day. So thank you.
Pauline, Warrington





You know when you enjoy somewhere so much you build it up in your memory, and then when you go back it is a bit of a disappointment - well at Spirit the opposite happened - it was even better than I'd remembered!
The fresh colours and artisitic presentation of my starter of grilled asparagus with goats cheese and romesco sauce made it almost too beautiful to eat - I actually gasped when it was presented to me. When I got over myself and eventually did tuck in the flavour matched the presentation - clean and fresh and intense.
To go with the delicious food you get service that is friendly and relaxed but still very professional. I love it!
Parpot, Warrington





We had another great meal at our favorite restuarant on Friday night. The cran starter and the fillet steak along with the cheese board was fantastic, also a great bottle of wine from the up market list for amazing. Thanks once again for a great night and keep up the quality in both food & service
Leon, Manchester





I eat out a lot mainly in Manc or Liverpool City Centre and I was very pleasantly surprised of Spirit in Warrington. Off the beaten track it was a lovely venue with very modern decor inside.
I consider myself a bit of a foody and was blown away by the starter of salt beef hash with a hens egg. I have had salt beef before and was not a great fan but this was delicious, the tender meat and hens egg cooked perfectly and runny! My main of lamb as cooked to rare to medium as was exactly how i like it. Not always have a desert but went for classic choc fudge cake with ice cream i made sure i finished as it was perfect. The service was great exactly the right time bewtween courses, I have recommended this place to all my friends. Brilliant place, Mene and Parag the owners were so friendly as were the staff
Poppy, Warrington





My friend and I have just received our Hi-Life Diners card and wanted to try somewhere new to us, we saw Spirit Restaurant listed in the hand book. It wasn't to far away so we booked for a Friday evening, the moment we stepped in we were greeted warmly and made to feel both welcome and special, the service, food and atmosphere was excellent. It was a total pleasure to dine here and one we will be repeating. Our waitress Catherine was attentive but not overpowering and was happy to answer our questions on the methods used in preparing the food ( chef secrets) . Thank you for making the first use of our Dining cards a thoroughly enjoyable and cost saving experience.
tink, Warrington





Vegetarian food was amazing for me, and the non-veggies of the group couldn't give the food enough praise. If you enjoy top quality food then I recommend trying this restaurant
Nikki, Liverpool





Really gorgeous food - I've been a few times, and am never disappointed. They even use fresh mint leaves from the kitchen garden for the Mojito's - can't say that about many other restaurants. Staff are really friendly and helpful too.
Possibly has the best mash in the country!!!!!!
Asad





I had a fantastic experience at spirit restaurant. The food was absolutelly delicious and well priced, and the service was friendly and extremely helpful
M Hitchmough





Wow dined on the 9th of june where my daughter had her wedding breakfast. Food was heaven on a plate, flavours where fantastic service was friendly just perfect what more can I say.
Angie Merseyside





Visited spirt tonight, beautiful meal and surroundings. By far the best meal I have had in the northwest. Will be returning again very soon. Excellent quality food and service
Ella & Mike, Warrington
Maybe the old saying 'Good things come in small packages' isn't necessarily true! Spirit is definitely big and is a great place to go and dine. Everything is presented to the highest of standards from the interior design to the quality of food. The staff were presentable and polite, while the manager made the extra effort to attend to our needs. The restaurant also hosted a live band, which my husband particularly appreciated - being a musician himself.
Mike Newton, Manchester
You never get a second chance to make a first impression, and the moment you see the beautiful old building and its surrounding, you are definitely impressed. The interior of the restaurant also has the right amount of modern, stylish furniture and decor, mixed with original features, which complement each other really well; and makes you feel you are in a private club, rather than just a restaurant.
The staff were excellent; everyone we spoke to was friendly, polite, very helpful and made you feel really looked after.
The menu itself is an eclectic mix of traditional meals, with a modern twist, that makes it difficult to choose which of the intriguing dishes you want to try first.
We dined there on a Saturday night while there was also a live band playing. This added to an already excellent evening and created a really comfortable, relaxed atmosphere. This, coupled with amazing food, means this restaurant sets the bar very high for the whole area.
We will definitely be regular customers and I would highly recommend Spirit to anyone.
Sydney, Manchester
Our favourite in Warrington, its simply fantastic food, in a lovely building. What a kitchen they have here. By far and away the best in Warrington for us.
Jaydee, Manchester
Very calm and soothing atmosphere. Excellent food.
Chloe, Warrington
Went for a birthday meal and the food was utterly delicious. Decor and service really special. Would love to go back soon!
Foodster





I visited Spirit restaurant last night with collegues as part of a business meeting. I first went to Spirit when it first opened and was very impressed then, but due to moving to Didsbury I hadn't been back since. I have to say the food was out of this world. I started with fois gras and chicken terrine with pickled cauliflower and raisons which was really tasty and light. Everything on the plate married well together and the presentation was top notch. I then followed this with a red pepper rissotto with crayfish and herb crust. Once again really tasty , not heavy and probably one of the best risottos I have had outside Italy. This is clever cooking, well presented but not pretentious. I echo what alot of people have said on here, this place is definitely going to get a michelin star without a doubt! I have eaten and taken clients to a 2 star restaurant in Mayfair recently, and this place blows it out of the water, with a much smaller hole in your pocket. This is michelin cooking at reasonable prices.
The building is grand, but has a really warm welcoming atmosphere inside. And lastly the service was great, polite and smiley, can't really ask for more than that. I am very jealous this place isn't in Didsbury but will sure to be back alot more often.
Sarah and Mark





Myself and my fiancee would not go anywhere else ..the venue is decorated to a high standard .. if you want 2 for 1 microwave meals then don't bother as this is a dining 'experience' Prague the owner is always there to offer that special touch ..the food can not be beaten ..and we have dined at the finest restaurants. It's very competitively priced for quality food .. If you appreciate good food then look no further ..I would not entertain another restaurant in the North West.
This is why I have my wedding booked for September 2012 .. amazing venue, amazing service and above all amazing food.
Sarah and Mark xxx
John





Myself and my wife had s fantastic meal at the spirt earlier this month, what can i say but fantastic.
Ambience and the building itself are amazing, and the food and drink is top notch.
Was a little bit strange eating a wonderful meal in the building where you were born though, as in the 1970s it was a maternity hospital.
All in all outstanding and we will be returning soon.
joe





Food has to be the best in the area. On a par or probably even better than some Michelin starred restaurants we have visited. For the standard of food this is excellent value. The salt beef hash was magnificent
AJ





We had the Valentines Menu which compared to other restaurants was rather pricey, however for us was worth every penny.
The food quality was like no other in the region, absolutely delicious and of a very high standard.
This restaurant is a hidden gem and I would recommend highly.
Fiona





A great place to dine! Food is delicious , find it hard to find a restaurant these days where the food is top quality fresh and different to everywhere else . Small menu but less is more!
Tom Warrington
Went on a Friday for Christmas night out - thought it might be a bit posh and stuffy to relax and have a good time but how wrong I was. Welcomed at door by Brian, Prague was an efficient, professional and hands on manager. Staff friendly and efficient; food delicious and beautifully presented. Live jazz/swing music by two young lads on piano and drums created a relaxed, friendly atmosphere - the icing on the cake - would love to hear more of them. Can't wait to return.
Mr & Mrs Spencer





We recently celebated our Wedding and reception at The Spirit Restuarant and we must say what a fantastic day we all had. The manager Prague took care of everything nothing was too much and the food was absolutely delicious and fabulously presented. We would highly recommend The Spirit for any special occasion well done and thank you Jane & Tony
Therese Warrington





We first went to Spirit as a couple for the mid week early diner menu which is great value. We haven't stopped going since and have recommended it to friends and family who have been and it has lived up to our promises. Because the food is of a high standard it isn't cheap but I think it is worth saving up for a special treat or go for the early diner offer. It isn't like the usual chain restaurants in Stockton Heath and the staff are relaxed and helpful. Try it!
darbyshire





This evening we had an enjoyable meal with excellent service in a relaxed, clean and extremely comfortable atmosphere. The service was first class without being too formal.
Highly recommended.
Natalie, Lymm





We've been to Spirit three times now and haven't been disappointed. Excellent, food, service and surroundings.
Merrett,Chetwynd & Davenport Family





Fabulous service. Friendly staff. Special food requests for young children. Choice of high chair (proved to be very important!!) Great food, well presented. Thanks for a wonderful family outing.
Ali, Warrington





Our first visit to Spirit - can't believe we've been missing out for almost 3 years! We decided late in the afternoon to book, so got an early table. When we walked in, Brian greeted us by name - this was an early indication of the level of service we could expect all evening. The food was excellent, service (as already mentioned) fantastic, atmosphere was great - can't believe this place is in Warrington! We'll be back and we'll bring lots of people along with us. Food, service, atmosphere, price - every box ticked. Thank you so much for a lovely evening.
Walter and co.
We visited last Friday. Had a great experience here, everything was perfect; the food, the service, the restaurant itself. Would really recommend. They also had real live music; can't say that about too many places today.
Steve Foster Warrington
We visited one Thursday evening with friends having heard how good it from friends and family. We were not disappointed, from the moment we arrived outside the beautiful white mansion. As the large front opened we were greeted by the friendly member of staff, we knew then it was going to be a special experience. The interior was classy and of a high quality, we felt relaxed straight away drinking cocktails in the bar area. Our meal was excellent, every course was top rate,best in a long time. After our meal we relaxed back in the bar area, we were the last to leave as we didn't want the evening to end. The following day our friends rang to thankyou us for a wonderful evening and could stop talking about it. I can't think of any other restaurant in the Warrington area that comes close, its more than a restaurant its an experience not to be missed. We have booked again for my mums 81st birthday because she deserves the best.I would like to thank all the staff for their top service and making it a great night.
Pat. St. Helens
Dined there on Saturday with husband and friends and we had a great night. Excellent food comfortable restaurant and bar area and really good staff. Can't wait to go back!
Onionring Reviewers





We visited last Thursday with some friends to try out the a la carte menu as we had heard so much about the food here. As we drove through the park to get to Spirit, we were instantly at ease with the lovely surroundings of fields and trees instead of the usual high street view - a good start.
We were greeted by Prague at the door and taken into the lounge area for a pre-dinner drink whilst mulling over the extensive menu. During this time we noticed several other diners arriving and gave the bar a great atmosphere.
With so many great dishes on the menu we needed advice from the waitress; this helped as she had many good recommendations and even better product knowledge. Orders taken, we relaxed in the lounge, all agreeing that there are not enough restaurants who offer such a relaxing service which gets you in the mood.
Taken to our tables, we started off with some homemade breads, accompanied with salted butter (big grains of sea salt on the butter), this kicked off one of the best meals we've ever had. Starters consisted of a Delamere goats' cheese salad with salt baked beetroot, king scallops with honey roast pork belly and Cheshire salt beef hash with a deep fried egg. The saltiness of the beetroot went so well with the creamy cheese; the scallops were top quality and matched with the chewy and crunchy pork, and the beef hash was amazing (how on earth do you deep fry an egg!).
Totally satisfied by the starters we were certain that the rest of the meal would follow suit – and it did! Mains of a lamb rump served pink with a herb crust was stunning, as was the sea bass in a crayfish and vegetable broth. The star of the show however was the ribeye steak. Sometimes you eat something and the quality oozes out, and this is what happened when we all tried this steak!
Struggling to find room for dessert, we opted to share one between us. The chosen dessert was the iced white chocolate parfait with vanilla strawberries and shortbread. We all loved this as individual components, but together it was even better!
This final dish completed a wonderful meal and will definitely be returning. Good news is that they change menus often so we can do it all again in a month or two!
If you're wondering where to go for a quality meal in the Warrington/Stockton Heath area, forget the chain restaurants and seek out this impressive restaurant full to the brim with local produce and top class service.
Alan Booth St Helens





My wife and I took our 3 grown up children and their partners for the early bird menu on the Friday before my eldest son's wedding. What a lovely evening we had. The food was excellent and the service was great. Their was live music which was very nice and not to loud. I would recommend Spirit to anyone. I will certainly be going back.
david warrington





charming decor and excellent service with suberb food and wine
London
I visited spirit restaurant at lunchtime 11/08/2011 with my parents and friends that were over from the U.S.
We were made to feel welcome from the minute we walked through the door.
The laid back but professional approach instantly relaxed us and while enjoying a drink in the lounge area we perused the mouthwatering menu.
We were then led into the restaurant and seated.
Our party had a mixture of starters all of which were well presented and extremely tasty.
Our main meals managed to keep us all quiet as we savoured the flavours and quality of the dishes.
A few of our party still had a little room for dessert which again did not disappoint.
I have visited many exclusive restaurants in London and I am pleased Warrington finally has a classy,stylish venue that delivers on every level without the London price tag.
Overall an extremely enjoyable afternoon and I cant wait to visit again.
Thanks Spirit
Jonathan Warrington





Spirit is one of the finest restaurants in the North West. The elegant, contemporary decor gives an excellent feel while the food is near Michelin quality but with good portions. We will definitely be back.
Jeff Warrington





Fantastic, this restaurant is a real find these days the food and staff are great and the jazz music on a Friday is a treat after a long week at work. Keep it up Spirit and we will keep coming back!!!
clare Warrington





Another wonderful meal at spirit, friendly staff and a beautiful place, so nice we are going back for the early bird special!!!
Warrington





This is undoubtably the best restaurant in Warrington with every aspect of the dining experience of the highest order.Fine dining with superb food,attentive staff,great ambience and set in a lovely position overlooking Victoria Park.
clare warrington
Another amazing meal at Spirit restaurant, this place has never failed us, outstanding service and amazing food, this has to be my favourite restaurant in the north west!
Mrs Ann Sheehan, Widnes





We went to Spirit for the first time this week and found an interesting menu, delicious food, friendly, relaxed service and beautiful surroundings. We took the 'early dining' option and found it gave us plenty of choice and good value for money. We'll be back!
David Johnson, Grange over Sands





What a find. We visit Warrington perhaps once or twice a year and normally just drive straight home, but this day we decided to look on the internet for a local restaurant that was well recommended. Spirit is, without doubt, one of the best restaurants I have enjoyed in 40 years of eating in restaurants for a profession.
We were greeted by the perfect host and the chef obviously knows his skill well. We chose from the early diner menu (an exceptional value) and were very impressed by the quality of both the service and the food. We left feeling satisfied and contented, plus, my wife very was happy with my choice of restaurant. We will definitely return next time we are in the area.
Ann Warrington
10 of us celebrated a birthday at Spirit, and we thought it was excellent. A bit on the pricey side but well worth it for a special occasion. The building is full of character, but with a modern twist at the same time. One of our party was born in the building when it was a maternity home, we were fascinated by its history. Well worth a visit, would definitely go again!
Sharon Squire - Warrington





One word sums up my visit to Spirit and that is 'perfect!' A big thank you and well done to the chef and all the staff. It is so refreshing to find a quality restaurant in Warrington to compete with other Cheshire towns! :)
Steven: Warrington
We went to the Spirit on Friday, and it was awesome. The food was nice, the service was good, they really thought of everything down to the last detail. The drummers/pianists were awesome also, good job.
Charlotte Newton-le-Willows





My partner and I visited Spirit on Sunday. The surroundings were beautiful, service amazing, and food outstanding. It will certainly be a new haunt of ours!
John, Warrington
We visited Spirit on Friday, and thoroughly enjoyed the experience. The restaurant was full of life, seemingly very popular, which added to the ambience. The staff were friendly and helpful, from welcome to service. Everyone in the party enjoyed the food, cooked to perfection - which is very unusual in restaurants, especially when they have a full restaurant to contend with. What was really the 'icing on the cake' was the live music they had, it's not often you get real live music in the public domain today, and I'd like to thank the two young lads for the Jazz they provided. I'd certainly recommend this restaurant 10/10 for me.
Adam Great Sankey





A fantastic hidden gem, I cannot recommend this place enough, I have been many times for lunch and recently been on an evening. It is always quiet, but this hardly affects the atmosphere. Due to its secluded location it actually feels like you have found a true hidden treasure.
The food is of exceptional quality. Dinner portions are larger than lunch, both being perfectly sized. It is the best restaurant in Warrington (IMO).
For two of us, a 3 course meal with wine cost £78. (Shared desert)
I am reluctant to spread the word about this place as I want it to stay a hidden gem!
Elizabeth
We went to Spirit last Friday and I must say that it is an excellent restaurant for high quality dining. The food is top class, I really had to savour every bite. The fact that the bar is separate from the restaurant is a bonus feature, as it gives you chance to chill in a very tranquil atmosphere. The staff were very friendly and welcoming, and the musicians were really nice to listen too. Id recommend this restaurant to anyone wanting to do some fine dining.
Carole & Jim - Warrington





Everything about this restaurant is first class, the staff, the ambiance and best of all the food – I had Sea Bass and it was better than the one I had at the Burj Al Arab in Dubai!! From now on this is our restaurant of choice in Warrington.
Dylan, Manchester





Had lunch at Spirit early this week and had a great meal, not overfacing at lunchtime and left feeling full but without the need to sleep it off whilst back in work!
Starter consisted of belly of pork which was sweet and juicy and had a strong apple puree which matched the saltiness of the meat. I had the roasted Hake for my main which again was beautifully cooked and was sitting in a butter and dill sauce - fantastic!
Will certainly be back soon for the evening meal which had an even great selection of locally sourced food and even has a free champagne offer with the Onionring voucher!
A perfect lunch - 10/10!
Sarah - Culcheth





I have been to Spirit twice for lunch and both times enjoyed exceptional service and delicious food. We didn't get the fabulous homemade bread the second time which was a little disappointing but overall a lovely restaurant. I'm really looking forward to trying out the dinner menu which my parents tell me is just as good.
Emma, Warrington





We have visited Spirit for a meal on several occassions, it is definitely the best restaurant in Warrington by far! The building itself and decor are just stunning and the food is just amazing!! Its hard not to have a full 3 courses when you go! A must try!
Lesley and John, Warrington
Had a lovely meal with friends at Spirit last week. It was the first time we had been but our friends had been before and recommended it. We had a friendly welcome when we arrived, the building is lovely and very well decorated, the service from the staff was fantastic, the bar was trendy and relaxing and all the food we had excellent. Good night had by all would definitely recommend it, just a shame it's hidden away.
Lesley and John, Warrington




Had a lovely meal with friends at Spirit last week. It was the first time we had been but our friends had been before and recommended it. We had a friendly welcome when we arrived, the building is lovely and very well decorated, the service from the staff was fantastic, the bar was trendy and relaxing and all the food we had excellent. Good night had by all would definitely recommend it, just a shame it's hidden away.
Steve, Warrington





2 course lunch menu at £9.95 is good value for the quality - excellent - and you can get same menu some early evenings at £13.95, but it's limited choice, and the full a la carte menu is always available.
It's isolated behind Victoria Park, but obviously there's a niche for good cuisine in Warrington.
Kenneth & Gail
Shared meals here about 6 times now with family & friends. Absolutely fabulous. Bar and restaurant decor tasteful. Food just a frisson of delights on one plate! Thoughtful, unrushed service with tables really well spaced. Thanks to ALL staff.
Elaine and Phil Warrington
Fantastic Sunday lunch yesterday this is are 3rd visit and each time has been fantastic 100% for food wine and the whole package. Cant wait for our next visit.
Robert Newman
Just fantastic!
Andrea, stockton heath
We visited Spirit for a birthday celebration and we were very happy with both the service and food.
The scallops and pork belly were lovely and I had the duck to follow, which was delicious.
It was nice for a special occassion, but it was a bit pricey to attend regularly.
It would be nice if a bar menu was available.
We would definately go again and would recommend it.
DB, Warrington





I went for the 3 course for £20 Sunday lunch in January. Food was delicious, service was excellent. Will definitely return.
Alison Lomax, Bolton





On December 19th 2009 my daughter was married in a civil ceremony at Spirit Restaurant, followed by a reception for 72 people and an evening disco. The whole day was superb and many thanks go to the staff for their great organisation and fabulous food. We have eaten at the restaurant before and have always had a 1st rate experience. I would highly recommend Spirit for the perfect intimate wedding venue. Thank you once again!
Anita, Warrington





I booked a table for myself and four friends at the Spirit restaurant. This was the first time we went there. I received glowing recommendation. From arriving to leaving we were all extremely happy with the service and the excellent food. I chose the slow cooked lamb shank, hot-pot potatoes & spiced red cabbage. The dish was beautifully presented. The lamb simply fell of the bone. The combination was divine. For dessert I chose the sticky toffee pudding with butterscotch sauce and vanilla icecream which was 'to die for'. It was absolutely perfect. Everyone in my group was highly impressed and we have agreed to come again. Just one thing I would add, although it was bitterly cold outside, the restaurant was a little chilly, best have some warmer clothing. We cannot wait for our next visit.

John Mannion Warrington





Celebrated my Ruby Wedding anniversary here and couldn't be more pleased with my choice of venue!
Excellent all round, food,drinks and service. Will definitely be going again and would highly recommend to all!!
Paul Jackson, Warrington





fantastic place- great food, really nice staff. makes a nice change not to have the usual plastic staff of the big chains these days doing the robotic 'service'. Excellent!
Danielle & Martin , Warrington





Had a wonderful meal at Spirit on Tuesday 28th August. We went early to take advantage of the early evening offer (5pm- 7pm) which enabled us to have 2 courses for £13.95.
I had the Goats Cheese starter which had a creamy mousse texture and Martin had the Haddock Risotto which I also wanted, but you cant have the same now!
For main course I had the Blade of Beef (which had a £2 supp) which was delicious and Martin had the corn fed chicken which he said great too.
Loved everything about it, will be back soon.
Adam & Steph Flynn Haydock





One Word....... WOW..... Just come home from my 1st experience with a fantastic couple celebrating a birthday. The food was absolutely tremendous. We had the special starter which was pork belly which just mmmmmmmm melted in the mouth. The service was beyond belief. I just cannot find the words to describe this experience. I will definitely be returning to this amazing restaurant in the very near future!
Dan and Amanda Warrington





Wow, from the very moment we arrived to the stunning restaurant we just knew this was for us! The welcome and treatment throughout the night was that of special guests or VIP's and I haven't even started on the food yet. We invited our well travelled friends who dine out a lot and tucked into a delicious pork belly with scallop salad to start. For main I had rump steak along with my husband and our friends ate sea bass and hake, the sheer vibe of fulfillment and enjoyment on all of our faces was there for all to see. We even had room for a cheeky desert and coffees. All in all it was a tremendous night and we will definitely be back again in the very near future. Hats off to all the spirited people at spirit. AB
JAYNE WARRINGTON




Had dinner at the end of april,this was our first visit.The building and decor are beautiful the greeting on arrival was very friendly and welcoming.We had a drink in the bar first and was then taken to a lovely dinning room where we enjoyed a beautiful meal.The only down side to our visit if we wanted to be picky would be,the bar had no pernod and although it is not a modern drink it is an aperitif also one of our waiters proceeded to put a dirty glass back on the table instead of a clean one then smashed the clean one.I only mention these points as being in a service industry myself i believe all these things make us better.good luck we had a lovely evening.
Craig Shields, Lymm





My honest opinion of Spirit, well here it is in one word - Fantastic.
My wife had already been to Spirit and when I asked her about it her comment was 'it was alright' so needless to say I was slightly dubious when we and friends attended last nights dinner service, however these worries quickly melted away as the pork belly fell apart in my mouth.
As you approach the front door, it is opened and you are led into the trendy bar area for drinks and to order your food. Just before your starters are ready you are then led to the dining area. I had the asparagus, truffled parmesan and a boiled egg, my friends had scallops which they enjoyed greatly. Mine was just a delightful taste of what was next. We all apart from my wife had Pork belly with sweetcorn puree and chorizo and in the words of my friend's mother it was 'Devine'.
The pudding was the cherry on top and concluded our evening with chocolatey goodness. The fondant and pistachio ice cream, a little bit of heaven I think
Everything about our experience at Spirit was perfect, not a fault or a complaint to be made.
Thanks to all the staff for our evening
Bob and Helen Warrington





We have visited Spirit for the first of what I hope will be several more visits! The atmosphere was pleasantly relaxed and the food was superb. Customer satisfaction is a priority and nothing was too much trouble, if anything it was their pleasure.
Simon & Lisa, warrington





We called into this restaurant in passing at lunchtime today. The food was excellent and the location beautiful, which coming from Warrington sounds a bit weird as it is inside the local park. Strangely it felt like we were miles away and we came out totally chilled after lovely food in a nice atmosphere. Can't wait to go back one evening, perhaps for one of the special events.
Kathryn & John, Warrington





Best meal we've ever had! The building is beautiful, the staff are friendly and attentive. Wonderful atmosphere in the restaurant and best of all the food is amazing, we couldn't stop eating!
John Smith Warrington





What a night,we have just had, we visited a few weeks ago and had fantastic food,atmosphere
and service. So we just had to go back on Jazz night and what a night, the food was great the service great (they remembered which wine I drank)and the music from speak easy was brilliant. Thanks for a great time.
Maria, Warrington





Excellent, definitely worth a visit!
This was my second visit having previously been for lunch, we were looked after very well. Food excellent on both occasions. Great for business lunches/dinners as you can hear people speaking unlike most Stockton Heath restaurants and you have space around you. Also good for special occasions due to the beautiful decor and lovely separate bar.
Caroline Warrington





What a hidden gem! The decor is elegant, atmosphere relaxing, staff are attentive, and the food was excellent. Without a doubt one of the best meals we have had. So if you like superb food in beautiful surroundings you must try "Spirit".
Sarah & Brigid Warrington




Just got back from great meal at Spirit.We especially loved the bar-could have sat there waiting for hours!Fab food.The trout fritters and pheasant ravioli were delish.Expensive but a special night which will be repeated next time it's a special occasion!Thank You.X
Sarah Guile, Warrington




My husband treated me to lunch at Spirit for my Birthday. Spirit formerly a maternity hospital was in-fact where I was born 33 years ago today. Decor and Surroundings beautiful, food was excellent. Iain our host made it a very enjoyable experience. I had my favourite dessert, Creme Brulee AKA Burnt Cream was gorgeous. Top Marks for a lovely birthday meal. Worth a visit. Will definitely visit again soon!!
Vicki , Warrington





Amazing food and setting. staff were fantastic, my boyfriend worked on the restaurant before it opened and i couldn't wait to visit. he took me for a surprise and everything was perfect, the goats cheese starter is so lovely. would definitely recommend and I cant wait to visit again :)
Rosie, Stockport
Wow, what can I say! The food was amazing, and the restaurant and the service was excellent. As you drive up to the restaurant it looks so majestic - like driving up to the Whitehouse! My husband and I went a few weeks ago and we really enjoyed ourselves. My husband, who loves extra hot chillies in his food, asked if they could make the lamb extra spicy for him and they were happy to oblige - I have never seen my husband so quiet as he was when it arrived - he savoured every mouthful of the meal! We ordered a special dessert of the day which was their own version of cookies & cream icecream - delicious! We will definitely will be returning as soon as possible to sample their other dishes! Fantastic service, fantastic menu, and fantastic atmosphere.
Sarah, Warrington





My boyfriend and i spent new years eve here, the staff were really friendly and helpful on all accounts and really made you feel at home.
The surrounding were elegant yet inviting and everything was well set out
The food was really tasty too and couldn't fault the night at all.
janet+paul





well what can i say.....what a pleasure to find a lovely place in warrington (about time) from the moment we stepped in until we left fantastic. the food was out of this world, the service excellent we shall be back well done. many thanks to ian who looked after us once again thankyou
Byrne Warrington





Couldnt fault anything about it, really enjoyed ourselves. The service was superb and the food matched.
Cord from Warrington





Gorgeous surroundings, friendly service, immaculate dining experience...and the food was tremendous. A very memorable birthday experience.
Highly recommended.
Simon, Warrington





We spent New Year here. the food is fantastic, the service excellent, well worth a trip!!!!
DAVID CARTLEDGE / KAREN WEISS





Karen & I went to the spirit for luch on Christmas eve, had a brilliant time. the food, service and surroundings where fantastic. 10/10, thank you to all the staff for a great experiance.
many thaks
David
Updates
Is this information about correct?
Please tell us about any omissions or mistakes on this page...
click here to submit an update.
If you own or run this venue and would like to get more customers from onionring...
click here