| | | |
| --- | --- | --- |
| | | |
Home > Restaurants > Cheshire > Congleton Restaurants > La Popote
La Popote
French
[show 20 more photos]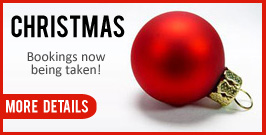 Bienvenue ŗ La Popote. La Popote Restaurant is a small family owned French Bistro situated in the pretty village of Marton, Cheshire, seven miles from the town of Macclesfield. The restaurant is housed in a renovated farm steading and overlooks beautiful Marton Church, the oldest wooden timbered church in Europe.
Since opening in May 2009, La Popote has quickly gained a reputation for excellence and made their mark in Cheshire, offering something very special, really fabulous food combined with warm friendly personalised hospitality.
La Popote the name means a small cooking pot (everyone asks!) or colloquially 'What's Cooking'.
The original La Popote was opened in Durban South Africa in 1974, and over twelve years it became a successful and legendary restaurant which is still reminisced over by many, especially Victor's classic Moules mariniere and rack of lamb!! So with so many happy memories of that time we just had to reinvent it here in Cheshire, England! Other restaurants they owned that may be remembered by South Africans in the UK are L'Artiste at the Natal Playhouse Durban, Manna House Underberg, Manna House Hilton, Le Chalet, Pietermaritzburg.
Owners veteran restaurateurs Victor and Lynne Janssen have spent a lifetime in the field of good food, both in the Highlands of Scotland and for many years in KwaZulu Natal, South Africa and their names have become synonymous with quality.
If you would like to receive La Popoteís occasional e-newsletter for updates, news & offers, please click
here
and enter your email address in the box at the bottom of the page.
Why not come and see for yourself! A Bientot!
---

This venue can cater for functions and events...find out more

Find the best deals for Hotels in Congleton...click here
Helen
...This is our favourite place to eat, the food is superb and the service is so personal and attentive. A fabulous atmosphere whether you're eating as a couple, a group or a family. I would urge anyone to give it a try!...
Contact Details
Church Farm, Manchester Road
Marton, Cheshire. SK11 9HF

01260 224785
Say "Mel from Onionring sent me"
Wednesday-Thursday
Join us for our Autumn Gold Special Lunch offer where you can enjoy two courses for £12.95 per person or three courses for £14.95 per person. Available Wednesday-Saturday (excludes Sundays). This...
...CLICK HERE FOR PRINTABLE VOUCHER
Opening Hours
| | |
| --- | --- |
| Monday | closed |
| Tuesday | closed |
| Wednesday | 1200-1500/1830-2200 |
| Thursday | 1200-1500/1830-2200 |
| Friday | 1200-1500/1830-2200 |
| Saturday | 1200-1500/1830-2200 |
| Sunday | 1200-1500/1830-2200 |
Facilities




Offers
Events
December
1

Sunday 01 December 2013 to Wednesday 25 December 2013

Throughout December we're serving our special four course festive menu priced at £37.50 per person. We kindly request a deposit of £20 per person and pre-ordering is required for this menu (10% service charge added to parties of ten or more). We are also open for Christmas Day itself this year at just £80 per person (with a £20 deposit required per person) where you can enjoy a luxurious five course menu without having any of the dishes to do afterwards! Please telephone 01260 244785 for...

<

CLICK HERE FOR MORE INFORMATION AND TO BOOK

>

March
19

Wednesday 19 March 2014

We are pleased to announce we will be launching our Garden Lovers Wednesday Lunch Club in the Spring of 2014! These monthly informal get togethers is a chance to enjoy lunch with mad keen gardeners to meet other kindred spirits, chat about all things gardening, exchanges ideas, swap plants, and generally celebrate the joy of gardens. The first lunch will be held on WEDNESDAY 19th MARCH 2014 and the lunch is just £20 per person. Book now by phoning or email Lynne to reserve.

<CLICK HERE FOR MORE INFORMATION AND TO BOOK>




Recommendations
Helen
5





This is our favourite place to eat, the food is superb and the service is so personal and attentive. A fabulous atmosphere whether you're eating as a couple, a group or a family. I would urge anyone to give it a try!
Alison Heap, Macclesfield





Four of us dined at La Popote for my birthday celebration yesterday evening. We had a simply delightful time with excellent food and service, and would highly recommend this restaurant. My scallop starter was totally delicious, and the halibut which followed was perfect too. My daughter's steak couldn't be faulted, and everything else was thoroughly enjoyable.
Maja McIntosh





I have had the fortunate experience of stalking the Janssen's across the globe. I have had the pleasure of South Africa, Scotland and now Cheshire, my husband even longer, reaching back to his childhood, and although each venue held a visual delight the food has always been culinary genius.
I could list my favorite meals, if I had any.............but I can't, they are all my favorite.
Meals like movies have to be memorable and in the famous words of the Terminator 'we'll be back!!!!'
PS .... Victor, I love the hat!
Joanne, Appleton





Impeccable from start to finish! La Popote oozes sophistication from the Bentleys in the car park to the stylish service and fabulous food and wine list! An absolute must for a special occasion, we shall without doubt return!
Cheshire





My partner and I visited this restaurant on Saturday evening. We arrived not sure what to expect and left very impressed with both the great quality of the food, the ambiance of the room with the quaint decor and the exceptional service. All the staff here were very personable and at no point were we left wanting for anything or waiting to catch their eye. We had 3 courses, everything tasted fresh and looked as though someone had really cared about the food they served up. We will definitely be going back and recommending to friends.
Magsfury





After a beautiful drive through Derbyshire and The Goyt Valley we had meant to visit Biddulph Grange on Good Friday but on arrival we realised that our NT cards for 2011 we not in my husband's wallet.......luckily as it turned out.
On the way back we came across La Petit Ferme with it's coffee shop and bistro and since we were very hungry opted for the bistro, La Popote. Nice bar area and the restaurant looked very smart with black, white and grey decor. We were told to find a table in the lovely 'secret garden' with flower beds and York stone patio with wrought iron chairs and a mix of tables and umbrellas. I ordered a glass of dry white wine which was lovely and my tee total husband was given a jug of water and ice with no comment.
The lunch menu offered many interesting options along with the 'specials' but being fish pie afficionados that is what we both opted for. This is not 'Nouvelle Cuisine', the dish was large and beautifully presented with it's golden cheesy topping. Full of fish and prawns it has to be one of the very best we've ever eaten. The accompanying salad was colourful and had a tasty dressing. We didn't think we could eat a dessert but decided on two Pavlovas but one would have been more than enough. We couldn't believe the portion size but 'forced' it down, yummy with lots of strawberries and a raspberry coulis. We didn't have coffee ... no space left.
Lynne made us feel very welcome and it wasn't until we arrived back home that we realised the pedigree of she and her husband Marcus Janssen. They've run fine French restaurants in South Africa and Scotland! La Popote was a real find and we'll definitely be back probably with friends.
Stephanie Johnson Lymm




We went to La Popote after a friend bought me a gift voucher from there for my birthday. Don't use a Tomtom sat nav to get there as it takes you to the centre of Alderley Edge which is nowhere near the restaurant. It is not hard to find if you follow AA or RAC directions though.
We were warmly welcomed despite being very late due to getting lost and given a drink while we looked at the menu. The menu is very imaginative and certainly wets your tastebuds. The food was really excellent, my husband had the steak cooked at the table and it was pure entertainment. We sat near the bar, just out of the main restaurant and it was romantic as just the two of us where sat there.
We enjoyed our meal so much that despite living quite far away from the restaurant, have returned on several occassions. The last time we ate there was with the whole family and it is a lovely restaurant for a family gathering.
The hosts are charming and it really is making the journey to La Popote for a special occasion or a romantic meal for two. The restauant also has a farm shop, where the bread they serve in the restaurant is made and it is the best bread I have ever tasted and also an art gallery and cafe where you can eat in the day. As La Popote is on a large plot my recommendation to the owners would be if it was at all possible to add a couple of bedrooms and have a restaurant with rooms then La Popote would be perfect for a night away of great food and superb wines.
Dylan, Manchester





Popped in yesterday for a coffee and sampled some of the homemade chocolate fudge - very nice indeed! Having seen the busy lunchtime trade and overhearing the great comments, made me enquire about the menu and will certainly be returning with friends to try the amazing dishes (which are also cooked at the table!). Great find, and worth a trip!
altrincham




Our first visit on a recommendation. Great experience with wonderful food. The tornado's steak was superb as was the Mango Parfait. Definitely on our list of favourite restaurants. Service good also.
Marjorie & John
Angie Wolstencroft
What a surprise, what was an on and off coffee house turned into a total eating experience, excellent food, beautifully cooked and presented superb wine at not a lot of money. Thus could be my favorite eating place for the future. Victor the chef came out to make sure everything was good without the ysy usual platitudes, Totally brilliant. Would give a 10/10 but desert took 45 mins to arrive.
Updates
Is this information about correct?
Please tell us about any omissions or mistakes on this page...
click here to submit an update.
If you own or run this venue and would like to get more customers from onionring...
click here