| | | |
| --- | --- | --- |
| | | |
Home > Restaurants > Cheshire > Chester Restaurants > La Cantina
La Cantina
Italian
[show 28 more photos]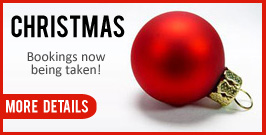 La Cantina opened in October 2009 and has been bringing a truly authentic taste of Italy along with excellent service and a relaxing environment to the heart of Chester ever since.
We are a small family run restaurant focusing primarily on Venetian and Roman cuisine accompanied by a range of dishes from other regions throughout the country using ingredients from local producers and sourced directly from Italy. From 6-30pm through 11-00pm Tuesday - Saturday we provide a full restaurant service with our regional Italian foods complemented by lovely wines, all at a great price with friendly and helpful service; within reason we can also add to the evening menu to address specific requests. We are also open for full restaurant service Monday and Sunday day or evening for lunches and dinners or events like our ever popular Cookery schools and private parties subject to reservations.
We offer a fantastic selection of drinks from delicious Italian coffee, freshly prepared alcoholic and non-alcoholic cocktails, to a wide range of wines sourced directly from small family producers throughout Italy.
You can pop in Tuesday – Saturday afternoons from 11am until 3.30pm when we operate as a cafe and grab breakfast, a sandwich, Italian salad, a bowl of freshly made soup or just a slice of cake. We also provide a few daily specials for those looking for something more.
The venue can be used exclusively for a private party or event any day of the week (subject to minimum numbers) and a menu can be tailored to suit your needs and budget.
---

This venue can cater for functions and events...find out more

Find the best deals for Hotels in Chester...click here

This company offers a takeaway service...find out more
Kath Shepherd
...Love it. Been 3 or 4 times now and recommended it to friends who have also been impressed with the food, wine, service, great value and lovely atmosphere....
Contact Details
5 Boughton
Chester, Cheshire. CH3 5AE

01244 752 427
Say "Mel from Onionring sent me"
Opening Hours
| | |
| --- | --- |
| Monday | Private parties or bookings of 6 or more |
| Tuesday | bookings only at lunch & 6-30pm to 11pm |
| Wednesday | bookings only at lunch & 6-30pm to 11pm |
| Thursday | bookings only at lunch & 6-30pm to 11pm |
| Friday | bookings only at lunch & 6-30pm to 11pm |
| Saturday | bookings only at lunch & 6-30pm to 11pm |
| Sunday | Private parties or bookings of 6 or more |
Facilities



Offers
Events
REGULAR

EVENT
Cookery School – come and join us for a fun evening of learning new culinary skills. For just £40 (inc 20% discount for Onionring users) you will make and eat a 3 course meal, enjoy delicious wines and learn about fine Italian foods. We accommodate groups from 6-18 people, or for one person, will introduce you to new friends, in making up a group. Scho are run on Sunday or Monday evenings, enquire at the restaurant if you want to find out more. Over 200 people have enjoyed participating in our...
<
CLICK HERE FOR MORE INFORMATION AND TO BOOK
>
December
1
Sunday 01 December 2013 to Tuesday 24 December 2013
Christmas is around the corner and as well as all the joy, it's also an expensive time all round!! We are pleased to help with our December Offer – from Saturday 1st until lunch 24th - All Food at Lunch ( Wed to Sat ) on a 2 for 1 basis ( 50% off!!) - Choose 2 for 1 on Food or 25% off all Food & Drink Wed to Friday evenings –( 6-30 pm last orders 9-00 pm, earlier bookings by arrangement) - Free Bottle of Prosecco wine per couple to take home for Diners Saturday evenings when choosing at...
<
CLICK HERE FOR MORE INFORMATION AND TO BOOK
>
Recommendations
Kath Shepherd





Love it. Been 3 or 4 times now and recommended it to friends who have also been impressed with the food, wine, service, great value and lovely atmosphere.
Sandra Norbury, Broughton, Chester





A warm welcome, friendly atmosphere, excellent service and absolutely delicious food. We will definitely be back. This is our new favourite restaurant.
Alan Sheppard - Chester





La Cantina have organised two events for me now. One was a private dinner where we had the whole restaurant to ourselves and the other was an event at my house where they catered all the food.
Both times the food was delicious and the service was fantastic. It's such a refreshing change to find an Italian restaurant that does more than pasta and pizza.
Thanks and keep it up
Dan





Called in for lunch, really tasty bowl of soup, nice friendly service. Really impressed, will have to try for dinner soon.
Clare,Chester





We went to La Cantina for the first time on August 5th and had the £15 menu. The food was excellent, fresh ingredients and well presented. The bread was delicious! Can highly recommend it and be returning soon!!!
Helen Clarke, Truro, Cornwall
Had a wonderful meal at La Cantina on Saturday night while on holiday in Chester from Cornwall. The vongole were super fresh and deliciously sweet and the beef marinated in rosemary, garlic and olive oil buonissimo! The Italian style vegetable and salad served with the main course were also delicious. My two daughters (aged 14 & 8) relished every mouthful (home made soup and pasta for one and antipasti and contadino for the other). I would highly recommend La Cantina with its friendly service and high quality cooking using fresh and authentically Italian ingredients. We enjoyed it so much we returned for lunch on Tuesday before the long jouney home!
The Harwoods





We even tell people in Portugal here how good the food is!!
Looking forward to our next visit on Saturday 4th Sept when we are next due in.

kay and jim chester





What a find. Top quality, inexpensive, wonderful service and a great family run atmosphere. We asked for a pasta dish that wasnt on the menu-no problem.
Sue Chester





Lovely to find somewhere where you can enjoy a freshly cooked meal. We went as a family and took advantage of the Thursday evening Special. There was no problem taking my 2 year old granddaughter with us and she was made welcome. Food and service first class would highly recomend it as a family friendly environment
Beth&Simon, Chester





We booked La Cantina for a private function (our engagement party!) for approx 40 people, and we couldn't recommend the experience enough! Liz, Mark and the team gave us such a friendly service, catering to our every need, and being flexible and helpful with all our requirements. We arranged the event at short notice, with only a week and a half to go, but we had an amazing night. Particular mention must go to the food, which was fresh, delicious and very authentically Italian - we had a buffet type hot and cold spread, which was plentiful and everyone commented on how fabulous it was
Having spoken with Mark directly beforehand about our food needs he came up with many suggestions and we were overwhelmed with how good it was on the night - fresh salads, lasagne, meatballs, breads, salmon, other meats, crostini, fresh home made pizza, you name it, we had it!
The service on the night was great too, with everyone getting served drinks and cocktails with ease. Liz was so helpful with our decorations as we really wanted some balloons and candle-lit ambiance - she worked with us to get the room just right.
We will definitely be going again, we were thrilled and as it's just around the corner part of us wants to keep it a secret! You must try it, you won't be disappointed!
Karen, Chester





This place is real hidden gem, I would highly recommend it. Lovely atmosphere, food was delicious and we got loads of it, brilliant service and lovely friendly people. Can't wait to go eat there again - everybody should try La Cantina!
Updates
Is this information about correct?
Please tell us about any omissions or mistakes on this page...
click here to submit an update.
If you own or run this venue and would like to get more customers from onionring...
click here