| | | |
| --- | --- | --- |
| | | |
Home > Restaurants > Liverpool > Liverpool Restaurants > Viva Brazil
Viva Brazil
Brazilian
[show 17 more photos]
Viva Brazil Churrascaria is an authentic, Brazilian style Steakhouse. The concept is simple, Viva Brazil gives you more – more of everything… food, service and atmosphere.
Once seated, your Brazilian style dining experience begins. Guests are given the chance to relax and enjoy one of their favourite cocktails, make a selection from our list of hand-picked fine wines, or you can head straight over to our choose from our selection of seasonal salads and side dishes.
The real experience begins as our troop of Passadors (Carvers) move from table to table, offering over fifteen select cuts of Beef, Lamb, Pork, Chicken and Sausages, all slow roasted over our charcoal barbeque and expertly carved at the table.
To further accompany this feast, dishes such as garlic mashed potatoes, polenta, fried banana and artisan cheese breads are served to your table for you to enjoy.
Your Brazilian experience would not be complete without one of our hard to resist Caipirinha cocktails. The national drink of Brazil, mixed together using only Cachaca rum, freshly squeezed limes and Sugar. At Viva Brazil, we bring the bar to you with our bespoke mobile cocktail stations. Let our experienced bartenders mix and serve freshly prepared drinks at the comfort of your own table!
Join us for a dining experience that dates back hundreds of years to the cowboys of Southern Brazil. Times may have changed, but we're sure that our food, service and hospitality, is just how they would've loved it!
---

This venue can cater for functions and events...find out more

Find the best deals for Hotels in Liverpool...click here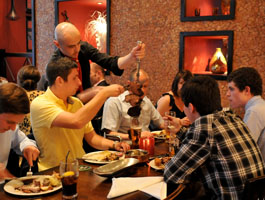 James, Manchester
...Yet again, Viva Brazil has come up trumps again! Great food, great atmosphere, great service and we had a great time!!...
Tuesday
2 for 1
- Onionring Tuesday. Full Rodizio and desserts (from the main menu, not with any other offer). Cheapest one is free of each course. Available all day Tuesday. Please book and mention...
...CLICK HERE FOR PRINTABLE VOUCHER
Opening Hours
| | |
| --- | --- |
| Monday | 11:30am to midnight |
| Tuesday | 11:30am to midnight |
| Wednesday | 11:30am to midnight |
| Thursday | 11:30am to midnight |
| Friday | 11:30am to midnight |
| Saturday | 11:30am to midnight |
| Sunday | 11:30am to 10pm |
Facilities





Offers
Events
REGULAR

EVENT

Sundays 3pm – 6:30pm Enjoy our full three piece Brazilian Band – AFRO SAMBA TRIO, playing funky Brazilian lounge music to help you relax and unwind! A perfect way to end to the week!

<

CLICK HERE FOR MORE INFORMATION AND TO BOOK

>

June
13

Thursday 13 June 2013

Thursday 13th June 2013 7pm for a 7:30pm start. Liverpool Restaurant Tickets are £35 per person which includes a full Rodizio, wines on the table and a cocktail on arrival. Viva Brazil There will be a raffle and a special guest speaker! A magician, live band and samba dancers will also be there to add to the evening's entertainment. Dancers Please RSVP to jodi.nevin@vivabrazilrestaurants.com by Thursday 6th June

<CLICK HERE FOR MORE INFORMATION AND TO BOOK>




Recommendations
James, Manchester





Yet again, Viva Brazil has come up trumps again! Great food, great atmosphere, great service and we had a great time!!
Richard - Heswall

Absolutely amazing experience at this restaurant, the food is out of this world, the different types of meat brought to the table by the 'pasadors' were some of the best I've tasted!! I've been to another restaurant with the same concept in Manchester but this was miles better, the staff are amazing, so friendly and can't do enough for you. One of the best dining experiences I've had in a long time! Perfect!! Definitely be returning whenever I can think of an excuse :-)
Jan, Liverpool





We called into Viva Brazil last Friday (22.10.10) for a drink and to have a nose (prior to going to an Italian on the otherside of Castle Street where we had made a reservation). A couple on the way out said it was lovely and they'd definitely recommend it.
The bar service was excellent, I was even offered a taster of the wine I'd selected to check it was dry enough.
The hostess popped over to see if we'd like a table, and when we explained we had a reservation else where she wished us a good night.
After 35 minutes and a bottle of prosecco in the Italian our booked table still wasn't available, and conversation around us indicated we weren't the only people who were waiting. As we were close to gnawing on the table tops to quell our hunger pangs we decided to bale on the Italian and trotted on over to Viva Brazil. Possibly the best decision of the night.
The salad and side dish buffet was lovely, loads of choice and the meats on the skewers were delicious, especially the sirloin. The service and atmosphere, combined with the food made for a brilliant birthday night out and I would definitely recommend it, I don't think I'll be bothering with the Italian again though.
Dylan, Manchester





Had a fantastic lunch at Viva Brazil last week. Salad bar was vibrant with colours and smells, and had the taste to back its appearance. Lots of variety in meats and certainly the best restaurant for carnivores in Liverpool! This has now become my favourite dining venue and in a great location too. AWESOME!
Victoria, Hale





Absolutely love this restaurant, gorgeous interior and the food is out of this world!! I've been to other restaurants with the same concept and this is a million times better, the staff are also so friendly and can't do enough for you. Perfect for a romantic meal as a couple or a party - I'll definitely be returning!!
Updates
Is this information about correct?
Please tell us about any omissions or mistakes on this page...
click here to submit an update.
If you own or run this venue and would like to get more customers from onionring...
click here