| | | |
| --- | --- | --- |
| | | |
Home > Restaurants > Cheshire > Prestbury Restaurants > The Saffron Room
The Saffron Room
Indian
[show 9 more photos]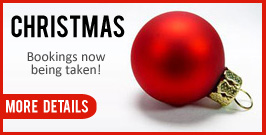 Allow us to change your perception of Indian Cuisine… The Saffron Room in the heart of Prestbury Village, offers a unique dining experience, set in the grade 2 listed building that is the infamous White House.
Our continuing aim is to be instrumental in changing perceptions of cuisine originating from the subcontinent.
The Saffron Room provides a classic combination of indisputable knowledge, unique experiences and traditional values. The restaurant offers a sophisticated fine dining experience with effortlessly charming staff, discrete service and tantalising food that few can compete with.
It is this combination which ensures that our guests continue to return time and time again.
Jan Macclesfield
...What a fabulous evening - our first visit of many to come. Fantastic staff - enthusiastic, helpful, attentive and knowledgeable. Excellent decor, linen knapkins and Villeroy & Bosch china. Good ambience and what a varied menu. It took a long time to decide on our order and the beautifully light......
Contact Details
The White House, New Road
Prestbury, Cheshire. SK10 4DG

01625 828 220
Say "Mel from Onionring sent me"
Opening Hours
| | |
| --- | --- |
| Monday | 5.30pm-11pm |
| Tuesday | 5.30pm-11pm |
| Wednesday | 5.30pm-11pm |
| Thursday | 5.30pm-11pm |
| Friday | 5.30pm-11pm |
| Saturday | 5.30pm-11pm |
| Sunday | 12 noon-10pm |
Facilities




Events
REGULAR

EVENT
Curry club on the first Monday of the month - 3 taster dishes with a mixed starter for £15.95 per head
<
CLICK HERE FOR MORE INFORMATION AND TO BOOK
>
December
1
Sunday 01 December 2013 to Wednesday 01 January 2014
Come in from the cold and celebrate the festive season in style at The Saffron Room where diners can choose anything off the A La Carte menu! Christmas Day £39.95pp - including a bottle of bubbly on the table Boxing Day - £29.95pp - with a glass of bubbly on arrival New Years Eve - £34.95pp - with a glass of bubbly on arrival. Live music from the wonderful Rachael Marie. SEE HER PERFORMING LIVE New Years Day -...
<
CLICK HERE FOR MORE INFORMATION AND TO BOOK
>
Recommendations
Jan Macclesfield





What a fabulous evening - our first visit of many to come. Fantastic staff - enthusiastic, helpful, attentive and knowledgeable. Excellent decor, linen knapkins and Villeroy & Bosch china. Good ambience and what a varied menu. It took a long time to decide on our order and the beautifully light crispy poppadoms with scrumptious chutney tray (raita, mango, lime pickle and chopped onion) complemented the inexpensive bottle of merlot (Chilean) which we had chosen to accompany it. We selected a shared starter of 'exotic duck' fabulously rich, tender and delicately spiced. For mains I chose one of the signature dishes - South Indian Murghi Balti Dopiaza style. My husband chose the Tandoori Chicken Jaipur. Both dishes were sublime and we accompanied them with pilau rice, saag paneer and a very light delicious naan bread. Neither of us could manage a dessert but I had a capuccino which had a surprising strength and character. The evening proved one to remember and look forward to our next visit when we would definitely include my son who would appreciate the Movenpick ice creams!
Stephanie Kelley





Amazing meal and service yet again at the saffron room.
Geraldine Manchester





This has got to be one of the best indian restaurants i have dined at. On arriving the staff were exceptionaly curtious to us as we awaited for the rest of our party to arrive. WE ordered drinks and when our guests arrived a waiter came straight away and took their drinks order, then carried our drinks to our table when it was ready. The food was delicious and the service was very good. One of our guests was on a special diet after an operation and this was no problem to the chef a meal was arranged for her that she would like. I would hightly recommend The Saffron Room, but please book early as they are very busy and i wouldnt like you to miss out. Definitely will be returning.
Jay Brown, Didsbury





I absolutely love the Saffron Room, well worth the drive to get to. Definitely the best Indian in the North West.
Well done Sam
Rico Kapoor from styal / wilmslow
fantastic place good Indian food one of the best I've been to for ages staff are realy helpful well recommended a must must.
James - Wilmslow





Yet again another great meal at The Saffron Room. Always very busy and our whole family love the delicious dishes available here. I always like to try something new off the menu every time we visit.
Well done guys... Keep up the great work.
Nicola Ulian - Dubai





I dined at The Saffron Room for the second time last night during my trip to the UK.
I must say the food is exceptional, the presentation of the dishes are fabulous and they taste delicious. I would thoroughly recommend this restaurant to anybody.
Fab! Fab! Fab!
Stephanie Lawson Kelley - Wilmslow





We absolutely adore the saffron room, the food and drinks are always amazing. This is definately the best Indian restaurant i have ever been to, you have to go a long way to match it!
The wine list is excellent which is refreshing to see. We love the house champagne when we dine, definately great value too.
Well done Sanaam.
Geraldine - Wilmslow





Absolutely Amazing...
A* Food with Service to match. I would advise making a reservation as it has always been very busy when we have dined.
The Saffron room is now our favorite Indian by far!
Maragret Stretford





We have dined here several times with family and friends...
The food, drinks and service is always exceptional, I would definately recommend the Chicken Passanda dish which is now a personal favourite of mine.
A word of advise though, make sure that you make a reservation as it has always been very busy when we have visited.
Jennifer Rylett





First visit to this restaurant last night. I have to say I was not expecting the food to be as good as it was. I had chicken madras which was the best I have ever had and surpassed my favourite Indian by miles. The service was good, the staff were always watching to see if you needed anything but most importantly did not interrupt all the time as I have experienced elsewhere especially as I was on a 1st date. The only thing i would prefer is if the chicken peices in the curry were slighty smaller but this is a personal preference. Would really recommend this place and will be going again.
John Gordon
Called in for Lunch on Friday. The food and wine were both first class and the staff were helpful and obliging - service with a smile!
I unreservedly recommend them to any lovers of Indian Cuisine.
Cara McMillan





I simply will not go anywhere else for a curry now I have found this Gem... absolutly the nicest Indian Restaurant I have ever been. Lovely friendly staff, good service and nice red wine. Perfect!
Sandy Martin Wilmslow





Fantastic.... one of the best curries I have ever had... the atmopshere and decoration of the place is lovely...The staff are superb... Brilliant well done
Victoria Wilmslow, Cheshire
Take one beautiful listed building in a picturesque Cheshire village, add an experienced and visionary restaurateur, stir through a sprinkling or two of spice and you have the perfect recipe for a successful Indian fine dining destination. Teresa Thomason tries out Prestbury's newly-opened The Saffron Room.
Pulling up outside the charming 18th Century building one dismal Friday night, lights twinkling through leaded windows beckon us invitingly inside. What immediately hits our party of three as we enter The Saffron Room, with its warm colour-scheme of aubergine, chocolate brown and taupe, is just how uplifting, fresh and contemporary the interior is.
Belying its quaint exterior, this contrast between the traditional and the new really works here. And it certainly doesn't stop at the décor.
Owner Sanaan Ahamed has taken the same approach with The Saffron Room's menu, skillfully combining the traditional with modern influences. Dishes you'd expect to find on an Indian menu are here - Biriyanis, Tandooris, Masala, Baltis and Korma – but there are also some very interesting fusion dishes that really do tempt the palate. A genuine fan of the marriage of cultures and tastes that come with this genre of food, this addition of the fusion selection was for me a pleasant and welcome surprise.
There's nothing predictable about the drinks menu either. A collaboration with luxury brand Moet Hennesy's mixologist has allowed The Saffron Room to offer an enticing selection of cocktails ranging from the classic to the contemporary. And the wine list too has been put together with a forward thinking approach. While there's a great selection of reds and whites from very affordable through to high-end, we were also happy to see there's five organic wines available for those already converted to the natural option.
Time then to pick our way through the extensive array of food and wine – but with such a mouthwatering selection we really were spoilt for choice. Help was quickly on hand though as the attentive team explained the construction of various dishes and made their suggestions in accordance with our stated preferences.
For this evening it was to be for my husband, 12-year-old son Joe and me duck, fish and nothing too hot or rich please. And for wine, though we tend to be red drinkers, after asking for advice we were steered towards a white, which proved to be the perfect accompaniment.
While we took in the ambiance, noting that the 70-cover restaurant had very quickly filled up with diners, we munched on poppadoms (with dips) that my husband immediately awarded with the accolade of "Best and Lightest" he'd ever tasted. With a New Year's resolve to watch what I eat, we'd ordered just two between us. A big mistake, should we order more?
A third poppadom was not to be however. The starters arrived promptly. My husband had opted for The Saffron Room Barbecue Special – a medley of four different and flavoursome meats. I, being in a seafood mood, had chosen the King Prawn Garlic, while Joe chose the Bengoli Fish opting for the safer Mild option.
All of us were very happy with our choices - but having been assured by the waiter that it really was ok to share, we unanimously crowned Joe's fish dish, generous in portion size and served with an utterly delicious sweet, hot, coriander, herb and green chilli sauce, Star of the Starters.
Next - after just the right amount of rest time – came the mains. The rather intriguingly described "Chef's secret recipe" Tandoori Chicken Jaipur made a very grand entrance at my husband's place – and wowed us all with an explosion of taste.
The Signature Blue Water Duck dish, with a mystery marinade of "very special ingredients" – and not an ounce of fat to be found in the finely sliced duck - was for Joe, while I had opted for the Crème de la Cinnamon Seabass.
Never able to resist seabass on any menu I'd overlooked the fact that this dish came with cream, something I'd generally prefer not to have. But I needn't have worried, my meal was cooked beautifully and the taste was light and fresh.
The Saffron Room offers all you expect to see in an Indian restaurant, so finding your favourite dish won't be hard, but the additional 'designer' dishes on the menu mean that for those who like to try new tastes and extend their horizons a little, there's plenty to tempt them here.
It's a long time since we last ate out an Indian restaurant. If our first experience of the Saffron Room's anything to go by it won't be long before we're there again. Next time we'll take along a few friends and add a few cocktail specials to the evening. Here's to our next visit.

alison winmill birmingham





The restaurant is very popular and gets very busy, but it is well worth the wait. The food is delicous and good portions. Would recommend this to everyone who likes indian food.
Updates
Is this information about correct?
Please tell us about any omissions or mistakes on this page...
click here to submit an update.
If you own or run this venue and would like to get more customers from onionring...
click here