| | | |
| --- | --- | --- |
| | | |
Home > Restaurants > Manchester > Urmston Restaurants > Adrak
Adrak
Indian
[show 14 more photos]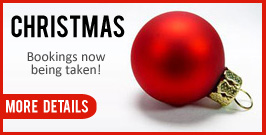 Welcome to Adrak; a Bangladeshi and Indian restaurant based in Urmston. This modern, stylish and comfortable restaurant offers an extensive menu with both traditional and contemporary dishes.
At Adrak you can find all of your favourites including Rogan Josh, Madras and Bhuna; but for the adventurous type you can also find some specialities which you may not have seen before such as the Desi Fusion dishes.
Adrak also great value for money for both diners and those wishing to experience delicious meals at home. Whether it is the four course special, complimentary bottle of wine or Cobra; Adrak is both affordable and tasty.
With their own car park, gluten free, disability access and capacity to host large parties, Adrak is ideal for those wishing to book out an entire restaurant for birthdays, work parties and any other excuse to enjoy fabulous Indian cuisine!
---

This venue can cater for functions and events...find out more

Find the best deals for Hotels in Urmston...click here

This company offers a takeaway service...find out more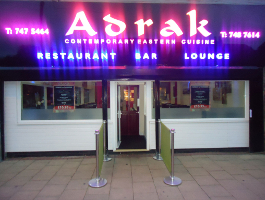 Terry Urmston
...I recently held a birthday party at the Adrak. 22 people had a wonderful meal. The service and food was excellent and even the people that do not like curry found something that suited ...
Contact Details
96 Flixton Road
Urmston, Manchester. M41 5AD

0161 748 7614
Say "Mel from Onionring sent me"
Opening Hours
| | |
| --- | --- |
| Monday | 1700-2300 |
| Tuesday | 1700-2300 |
| Wednesday | 1700-2300 |
| Thursday | 1700-2300 |
| Friday | 1700-0000 |
| Saturday | 1700-0000 |
| Sunday | 1700-2300 |
Facilities
Parking is in a car park. Gluten Free Dishes Available. Disabled Toilets. Licensed. Private Parties. Takeaway and Delivery Service. Children's High Chairs. Children's Menu Available. Gluten Free Options. Wi-Fi Internet.




Offers
Events
December
1
Sunday 01 December 2013 to Tuesday 31 December 2013
We are running our fantastic four course offer throughout December for just £10.95 per person. It's an amazing deal which is perfect for large parties wanting an alternative to the usual festive meal. We are also open again on Christmas Day with a great set menu to choose from including both English and Indian cuisine priced at £21.95 per person (£12.95 for children under 12). Sittings are between 1300-1900 and booking is essential on 0161 748 7614. If you are planning on going out on the...
<
CLICK HERE FOR MORE INFORMATION AND TO BOOK
>
Recommendations
Terry Urmston





I recently held a birthday party at the Adrak. 22 people had a wonderful meal. The service and food was excellent and even the people that do not like curry found something that suited
urmston





Absolutely awesome curries!! We had the karahi and madras, full of flavour - quite hot, but that's how we like it. Really pleased that we've discovered this curry house
Sandra Sale





six of us went a couple of weeks ago food was fantastic service was fantastic thoroughly enjoyed the night will be returning very soon
Ann Urmston



Excellent meal, fresh and tasty and the service was attentive... The restaurant is clean and well polished with beautiful linen cloths, a modern crisp decor makes it relaxing. Moderate prices too which is pleasing... Everyone I have introduced to this restaurant said they would come back... That speaks volumes.
Lisa & Stephen Urmston





We have visited Adrak many times and the standard and service is always excellent, we arranged our sons christening party there in December and they did a fantastic job they catered a buffet for 30 plus guests & arranged the room so there where plenty of places to stand or sit, all our guests were really happy with the venue, food and service, highly reccomended.
Chris Urmston





WOW! We love nothing more than trying new places but since we first went here, we haven't been anywhere else. The food is fantastic, the service is spot on and a warm friendly atmosphere always greets you. We even enjoy the takeaway service if we are in a rush! You must try here! Keep up the good work!
Hollie, Urmston





This is the best restaurant of its kind in Manchester!! All the curries are delicious and I'm working my way through the menu and each curry is as good as the last! Very friendly staff and lovely atmosphere!! They even tailor a curry to your own taste. Highly reccommend!
Hollie Urmston





This is by far the best restaurant / take away in Manchester!!! I'm working my way through the menu and each curry is as amazing as the last!! Highly recommend!! Great service, great food!!
claire





lovely food from Adrak, had take aways and visited the restaurant. never had a bad meal. We love it! would have no hesitation in recommending
sheila urmston
Adrak is a superb place to eat for a quiet night out or with a party of friends!! Staff are helpful and friendly. Food is excellent. We shared our recent visit with a party of friends (2nd Christmas party there) and will see them again next year!! RECOMMENDED
Janet Price
went there for christmas dinner. Very delish meal and the atmosphere was great. the service was excellent. Dont usual write reviews but enjoyed it that much that i thought id write a review. Would defo recommend!
Greg, Urmston





I visit the Adrak regularly and can honestly say I have never had a bad meal in there. Everything is always very fresh. The menu selection is vast and there's plenty to choose from to suit all tastes. The Sunday-Thursday deal is superb value and only excludes a few dishes. Service is very friendly and attentive. Try the Chicken Tikka Chilli Chat starter, it's lovely.
big dave





this is the best indian in urmston. just had fish pakora for starter and murghi jaflongi for main and i have to say its one of the best meals ive had
Julia Reynolds, Urmston
We had a superb meal here at Adraks and the service was excellent. I would go so far as to say this is probably the best Indian meal I have had in a long time and my husband and I enjoy going out for curries on a regular basis. My taste buds were left tingling with the fresh herbs and spices and we'll be back for more soon. Well done to the team for giving us such an excellent experience. The prices are extremely reasonable too!
urmston




Excellent, clean Indian restaurant that provides inventive meals at a great price. probably the best Indian I have had in urmston for years. Great service, classy and reasonable. What more do you want.
Bernie Mackay & Sandy Wallace





We visited family in Urmston in aug bank holiday and we were very impressed with food, service, staff, atmosphere. It really was outstanding and would reccomend it to anyone who visits that part of the country. Please open restaurant in Glasgow... Well done to Candy and all the staff. We will be back.....
Matt , Urmston





thought i would leave a comment on here as it's not something i normally do, but i was that impressed with Adrak service and the food was totally different style to any other indian and Bangladeshi food i have had before, i spoke to the staff and explained what i liked and then they would recommend a main meal that was out of this world, full of flavours that matched exatcly what i wanted, since then i have ordered many take aways and visited to sit in when i can, the staff remember you as well which is really good. one thing my wife has noticed with adrak is that the meals are cooked to order and not mass made so you get a freshly made meal everytime.
daveand sarah-urmston





we really enjoyed the high level of customer service and the food was excellent.we are regular indian food diners and would recommend the adrak to anybody local or otherwise.This really is the tastiest indian restaurant in urmston.
St. Helens





Just had another excellent meal at the Adrak, Candy the manager and his staff all very welcoming. Food excellent and well worth the drive out from St.Helens. Handy if you're at the Trafford Centre and wanting good freshly cooked food. Excellent value for money with an extensive menu to suit all ages.
Jeff, Warrington





My fiancee and I popped in for a meal after a shopping trip to the Trafford Centre, having seen the good reviews on here. We were not disappointed - the Sun - Thurs £10.95 deal is superb value and the choice available on the menu is impressive. I was impressed by my chicken chat puri (one of the nicest I've had) and my fiancee loved the crispy batter on her chicken pakora. The mains were also very good, I had a particularly tasty chicken tikka bhuna and my fiancee enjoyed her special mix balti. The service was good, the restaurant was clean and fresh. Overall very pleased - we'll be back.
Lynn - Stockport





Ate at the Adrak last night and took my daughter her first visit. We were both delighted with the meal and the service. Beautiful clean surroundings to compliment the excellent food. Staff make you feel really at home and the complimentary Baileys at the end completed a lovely and relaxing evening.
Malcolm Black




Just had a excellent Curry in this restaurant , clean, fresh, great friendly service. The early bird is well worth the money and I would go as far as to says its one of the best curries I have had, and do I like my curries.
Joshua
Had a great time there, great dishes. Back very soon :)
Jessica Louise, Urmston





At first, I wasn't too sure about this place as I don't really like trying out something new. But my mates kept going on about how great the food was at Adrak, so I thought I'd try it out myself, to see what this fuss was about and I am pleased to say, this restaurant is amazing. The quality of the food and the service was impecable. It has now become my favourite place to dine in.
Jo, Urmston : )





Superb food and very good service, defo would visit again : )
Andrea, Urmston
The food was scrumptious! The service delivered was of an excellent standard. Had a really great experience at Adrak, both with the service and the food, which was great. They really do look after their customers. Highly recommend this place for those who love a mouthwatering curry. Will surely be going back!
Angela McLaren.Urmston
me and my friends always enjoy the lovely food that we have at the Adrak, we try different dishes and they are all really nice, the staff are always friendly and helpful, we always have a good night there.
Sarah, urmston
I went there last week, the service was excellent and food was very tasty. Highly recommended!
Lymm





We went for a leaving party as a party of 12 people and had a lovely time.The waiters were courteous and attended to any requests. There was a comfy sofa to wait wjilst the others came.
We requested starters waiting for the others , when the others arrived we asked if we could have them together,nothing seemed a problem.
The food was excellent value( mon to fri 4 courses for £11.95 and you can choose anything off the menu( starter has to be below £3.95 and main below £8.95 but that included pretty much all of the dishes on the menu). I had the poppadom( which was included), the samosas for starter and a main lamb dish, also pilau or nan was included(of which there was plenty) and coffee/tea.The food was delicious, the lamb not fatty and the pilau just right.
It was very quite midweek, the place was clean comfortable and plenty of spaces on the road to park( although they have a car park you have to get to it the flixton way otherwise it is a one way road)
We all really enjoyed the evening, I would highly recommend the place, its a real gem in urmston.
Updates
Is this information about correct?
Please tell us about any omissions or mistakes on this page...
click here to submit an update.
If you own or run this venue and would like to get more customers from onionring...
click here