| | | |
| --- | --- | --- |
| | | |
Home > Restaurants > Amici > Recommendations
Reader Recommendations for
Share your experince of dining out in . Simply search for a restaurant you would like to review and use the links.
Change region:
Exactly
20
22/01/2012
Visited by melissa - Cheadle
Amici is definitely my favorite Italian, the staff are very friendly and accomodating and the food is really tasty. I usually just go for a meal with my partner of family, but recently i experienced the amici party night, it was a beautiful three course meal thena disco, it was a great atmosphere and much less hectic than a club but still ample space to have a boogie :) good work guys
22/01/2012
Visited by James - Bramhall
Great restaurant, brilliant service and amazing food. The specials board at Amici is especially impressive with a wide variety of tasty very reasonably priced deliscious options. I noticed during my last visit that they are now doing an early bird offer with an option of a two course or three course deal with the meal choices changing monthly - great idea i will definitely be trying this out .
07/05/2011
Visited by j c maldini
I'm Italian and I must say....this is the best Italian food I ever had in England. The waiters are super professionals and friendly. The chefs are top. My girlfriend was very impressed...so do I. Thank you all at Amici for a lovely evening, see you soon
04/05/2011
Visited by sarah
My partner took me to Amici for a romantic meal where he proposed to me. The atmosphere was great and the staff were really friendly and helped to make my night special. The food was exceptional and very big portions, maybe a little too much but better that way than not enough. My partner had the lamb which was cooked to perfection served with vegetables there were also cooked perfectly, i had penne bistecca a lovely pasta dish with tender pieces of steak through it in a beautiful sauce. For straters there was so much choice we wanted to try them all but we decided to share some bruchetta with parma ham, garlic mushrooms and pizza style garlic bread all of which were very tasty. For dessert we really were spoilt for choice, the enticing cake display is at the front of the restraunt with a wide selection of homemade desserts, i opted for tirimisu and my partner had the trifle both of which were delicious!! The lighting and atmosphere gives a very romantic feel to the place with soft music playing in the background and the decoration was nice. I would definatly reccomend this restraunt to dine in well done Amici for getting it right !
30/01/2011
Visited by karen mcmillan manchester
Visited the Amici for the first time with three adults and three children, the food was excellent and the childrens menu was brilliant, the staff were really friendly and welcoming there was also a specials board, the waiter over heard it was my birthday and brought me a drink which was very nice, I would highly recommend this restaurant and will be returning very soon.
01/10/2008
Visited by Gemma, Heaton Chapel
Myself and my husband have visited Amici twice during the last few weeks. It serves the freshest and tastest home cooked food we have had in a long time. The ambience isn't the most romantic for an italian restaurant, but the food makes up for it. Recommend this little find to all. Its turned into our local !!
08/09/2008
Visited by Mrs S Hulme
My husband and I have visited here a couple of times and the food is fantastic. It's one of our favourite Italians. The only fault I would point out is that we have a friend in a wheelchair and there is no disabled facilities ie. toilets. The existing toilets are too small to fit a wheelchair which means unfortunately we won't be able to bring our friend to experience this lovely restaurant.
01/06/2008
Visited by Anonymous, New Mills
OH MY GOODNESS!!!! This place is perfect, an absolute gem,and completely exceeded any expectations we had!
We visited last night, a sunday evening, and although it wasn't packed, it was almost full! The atmosphere, the service, and the food we're absolutely amazing, and made my sunday evening perfect in every way!
I highly, HIGHLY recommend that you visit! I know that ill be making this place on of my regulars( if not the only one! Im not sure anywhere else could beat it!)
11/05/2008
Visited by Buxton
Worth the travelling and what value for money! My job entails much travelling and therefore I dine out a lot, this restaurant was amazing. ~The food was simply excellent. Friendly staff, wonderful ambiance and compliments to the chef and his team, I would recommend this restaurant to anyone.
17/05/2006
Visited by Brian Hardman Stockport
we had a birthday party there. it was a great evening the food was exelant the menu choice was very good they catered for most tastes. the service was very good you could either order your drinks from the bar or have waiter service. the evening was toped off with a disco which made the evening a first class night out on the local door step. the price for the evening was under £20 and that included the entertainment. would reccomend this place for any type of celebration for birthday partys they even sang happy birthday. plus you may even spot some celebs from the soaps
All reviews will be passed onto the business reviewed but some reviews may not be published for legal reasons. View disclaimer -
Click here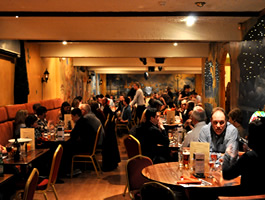 59-61, Buxton Rd
Stockport, Cheshire
SK2 6NB
0161 480 5982