| | | |
| --- | --- | --- |
| | | |
Home > Restaurants > The Swan with Two Nicks > Recommendations
Reader Recommendations for
Share your experince of dining out in . Simply search for a restaurant you would like to review and use the links.
Change region:
Exactly
22
02/04/2013
Visited by Tony Denholm
Fantastic food, fantastic service, really excellent beer. Great place to eat, drink & be merry.
08/12/2012
Visited by Richard Ernill Timperley
On 3/12/2011 I said we would be back and we were last night with 15 people for a reunion meal with some again travelling from Carnforth, Congleton and Tytherington as well as 'locals'.
Like last year, we all chose from the Christmas Party menu and were all impressed with the surroundings, pleasant and attentive staff and the quantity and quality of the meals. Not forgetting the excellent offerings from Dunham Massey Brewery available!
This really is a great place to visit and comes highly recommended.
Thank you very much and we will return next December!

05/07/2012
Visited by Sue Lerner , Noctorum , Wirral
Wow what a great pub. My family and i had a great meal last Sunday evening. We had been visiting friends in Irlam and they recommended your pub. From entering we were greeted with a big smile. Your Staff are second to none and your food was delicious. Thanks for a lovely evening. Hope to come again very soon. Sue
17/02/2012
Visited by Dave Beresford - Manchester
We enjoyed another fantastic meal at TSWTN on Valentine's Night. My steak was perfect whilst my beautiful wife Sharen was delighted with her very generous sized chicken fillet. Dunham Massey Brewery's Winter Warmer is currently on draft and had to be sampled once again - excellent! With chocolate roses for the ladies and fast but discreet attention from Ann, Tracy and the staff within the candlelit surroundings, TSWTN proved once again to be a great choice for our romantic evening. Thank you!
27/01/2012
Visited by Paul and Michele
Had a really nice meal there, black pudding starter was great and the chicken curry hot and tasty. Michele had the sea bass and thoroughly enjoyed it. As a bonus the locally brewed beer is excellent, shame we were both driving!
03/12/2011
Visited by Richard Ernill Timperley
I organized an annual reunion get together for 12 people at the Swan with Two Nicks for 2nd December 2011.
Even though the Christmas Party menu was not due to start until 5th December we were offered it as an alternative to the normal menu should we wish.
We all decided on the Party menu and were all very impressed with the service, quantity and quality of the meals we had, and the most pleasant surroundings. It is great when all the meals come together hot and on heated plates and the vegetables, of which there was an ample supply, came in tureens which were also hot.
Many so called 'posh' restaurants could learn a lot from a visit to the Swan and learn to serve quality food and vegetables in sufficient and satisfying quantity at a reasonable price.
Thank you all very much – we will be back!

15/11/2011
Visited by Dave Beresford - Manchester
On a busy Sunday afternoon, our party of 19 people, ranging in age from 7 to 86, were really looked after as we celebrated an 80th Birthday. Ann and the staff made it a very special occasion whilst, as ever, the delicious food and drink was a tasty hit with everyone. Everyone knows my fondness for the SWTN, and this happy visit showed why. Thank you!
16/10/2011
Visited by Robert, Cheadle
This afternoon I visited The Swan with Two Nicks with my wife. We couldnt believe how busy it was for a late afternoon in October. After a short wait at the bar we were shown to a lovely cosy table for two. This place really is something special with the welcoming open fire and lovely candle lit tables. The menu is extensive and I chosepuke famous steak and ale pie. We waited slightly longer than we hoped, but the place was so busy in the bar and restaurant, you couldn't complain. The food was delicious, well worth the wait and the waitress was polite and friendly. The only down side to our meal was a large party of 15 or more adults and unruly children on a table near us, who seemed to think it was ok to throw food on the floor and made a real mess. Other than that a lovely meal in a lovely pub.
04/09/2011
Visited by Timperley
We used the Swan for my parents in laws 60th wedding anniversary and well the best food , best beer and to top it all best service , these guys couldn't have done any more they made us feel like we knew them they talked to us in a way that was great we enjoyed the night and so did the staff, thanks to Julia and Melissa and everyone else at the occassion 3/9/11 cheers guys a really top night Phil and Del Poyner had a great night ...thank you
05/06/2011
Visited by Michelle , London
Had a fantastic family lunch here, the food and service was great. Next time I'm back visiting my family, we will definitely eat here again.
03/05/2011
Visited by martin woodford
Brilliant service, brilliant staff, and great food with a very homely atmosphere.
25/04/2011
Visited by Dave Beresford
Still GREEEEAAAT!!!
21/02/2011
Visited by Dave Beresford - Manchester
It is always a huge pleasure to call in TSWTN whether just for a drink or a meal. Well kept real ale, great wine and superb food - perfect! This country pub, currently with roaring log fires, is the epitome of a rural English hostelry.
The service is top class, too, with Ann, Carey, David and Tracey always efficient and friendly. Thank you TSWTN!
29/11/2010
Visited by Yvonne, Gatley
I took my (fussy) parents here for lunch and we had a lovely experience. The staff were friendly and very accommodating, despite being untra-busy they let us swap tables to allow more space for my baby's buggy. Atmosphere was cheerful, log fires and real ale (what more could you want?) The food too was good and hearty, just the ticket for a cold November day - especially the slow cooked lamb (melt in the mouth). Would go back again and again!
06/09/2010
Visited by Lymm
Eaten here twice in the past month and I have been very impressed with this pub. The first visit we had a 45 minute wait for our meals but were offered free deserts as an apology. Honestly, me and my partner didn't even notice the long wait as we were in such a relaxing environment. Gorgeous and large portions of food. More than enough choice on every menu. Friendly staff who seemed to be working hard. Thank you.
01/06/2010
Visited by Steve Altrincham
It's nice to find a country pub that isn't part of a national chain for once.Great homemade food,three empty plates.
09/05/2010
Visited by partington
a real country english pub
19/10/2009
Visited by Dan
The best food I have had out for ages. Really decent menu with lots of fresh fish and specials. Salmon with goats cheers was fantastic, forgot to mention how good the Thai mussels were aswell. Not overly priced and good service throughout. Well done!
18/02/2009
Visited by B & K
What a great find, spotted on this website and had since heard good things about it. So we went down with soem friends on Sunday, the place was a lot busier than I expected, nice warm fire on the go. Food was fanastic, one of the best Sunday roast around. Great stuff!
12/05/2008
Visited by Beatriz, Barcelona
Two good friends from Manchester took me to this beautiful pub. I found the food absolutely delicious, I would recommend it to any foreigner who wants to try good English food in a wellcoming atmosphere.
09/02/2007
Visited by Val Frankel. Lowton.
Absolutley adore this place. Usually visit weekends late afternoon after walking Emily our Golden Retreiver. She is welcome in the bar area of the pub and is supplied with doggy biscuits and water. We of course enjoy the good food that they serve at the Swan,the log fires & the homely atmosphere..a perfect end to the day. Thank you.
07/02/2007
Visited by Joanne, Appleton
Stumbled upon this delightful pub/restaurant on Sunday afternoon whilst out for a stroll. Good, tasty,traditional pub fayre. Very busy and some people did have to wait for a table, think we were lucky because there's only 2 of us! Definitely worth a try though without a doubt!
All reviews will be passed onto the business reviewed but some reviews may not be published for legal reasons. View disclaimer -
Click here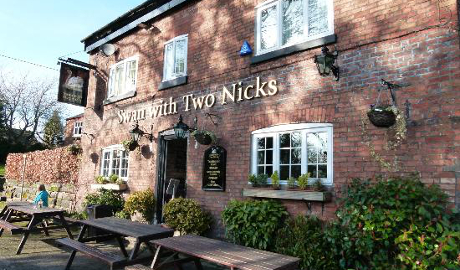 Park Lane, Little Bollington
Altrincham, Cheshire
WA14 4TJ
0161 9282914