| | | |
| --- | --- | --- |
| | | |
Home > Restaurants > Dilli > Recommendations
Reader Recommendations for
Share your experince of dining out in . Simply search for a restaurant you would like to review and use the links.
Change region:
Exactly
39
04/08/2013
Visited by Chris T - Heald Green
I recently visited Dilli's and enjoyed an excellent meal. There were 4 of us in our party, so that meant we could take a selection of starters to share. Each dish was individual in taste and a delight to the palette. We took 4 main dishes that included prawns cooked to perfection and lamb tender, but not stringy and a cod fish that I would certainly recommend. All the food is very authentic and service is excellent with nothing too much trouble. I have a dairy allergy and again, the staff were concerned that all the dishes selected would be suitable. Finally, it made for a nice change to have my Hi Life card not only "accepted", but "welcomed". Great restaurant - One to try out, but probably best to book if you are planning a Saturday night.
05/09/2011
Visited by Nick, Alty
As a facebook friend of the restaurant I got the two dine for £29 voucher, so we popped down last night (a Sunday), and boy are we glad we did!!
We wouldn't normally order starters at an Indian restaurant but as it was on the offer we picked out the Mussels and the fried fish... both were delicious. We'd agreed to go halves but when it came to swapping I was gutted to have to hand the mussels over!!
The Lamb mince Tak-A-Tak was super tasty and a nice change from the norm. Kozi Chettinad completed the meal. All dishes were expertly flavoured and made with the finest quality ingredients.
So overall, we left feeling we had the best Indian meal in years... you've got to try Dilli's mussels - yummy!!!
16/08/2011
Visited by Siouxsie Sale Moor
It is refreshing to find a good Indian restaurant, I'm keen on a take out but these days the quality is not improving. Our neighbours recommended Dilli and we were blown away with the quality and creativity in the food. We have been back several times, though my partner did not have a great curry experience. He does not want to return, though I have been back for a party - and the food was excellent. He still does not want to return whereas I long for the lobster - that is an exceptional dish.
25/06/2011
Visited by Sara Caldwell, Hale
Best indian ever!!! Just love it. Personal favourites are the Khumb Oubhina Tikka mushroom starter and the Hyderbadi Murgh Do Pyaqa. Always take my visiting friends and family here and they all rave about it. Yum yum!
16/05/2011
Visited by Sue, Warrington
Best Indian meal we've ever had. My son and I love Indian food. Now, our favourite dishes are Chicken65 and Bhuna Lamb by the skilful chefs at Dilli. Perfectly presented. Our first visit, we will be back.
27/09/2010
Visited by Peter Harris, Newton-le-Willows
We had our first experience of Dilli last night after reading about it on Onionring. Magnificent and really tasty authentic Indian cuisine. We had 3 starters and 2 mains and would confidently choose anything at all from the menu - outstanding!
27/09/2010
Visited by Dylan, Altrincham
Had some biriyani and chicken wraps at the Trafford Food Festival yesterday - really tasty and will certainly be returning to the restaurant this week!
22/02/2009
Visited by CC, Altrincham
Excellent, as always. I have been an admirer of Dilli since it opened and their standards have never slipped. Several other Indian restaurants have been and gone (most under-cutting Dilli on price), but Dilli has endured. True class always survives, it has a loyal customer base for good reason.
27/08/2008
Visited by Mr And Mrs Mehta
We had our silver wedding celebrations at Dilli in May. I don't kow from where to start. From the first meeting, every thing was unbelievable. Mr. Ravi made us comfortable and went through our requirements. He gave us excellent suggestions and made us feel as if a family member was helping us in making our day memorable. There was no end to his hospitality. On the day the staff were like family members eager to solve our demands with a smile. The food was unbelievable and our special requirement of Jain food was the best in Manchester. We had vegetarian menu which till today, I have not tasted anywhere. Our guest can still linger the taste and never forget to comment when we talk of organizing any other events.
25/07/2008
Visited by Chris, Altrincham
Dilli has to be the finest Indian restaurant I know. I've been far too many times and the food has always been exceptional - a real taste of what Indian cuisine should be. Service is great and the restaurant has a really nice atmosphere.
09/07/2008
Visited by Marjorie , Wirral
Being a lucky winner of June Onionring competition my husband and I won a meal courtesy of Dilli. It was a fair way to travel in the pouring rain but well worth the effort. Everyone was very pleasant and the food was obviously well sourced in terms of quality and expertly cooked to bring out the flavours. I would definitely recommend the Lamb Chops Baluchi. Thanks for a great meal.
04/07/2008
Visited by julie heyes
I am always a little nervous eating out because I cannot eat anything containing gluten. Very helpful and even made a special bread for me from gram flour to soak up all the lovely juices!
27/03/2008
Visited by Russ
Six members of Trafford Curry Club visited Dilli at 8pm on Thursday 27th March. They were doing a special two for one meal offer and the place was heaving. We had poppadums,mixed starters of sheek kebabs and battered fish ( absolutely delicious ). Six different main courses all well prepared and served in perfect condition. With wine and beer the bill came to £138 but that was with £42 discount knocked off. All in all we were mightily impressed. Dilli is dearer than most other Indian restaurants we have visited in the Manchester/ Cheshire area but you can't beat it for good quality delicious food. The finest Indian restaurant in Trafford Borough with its only main rival being the Masala Lounge in Sale. We have no hesitation in rating this restaurant A+.
15/02/2008
Visited by Neil, Warrington
One of the best meals I have ever had. Wonderful attentive service. Perfect!!
17/12/2007
Visited by Si
This place never disappoints, always good food. Can get busy and service might drop slightly but that is just being picky! Would recommend to all.
14/06/2007
Visited by Andrea V, Altrincham
What a fantastic meal. The best Indian I have had, and actually quiet different to most other Indian restaurants. Good service, decent portions but best of all fantastic flavours. Proper Indian food and it was great.
17/04/2007
Visited by Tony, Lymm
To me this is still the best Indian restaurant around. Stylish and modern, serving non-typical Indian dishes, give it a try I love it.
30/11/2006
Visited by The Times
10 Top Indian Restaurants
This new-wave, smartly styled restaurant is famous for being the first Ayurvedic restaurant outside of London. The interesting contemporary menuentices with typical dishes including mussles hara masala (flavoured with curry leaves and lemongrass) and methi machchi tikka (salmon flavoured with fenugreek, cloves and yogurt cheese marinade before being char-grilled) and Hyderabadi bhuna ghost (pot-roasted spring lamb). Vegetarians get a huge, beyond -the-usual choice, with dishes such as a tremendous aubergine cooked in a chilli peanut butter and yogurt sauce. Breads deserve a special mention for being fluffy, buttery and first-rate, and include a wholewheat roti, kulcha and a mint flavoured paratha.
You can also enjoy watching the kitchen through a viewing window, but have patience with the slow service when its busy.

28/11/2006
Visited by Dinner Detective, Metro News
THE trick in an Indian restaurant was once about getting the amount of food right.

Many is the time you would order far too much, that extra naan bread being the equivalent of Monty Python's wafer-thin mint.

Indeed as a student I would risk injury by forcing down that last bit of pilau because I knew I would surely be hungry at some point the next day. How many poppadoms? Four, six, eight? The focus was always on quantity, rather than quality.

Don't get me wrong, along Rusholme's curry mile and in the balti houses up and down our high streets there were tremendous meals to be had. But until I ate at Dilli, for me, it never reached the level of "cuisine".

Dilli dispenses with the Anglicised tradition of a curry menu with various lists of variations combined with veg, meat or prawns and instead presents individual meals categorised as either vegetarian or non-vegetarian. And for the non-meat eater there is a tremendous selection. I counted 12 main courses without a hint of flesh.

Dilli also dispenses with the English notion of subcontinental food, specialising in "genuine vintage Indian cuisine" and shuns our versions with the madras at its centre. It is also the first Ayurvedic restaurant outside London. Healthy as well as tasty.

Dilli was full on our visit and, after a tour of the town centre looking for a parking spot, its low-key but tasteful interior – a mix of modern and traditional ethnic – was welcoming and billowing curtains at the front door kept out the November squalls. As we were seated, a Bentley parked on the double yellows right outside. The owner had a table. That's how to do it.

A basket of papads with small bowls of chutney came swiftly and the delicious raita was the colour of pea soup. To start we had a Vegetable Kebab Platter for two (£8.95), a couple each of stuffed paneer (hard cottage cheese), potato, peppers and mushrooms. I'll have to admit, I was a little disappointed.

The presentation was somewhat thrown together and, apart from the decent-sized blocks of sublime paneer, the stuffed veggies seem to blend into each other. I wish I'd had the carom flavoured garm flour batter fried fish.

But the main courses lived up the Dilli's reputation – which this year means a Michelin rating and a nomination in the Manchester Food And Drink Awards.

My Allepey Seafood Curry (£11.95) is a speciality of coastal southern India and was as colourful as a Kerala snake boat; the red saffron infused oil floating on a creamy coconut milk sauce, laced with the green leaves of herbs.

It all complemented the hunks of seafood perfectly and amazingly did not overwhelm the delicate flavour of the salmon, king prawn and couple of weighty scallops.

Opposite was a Hyderabadi Bhuna Ghosht (£9.25). A more fiery dish which still let you taste the subtleties of the sauce and lamb.

Rice (plain is all that is needed) adds a couple of pounds extra to each dish. Greedily we also shared a Dal Makhani (£4.25) as a side dish from the vegetarian menu.

A "black lentil delicacy incorporating fresh tomatoes and garlic, cooked overnight on charcoal, finished with cream and a dollop of butter". It was even better than it sounded, with the sauce the consistency of melted chocolate.

I find wine is lost on most Asian food, but our dignified waiter, who oozed relaxed, cheerful charm, recommended a Pinot Grigio (£13.50) from the moderately-priced list.
With the 10 per cent service charge it all came to £71.28, which is about right for a quality restaurant.

The dessert menu is rather brief (I had an average kofti – £3.50), probably because at that point everyone's eaten more than enough. Even in a place of quality, quantity is always an issue.
Unlike restaurant reviews in some newspapers, the Dinner Detective eats out incognito and always pays for his meal. That way, the Dinner Detective gets the same treatment as the readers, giving an honest review of the service you might receive

DILLI
60 Stamford New Road, Altrincham,
Cheshire, WA14 1EE
Tel. 0161 927 9219
Website: www.dilli.co.uk
STARTERS:
CHEAPEST: Mixed Vegetable Pakora, £3.25.
MOST EXPENSIVE: Mussel Hara Masala, £4.95

MAINS:
CHEAPEST: Vegetable Biryani, £4.95.
MOST EXPENSIVE: Lobster Pepper Fry, £19.25

DESSERTS: £2.50 to £4

28/11/2006
Visited by ANGELA KELLY, Metro News
Dilli's veggie good curries -
IF you ever thought vegetarian food was bland, think again.
That's the message from Indian food experts at award-winning Dilli restaurant, in Altrincham, where they are launching a new vegetarian menu as part of the Manchester Food And Drink Festival.
Recipes stretching from the Calcutta streets to a Hindu holy city are represented in the vintage starters, main courses, breads and desserts which aim to take vegetarian dining back to its roots and attract new fans.
Unsurprisingly, the restaurant has been nominated in MFDF's Awards for Best Provision for Vegetarians and Dilli's head chef Mohammed Naeem has also been nominated as Chef of the Year.
As Dilli's chef director Ravi Bajaj - whose 23 years experience in the food industry began in Bombay - states: "Many people tend to associate Indian food with rich meat dishes but original Indian cuisine is traditionally vegetarian.
"Meat was gradually introduced by the various nations that invaded the sub-continent over many centuries.
"It's never easy to cook meat dishes but it's far more difficult to produce a good vegetarian meal because the natural flavours are not as strong and a chef needs to concentrate even more on taste, colour and freshness."
The menu's Calcutta street food is Singhara Chaat, a Bengali shortcrust samosa starter, served with spiced chick peas, topped with cumin-flavoured yoghurt and chutneys. And its Aloo Dum Benaresi - a main dish of baby potatoes cooked in a piquant, well-fried masala - comes from the Hindu holy city of Benares on the banks of the Ganges.
Today (Friday), the restaurant was hosting a menu launch party, with Trafford Council, at the Farmers' Market, in Altrincham.
And tomorrow, chef Naeem will be sharing his secrets with the general public when he gives a demonstration of Indian cookery, with a commentary by Ravi, in Manchester's Albert Square.
The Dilli team will be back there again on Wednesday, October 11, to Sunday, October 15, from 11.30am to 9pm, when they will be cooking Aloo Tikki "street food" for visitors to the open-air International Food Court.
ANGELA KELLY
19/11/2006
Visited by Jo, Macclesfield
Visited last night - party of 12. Arrived at 8.40pm received Starters at 10pm and main course at 11.15pm. Not enough menus were given out and they didn't explain the menu well. Food was very good but shame about service!
06/11/2006
Visited by Joanne, Cheadle
By far the best Indian food I have ever tasted and one of (if not)the best meal out I have ever had. Will definitely be back soon.
23/09/2006
Visited by Naomi, Timperley
Attended a private function at Dilli last week, the food was gorgeous and we could not fault the service.
03/04/2006
Visited by Liezl - Altrincham
Fantastic! Whenever we go we are treated like royalty. We have been to Dilli so many times since it opened and the food is consistently excellent, the staff friendly and the decor smart, but understated. This is certainly no "curry house". I think this would have to be my favourite restaurant in Alty ... perhaps in the UK ... perhaps even in the world!
11/03/2006
Visited by Clive, Altrincham
Been for an evening meal, Sunday Lunch and and an Altrincham & Sale Chamber of Commerce introduction evening. The seafood was wonderful, great service and a good selection of wine and beer. This is not your normal Indian Restaurant and as the food is all freshly cooked, dont be in a rush. Upmarket, also reflected in the price.

All reviews will be passed onto the business reviewed but some reviews may not be published for legal reasons. View disclaimer -
Click here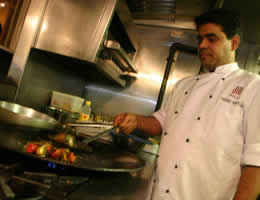 60 Stamford New Road
Altrincham, Cheshire
WA14 1EE
Tel: 0161 927 9219 / 0161 929 7484