| | | |
| --- | --- | --- |
| | | |
Home > Restaurants > Abode MC Cafe Bar & Grill > Recommendations
Reader Recommendations for
Share your experince of dining out in . Simply search for a restaurant you would like to review and use the links.
Change region:
Exactly
8
07/02/2013
Visited by Tim & Jane
Always like this place, less formal than downstairs but I think the food is just as good. Always good service and food.
18/04/2011
Visited by Dan
What a fantastic restaurant. Loved it, great atmosphere, lovely food, good service and great value on the divine dining menu. Would recommend to all.
09/08/2010
Visited by Jo
Went to Manchester on Friday and stayed until Saturday, we had the most amazing time.

The Abode hotel is fantastic, our room was enormous with the biggest bed I have ever seen, I could have stayed in it all day Saturday if all those shops hadn't been on the doorstep. The shower in the room was by far the best I have ever used and lovely his and hers bathrobes are provided. There were great tea/coffee facilities and yummie biscuits available in the room.

Our meal in the restaurant on Friday night was beautiful and we washed it down with a lovely bottle of house red. We had a lovely table reserved for us and the staff were very attentive and helpful in suggesting items on the menu. The breakfast was very high quality and a huge range of options from cold to hot were available - we both had the full english which set us up for a days shopping. It is also a bonus that they serve breakfast until 11am so you can have a relaxing morning. I visit Manchester quite often to meet friends but this was my favourite visit to date, I even ventured onto the Wheel which I have never done before.

I would highly recommend the Abode Manchester for both the hotel and restaurant and will definately return in the future.


11/06/2010
Visited by Jamie Cox, Green Quarter
Booked for their 2 course and wine deal and was blown away by the quality. Expected usual fayre and ended up with what i'd expect from a Fine Dining restaurant - all this for £25 for me AND my girlfriend. The service was sharp too, really making us feel welcome. I've booked again already!
02/04/2010
Visited by Catherine, Sale
Great food, excellent service. Really good place, will definitely return. The offers are very good value especially the sharing platter with wine.
29/03/2010
Visited by Nick, Alty
Had been meaning to try MC's for some time (my flatmate always raves about the cocktails!) and finally went on Saturday night.
We received a warm welcome and relaxed in the bar area for a drink first. There's a really good atmosphere in the restaurant and all the staff were really friendly. Lots of little things that make this a great dining experience (like carrying our drinks to the table).
The food was great too. The steak I had came on a large slab of wood, served with some rustic chips and lots of sauce.
After the meal we popped downstairs for a cocktail - the best Mojito my date had ever had! Thanks
12/03/2007
Visited by DM & JW
The food was great. Good, friendly service. Would recommend.
13/02/2007
Visited by Steph
Fantastic food and service. The restaurant is nicely styled and quite relaxed. We had a great night - thanks!!
All reviews will be passed onto the business reviewed but some reviews may not be published for legal reasons. View disclaimer -
Click here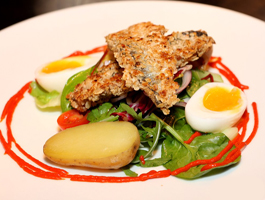 Abode Hotel, 107 Piccadilly
Manchester
M1 2DB
0161 2005 665