| | | |
| --- | --- | --- |
| | | |
Home > Restaurants > Upstairs at The Grill > Recommendations
Reader Recommendations for
Share your experince of dining out in . Simply search for a restaurant you would like to review and use the links.
Change region:
Exactly
36
13/02/2011
Visited by Peter Fenney
Best meal ever from when we walked in until when we walked out. Service was brilliant man behind the bar upstairs was great especially with my 15 year old son as he let him make his own non alcholic cocktail. Food was out of this world scallop starter and crab cocktail starter and then 2 8oz rib eye with diane and garlic and herb sauce and a 24 oz bone in rib eye with stilton sauce.Chips buttered mash creamed spinach and onion rings perfect. My son had the rum and raisen ice cream was the best we had ever tasted and then after the meal we went back upstairs for cocktails where my wife had the first lady a white rum based cocktail which she said was the best she had ever had.overall the most expensive meal i have ever paid for but worth every penny and me and the wife will be booking again for May 2011 chester races and then my sons 16th birthday in october2011.keep up the good work and the high standards it is appreciated.
06/07/2010
Visited by Warrington
Had the early evening menu which was of exceptional quality. Highly recommended.
Next time we'll come later and stay longer.
17/11/2009
Visited by Iain, Helsby
Went for Sunday Lunch and ate from the 2 for 1 menu. Without doubt the best Sunday lunch anywhere! Beef was amazing! We had a bottle of the house red which was extremely good for the price, waitress even decanted it at the table, a rare thing anywhere these days. Excellent starters, fantastic main course, delicious dessert! We'll be back soon to try the steaks!
16/08/2009
Visited by Suzanne, Wrexham
Quite simply one of the best meals I've ever had. I honestly did not realise how good steak could get! The service, the food, the atmosphere all combined to make this a wonderful evening. Highly recommended.
25/06/2009
Visited by sarah warrington
My boyfriend had paid for a romantic weekend any just after Christmas and he booked us in here, it was the best meal I have ever had , the surroundings where really cosy and romantic, the service was brilliant and the food was to die for, if I lived in Chester we would be there all the time!
18/04/2009
Visited by derek warrington
if you want a cheap meal go elsewhere, if you want one of the best meals you will eat and dont mind the cost go go go !
13/04/2009
Visited by Mark, Chester
Just got back from what I can say was the best meal of my life. The waitress recommended their House special of fillet on the bone, which I took them up on, this was divine. Having eaten steaks all of the world, this was easily the best steak I have ever eaten! The restraint is beautifully decorated, all of the staff are knowledgeable about the dishes on the menu, and the service is exemplary. All in all, probably the best meal I have ever eaten. Thank you 'Upstairs at The Grill' for a wonderful dining experience.
09/04/2009
Visited by Tim, Chester
Amazing steaks very well cooked (i.e. a medium is a proper french rose - not burnt to a crisp). The bone-in-rib eye is the only cote-de-beouf I've been offered in Chester. Pricey but worth every penny.
18/10/2008
Visited by John, Scotland
Absolutely fantastic visit.
So glad i found the previous reviews on this website.
The service, food, drink and hospitality were outstanding. First class.
Fantastic bar upstairs to relax and order in, then a great, darkened resturaunt, very romantic, then chilled out back upstairs at the bar afterwards, a great unhurried experiance.
I only wish we lived nearer, so we could visit more often.
I would gladly reccomend this anybody !
15/09/2008
Visited by michael. hetherington
We dined on 12/09/08 and all four of us agreed it was the best meal we've had for many years. The quality of the food was first class as was the service. A fantastic experience from walking in the door to walking out the door.
22/08/2008
Visited by Paul, Liverpool
I took my wife to the Grill on Friday for her birthday and was very glad I did! It exceeded all expectations and the surroundings and the food were fantastic. It was the nicest steak we have ever had in a restaurant and we will definately return. Just perfect.
20/08/2008
Visited by MANSFIELD
My Husband and I celebrated our 25th Wedding Anniversary with a meal at the restaurant. The service with impeccable and the food excellent. Everything about the experience was faultless.
30/05/2008
Visited by Chris Jones and Hannah Carter, Montgomery
Excellent service,excellent food, visit this resturant, you wont be disappointed.
07/05/2008
Visited by Simon.
WOW! This is definately a class act! Never been to a restaurant quite like this one. The service is outstanding, the food is outstanding and the bar upstairs is outstanding.....starting to get the picture??....Well,it was my birthday and my wife's present to me was to send me to USATG, for a meal on my own!! Yup,I love eating in a quality place alone,so that I can realy enjoy the food and concentrate on the flavour,taste etc.
A warning to even the meatyest of meat lovers like me!....only order their LEDGENDARY mixed grill if you have been starving yourself all day!
I could not believe the amount of meat on that platter!! It was however DELICIOUS! Also,I managed to eat a superb stilton souflee for starters AND a nice little panna cotta for pud.
In the bar beforehand, I was served a lovely cocktail called "between the sheets". Also a half-bottle of wine with my grill,which perfectly complemented it.....the wine guy definately knows his stuff!!
This was unquestionably one of the finest meals I have ever experienced,served in an atmosphere of decadence and charm and when I can next afford it.....I will go again!! Happy birthday to me, and ten stars to upstairs at the grill!
11/04/2008
Visited by Sian from Chester
My boyfriend and I have dined at Upstairs at the Grill on many occasions and have always had a delighful evening. The food has always been gorgeous and the service excellent.
01/02/2008
Visited by Adelle Prendergast
WOW quite simply the best meal we have EVER eaten in our lives!!! i can honestly say that I had goosebumps whilst eating as the taste in every mouthful was so unbelievably delicious! I can't recommend this restaurant enough .....the atmoshpere ( we ate in the romantic private dining room upstairs and were treated like royalty) , the service, the plush leather sofas , the steak cooked to perfection! worth every penny.....we can't wait to go back!!!!
22/01/2008
Visited by steve bolton
It was last October when I went to "upstairs at the grill" with my wife, best mate and his girlfriend. I kept meaning to write a review and this is it.Better late than never. I was disappointed not to be able to press the "secret" button as the door was open! shucks.We waited for a while in the bar with our drinks and then got the menu shortly before being taken downstairs.I would have liked more time to look at the menu but that was the only negative about the whole night. Once downstairs the ambiance was intimate and the staff very friendly. The food whilst a little expensive was delicious. The mushroom risotto starter that my wife had was superb. The bill was £190 for the four of us inclusive of wine and drinks and was worth the money and the ten percent tip. If you have a chance to dine here then I would say go for it. A really pleasant night for all of us,great food and good staff.what more do you need.A belated thankyou to everyone at usatg.
03/11/2007
Visited by Sue, Chester
Absolutly great food. The Head Chef deserves a medal for leading his/her kitchen so well. The steak was cooked perfectly, nice combination of flavour, spot on. Can I take him/her home,pls????? Once again: PERFECT!!!!!!!
02/10/2007
Visited by Manchester
Went to the grill for a special treat for my partner - Wow - fantastic food and great service. The best steak we have ever had on a night out Fantastic value too
16/08/2007
Visited by Lee Kerr
Quite honestly the best dining experience me and my partner have experienced. The welcome was warm and friendly as soon as we walked through the door. The decor and ambience of the dining room and the bar makes for a relaxing atmosphere, and the menu is fully explained by staff who know what they are talking about. The food was what only be described as wonderful and the chef cooked our steaks to perfection. the staff were very attentive without been intrrusive. I highly recommend anyone visiting chester dines at this resteraunt.
03/07/2007
Visited by James
Only went to the bar - the server was fantastic. Great Cocktail skills - not cheap but worth it!
18/06/2007
Visited by Beryl Wallace
Fantastic food, great service and real quality service. A Father's Day treat for my husband superior to anywhere else in Chester.
14/06/2007
Visited by Anid
Chesters best restaurant. Worth every penny
11/05/2007
Visited by kate rafferty Stoke On Trent
We visited the restaurant on 4/5/07. We enjoyed everything about it and can't wait to visit again. The staff look after you and the food was lovely.The restaurant itself is intimate and modern.Highly recommend a visit.
18/04/2007
Visited by Jo, Tarporley
Would agree with all of the previous comments - absolutely fantastic. Nice, intimate setting, great drinks and really good food. Have also been on the night when they did a 2 course offer which was fantastic value! Would certainly recommend.
All reviews will be passed onto the business reviewed but some reviews may not be published for legal reasons. View disclaimer -
Click here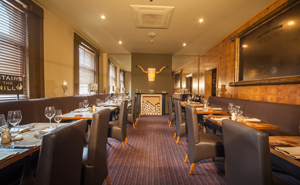 70 Watergate Street
Chester, Cheshire
CH1 2LA
Tel: 01244 344883