| | | |
| --- | --- | --- |
| | | |
Home > Restaurants > The Pheasant Inn > Recommendations
Reader Recommendations for
Share your experince of dining out in . Simply search for a restaurant you would like to review and use the links.
Change region:
Exactly
6
03/07/2012
Visited by D Mansell
Very welcoming and friendly staff, cosy, country themed interior and amazing views of the Cheshire plains through the windows or outside from the seating area. Always a joy to visit here either mid-walk from Beeston with our dog for a pint and a snack outside or as a couple to enjoy a wonderful pub lunch and we have done both many times now - standards consistently high every time!
12/06/2012
Visited by James Warrington
An excellent meal served by very helpful, attentive staff. I can't recommend it highly enough.
14/05/2012
Visited by Daniel
what a great place, good food and drink, and a lovely spot.
09/05/2012
Visited by Crewe, Cheshire, England
Brillian pub. Wonderful views. It has changed considerably over the years. I remember going to the Pheasant many years ago when I was young, with my parents & grandmother. I couldn't go in,even though the old couple said I could. (Dad din't believe in children being in pubs), but it was a very small old place, and the old landlord and his wife, used to bring the ale up from the cellar in jugs. Stone flagged floor and very basic... I have visited since though, over the years as The Pheasant has gone through it's changes, and often visit with my husband. Very friendly, lovely atmosphere!!
08/02/2012
Visited by Ali Kay Whitegate
Brilliant pub. just as described in the front page. Wonderful place to relax eat and be merry. Great food, drink and atmosphere. Only drawback is it get busy so you may need to book if it's part of a busy booking period. Last time there were a few europeans in enjoyed the friendly locals and views, not surprised as it has great rooms next to the side of the building, with wonderful walks - a must visit for anyone, I will always go back for a wonderful meal. 5*****
16/02/2008
Visited by Maria, Whitchurch
Fantastic meal as always. The atmosphere is really relaxing & its like going back to see friends. I would recommend to everyone to go to the Pheasant on a clear Summers day & try to see the ships on the Mersey (or at least thats what I was told when I was little..
All reviews will be passed onto the business reviewed but some reviews may not be published for legal reasons. View disclaimer -
Click here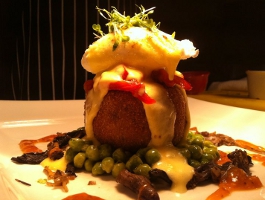 Higher Burwardsley
Tattenhall, Cheshire
CH3 9PF
0871 977 4326