| | | |
| --- | --- | --- |
| | | |
Home > Restaurants > Dee Thai > Recommendations
Reader Recommendations for
Share your experince of dining out in . Simply search for a restaurant you would like to review and use the links.
Change region:
Exactly
41
08/12/2011
Visited by Hale
Party of 7 ate here last night. Food was outstanding and the service was over and above lots of restaurants these days. Xmas banquet at £25 is great value, more than enough food and very high quality. Will definately be recommending to friends and eating here again very soon.
06/12/2011
Visited by Sara from Hale
Went to Dee Thai two weeks ago and having secured a babysitter for this Saturday I am about to make another reservation. Every experience at both ManZen and Dee Thai are outstanding, from food to service - everything! My personal favourite is the jungle curry so I would highly recommend this to all fellow 3 chilli heat-seekers who had handle it!
21/11/2011
Visited by D Henman, Bradford
Visited last evening with wife and daughter - it is our normal stop when using Manchester Airport. It was our most satisfying visit to date - the food was absolutely divine, the three main dishes each so different but combining perfectly. Would I recommend it? Yes, yes and yes again!
04/10/2010
Visited by Chris, Hale
Been to Dee Thai on a few occasions and must say it really is amazing! The food is excellent. It is by far the best oriental food I've ever had and it has become my new favourite restaurant. The service is always excellent and the surroundings provide both style and comfort. The whole experience really couldn't be better. I recommend the tamarind duck it's superb! Thank you Dee Thai keep up the great work!
11/04/2010
Visited by Melanie - Manchester
After watching the Grand National race in a nearby pub, we had booked a table for 4 by the window, early reservation with a request from the restaurant we be gone by 8.30pm as table reserved again, this was not a problem. On arriving they wanted to move us to the back of the empty restaurant. We asked to be seated where we requested and as promised on the phone they very reluctantly sat us there and proceeded to give us attitude all evening and incorrect drinks. Food was great, very tasty just a shame about the service and attitude of the manager and his staff. It put a real downer on the evening after we had such a great day and even ordered an expensive bottle of champagne due to our big win on the race! We all said we would not return due this experience
12/02/2009
Visited by JD, Sale
Best early diner meal I have had. For £9.90 the value is fantastic. Attentive service, and superb food with a good choice of both starter and main course. Special mention to the Beef Yaowaraj as a main course - with Coconut Rice complementing it beautifully - sublime!
Would recommend highly to all
All reviews will be passed onto the business reviewed but some reviews may not be published for legal reasons. View disclaimer -
Click here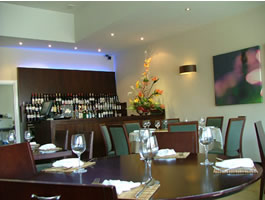 6a Cecil Road
Hale, Cheshire
WA15 9PA
Tel: 0161 928 6686